NewsAlert





Sign up for our NewsAlert service and have the latest news in astronomy and space e-mailed direct to your desktop.


Privacy note: your e-mail address will not be used for any other purpose.







Discovery launch delayed to Independence Day
BY WILLIAM HARWOOD
STORY WRITTEN FOR CBS NEWS "SPACE PLACE" & USED WITH PERMISSION
Posted: July 2, 2006


For a second straight day, the shuttle Discovery was grounded because of cloud cover over the Kennedy Space Center today, delaying a long-awaited mission to service and resupply the international space station. Launch was rescheduled for around 2:38 p.m. on the July Fourth holiday.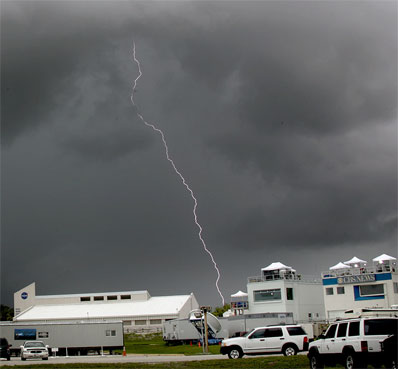 Several lightning strikes were seen during today's countdown, including this view from the KSC Press Site. Credit: Gene Blevins/LA Daily News



Commander Steve Lindsey and his six crewmates had hoped to blast off at 3:26 p.m. to kick off only the second post-Columbia shuttle mission, but the weather wouldn't cooperate and launch director Mike Leinbach called off the countdown well ahead of the opening of Discovery's launch window.

"OK, Steve, we've talked to launch weather and landing weather and the ops manager and we've concluded we are not going to have a chance to launch today," Leinbach told the crew. "And so in order to preserve as much time for the scrub-turnaround as possible to get the PRSD (fuel cell system) topped off on board the ship and to give you guys the maximum opportunity on orbit to extend a day and get your third EVA, we've decided to terminate the count today, stand down for 48 hours, do a single commodity hydrogen reactant top off, targeting the next launch attempt for Tuesday afternoon."

"Yeah, we copy, and looking out the window it doesn't look good today and we think that's a great plan," Lindsey radioed from Discovery's flight deck.

It costs NASA about $1 million to scrub a shuttle countdown during a weekend because of overtime and the price of rocket fuel. But by standing down early today and foregoing a possible launch try Monday, engineers will have time to refill on-board hydrogen tanks to power the shuttle's electricity producing fuel cells. After launch tries Tuesday and Wednesday, however, the team will need to reload fuel cell oxygen supplies, delaying another launch attempt until Saturday.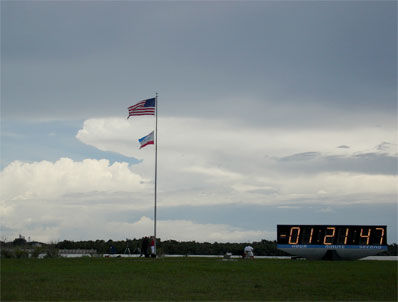 Stormy weather prompted another Discovery scrub. Credit: Stephen Clark/Spaceflight Now



Fuel cell reactants determine how long a shuttle can stay in orbit. Had Discovery gotten off Saturday, Sunday or Monday, Discovery would have had enough electrical power generation capability to permit a one-day mission extension for a spacewalk to test wing leading edge repair techniques.

By topping off the hydrogen supply now, Lindsey and company should be able to get the mission extension if they get off Tuesday or Wednesday. The forecast for Tuesday calls for a 60 percent chance of acceptable weather, but the outlook gets worse as the week wears on.

Today's delay was a second straight disappointment for the astronauts, who have been training for this flight for nearly two years. But the day began with forecasters predicting a 70 percent chance of bad weather and as it turned out, their pessimism was justified.

The launch window Tuesday opens around 2:33 p.m. and closes 10 minutes later. The preferred in-plane launch time is 2:37:51 p.m. The launch window and preferred in-plane launch time likely will change by a few seconds based on updated tracking of the international space station.


Additional coverage for subscribers:


VIDEO: POST-SCRUB SHUTTLE BRIEFING PLAY


VIDEO: ASTROVAN LEAVES PAD 39B AFTER THE SCRUB PLAY


VIDEO: WEATHER SCRUBS LAUNCH FOR SECOND STRAIGHT DAY PLAY


VIDEO: CREW DEPART THEIR QUARTERS FOR THE PAD PLAY


VIDEO: ASTRONAUTS DON SPACESUITS AGAIN PLAY


VIDEO: SUNDAY MORNING'S ASTRONAUT SNACK TIME PLAY



VIDEO: DISCOVERY'S PRE-LAUNCH CAMPAIGN PLAY


VIDEO: THE PAYLOADS OF STS-121 PLAY



VIDEO: WEATHER SCRUBS SATURDAY'S LAUNCH ATTEMPT PLAY


VIDEO: POST-SCRUB INTERVIEW WITH LAUNCH DIRECTOR PLAY


VIDEO: CREW DEPARTS QUARTERS FOR THE PAD PLAY


VIDEO: CREWMEMBERS DON ORANGE SPACESUITS PLAY


VIDEO: ASTRONAUT PHOTO OPP IN DINING ROOM PLAY



VIDEO: INTERVIEW WITH COMMANDER STEVE LINDSEY PLAY


VIDEO: INTERVIEW WITH PILOT MARK KELLY PLAY


VIDEO: INTERVIEW WITH MISSION SPECIALIST 1 MIKE FOSSUM PLAY


VIDEO: INTERVIEW WITH MS 2 LISA NOWAK PLAY


VIDEO: INTERVIEW WITH MS 3 STEPHANIE WILSON PLAY


VIDEO: INTERVIEW WITH MS 4 PIERS SELLERS PLAY


VIDEO: INTERVIEW WITH MS 5 THOMAS REITER PLAY



VIDEO: SHUTTLE MISSION PREVIEW DIAL-UP | BROADBAND


VIDEO: STATION ACTIVITIES ON STS-121 DIAL-UP | BROADBAND


VIDEO: PREVIEW OF DISCOVERY'S SPACEWALKS DIAL-UP | BROADBAND


VIDEO: THE ASTRONAUTS MEET THE PRESS DIAL-UP | BROADBAND


VIDEO: SHUTTLE AND ISS PROGRAM PERSPECTIVE
DIAL-UP: part 1 and part 2
BROADBAND: part 1 and part 2


MORE: STS-121 VIDEO COVERAGE


SUBSCRIBE NOW