Weather scrubs Discovery launch
BY WILLIAM HARWOOD
STORY WRITTEN FOR CBS NEWS "SPACE PLACE" & USED WITH PERMISSION
Posted: July 1, 2006


Launch of the shuttle Discovery on a long-awaited space station servicing and resupply mission was called off today because of cloud cover and the threat of lightning over the Kennedy Space Center.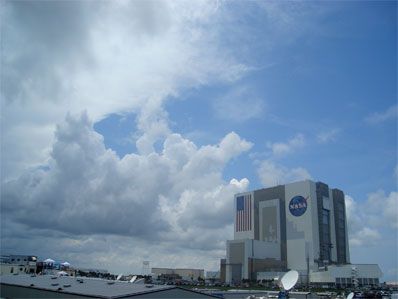 Clouds prompted Discovery's launch scrub. Credit: Stephen Clark/Spaceflight Now



Commander Steve Lindsey and his six crewmates had hoped to blast off at 3:49 p.m. to kick off only the second post-Columbia shuttle mission - NASA's first shuttle flight in nearly a year - but cloudy weather forced NASA Launch Director Mike Leinbach to extend a final hold in the countdown in hopes of an improvement.

It was not to be.

"NTD, launch director, (on channel) 212. Sir, we've been fighting the weather for quite some time," Leinbach told NASA test director Jeff Spaulding. "It doesn't look like we're going get a go. ... I Just don't feel good about the launch weather."

Leinback then called flight director Steve Stich in mission control, Houston.

"Launch Director, this is Houston Flight," Stich replied. "Mike I concur. This is a dynamic day and I think we're just playing it too close here. We've got (electrically charged) anvils within 20 miles and over the launch trajectory, it's not a good day to launch."

"Copy and concur," Leinbach replied. "Discovery, Launch Director. Well Steve, sorry to break your string, but we're not going to make it today. So appreciate your support, both the crew and the whole launch team and the team worldwide trying to get this vehicle off the ground today. But it's not a good day to launch the shuttle, so we're going to try again tomorrow."

"We copy all and concur," Lindsey called from Discovery. "It wasn't our time today, we'll launch when we're ready and hopefully, tomorrow will look better."

It was a frustrating disappointment to Lindsey and his crewmates, who have been training for this flight for nearly two years. But cloudy weather is normal this time of year in central Florida and the scrub, while disappointing, was not a major surprise.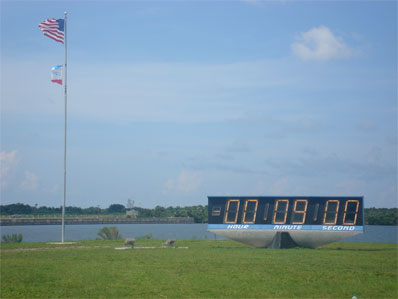 The launch was scrubbed during the T-minus 9 minute mark in the countdown. Credit: Stephen Clark/Spaceflight Now



Lindsey, pilot Mark Kelly, flight engineer Lisa Nowak, spacewalkers Piers Sellers and Mike Fossum, Stephanie Wilson and European Space Agency astronaut Thomas Reiter will spend the day at the Florida spaceport and turn in later this afternoon to await an early wakeup call Sunday.

The launch window Sunday opens at 3:21 p.m. and closes at 3:31 p.m. The preferred in-plane launch time is 3:26 p.m. The launch window Monday opens around 2:55 p.m. for a launch attempt around 3:00 p.m. The forecast for Sunday calls for a 60 percent chance of unacceptable weather and 70 percent no-go Monday.

Discovery has enough on-board liquid oxygen and hydrogen to power the ship's electricity producing fuel cells for four launch tries over five days. Leinbach said earlier the preferred strategy would be to make launch tries Saturday and Sunday, stand down on Monday to give the team a break, and then to make two more attempts Tuesday and Wednesday. After that, engineers will have to stand down for 48 hours to top off Discovery's on-board hydrogen supply.

The goal of the mission is to deliver 5,100 pounds of equipment and supplies to the international space station and to stage two and possibly three spacewalks, including one to repair a stalled equipment transporter that is vital to continued assembly of the outpost.

Just as important to the European Space Agency, Discovery is ferrying Mir-veteran Reiter to the lab complex to boost crew size back to three for the first time since downsizing in the wake of the Columbia disaster.

Reiter is on board Discovery as part of a commercial contract between ESA and the Russian space agency, Roscosmos. He is scheduled to return to Earth in December with the crew of a visiting space shuttle.

Discovery's launch window extends to July 19. If the shuttle is not off the ground by then, the flight will slip to late August and a launch currently targeted for that window would slip into October at the earliest.


Additional coverage for subscribers:


VIDEO: POST-SCRUB INTERVIEW WITH LAUNCH DIRECTOR PLAY


VIDEO: WEATHER SCRUBS SATURDAY'S LAUNCH ATTEMPT PLAY


VIDEO: CREW DEPARTS QUARTERS FOR THE PAD PLAY


VIDEO: CREWMEMBERS DON ORANGE SPACESUITS PLAY


VIDEO: ASTRONAUT PHOTO OPP TODAY IN DINING ROOM PLAY



VIDEO: INTERVIEW WITH COMMANDER STEVE LINDSEY PLAY


VIDEO: INTERVIEW WITH PILOT MARK KELLY PLAY


VIDEO: INTERVIEW WITH MISSION SPECIALIST 1 MIKE FOSSUM PLAY


VIDEO: INTERVIEW WITH MS 2 LISA NOWAK PLAY


VIDEO: INTERVIEW WITH MS 3 STEPHANIE WILSON PLAY


VIDEO: INTERVIEW WITH MS 4 PIERS SELLERS PLAY


VIDEO: INTERVIEW WITH MS 5 THOMAS REITER PLAY



VIDEO: SHUTTLE MISSION PREVIEW DIAL-UP | BROADBAND


VIDEO: STATION ACTIVITIES ON STS-121 DIAL-UP | BROADBAND


VIDEO: PREVIEW OF DISCOVERY'S SPACEWALKS DIAL-UP | BROADBAND


VIDEO: THE ASTRONAUTS MEET THE PRESS DIAL-UP | BROADBAND


VIDEO: SHUTTLE AND ISS PROGRAM PERSPECTIVE
DIAL-UP: part 1 and part 2
BROADBAND: part 1 and part 2


MORE: STS-121 VIDEO COVERAGE


SUBSCRIBE NOW