Hale says no pressure due to 2010 shuttle deadline
BY WILLIAM HARWOOD
STORY WRITTEN FOR CBS NEWS "SPACE PLACE" & USED WITH PERMISSION
Posted: June 20, 2006


Shuttle program manager Wayne Hale played a direct role in classifying ice-frost ramps on the shuttle's external tank as "probable/catastrophic," but he told CBS Radio today his primary intention was to elevate the issue to a level that would ensure it received the proper attention.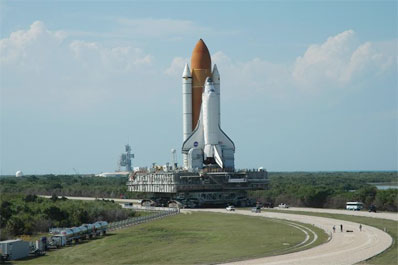 Credit: NASA-KSC



During a two-day flight readiness review Friday and Saturday, NASA's office of Safety and Mission Assurance and the office of the chief engineer voted to delay Discovery's July 1 launch until the ice-frost ramps could be redesigned to minimize foam shedding.

A classification of probable/catastrophic in NASA's risk matrix means that over the remaining life of the shuttle program, it is probable foam will separate from an ice-frost ramp and cause catastrophic impact damage to the shuttle's heat shield.

NASA Administrator Mike Griffin, saying he did not believe the foam ramps posed such a high level of risk, decided to press ahead with space station assembly while a tiger team of engineers works on a new design.

The decision has generated attention because of Griffin's acknowledgement that schedule pressure - or more properly the threat of schedule pressure later in the station assembly sequence - played a role in his decision to clear Discovery for flight. All sides agreed the ice-frost ramps do not pose a direct threat to the astronauts.

"We had a full, open and public debate, airing all the opinions, looking at all the data," Hale told CBS Radio today. "Part of the story that perhaps hasn't been quite widely reported is how many folks came forward and said this is not as critical a hazard as you might think it is and we certainly have a good safety margin to go fly.

"As program manager, I listened to all sides of this and came down with the decision that we should rate this as a (probable/catastrophic) hazard, perhaps more dangerous than it actually is, in order to remind ourselves that we need to go continue to make improvements on the external tank.

"So that part got widely reported, I'm happy to hear, but the other side, that we are making steady improvements, that this is widely, much better understood than it was before and it has been widely aired and debated without any suppression of evidence or discussion, is a sign that the new NASA is willing to engage in these debates and, in fact, face problems head on rather than sweeping them under the rug."

Hale said he personally did not feel under any sort of pressure to launch Discovery or any other shuttle because of a looming 2010 deadline to finish station assembly and retire the shuttle fleet.

"Frankly, I do not feel the schedule pressure that everyone's speculating about," he said. "We have clearly demonstrated in the past that we've been able to fly the kind of flight rate that would lead us to assemble the international space station by 2010 with comfortable margin. So I feel very low schedule pressure to get off the pad, at least from that standpoint."

But Hale said the public should understand the risks involved with any shuttle flight. Even though the ice-frost ramp concern is not a direct threat to crew survival - the astronauts could move into the space station to await rescue in a worst-case scenario - NASA is "betting the program" every time the shuttle flies.

"We gamble the program every time we launch the vehicle in a thousand ways, many of which may be obscure to folks, but we take a calculated risk," he said. "I think NASA, by the way, is about the only federal agency that does sort of put the whole agency on the line every time we do our normal business. And we do it in public and we do it with a great deal of discussion with the public.

"But we do recognize the fact, and always have, that we bet the entire agency, the entire space program, every time we try to launch a rocket."


Additional coverage for subscribers:


VIDEO: RATIONALE FOR LAUNCH EXPLAINED DIAL-UP | BROADBAND


AUDIO: LISTEN TO EXPLANATION FOR IPOD


VIDEO: CREW TALKS ABOUT RISKS OF SPACEFLIGHT PLAY


VIDEO: ASTRONAUTS DEPART QUARTERS FOR LAUNCH PAD PLAY


VIDEO: CREW DONS LAUNCH AND ENTRY SPACESUITS PLAY


VIDEO: BREAKFAST ON PRACTICE COUNTDOWN DAY PLAY


VIDEO: WEDNESDAY'S PAD CHAT WITH CREW DIAL-UP | BROADBAND


VIDEO: CREW ARRIVES FOR PRACTICE COUNTDOWN PLAY


VIDEO: COMMENTS FROM THE COMMANDER PLAY



VIDEO: SHUTTLE MISSION PREVIEW DIAL-UP | BROADBAND


VIDEO: STATION ACTIVITIES ON STS-121 DIAL-UP | BROADBAND


VIDEO: PREVIEW OF DISCOVERY'S SPACEWALKS DIAL-UP | BROADBAND


VIDEO: THE ASTRONAUTS MEET THE PRESS DIAL-UP | BROADBAND


VIDEO: SHUTTLE AND ISS PROGRAM PERSPECTIVE
DIAL-UP: part 1 and part 2
BROADBAND: part 1 and part 2


SUBSCRIBE NOW