Opposition to flight hinges on risk to shuttle, not crew
BY WILLIAM HARWOOD
STORY WRITTEN FOR CBS NEWS "SPACE PLACE" & USED WITH PERMISSION
Posted: June 20, 2006


NASA safety director Bryan O'Connor and chief engineer Chris Scolese both voted "no-go" for the shuttle Discovery's launch July 1 because of concerns foam loss could, in a worst-case scenario, lead to loss of the shuttle. But both men, in hand-written notes scribbled on NASA's official Certificate of Flight Readiness, said they did not oppose Administrator Mike Griffin's decision to proceed with launch because the crew of a damaged shuttle could move into the space station to await rescue.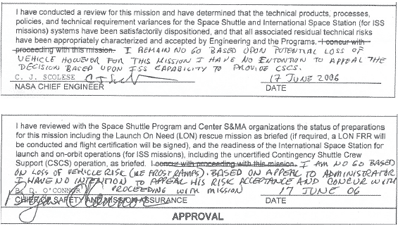 See a larger image version here



The Certificate of Flight Readiness, or CoFR, was posted on NASA's web site today.

The document is NASA's official stamp of a approval on plans to proceed with launch and top managers from across various shuttle disciplines must sign, saying they concur with the decision.

The words "I concur with proceeding with this mission" were crossed out by O'Connor and Scolese. Scolese replaced that wording with "I remain no go based upon potential loss of vehicle. However for this mission I have no intention to appeal the decision based upon ISS capability to provide CSCS."

CSCS refers "contengency shuttle crew support," or safe haven, the option for the crew of a damaged shuttle to move into the space station while awaiting rescue. For at least the next two flights, NASA is preparing a second shuttle for launch an emergency rescue mission if needed.

O'Connor's hand-written remarks on the CoFR were: "I am no go based on loss of vehicle risk (ice frost ramps). Based on appeal to administrator I have no intention to appeal his risk acceptance and concur with proceeding with mission."

Both men declined requests for interviews Monday by CBS News.

The issue hinges on the classification foam insulation around external brackets on the shuttle's external tank known as ice-frost ramps. NASA had hoped to redesign the foam ramps to minimize foam shedding, but engineers were unable to come up with a good alternative in time to support Discovery's flight.

The agency already had removed so-called protuberance air-load - PAL - ramps from the tank in the wake of a major foam shedding incident during Discovery's last flight a year ago.

The PAL ramps were in place to shield external pressurization lines and a critical cable tray from aerodynamic buffeting as the shuttle climbs out of the dense lower atmosphere. The pressurization lines are held in place by 34 brackets that are covered in foam insulation - ice-frost ramps - to prevent potentially dangerous ice formation before launch.

Wind tunnel testing and computer modeling have convinced managers the tank and its external lines and fittings are tough enough to stand up to the stresses of launch without the PAL ramps. But NASA does not yet have a redesign in place for the ice-frost ramps, which now represent the most potentially dangerous concentrations of foam on the tank.

Engineers had hoped to implement a redesign before Discovery's flight, but wind tunnel testing showed the proposed change fared worse than the old design. As a result, Griffin, shuttle program manager Wayne Hale and other senior agency managers agreed earlier this spring to stick with the old design for the next few shuttle flights while another redesign is perfected.

Even so, the ice-frost ramps were officially classified as "probable/catastrophic" in NASA's risk matrix, meaning that over the life of the shuttle program it's probable foam debris from the ice-frost ramps - if not redesigned - would cause catastrophic impact damage on a shuttle.

Griffin said he did not believe the foam ramps posed such a high level of risk and in any case, the problem does not pose a direct threat to crew safety. Given broader programmatic issues, including the need to complete station assembly before the shuttle is retired in 2010, he said he decided to press ahead with launch.


Additional coverage for subscribers:


VIDEO: RATIONALE FOR LAUNCH EXPLAINED DIAL-UP | BROADBAND


AUDIO: LISTEN TO EXPLANATION FOR IPOD


VIDEO: CREW TALKS ABOUT RISKS OF SPACEFLIGHT PLAY


VIDEO: ASTRONAUTS DEPART QUARTERS FOR LAUNCH PAD PLAY


VIDEO: CREW DONS LAUNCH AND ENTRY SPACESUITS PLAY


VIDEO: BREAKFAST ON PRACTICE COUNTDOWN DAY PLAY


VIDEO: WEDNESDAY'S PAD CHAT WITH CREW DIAL-UP | BROADBAND


VIDEO: CREW ARRIVES FOR PRACTICE COUNTDOWN PLAY


VIDEO: COMMENTS FROM THE COMMANDER PLAY



VIDEO: SHUTTLE MISSION PREVIEW DIAL-UP | BROADBAND


VIDEO: STATION ACTIVITIES ON STS-121 DIAL-UP | BROADBAND


VIDEO: PREVIEW OF DISCOVERY'S SPACEWALKS DIAL-UP | BROADBAND


VIDEO: THE ASTRONAUTS MEET THE PRESS DIAL-UP | BROADBAND


VIDEO: SHUTTLE AND ISS PROGRAM PERSPECTIVE
DIAL-UP: part 1 and part 2
BROADBAND: part 1 and part 2


SUBSCRIBE NOW