Discovery astronauts arrive for practice countdown
BY WILLIAM HARWOOD
STORY WRITTEN FOR CBS NEWS "SPACE PLACE" & USED WITH PERMISSION
Posted: June 13, 2006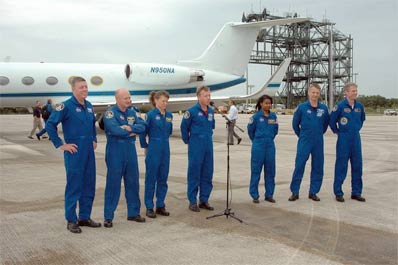 Credit: NASA-KSC



The shuttle Discovery's crew, running a day late because of tropical storm Alberto, flew to the Kennedy Space Center today to practice emergency procedures and take part in a dress rehearsal countdown Thursday.

NASA managers plan to hold a two-day flight readiness review Friday and Saturday to assess the status of Discovery's launch processing and to set an official launch date. The target date for the second post-Columbia shuttle mission is July 1 at 3:48:15 p.m. EDT (1948:15 GMT).

"It's good to be here," commander Steve Lindsey told reporters after the crew landed on Kennedy's shuttle runway. "We've re-arranged our schedule, we're going to stay an extra day to get everything done down here.

"As far as I know, everything's OK (with Discovery)," he said. "At the end of this week we have flight readiness review going on. Hopefully at the conclusion of that on Saturday, we'll set an actual launch date. We're all pretty optimistic that early July looks good."

The goal of the 115th shuttle mission is to resupply the international space station, to deliver a third full-time crew member - German astronaut Thomas Reiter - and to repair a critical external cart used to move the lab's robot arm along the front of an unfinished solar array truss. The cart must be fixed before station assembly can proceed.

Lindsey and company will review launch pad emergency egress procedures Wednesday and field questions from reporters at the pad before donning pressure suits and strapping in Thursday for the terminal countdown demonstration test - TCDT - practice countdown.

TCDT is a major milestone in launch processing, giving the astronauts and launch control center personnel a chance to review procedures before attempting the real thing.

NASA Administrator Mike Griffin, shuttle program manager Wayne Hale, NASA spaceflight chief Bill Gerstenmaier and launch director Mike Leinbach plan to participate in a news conference Saturday to discuss the outcome of the flight readiness review.


Additional coverage for subscribers:


VIDEO: CREW ARRIVES FOR PRACTICE COUNTDOWN PLAY


VIDEO: COMMENTS FROM THE COMMANDER PLAY



VIDEO: SHUTTLE MISSION PREVIEW DIAL-UP | BROADBAND


VIDEO: STATION ACTIVITIES ON STS-121 DIAL-UP | BROADBAND


VIDEO: PREVIEW OF DISCOVERY'S SPACEWALKS DIAL-UP | BROADBAND


VIDEO: THE ASTRONAUTS MEET THE PRESS DIAL-UP | BROADBAND


VIDEO: SHUTTLE AND ISS PROGRAM PERSPECTIVE
DIAL-UP: part 1 and part 2
BROADBAND: part 1 and part 2


SUBSCRIBE NOW