Discovery passes launch debris review for July liftoff
BY WILLIAM HARWOOD
STORY WRITTEN FOR CBS NEWS "SPACE PLACE" & USED WITH PERMISSION
Posted: May 31, 2006


After a "spirited" two-day review, NASA managers today concluded the agency has reduced the threat of catastrophic damage from external tank foam and other debris to an acceptable level, a major milestone on the road to clearing the Discovery for launch July 1 on the second post-Columbia shuttle mission.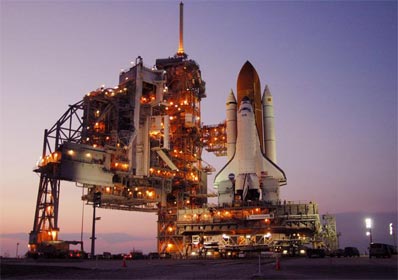 Credit: NASA-KSC



"We have found no show stoppers. We believe we have made significant improvements since last year in the elimination of many of the hazards from foam," said shuttle program manager Wayne Hale.

"But one of the things I don't want to hear when I go home and turn on the TV tonight is that we've fixed the tank and no foam is going to come off. Because that is not the case. ... There will continue to be foam coming off the external tank. What we have done in a very systematic manner is eliminate the largest hazards." But an earlier decision by NASA Administrator Michael Griffin, Hale and other senior agency managers not to change the way foam is used to insulate 34 critical brackets on the skin of the tank means Discovery will be launching with insulation that could, in a worst-case scenario, cause the very sort of catastrophic damage NASA has been struggling to prevent.

While today's Debris Verification Review, or DVR, did not generate any formal probabilities regarding the actual threat posed by ice/frost ramp "foam shedding," Hale said he believes the IFR foam should be listed in a threat matrix as "probable/catastrophic," meaning that over the life of the shuttle program, debris from the bracket insulation, in a worst-case scenario, could lead to a disaster.

Even so, Hale believes NASA is justified in pressing ahead with near-term shuttle flights while engineers devise a bracket redesign that eventually will allow them to remove the ice/frost ramp foam altogether. While the IFR foam represents a clear long-term threat, the risk on any given flight is in line with dangers posed by other systems.




Additional coverage for subscribers:


VIDEO: WEDNESDAY SPACE SHUTTLE PROGRAM NEWS UPDATE
DIAL-UP: part 1 and part 2 | BROADBAND: part 1 and part 2



MORE: STS-121 VIDEO COVERAGE


SUBSCRIBE NOW




"With the very worst-case assumptions, there were some numbers down as low as 1-in-75 and for some of the better-case assumptions, you're talking about numbers on the order of 1-in-400 for ice/frost ramp foam losses," Hale said.
"I hate to quote probability numbers without context because it depends so much on what the assumptions were and how conservative or how fine the calculations were that went into the case. But we're talking, basically, something on the order of 1-in-a-few hundred, or 1-in-100, which is consistent with the entire overall risk we fly with the space shuttle."
During Discovery's launch last year on the first post-Columbia mission, a one-pound chunk of foam insulation broke away from a long wind deflector known as a protuberance air-load - PAL - ramp on the tank. The PAL ramps, one on the oxygen section and one on the hydrogen section of the tank, were designed to shield two pressurization lines and a cable tray from aerodynamic buffeting.
While the PAL ramp debris lost during Discovery's flight didn't hit anything, NASA managers ultimately decided to remove the ramps on the assumption computer modeling and wind tunnel tests would show the pressurization lines and cable tray are tough enough to endure the ascent environment.


| | |
| --- | --- |
| | Ben Cooper/Spaceflight Now |
A design certification review to formally assess the results of testing and to officially sanction the flight worthiness of the new design should be finished in time for Discovery's flight readiness review June 16 and 17.

This week's DVR was concerned primarily with foam debris and any other sources of potential impact damage to the orbiter.

The external tank pressurization lines are supported by 34 brackets on the skin of the tank that are insulated by up to two pounds of foam each. The insulation is needed to prevent ice from building up on the brackets when the tank is loaded with supercold rocket fuel. Any such ice would pose an impact threat during launch.

Along with removing the PAL ramps, engineers wanted to reduce the amount of foam used on the brackets, and thus minimize the debris impact threat from that quarter.

But during wind tunnel testing earlier this year, an ice/frost ramp redesign option fared worse than the original design. Rather than race to make yet another major change in the tank, NASA managers opted to accept the risk and to fly the ramps as is until a more robust redesign could be developed.

"We think they are a hazard, I want to make that very clear, they are an area of foam insulation that we very definitely need to deal with," Hale said today. "But the principle that we have to remember, however, is that in a flight test, you want to make one major change at a time, instrument it, fly it and see how that performs before you make another major change.

"So we're going to fly this flight with a major improvement - the elimination of the PAL ramp - but we know we have another hazard that we also need to eliminate, and that will be the elimination of the ice/frost ramps as quickly as we can come up with a good design option. So we put them right at the top of our risk matrix. That's the number one thing we have to work on next."

No such risk matrix has been formally approved for Discovery's flight.

"Basically, this vehicle, and you can take this to the bank, is about a 1-in-100 vehicle," he said. "It is a risky vehicle to fly. And nobody should mistake that, there are a number of things that can cause bad outcomes in this vehicle. What we've tried to do is take a very serious look at every one of the areas that we think are higher risk and do our best to mitigate those."

Columbia was brought down in 2003 by a 1.6-pound piece of foam insulation from an area of the tank known as a bipod ramp. The PAL ramp foam that broke free during Discovery's launching last July weighed about one pound. The largest documented piece of ice/frost ramp foam shedding amounted to about 0.09 pounds. Engineers believe, however, up to 0.2 pounds - about three ounces - is possible.

Removing the PAL ramps eliminated about 34 pounds of foam. Engineers hope to implement an incremental ice/frost ramp upgrade, first using insulators to allow the removal of some foam and ultimately by using different bracket material, possibly titanium, to achieve the same insulating effects without any foam at all.

Hale said the interim fix using insulators might be available three or four tanks down the road. Complete elimination of foam will take longer.

"Today we have a tank on the pad that has lost 34 pounds, the largest amount of foam that we've ever taken off the tank, to reduce the hazard," Hale said. "We have put on a special set of sensors, both accelerometers and force measurements on that tank, as well as a suite of six new cameras on the solid rocket boosters that will be monitoring the performance of the vehicle during ascent to ensure that we have done our job properly in the removal of that protuberance air-load ramp. But we do expect to see foam come off."