Discovery hauled to pad
BY WILLIAM HARWOOD
STORY WRITTEN FOR CBS NEWS "SPACE PLACE" & USED WITH PERMISSION
Posted: May 19, 2006


Shuttle program manager Wayne Hale, on hand for Discovery's rollout to launch pad 39B today, said a preliminary look at complex wind tunnel data shows the ship's redesigned external fuel tank should be safe to fly in July. While stressing that a detailed analysis of the data is ongoing and saying new problems could always crop up, "the preliminary loads indications are good, but we have to wait until they get to the bottom line."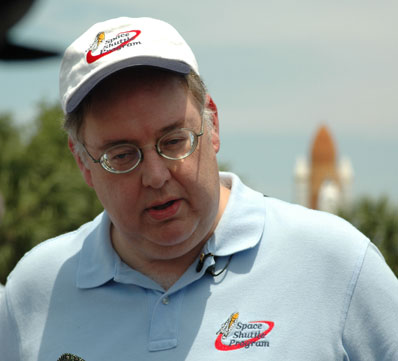 Credit: Ben Cooper/Spaceflight Now



"You don't know until you add up the last column of numbers and that's going to come in just before the design certification review for the external tank here in about three weeks," Hale said, standing in a field surrounded by reporters just a few dozen yards from the shuttle crawlerway.

NASA has conducted extensive wind tunnel testing and computer modeling to better understand the aerodynamic loads, or forces, acting on the redesigned external tank as the shuttle climbs out of the dense lower atmosphere.

Long foam air deflectors, originally put in place to shield external pressurization lines and electrical cables from buffeting, were removed in the wake of Discovery's launch last July on the first post-Columbia mission when a large chunk of foam broke away from a protuberance airload - PAL - ramp.

In recent briefings, Hale declined to give any hints about the nature of the wind tunnel data. But he told reporters today a first look at the structural loads data was positive.

"It's kind of like doing your taxes," he said. "The first time through, you kind of do a rough cut and see if you're going to get a refund or not. ... That's what we've got from the structural guys, they've got their first rough cut. It looks good, but you really don't know what you've got until you work through the entire analysis and look at all the cases - there are something like 34,000 loads cases they have got to look at - and the job's not done till it's done.

"We've very hopeful and I feel a good degree of confidence it'll all come out good, else we wouldn't have rolled the vehicle out here today. But you can't say it's done until it's done."

Wind tunnel testing is complete, he said, and the design certification review is scheduled to begin in earnest in early June. No more major modifications to the tank are expected. Engineers plan to continue an analysis of possible changes to so-called ice-frost ramps along the side of the tank - foam-covered fittings that carry the pressurization lines - but any changes will be deferred until the next flight in late August or the flight after that in mid December.

NASA managers originally hoped to implement ice-frost ramp changes before Discovery's flight but Hale decided one major tank change - elimination of the PAL ramps - was enough for one flight.

"For the record here, folks, I expect we will lose foam, two to four or more pieces off the ice-frost ramps," Hale said. "I also expect they'll be small. We have got a suite of six cameras on both the solid rocket boosters plus the camera on the external tank, we're going to try to understand the mechanism of when those things come off, how big they are. ... So after this flight, all the instrumentation we've got on this vehicle ... will make us a lot smarter."

Discovery began the 4.2-mile trip to pad 39B at 12:45 p.m. Hale rode atop the shuttle's mobile transporter as the "stack" slowly inched its way out of the Vehicle Assembly Building under a brilliant cloud-streaked sky. He then climbed off and fielded questions while Discovery continued its slow trek to the pad (the trip was interrupted at least once because of an overheated bearing).

"It was great, you know? It's better than going on a cruise ship," Hale exclaimed. "It's a fabulous feeling to say we're rolling Discovery to the launch pad for our next launch attempt on July 1. It's just a great feeling being here. Folks have worked really, really, really hard. We still have some work ahead of us, but I think we're on a really good path to make July 1."

Asked if NASA had a realistic shot at launching three missions this year, Hale said "it will be tight, particularly the third flight, which right now we've got penciled in on our schedule for Dec. 14. It's going to be a lot of work."

The problem is moving up completion of external tank No. 123 in time to support a possible rescue mission if major problems develop during the August-September flight of shuttle Atlantis.

"Right now the tank folks are struggling to deliver the tank, there's about a week that they're looking at taking out of their schedule, putting more resources in to try to deliver that tank earlier than they would normally like. But given that, we have a really good shot at making three flights this year."

Discovery's tank was recently equipped with a fresh set of critical engine cutoff - ECO - sensors after questions were raised about reliability. Hale initially favored a fueling test in early June to verify the performance of the new sensors, but he decided last week to forego such a test.

"We've got good ECO sensors in this tank, the best that we know how to make, and we have screened all the engine cutoff sensors out of the 50 plus that we had on hand," he said. "We picked the best four and installed them in the tank out here. I have a high degree of confidence that they'll all work right.

"We reviewed all that stuff, there could be a bogeyman hanging out there that we could find out on the launch pad. I really tried to talk my team into doing a tanking test and they talked me out of it. We'll find out on launch day and I believe we're probably going to find out there are four good sensors and they'll all work as advertised."

Asked when he might begin to feel "home free" about Discovery and all the work that's been done since the last flight, Hale said "when the wheels stop rolling on the runway."

"It's an uphill job to fly a vehicle in space, every minute of every day between now and that wheels stop. You're never home free. The day you think you're home free, you are screwing up and you're looking to run into trouble. This is a tough business and it requires attention every day."

But Hale looked relaxed and confident, clearly buoyed by watching Discovery make its way to the pad. Asked if he did, in fact, get a tax refund this year, Hale laughed and said, "I already got it. My wife spent it."