Spaceflight Now +





Premium video content for our Spaceflight Now Plus subscribers.

NASA employee briefing
Space science funding, the Vision for Space Exploration and the recent controversy over public affairs clashing with agency scientists. These topics and more are discussed in this NASA employee question and answer session with Administrator Mike Griffin and Deputy Administrator Shana Dale held Feb. 27 from agency headquarters in Washington.

Dial-up | Broadband

Lockheed's CEV plans
As part of Lockheed Martin's plans for the Crew Exploration Vehicle, the company has announced that final assembly and testing of the capsules will be performed at the Kennedy Space Center's Operations and Checkout Building. Lockheed Martin officials, Florida's lieutenant governor, the local congressman and a county economic development leader held this press conference Feb. 22 to unveil the plans.

Play video

Mars orbiter briefing
With two weeks until its arrival at the red planet, NASA and Lockheed Martin officials hold this Feb. 24 news conference on the Mars Reconnaissance Orbiter. The briefing explains how the MRO spacecraft will fire its engines to enter into orbit around Mars and the mission's scientific goals to examine the planet like never before.

Play video:
Dial-up | Broadband

Download audio:
For iPod

Become a subscriber
More video







Discovery's fuel tank arrives at Kennedy Space Center
BY SPACEFLIGHT NOW
Posted: March 1, 2006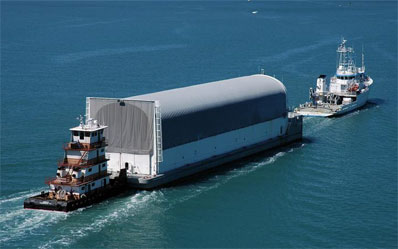 The Pegasus barge carrying Discovery's fuel tank approaches Port Canaveral today. Credit: NASA-KSC



The external fuel tank for the next space shuttle mission sailed into Kennedy Space Center today, capping a 900-mile trip inside a covered barge from the New Orleans manufacturing plant to the Florida launch site.

Pulled by the Freedom Star, one of NASA's solid rocket booster retrieval ships, the Pegasus tank barge reached Port Canaveral at lunchtime. Tugboats maneuvered the barge into the receiving dock shortly after 5 p.m.

The Lockheed Martin-made tank left the Michoud Assembly Facility in Louisiana on Saturday.

Crews plan to offload the tank this evening and tow it into the Vehicle Assembly Building for several weeks of post-arrival testing, final work on the foam insulation and preparations for mating with the solid rocket boosters.

The boosters have been stacked atop a mobile launch platform. After the tank is added to the stack, space shuttle Discovery will be brought over from its nearby hangar for attachment. Rollout to launch pad 39B will occur a few weeks before liftoff.

This tank, known as ET-119, has been modified since the STS-114 shuttle launch last July, including removal of two Protuberance Air Load (PAL) ramps. One was a 14-foot-long, 14-pound strip of foam at the top of the liquid oxygen portion of the tank; the other was 38 feet in length consisting of 21 pounds of foam on the liquid hydrogen tank.

The ramps were designed to protect a cable tray and pressurization lines running up the exterior of the tank from aerodynamic loads during launch. But after Discovery's mission last year in which a large chunk of the hydrogen PAL ramp broke free, NASA was eager to remove the strips from future tanks.

Analysis has shown that the ramps aren't necessary. However, wind tunnel tests to prove the tank structures will survive the forces of ascent without the PAL ramps do not begin until mid-March.