Shuttle fuel tank en route; Schedule options debated
BY WILLIAM HARWOOD
STORY WRITTEN FOR CBS NEWS "SPACE PLACE" & USED WITH PERMISSION
Posted: February 27, 2006


The shuttle Discovery's modified external tank may arrive at the Kennedy Space Center Wednesday, a day early, to kick off the final push toward launch of the second post-Columbia shuttle mission. But agency officials say unfinished foam work, testing and resolution of other on-going issues will make it extremely difficult for NASA to meet its May target launch date.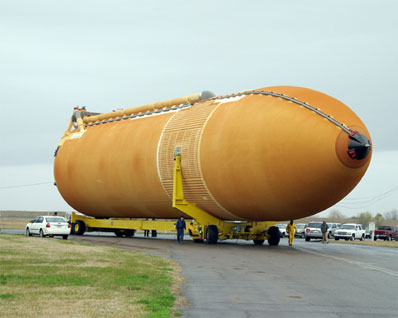 Discovery's external tank is moved to the transportation barge last week for shipment from New Orleans to Kennedy Space Center. Credit: Lockheed Martin



Even so, shuttle program manager Wayne Hale, chairing an external tank shipment review last week at the Marshall Space Flight Center in Huntsville, Ala., opted to stick with a May 10 target date pending additional discussions at this Thursday's program requirements control board - PRCB - meeting in Houston.

Hale will participate in a shuttle program update news conference Tuesday at the Kennedy Space Center.

External Tank 119 departed Lockheed Martin's Michoud Assembly Facility by barge on Saturday, nearly a week ahead of schedule. But engineers face up to 10 days of additional foam closeout work in Florida as the space agency gears up for normal launch processing.

NASA planners have been baselining an accelerated 62-day processing flow that typically includes five days of contingency time to handle unexpected problems. Depending on how much post-shipment foam work is actually required for ET-119, that contingency time could shrink to zero or even go negative, i.e., push the launch to later in May. As it now stands, a full 10 days of post-shipment work would drive the launch date to around May 12 with no contingency time. A meeting to discuss tank processing issues is planned for Tuesday.

Other "long poles" in the launch processing schedule include positive results from upcoming wind tunnel tests to verify recent tank modifications will work as advertised; a launch ice/debris analysis; and final design reviews associated with the tank work.

Engineers are also working two issues with the shuttle's main propulsion system that must be resolved before flight.

After two helium leak test failures, replacement seals were installed between two of the ship's three main engines and propellant feed lines. The propulsion system is now leak free. But three of the four seals in question do not quite meet printed specifications and engineers are conducting an analysis to show the seals will work as required. NASA also is working with the vendor to ensure compliance with specifications in the future.

Another open issue involves small metal fragments trapped on a filter screen above a liquid oxygen main engine inlet. Similar debris was seen in a filter screen in the main propulsion system aboard the shuttle Endeavour and engineers are trying to figure out whether the material represents an ignition threat. If the debris must be removed before flight, Discovery would not be able to meet the May launch window, officials said. See the Feb. 17 story for additional details.

That said, here is the latest near-term launch schedule. Readers are advised that recent discussions of long-term manifest options on this page and other sites have been superceded by a new space station assembly sequence (see below); the following target dates are topics on the agenda at Thursday's PRCB meeting and thus subject to change:
STS-121/ET-119 (Discovery/ISS-ULF 1.1): 05/10/06


STS-300/ET-118 (Atlantis/emergency rescue mission): 08/04/06 (if needed)


STS-115/ET-118 (Atlantis/ISS-12A): 08/28/06


STS-301/ET-123 (Discovery/emergency rescue mission): 10/28/06 (if needed)


STS-116/ET-123 (Discovery/ISS-12A.1): 11/16/06
STS-116 is officially slated for the shuttle Endeavour. But Endeavour, currently undergoing a major inspection and overhaul, will not be ready to fly before February and NASA almost certainly will switch that flight to Discovery. And that, in turn, would delay implementation of a major modification planned for Discovery that will permit it to use space station electrical power when docked to the orbital outpost.

As it now stands, the shuttle can transfer its own 28-volt power into the station's 120-volt system, but it doesn't work the other way around. Using a new Boeing-supplied Power Converter Unit, the shuttle will be able to augment its own fuel cell-generated power with station electricity, allowing future crews to remain docked for nine to 12 days. That's a high-priority upgrade to maximize the time available for assembly work, but modifications to Discovery will be deferred one flight if Discovery does, in fact, stand in for Endeavour.

The space station, of course, is the major manifest driver. All but one of the 17 flights remaining between now and the end of the shuttle program in 2010 are devoted to space station assembly, resupply and maintenance. The lone exception is a possible flight to service and upgrade the Hubble Space Telescope.

While that mission carries a high scientific priority, it is not yet clear how NASA will conduct a flight that cannot take advantage of the international space station if the orbiter suffers any significant damage during launch or in orbit.

Space station-bound shuttle crews can use the lab complex as a "safe haven" in the event of major problems, but that option isn't available to a Hubble crew because the shuttle does not have the ability to move from one craft's orbit to the other. A decision on how to proceed ultimately could play a role in when NASA turns over one of its two shuttle launch pads for modifications to support the new Crew Exploration Vehicle.

Shuttle managers would like to keep pad 39B available in case the agency ultimately decides a second shuttle must be prepared for a quick-launch emergency mission to protect the Hubble crew. All of that remains up in the air as of this writing, but it is a factor in manifest planning and CEV test flight scenarios.

NASA had been hoping to launch a Hubble servicing mission eight or nine flights into the new sequence. But the agency is expected to move up launch of two key European and Japanese space station modules, at the request of the international partners, pushing a Hubble flight to early 2008 on the 11th mission in the latest proposed manifest.

NASA Administrator Mike Griffin and his international counterparts plan to discuss the station assembly sequence at a "heads of agencies" meeting Thursday at the Kennedy Space Center. A news conference is planned Thursday afternoon.

The European and Japanese space agencies, sources say, have been adamant about moving up the launch of ESA's Columbus research module and the Japanese Kibo module. NASA planners initially resisted the idea because it complicated logistics and sequential assembly work.