Discovery comes
home from space
BY WILLIAM HARWOOD
STORY WRITTEN FOR CBS NEWS "SPACE PLACE" & USED WITH PERMISSION
Posted: November 7, 2007;
Updated after post-landing briefing


With commander Pam Melroy at the controls, the shuttle Discovery plunged back to Earth today, streaking across the heartland of America to a picture-perfect landing at the Kennedy Space Center to wrap up an action-packed space station assembly mission.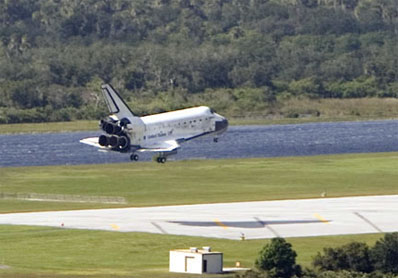 Credit: Chris Miller/Spaceflight Now



Banking sharply through a sweeping 195-degree right overhead turn, Melroy lined up on runway 33 and pilot George Zamka lowered the shuttle's landing gear seconds before a tire-smoking touchdown at 1:01:18 p.m. A few moments later, using a red-and-white braking parachute to slow down, Discovery rolled to a halt.

"Houston, Discovery, wheels stopped," Melroy radioed.

"Copy, wheels stopped, Discovery. Congratulations on a tremendous mission and a great landing, Pam," replied astronaut Terry Virts from mission control at the Johnson Space Center in Houston.

Unofficial mission duration was 15 days, two hours, 23 minutes even over 238 complete orbits. Total distance traveled was roughly 6.2 million miles since blastoff Oct. 23.

Melroy, Zamka, flight engineer Stephanie Wilson and spacewalkers Scott Parazynski and Doug Wheelock doffed their pressure suits for a traditional runway walk-around before returning to crew quarters for medical checks and reunions with family members.

Italian astronaut Paolo Nespoli, representing the European Space Agency aboard Discovery, and Clay Anderson, returning from a 152-day stay aboard the international space station, remained in a crew transport vehicle for routine medical checks.

"It's great to be out here on this gorgeous day," Melroy said, standing in front of Discovery on the runway. "It's great to be back in Florida, especially, the home of Discovery. We could not have done this mission without Discovery being as clean and beautiful as it was.

"Sorry that Clay and Paolo couldn't be be out here," she said. "They're doing great, they're just doing some extra medical tests so they couldn't join us right now. But I know they feel the same way, particularly Clay. He can't wait to see his wife soon, it's their 15th wedding anniversary."

Anderson, launched to the international lab complex last June aboard the shuttle Atlantis, returned to Earth resting on his back in a recumbent seat on Discovery's lower deck to ease his re-adaptation to gravity after 152 days in space. A team of flight surgeons and support personnel was standing by to assess his condition and help him off the orbiter.

While it varies from one individual to another, it typically takes returning station astronauts a month or so to largely re-adapt to gravity and up to a year to fully recover.

"Physically and mentally, I'm really ready to be home," Anderson said from orbit Tuesday. "I've worked very hard on my physical exercise since I arrived way back in June. So I think that part will be fine. The only part I don't know about is how I will react with my vestibular system and the fact that I've been off the planet with minimal gravity for five months and then I'll come thumping back to the ground - I'm sorry, Pam, smoothly come back to the ground! - and enjoy the comforts of gravity again. So it'll be interesting to find out. I'm kind of optimistic, maybe overly so.

"Regarding what I miss, I think just being able to be outside in the breezes and hear the birds and feel the sunlight and that sort of thing, you can't get that on the international space station. You can imagine it, you can look out the window and see beautiful things, but it's not the same as being outside on the ground on the beautiful planet Earth."

Along with seeing his family again, Anderson said he also plans to enjoy a steak dinner at his earliest convenience.

"I have a special, secret recipe that we like to do at home, so I'm really looking forward to that first time at home with my family," he said. "For other things, I think ice cold drinks, or things like ice cream that we don't have any opportunity to have on the international space station ... are just general cravings that I have.

"But I enjoyed my time up there immensely and it's a kind of a bitter sweet time for me to come home. But I'm ready."

Flying upside down and backward over the southern Indian Ocean, Melroy and Zamka fired Discovery's twin braking rockets at 11:58:49 a.m. for one minute and 53 seconds, slowing the ship by about 147 mph to drop out of orbit for an hourlong glide to Earth.

The original flight plan called for a southwest-to-northeast re-entry trajectory across the south Pacific Ocean, Central America and the Caribbean for a pre-dawn landing. But given the length of Discovery's extended 16-day mission, flight controllers altered the crew's schedule to bring in daylight opportunities using a so-called descending node flight path that carried Discovery across the central United States for the first time since the 2003 Columbia disaster.

"Just like driving, flying and making a landing, I think, is easier in the daylight, you have more visual cues," said Melroy, a former large aircraft test pilot and the second woman to command a space shuttle.

A half hour after the deorbit rocket firing, Discovery plunged into the discernible atmosphere 400,000 feet above the mid Pacific Ocean north of Hawaii and crossed the coast of western Canada just north of Vancouver. Moving from northwest to southeast, Discovery streaked high above Montana and central Nebraska, passing just a few miles south of Anderson's hometown of Ashland.

Flying almost directly above Topeka, Kansas, Discovery's flight computers guided the ship just south of Memphis and across the deep south to Florida. Melroy took over manual control at an altitude of 50,000 feet above north Merritt Island as the shuttle dropped below the speed of sound.

After giving Zamka a few moments of hands-on flying time, Melroy completed a sweeping 195-degree right overhead turn to line up on runway 33.

"Discovery worked perfectly, and I just want to say a big thank you to everybody at the Kennedy Space Center for everything that you do," Melroy said after landing. "Because it takes the entire team to pull it together to launch a shuttle as clean as this. And that goes for the whole agency, I think the whole agency had to pull together for this particular mission.

"We saw a lot of very unusual things happen. We did a pretty amazing (solar panel repair spacewalk) and that was very exciting. It's a thrilling day for both the space shuttle and the space station programs, vindicating both programs and their purpose and their flexibility in space. I just want say thank you, we are thrilled to be back home."

At a post-landing news conference, NASA Administrator Mike Griffin said Discovery's mission was a welcome success.

"While all of you know that I think there's no such thing as a good press conference, this one is as good as it can be because the only thing we can talk about up here is how great this mission has been from start to finish and how you've had an opportunity to see and report on NASA at its very best," he said.

Anderson was replaced aboard the space station by Dan Tani, who hitched a ride into space aboard Discovery and who remained behind with Expedition 16 commander Peggy Whitson and Yuri Malenchenko when the shuttle departed Monday.

Over the course of a dramatic assembly mission, the combined shuttle-station crews successfully attached a new pressurized module to the lab complex and moved a huge set of solar arrays to its permanent mounting point on the far left end of the lab's main solar power truss.

When the arrays were re-extended, one of them was mangled and torn by a guide wire hangup that required a mission extension and a dramatic spacewalk repair job by Parazynski and Wheelock last Saturday. But the work was successful and the array was fully extended and locked in place.

Griffin said the mission reflected a growing maturity in space operations that is difficult to appreciate.

"I think that building the space station is far more difficult, and certainly far more complex, than was executing Apollo," he said. "Apollo was an incredible leap from where we were. But it was simpler than what we are trying to do today.

"We don't have the experience base to appreciate how great it really is. Humans have been building bridges for a thousand years, more, so each new, more exciting bridge is an extension beyond what was done (before), but because it's just an extension, it's an increment, we don't see it. If somebody puts a picture of the new, highest bridge in the world in France on the internet, everybody says wow, that's great.

"Well, building the space station is like building the world's newest and highest bridge, except people can't drive across it," Griffin said. "The only way you can see it is in the photos we bring back or the TV images we send. What we are building here is larger than a football field. And we're doing it in zero gravity. ... What's happening here is extraordinary. I mean, you need to be able to appreciate it. And it's way beyond anything that has ever been done by human beings before, anywhere."

Discovery's landing kicks off a busy month in space for Whitson, Malenchenko and Tani to prepare the lab complex for the long-awaited launch of Europe's Columbus research module aboard the shuttle Atlantis on Dec. 6. Columbus was moved to launch pad 39A late Tuesday and engineers plan to haul Atlantis to the pad early Saturday.

Columbus will be attached to the Harmony module that was delivered by the Discovery astronauts and temporarily attached to the left side of the station's central Unity module.

Before Atlantis can take off, the station astronauts must detach the lab's shuttle docking port from the front of the Destiny lab module, connect it to Harmony and then move the entire assembly back to the front of the station. Three spacewalks will be required, one by Whitson and Malenchenko this Friday to finish initial preparations, and two by Whitson and Tani Nov. 20 and 24 to connect the module to the station's power and cooling systems.

"Once the shuttle leaves, we do some very complex robotic operations and maneuver the node over to its final location. ... and then I would say the big technical part of my stay on station is the EVAs that will follow, where we take fluid trays that have been stored on the station for years and we install them on the lab to provide cooling and power to the node so it can offer it to the Columbus module and the Japanese Experiment Module," Tani said before launch.

"We talk about this as a 45-day shuttle mission in terms of pace," he added. "Shuttle missions are scheduled down to 10-minute increments and generally, usually station timelines are a bit more relaxed. But we are not, we are all 'go' from the moment of launch to probably until (Atlantis) comes to get me to bring me home, we are go, go, go."

Columbus will be attached to Harmony's right-side port in December. Japanese research modules, scheduled for launch in February and April, ultimately will be attached to Harmony's left port.

Here is a schedule of upcoming events:

DATE.......TIME.......EVENT

11/09/07...06:00 AM...Whitson, Malenchenko spacewalk; Harmony outfitting
11/10/07...04:00 AM...Atlantis is moved to launch pad 39A
11/12/07...05:40 AM...Shuttle docking port moved from Destiny to Harmony
11/14/07...04:55 AM...Harmony/docking port moved to Destiny
11/14/07..............Shuttle program flight readiness review concludes
11/20/07...TBD........Whitson, Tani EVA; Harmony connected to ISS power/cooling
11/20/07..............Shuttle practice countdown
11/24/07...TBD........Whitson, Tani EVA; Harmony connected to ISS power/cooling
11/25/07..............Harmony module activated
11/26/07..............Station crew enters Harmony
11/30/07..............NASA senior management readiness review concludes
12/03/07...TBD........Start of countdown to Atlantis launch
12/06/07...04:32 PM...Launch of Atlantis and Columbus module (time approximate)
12/09/07...03:12 PM...Columbus module attached to space station
12/15/07...08:22 AM...Atlantis undocks from space station
12/17/07...12:02 PM...Atlantis lands at the Kennedy Space Center

Station flight director Holly Ridings said the lab crew will have to work through the Thanksgiving holiday to get the work done.
"They are not going to have Thanksgiving off," she said. "Even pre-flight, the crew knew that this month of November was going to be very, very challenging. And so they said right up front, if it works out that we need to work on Thanksgiving, we are more than happy to do that. And it did work out that way. So they will be working on Thanksgiving with a lot of us here working as well to support them."
Pete Hasbrook, the Expedition 16 manager at the Johnson Space Center, said NASA is mindful of falling prey to schedule pressure. But given the Bush administration's order to finish the station and retire the shuttle by 2010, pressure is inevitable.
"As far as schedule pressure, I would say yes and no," Hasbrook said. "Yes, we all know that we want to launch in December if we can. But on the other hand, we are very clear, management is very clear, our crew and medical teams are very clear, we need to give the crew an adequate rest time, we can't run them seven days a week. Some people would like to, but we know that's a bad thing to do.
"So we've put in the work-rest cycle we've talked about in a previous briefing, basically working five and a half, six-ish days a week. Toward the end of the time here before we get into flight 1E (the Columbus mission) we're going to give the crew the right amount of time off. And if that means we have to go into the December window a little bit to do that, we're going to do that. We have permission from our program management, our headquarters management to keep that on the table, protect that, protect the crew's health and also protect the ground teams' health.
"You might have (noticed) how much running the teams have been doing on the ground just to finish the 10A flight (Discovery's mission), pulling the miracle that we did at the end of that flight. There's a lot of work going into that, there are a lot of teams working extra hours, we could not have gone and done that again this week without having some delay. So we're very conscious on the pressure we might put on ourselves on schedules.
"If we find some reason we can't make December, including if something major were to break on orbit between now and then that would cost us extra days, we would have to wait until January," Hasbrook said.
That said, "launching in December is a priority for all of us, not just the U.S. side, but all of the partners."
"You might remember that after Columbia, we did a lot of replanning and our partners were very, very patient in watching us and helping us through that whole mission replanning process," Hasbrook said. "You might remember we changed the order of some of the flights. Again, the partners have been working on these modules and looking forward to their payback, to their countries, the European Space Agency, the Japanese exploration agency. They've been very patient about getting their laboratories into space, getting their science return.
"So it's important to us to recognize the support they've given us and the patience they've given us. It's not just an American mission that we're going into. It's really expanding the station to be more international than it is."


Additional coverage for subscribers:


VIDEO: DISCOVERY LANDS AT KENNEDY SPACE CENTER PLAY



VIDEO: PRE-LANDING STATUS BRIEFING PLAY


VIDEO: THE FLIGHT DAY 15 HIGHLIGHTS MOVIE PLAY


VIDEO: CREW INTERVIEW: ASSOCIATED PRESS PLAY


VIDEO: CREW INTERVIEW: SPACE.COM PLAY


VIDEO: CREW INTERVIEW: LINCOLN JOURNAL STAR PLAY



VIDEO: THE FLIGHT DAY 14 HIGHLIGHTS MOVIE PLAY


VIDEO: POST-UNDOCKING STATUS BRIEFING PLAY


VIDEO: VIEWS FROM STATION OF THE SHUTTLE PLAY


VIDEO: DISCOVERY UNDOCKS FROM THE SPACE STATION PLAY


VIDEO: NARRATED PREVIEW OF UNDOCKING AND FLYAROUND PLAY



VIDEO: THE FLIGHT DAY 13 HIGHLIGHTS MOVIE PLAY


VIDEO: FAREWELL CEREMONY BETWEEN SHUTTLE AND ISS CREWS PLAY


VIDEO: SUNDAY'S MISSION STATUS BRIEFING PLAY



VIDEO: THE FLIGHT DAY 12 HIGHLIGHTS MOVIE PLAY


VIDEO: POST-SPACEWALK MISSION STATUS BRIEFING PLAY


VIDEO: THE SOLAR ARRAY IS FULLY DEPLOYED AT LAST PLAY


VIDEO: PARAZYNSKI INSTALLS FIRST CUFFLINK PLAY


VIDEO: THE SPACEWALK BEGINS PLAY


VIDEO: THE FLIGHT DAY 11 HIGHLIGHTS MOVIE PLAY


VIDEO: FRIDAY'S STATUS BRIEFING AND SPACEWALK PREVIEW PLAY



VIDEO: THE FLIGHT DAY 10 HIGHLIGHTS MOVIE PLAY


VIDEO: THURSDAY'S STATUS BRIEFING AND SPACEWALK PREVIEW PLAY



VIDEO: THE FLIGHT DAY 9 HIGHLIGHTS MOVIE PLAY


VIDEO: WEDNESDAY'S MISSION STATUS BRIEFING PLAY


VIDEO: CREW NEWS BRIEFING WITH U.S., ITALY, RUSSIA PLAY



VIDEO: THE FLIGHT DAY 8 HIGHLIGHTS MOVIE PLAY


VIDEO: TUESDAY'S MISSION STATUS BRIEFING PLAY


VIDEO: SOLAR ARRAY WING TEARS DURING DEPLOYMENT PLAY


VIDEO: FIRST SOLAR ARRAY IS SUCCESSFULLY UNFURLED PLAY


VIDEO: HOUSTON BEGINS SOLAR ARRAYS DEPLOY SEQUENCE PLAY


VIDEO: SPARE POWER SWITCHING UNIT INSTALLED PLAY


VIDEO: INSPECTIONS OF PORT-SIDE ROTARY JOINT PLAY


VIDEO: RADIATOR UNFOLDED FROM THE P6 TRUSS PLAY


VIDEO: THE ASTRONAUTS PAUSE FOR QUICK PHOTOS PLAY


VIDEO: SPACEWALKERS REMOVE SHROUDS FROM P6 BOXES PLAY


VIDEO: P6 TRUSS CAPTURED CLAW-LIKE INSTALL LATCH PLAY


VIDEO: SPACEWALKERS HELP GUIDE P6 TRUSS INTO PLACE PLAY


VIDEO: DOUG WHEELOCK EMERGES FROM AIRLOCK FOR EVA PLAY


VIDEO: ROBOT ARM MOVES TRUSS FROM OVERNIGHT PARK SPOT PLAY


VIDEO: NARRATED ANIMATION OF P6 TRUSS INSTALLATION PLAY


VIDEO: PREVIEW OF TUESDAY'S SPACEWALK PLAY



VIDEO: THE FLIGHT DAY 7 HIGHLIGHTS MOVIE PLAY


VIDEO: MONDAY'S MISSION STATUS BRIEFING PLAY


VIDEO: ANOTHER RADIATOR DEPLOYED FROM THE S1 TRUSS PLAY


VIDEO: RADIATOR DEPLOYED FROM STARBOARD 1 TRUSS PLAY


VIDEO: ASTRONAUTS HAVE SOME FUN IN HARMONY PLAY


VIDEO: CREW INTERVIEWED BY ABC NEWS PLAY


VIDEO: CREW INTERVIEWED BY NBC NEWS PLAY


VIDEO: CREW INTERVIEWED BY CNN PLAY


VIDEO: NARRATED ANIMATION OF RADIATOR DEPLOYS PLAY


VIDEO: NARRATED ANIMATION OF PORT 6 HANDOFF PLAY



VIDEO: THE FLIGHT DAY 6 HIGHLIGHTS MOVIE PLAY


VIDEO: POST-SPACEWALK MISSION STATUS BRIEFING PLAY


VIDEO: ROBOT ARM GRAPPLE BASE INSTALLED ON HARMONY PLAY


VIDEO: STATION CABLING FOR P6 TRUSS CONFIGURED PLAY


VIDEO: TANI COLLECTS SAMPLES OF DEBRIS IN ROTARY JOINT PLAY


VIDEO: TANI DISCOVERS UNKNOWN DEBRIS INSIDE ROTARY JOINT PLAY


VIDEO: THE PORT 6 TRUSS DETACHED FROM THE SPACE STATION PLAY


VIDEO: SPACEWALKERS UNBOLT THE PORT 6 TRUSS PLAY


VIDEO: NARRATED ANIMATION OF PORT 6 REMOVAL PLAY


VIDEO: PREVIEW OF SUNDAY'S SPACEWALK PLAY


VIDEO: BIOGRAPHY MOVIE ON DISCOVERY'S ASTRONAUTS PLAY


VIDEO: BIOGRAPHY MOVIE ON EXPEDITION 16 CREW PLAY


VIDEO: BIOGRAPHY ON NEW EXPEDITION 16 MEMBER DAN TANI PLAY



VIDEO: THE FLIGHT DAY 5 HIGHLIGHTS MOVIE PLAY


VIDEO: CREW INTERVIEWED BY CBS NEWS PLAY


VIDEO: CREW INTERVIEWED BY FOX NEWS PLAY


VIDEO: CREW INTERVIEWED BY WHAM-TV PLAY


VIDEO: SATURDAY'S MISSION STATUS BRIEFING PLAY


VIDEO: ASTRONAUTS ENTER HARMONY FOR FIRST TIME PLAY


VIDEO: CREW COMMENTS FROM INSIDE HARMONY PLAY



VIDEO: THE FLIGHT DAY 4 HIGHLIGHTS MOVIE PLAY


VIDEO: POST-EVA MISSION STATUS BRIEFING PLAY


VIDEO: FIRST STS-120 SPACEWALK CONCLUDES PLAY


VIDEO: ROBOT ARM INSTALLS HARMONY ON THE STATION PLAY


VIDEO: HARMONY MODULE LIFTED OUT OF PAYLOAD BAY PLAY


VIDEO: S-BAND ANTENNA STOWED IN DISCOVERY'S BAY PLAY


VIDEO: WHEELOCK RIDES STATION ARM WITH ANTENNA PLAY


VIDEO: MISSION STS-120'S SPACEWALK NO. 1 BEGINS PLAY



VIDEO: ANIMATED PREVIEW OF HARMONY INSTALLATION PLAY


VIDEO: NARRATED ANIMATION OF SHUTTLE PAYLOAD BAY PLAY


VIDEO: HARMONY'S PRE-LAUNCH PREPS AT THE CAPE PLAY


VIDEO: BACKGROUND INFO ON HARMONY MODULE PLAY


VIDEO: PREVIEW OF FRIDAY'S SPACEWALK PLAY



VIDEO: THURSDAY MANAGEMENT TEAM NEWS BRIEFING PLAY


VIDEO: POST-DOCKING MISSION STATUS BRIEFING PLAY


VIDEO: INSPECTION BOOM HANDED BETWEEN ROBOT ARMS PLAY


VIDEO: SHUTTLE CREW WELCOMED ABOARD THE STATION PLAY


VIDEO: RING BETWEEN THE DOCKING PORTS RETRACTED PLAY


VIDEO: REPLAY OF DOCKING FROM PAYLOAD BAY CAMERAS PLAY


VIDEO: SHUTTLE DISCOVERY DOCKS TO THE STATION PLAY


VIDEO: DISCOVERY PERFORMS 360-DEGREE BACKFLIP PLAY


VIDEO: SHUTTLE APPROACHES STATION FROM BELOW PLAY


VIDEO: NARRATED PREVIEW OF THE DOCKING PLAY



VIDEO: THE FLIGHT DAY 2 HIGHLIGHTS MOVIE PLAY


VIDEO: BRIEFING ON LAUNCH IMAGERY AND TANK'S PERFORMANCE PLAY


VIDEO: WEDNESDAY'S MISSION STATUS BRIEFING PLAY


VIDEO: HEAT SHIELD INSPECTIONS EXPLAINED PLAY


VIDEO: THE FLIGHT DAY 1 HIGHLIGHTS MOVIE PLAY


VIDEO: INSIDE MISSION CONTROL DURING LAUNCH PLAY



VIDEO: DISCOVERY'S LAUNCH AS SEEN LIVE PLAY


VIDEO: EXTERNAL TANK CAMERA FROM LIFTOFF TO ORBIT PLAY


VIDEO: LAUNCH REPLAY: VAB ROOF PLAY


VIDEO: LAUNCH REPLAY: KSC RUNWAY PLAY


VIDEO: LAUNCH REPLAY: BEACH TRACKER PLAY


VIDEO: LAUNCH REPLAY: UCS-23 WIDESCREEN PLAY


VIDEO: LAUNCH REPLAY: PLAYALINDA WIDESCREEN PLAY


VIDEO: LAUNCH REPLAY: WEST TOWER PLAY


VIDEO: LAUNCH REPLAY: PRESS SITE PLAY


VIDEO: LAUNCH REPLAY: CAMERA 009 PLAY


VIDEO: LAUNCH REPLAY: CAMERA 041 PLAY


VIDEO: LAUNCH REPLAY: CAMERA 049 PLAY


VIDEO: LAUNCH REPLAY: CAMERA 050 PLAY


VIDEO: LAUNCH REPLAY: CAMERA 051 PLAY


VIDEO: LAUNCH REPLAY: CAMERA 054 PLAY


VIDEO: LAUNCH REPLAY: CAMERA 060 PLAY


VIDEO: LAUNCH REPLAY: CAMERA 061 PLAY


VIDEO: LAUNCH REPLAY: CAMERA 063 PLAY


VIDEO: LAUNCH REPLAY: CAMERA 070 PLAY


VIDEO: LAUNCH REPLAY: CAMERA 071 PLAY


VIDEO: LAUNCH REPLAY: CAMERA UCS-12 PLAY


VIDEO: LAUNCH REPLAY: CAMERA UCS-15 PLAY


VIDEO: LAUNCH REPLAY: CAMERA CS-1 PLAY


VIDEO: LAUNCH REPLAY: CAMERA CS-2 PLAY


VIDEO: LAUNCH REPLAY: CAMERA CS-6 PLAY



VIDEO: THE CREW DEPARTS QUARTERS FOR THE PAD PLAY


VIDEO: ASTRONAUTS SUITS UP ON LAUNCH MORNING PLAY


VIDEO: A LOOK BACK AT SHUTTLE DISCOVERY'S HISTORY PLAY


VIDEO: PAD 39A'S ROTATING GANTRY MOVED BACK PLAY


VIDEO: INTERVIEW CLIPS WITH THE ASTRONAUTS PLAY


VIDEO: MONDAY MORNING'S STATUS BRIEFING PLAY


VIDEO: PRE-LAUNCH NEWS CONFERENCE PLAY


VIDEO: SUNDAY COUNTDOWN STATUS BRIEFING PLAY


VIDEO: SATURDAY COUNTDOWN STATUS BRIEFING PLAY


VIDEO: WATCH THE CREW'S ARRIVAL FOR LAUNCH PLAY


VIDEO: NEWS CONFERENCE AFTER FLIGHT READINESS REVIEW PLAY


VIDEO: SHUTTLE DISCOVERY ROLLS TO LAUNCH PAD 39A PLAY


VIDEO: CRANE HOISTS DISCOVERY FOR MATING TO TANK PLAY


VIDEO: DISCOVERY MOVED TO THE VEHICLE ASSEMBLY BUILDING PLAY


VIDEO: HYDRAULIC SEALS REPLACED ON LANDING GEAR STRUT PLAY


VIDEO: FUEL TANK ATTACHED TO SOLID ROCKET BOOSTERS PLAY


VIDEO: FOAM REMOVED FROM FUEL TANK FEEDLINE BRACKETS PLAY



VIDEO: STS-120 MISSION OVERVIEW BRIEFING PART 1 | PART 2


VIDEO: PREVIEW OF THE MISSION'S FIVE SPACEWALKS PLAY


VIDEO: DISCOVERY'S ASTRONAUTS MEET THE PRESS PLAY


VIDEO: BRIEFING ON SHUTTLE AND ISS PROGRAMS PLAY


MORE: STS-120 VIDEO COVERAGE


SUBSCRIBE NOW