Engineers refine repair
options for solar array
BY WILLIAM HARWOOD
STORY WRITTEN FOR CBS NEWS "SPACE PLACE" & USED WITH PERMISSION
Posted: October 31, 2007


Repairing a mangled space station solar array is now NASA's top priority because of concern the ripped, partially deployed blanket could pull apart under the stresses and strains of normal operations, possibly forcing a future crew to dump the panels overboard, NASA officials said today.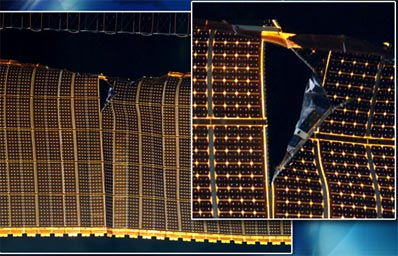 Credit: NASA



After studying the issue overnight, "it became clear to me this needed to be our priority as a program," Mike Suffredini, manager of the space station program at the Johnson Space Center in Houston, told reporters today. "I need this array. This array is in a position where the potential exists for further damage if we leave it in this condition. It's very hard to analyze this specific damage in terms of understanding structurally how much force, how much load it can take.

"Given the fact we could potentially damage this array if we leave it in this configuration, and if we damage this array enough, we could potentially not have it available for the life of the program, this then becomes our priority."

Earlier today, NASA managers called off plans for a spacewalk Thursday by Scott Parazynski and Doug Wheelock to inspect a contaminated solar array rotary joint on the right side of the station's main power truss. Instead, Wheelock and Parazynski, a former emergency room physician, will attempt a daring bit of space surgery to effectively sew up the two rips in the P6-4B solar blanket on the far right side of the power truss and possibly cut away a fouled guidewire.

While engineers have not yet finalized the repair plan, the general idea is to put Parazynski on the end of a shuttle heat shield inspection boom attached to the space station's 50-foot-long robot arm. With the space crane based at a work site at the far left end of the power truss, Parazynski could be maneuvered into position near the damage site on the P6-4B array.

Wheelock, meanwhile, likely would be anchored at the base of the damaged array to provide verbal guidance cues to arm operators back inside the Destiny laboratory module.

Engineers are still debating the details of the surgery, but one option would be for Parazynski to insert pre-made tabs that work like cufflinks through holes in the blanket slats that were used to secure the panels during launch. Fold-out latches, like the wings of a cufflink, would prevent a tab from pulling back out of a hole. The other end would be inserted through the corresponding alignment hole in an adjacent slat.

The idea is for the connected cufflinks, or something like them, to carry the 70 pounds or so of tension the blanket experiences when the array is fully extended. It is that tension that provides the necessary structural stability and, in this context, the force that could pull the ripped slats apart if nothing was done to strengthen the area.

"There is a lot of work ahead of us on this," Suffredini said. "The team has worked extremely hard. We've got a lot of great ideas. ... We feel pretty good about our chances of getting out for an EVA-4 on Friday. But we haven't actually made a determination that's what we're going to do. We've asked the team to go work this. Later on, late tonight, we're going to look where we're at. If we have the procedures in place and we're comfortable we have a plan that we can implement then we will formally ask the crew to implement that on EVA-4 on Friday."

Covering all the bases, Suffredini said "what I'd like to have if at all possible is another opportunity to go outside if we need it."

"First, we do EVA-4 on Friday and we get as much work as we can get done," he said. "If we're successful, we can call it a mission and let the crew stand down, we'll get the shuttle all configured for return (and) we'll let the shuttle go home. ... If, on the other hand, we don't quite get all our work done (on EVA-4) - and that's a distinct possibility - then we'd like to have the option to pursue an EVA-5 on Sunday."

In that case, Discovery's mission - already extended one day because of now-canceled plans to carry out a rotary joint inspection - would have to be extended an additional day.

"So where we are as a program is, the team is off trying to come up with way to approach the array, to clear the snag and then perhaps install some load-bearing straps, if you will, to take on the load so we can redeploy the array," Suffredini said. "If we can't get all our work done on Friday, we'll sit down with the shuttle team and the ops team and look at whether or not we can gain ourselves a second EVA on Sunday and have the shuttle leave one day later."

Parazynski and Wheelock will carry out the proposed Friday spacewalk, with Parazynski, one of NASA's most experienced spacewalkers, on the end of the 50-foot-long orbiter boom sensor system.

In normal operations, the shuttle's robot arm latches onto a grapple fixture at one end of the boom. The other end carries a laser scanner and camera for use in heat shield inspections, along with a fitting that can accommodate an astronaut foot restraint. The station's arm is not compatible with shuttle grapple fixtures and instead will have to pick it up using a station fixture mounted at the center of the boom. That will extend the station arm's reach by about 25 feet instead of the full 50.

The station arm currently is parked atop the space station's mobile transporter at work site 8 on the far left end of the main solar power boom. If the repair plan is approved, the arm will be moved back to a central worksite Sunday to pick up the OBSS, currently mounted in Discovery's cargo bay. The transporter then would take the station crane and the OBSS back to work site 8 to await Parazynski and Wheelock on Friday.

It is not yet clear who would carry out a second spacewalk Sunday should one be required. But Suffredini made it clear NASA needs to fix the torn blanket and a second spacewalk opportunity would provide time to complete any unfinished work or perhaps correct any additional problems.

"The snag is providing a sort of ripping function on the blanket," Suffredini said. "Right now, we're supposed to be able to distribute 70 pounds of load across a 15-foot hinge and we're missing about three feet of that hinge. Not only are we trying to distribute that load across the remainder of the hinge, but you also have a high stress area right where you see the rip beginning.

"Given that configuration, the fact that we have sort of a forcing function the way it's being ripped up, we believe we're in a condition where we could, over time, tear the blanket further. And if we do enough damage to the blanket we could potentially get in a configuration where we couldn't stabilize the array and if we can't stabilize the array, we'll have to figure out what to do about that and we don't have a lot of options. The most likely option is we'd have to jettison it. So before we get to that position ... we've made it a priority to go repair it. It's stable right now, we've got time to go work this problem."

In yet another major change for mission planners - and the Discovery astronauts - the Mission Management Team today approved a revised landing strategy that would move re-entry next week from before dawn to the afternoon. The change will require the astronauts to adjust their sleep cycles and fly a trajectory that will carry them over the heartland of America, a northwest-to-southeast flight path NASA has avoided since the 2003 Columbia disaster. The change will permit additional landing opportunities.


Additional coverage for subscribers:


VIDEO: THE FLIGHT DAY 8 HIGHLIGHTS MOVIE PLAY


VIDEO: TUESDAY'S MISSION STATUS BRIEFING PLAY


VIDEO: SOLAR ARRAY WING TEARS DURING DEPLOYMENT PLAY


VIDEO: FIRST SOLAR ARRAY IS SUCCESSFULLY UNFURLED PLAY


VIDEO: HOUSTON BEGINS SOLAR ARRAYS DEPLOY SEQUENCE PLAY


VIDEO: SPARE POWER SWITCHING UNIT INSTALLED PLAY


VIDEO: INSPECTIONS OF PORT-SIDE ROTARY JOINT PLAY


VIDEO: RADIATOR UNFOLDED FROM THE P6 TRUSS PLAY


VIDEO: THE ASTRONAUTS PAUSE FOR QUICK PHOTOS PLAY


VIDEO: SPACEWALKERS REMOVE SHROUDS FROM P6 BOXES PLAY


VIDEO: P6 TRUSS CAPTURED CLAW-LIKE INSTALL LATCH PLAY


VIDEO: SPACEWALKERS HELP GUIDE P6 TRUSS INTO PLACE PLAY


VIDEO: DOUG WHEELOCK EMERGES FROM AIRLOCK FOR EVA PLAY


VIDEO: ROBOT ARM MOVES TRUSS FROM OVERNIGHT PARK SPOT PLAY


VIDEO: NARRATED ANIMATION OF P6 TRUSS INSTALLATION PLAY


VIDEO: PREVIEW OF TUESDAY'S SPACEWALK PLAY



VIDEO: THE FLIGHT DAY 7 HIGHLIGHTS MOVIE PLAY


VIDEO: MONDAY'S MISSION STATUS BRIEFING PLAY


VIDEO: ANOTHER RADIATOR DEPLOYED FROM THE S1 TRUSS PLAY


VIDEO: RADIATOR DEPLOYED FROM STARBOARD 1 TRUSS PLAY


VIDEO: ASTRONAUTS HAVE SOME FUN IN HARMONY PLAY


VIDEO: CREW INTERVIEWED BY ABC NEWS PLAY


VIDEO: CREW INTERVIEWED BY NBC NEWS PLAY


VIDEO: CREW INTERVIEWED BY CNN PLAY


VIDEO: NARRATED ANIMATION OF RADIATOR DEPLOYS PLAY


VIDEO: NARRATED ANIMATION OF PORT 6 HANDOFF PLAY



VIDEO: THE FLIGHT DAY 6 HIGHLIGHTS MOVIE PLAY


VIDEO: POST-SPACEWALK MISSION STATUS BRIEFING PLAY


VIDEO: ROBOT ARM GRAPPLE BASE INSTALLED ON HARMONY PLAY


VIDEO: STATION CABLING FOR P6 TRUSS CONFIGURED PLAY


VIDEO: TANI COLLECTS SAMPLES OF DEBRIS IN ROTARY JOINT PLAY


VIDEO: TANI DISCOVERS UNKNOWN DEBRIS INSIDE ROTARY JOINT PLAY


VIDEO: THE PORT 6 TRUSS DETACHED FROM THE SPACE STATION PLAY


VIDEO: SPACEWALKERS UNBOLT THE PORT 6 TRUSS PLAY


VIDEO: NARRATED ANIMATION OF PORT 6 REMOVAL PLAY


VIDEO: PREVIEW OF SUNDAY'S SPACEWALK PLAY


VIDEO: BIOGRAPHY MOVIE ON DISCOVERY'S ASTRONAUTS PLAY


VIDEO: BIOGRAPHY MOVIE ON EXPEDITION 16 CREW PLAY


VIDEO: BIOGRAPHY ON NEW EXPEDITION 16 MEMBER DAN TANI PLAY



VIDEO: THE FLIGHT DAY 5 HIGHLIGHTS MOVIE PLAY


VIDEO: CREW INTERVIEWED BY CBS NEWS PLAY


VIDEO: CREW INTERVIEWED BY FOX NEWS PLAY


VIDEO: CREW INTERVIEWED BY WHAM-TV PLAY


VIDEO: SATURDAY'S MISSION STATUS BRIEFING PLAY


VIDEO: ASTRONAUTS ENTER HARMONY FOR FIRST TIME PLAY


VIDEO: CREW COMMENTS FROM INSIDE HARMONY PLAY



VIDEO: THE FLIGHT DAY 4 HIGHLIGHTS MOVIE PLAY


VIDEO: POST-EVA MISSION STATUS BRIEFING PLAY


VIDEO: FIRST STS-120 SPACEWALK CONCLUDES PLAY


VIDEO: ROBOT ARM INSTALLS HARMONY ON THE STATION PLAY


VIDEO: HARMONY MODULE LIFTED OUT OF PAYLOAD BAY PLAY


VIDEO: S-BAND ANTENNA STOWED IN DISCOVERY'S BAY PLAY


VIDEO: WHEELOCK RIDES STATION ARM WITH ANTENNA PLAY


VIDEO: MISSION STS-120'S SPACEWALK NO. 1 BEGINS PLAY



VIDEO: ANIMATED PREVIEW OF HARMONY INSTALLATION PLAY


VIDEO: NARRATED ANIMATION OF SHUTTLE PAYLOAD BAY PLAY


VIDEO: HARMONY'S PRE-LAUNCH PREPS AT THE CAPE PLAY


VIDEO: BACKGROUND INFO ON HARMONY MODULE PLAY


VIDEO: PREVIEW OF FRIDAY'S SPACEWALK PLAY



VIDEO: THURSDAY MANAGEMENT TEAM NEWS BRIEFING PLAY


VIDEO: POST-DOCKING MISSION STATUS BRIEFING PLAY


VIDEO: INSPECTION BOOM HANDED BETWEEN ROBOT ARMS PLAY


VIDEO: SHUTTLE CREW WELCOMED ABOARD THE STATION PLAY


VIDEO: RING BETWEEN THE DOCKING PORTS RETRACTED PLAY


VIDEO: REPLAY OF DOCKING FROM PAYLOAD BAY CAMERAS PLAY


VIDEO: SHUTTLE DISCOVERY DOCKS TO THE STATION PLAY


VIDEO: DISCOVERY PERFORMS 360-DEGREE BACKFLIP PLAY


VIDEO: SHUTTLE APPROACHES STATION FROM BELOW PLAY


VIDEO: NARRATED PREVIEW OF THE DOCKING PLAY



VIDEO: THE FLIGHT DAY 2 HIGHLIGHTS MOVIE PLAY


VIDEO: BRIEFING ON LAUNCH IMAGERY AND TANK'S PERFORMANCE PLAY


VIDEO: WEDNESDAY'S MISSION STATUS BRIEFING PLAY


VIDEO: HEAT SHIELD INSPECTIONS EXPLAINED PLAY


VIDEO: THE FLIGHT DAY 1 HIGHLIGHTS MOVIE PLAY


VIDEO: INSIDE MISSION CONTROL DURING LAUNCH PLAY



VIDEO: DISCOVERY'S LAUNCH AS SEEN LIVE PLAY


VIDEO: EXTERNAL TANK CAMERA FROM LIFTOFF TO ORBIT PLAY


VIDEO: LAUNCH REPLAY: VAB ROOF PLAY


VIDEO: LAUNCH REPLAY: KSC RUNWAY PLAY


VIDEO: LAUNCH REPLAY: BEACH TRACKER PLAY


VIDEO: LAUNCH REPLAY: UCS-23 WIDESCREEN PLAY


VIDEO: LAUNCH REPLAY: PLAYALINDA WIDESCREEN PLAY


VIDEO: LAUNCH REPLAY: WEST TOWER PLAY


VIDEO: LAUNCH REPLAY: PRESS SITE PLAY


VIDEO: LAUNCH REPLAY: CAMERA 009 PLAY


VIDEO: LAUNCH REPLAY: CAMERA 041 PLAY


VIDEO: LAUNCH REPLAY: CAMERA 049 PLAY


VIDEO: LAUNCH REPLAY: CAMERA 050 PLAY


VIDEO: LAUNCH REPLAY: CAMERA 051 PLAY


VIDEO: LAUNCH REPLAY: CAMERA 054 PLAY


VIDEO: LAUNCH REPLAY: CAMERA 060 PLAY


VIDEO: LAUNCH REPLAY: CAMERA 061 PLAY


VIDEO: LAUNCH REPLAY: CAMERA 063 PLAY


VIDEO: LAUNCH REPLAY: CAMERA 070 PLAY


VIDEO: LAUNCH REPLAY: CAMERA 071 PLAY


VIDEO: LAUNCH REPLAY: CAMERA UCS-12 PLAY


VIDEO: LAUNCH REPLAY: CAMERA UCS-15 PLAY


VIDEO: LAUNCH REPLAY: CAMERA CS-1 PLAY


VIDEO: LAUNCH REPLAY: CAMERA CS-2 PLAY


VIDEO: LAUNCH REPLAY: CAMERA CS-6 PLAY



VIDEO: THE CREW DEPARTS QUARTERS FOR THE PAD PLAY


VIDEO: ASTRONAUTS SUITS UP ON LAUNCH MORNING PLAY


VIDEO: A LOOK BACK AT SHUTTLE DISCOVERY'S HISTORY PLAY


VIDEO: PAD 39A'S ROTATING GANTRY MOVED BACK PLAY


VIDEO: INTERVIEW CLIPS WITH THE ASTRONAUTS PLAY


VIDEO: MONDAY MORNING'S STATUS BRIEFING PLAY


VIDEO: PRE-LAUNCH NEWS CONFERENCE PLAY


VIDEO: SUNDAY COUNTDOWN STATUS BRIEFING PLAY


VIDEO: SATURDAY COUNTDOWN STATUS BRIEFING PLAY


VIDEO: WATCH THE CREW'S ARRIVAL FOR LAUNCH PLAY


VIDEO: NEWS CONFERENCE AFTER FLIGHT READINESS REVIEW PLAY


VIDEO: SHUTTLE DISCOVERY ROLLS TO LAUNCH PAD 39A PLAY


VIDEO: CRANE HOISTS DISCOVERY FOR MATING TO TANK PLAY


VIDEO: DISCOVERY MOVED TO THE VEHICLE ASSEMBLY BUILDING PLAY


VIDEO: HYDRAULIC SEALS REPLACED ON LANDING GEAR STRUT PLAY


VIDEO: FUEL TANK ATTACHED TO SOLID ROCKET BOOSTERS PLAY


VIDEO: FOAM REMOVED FROM FUEL TANK FEEDLINE BRACKETS PLAY



VIDEO: STS-120 MISSION OVERVIEW BRIEFING PART 1 | PART 2


VIDEO: PREVIEW OF THE MISSION'S FIVE SPACEWALKS PLAY


VIDEO: DISCOVERY'S ASTRONAUTS MEET THE PRESS PLAY


VIDEO: BRIEFING ON SHUTTLE AND ISS PROGRAMS PLAY


MORE: STS-120 VIDEO COVERAGE


SUBSCRIBE NOW