Astronauts enter Harmony
BY WILLIAM HARWOOD
STORY WRITTEN FOR CBS NEWS "SPACE PLACE" & USED WITH PERMISSION
Posted: October 27, 2007


Space station commander Peggy Whitson and Italian astronaut Paolo Nespoli opened the hatch to the newly installed Italian-built Harmony module at 8:24 a.m. today and floated into the roomy, brightly lighted room that will serve as the gateway to European and Japanese research modules scheduled for launch late this year and early next.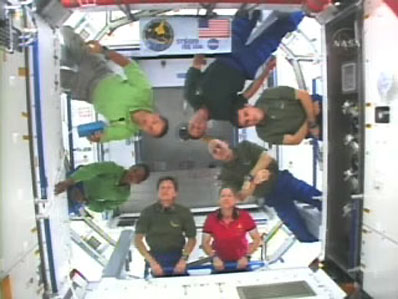 Shuttle and station crewmembers gather inside Harmony. Credit: NASA



"We just wanted to welcome the Harmony module on board the international space station," Whitson said. "It's not in its final location, but we opened the hatch to enter and we wanted to acknowledge the process and christen the Harmony module itself. We think Harmony is a very good name for this module because it represents the culmination of a lot of international partner work and will allow additional international partner modules to be added on."

"Harmony" was submitted by students in six different schools who entered a nationwide competition to name the station's newest module. Nespoli, representing Italy and the European Space Agency, called Harmony "this very beautiful piece of hardware."

"It was built in Europe, in Italy, through an agreement with the European Space Agency and the Italian Space Agency and built by Italian industry," said Nespoli, the fifth Italian to fly in space. "I'd like to thank everybody who worked hard making this possible."

Harmony was built by Thales Alenia Space in Torino, Italy. Boeing, NASA's prime contractor for the station project, installed a variety of subsystems, "including lights, fans, power switches and converters, racks, air diffusers, smoke detectors, hatches and Common Berthing Mechanisms," according to a NASA press kit.

Also known as node 2, Harmony weighs 31,500 pounds and measures 23.6 feet long and 14.5 feet wide, adding 2,600 cubic feet of pressurized volume to the international lab complex. It was attached to the left side of the central Unity module (node 1) Friday and robotically locked in place with 16 motorized berthing mechanism bolts.

"The crew will remove a cover and some hardware that was used to help mate it to the station and we'll also have them connect the power and the data cables," station flight director Heather Rarick said late Friday. "And then we'll open the hatch and go inside for the first time. We'll also have to put a temporary air duct into the node 2 so it can start circulating the air through the space station filters. After the air gets turned over a couple of times, the crew will go back in there and do some more work."

One of the major items on the agenda is to start removing hundreds of bolts, or launch locks, that were needed to provide rigidity during climb to orbit.

"Like any spacecraft, anything that launches from the ground has to withstand the huge forces of launch, the vibrations and the accelerations, of launch," newly arrived station astronaut Dan Tani said in a NASA interview. "So even though we're going to end up in a zero-g environment where the loads are very small, everything has to be designed to withstand those launch loads and vibrations.

"There are over (700) screws and bolts that are installed on the node 2 just to hold things down, to survive the launch phase, that we will not need on orbit. So we will go in and we have a very detailed procedure to remove all (700) and something of those bolts and washers that are required so that the Harmony can withstand the launch loads but that are not needed once they're in orbit.

"So that's the majority of the work inside the node 2, initially," he said. "There are other activation things: there are fire extinguishers and masks that we store as emergency equipment inside the Node 2, that are not made to launch in their final configuration, so we install those. There's some computer outfitting, electrical outfitting, those kinds of things. But we're getting it ready to, taking it out of its launch mode into its on orbit mode and activating it."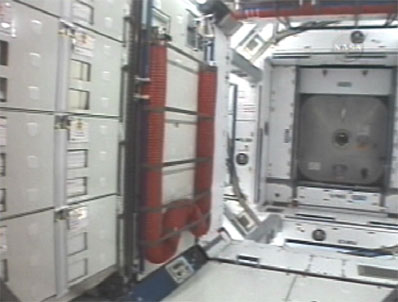 A view inside Harmony. Credit: NASA



After Discovery departs, the station crew will use the lab's robot arm to disconnect the shuttle docking port, known as pressurized mating adapter No. 2, on the front of the Destiny lab module and attach it to Harmony. The new module then will be moved to the front of Destiny, its permanent location, and connected to the station's power and cooling systems in preparation for arrival of the European Space Agency's Columbus research module in December. Columbus will be attached to Harmony's right-side port and Japan's Kibo laboratory will be attached to the left-side hatch early next year.

Along with initial node 2 outfitting today, the astronauts also plan to review procedures and set up tools for a spacewalk Sunday by Tani and Scott Parazynski to detach the 35,000-pound P6 solar array truss segment so it can be moved to the left end of the station's main power truss on Tuesday during the mission's third spacewalk.

P6 was mounted on a short truss extending up from the Unity module in 2000 to provide the station's interim power during the initial stages of construction. Now that the lab's main solar power truss is in place, P6 must be moved to its permanent position. Its huge solar arrays were stowed during to previous shuttle visits and its power and cooling systems disconnected.

Tani also will take a moment Sunday to inspect a massive joint on the right side of the truss that rotates the outboard solar arrays to track the sun. Engineers have noticed higher-than-normal vibrations and power usage in the joint and they suspect some sort of interference in the mechanism. Tani will visually inspect the joint to look for signs of anything unusual.

Tani and Parazynski will spend the night in the station's Quest airlock module at a reduced air pressure to purge nitrogen from their bloodstreams in preparation for working in NASA's low-pressure spacesuits. The so-called "camp-out" procedure is needed to help prevent the bends.


Additional coverage for subscribers:


VIDEO: CREW INTERVIEWED BY CBS NEWS PLAY


VIDEO: CREW INTERVIEWED BY FOX NEWS PLAY


VIDEO: CREW INTERVIEWED BY WHAM-TV PLAY


VIDEO: SATURDAY'S MISSION STATUS BRIEFING PLAY


VIDEO: ASTRONAUTS ENTER HARMONY FOR FIRST TIME PLAY


VIDEO: CREW COMMENTS FROM INSIDE HARMONY PLAY



VIDEO: THE FLIGHT DAY 4 HIGHLIGHTS MOVIE PLAY


VIDEO: POST-EVA MISSION STATUS BRIEFING PLAY


VIDEO: FIRST STS-120 SPACEWALK CONCLUDES PLAY


VIDEO: ROBOT ARM INSTALLS HARMONY ON THE STATION PLAY


VIDEO: HARMONY MODULE LIFTED OUT OF PAYLOAD BAY PLAY


VIDEO: S-BAND ANTENNA STOWED IN DISCOVERY'S BAY PLAY


VIDEO: WHEELOCK RIDES STATION ARM WITH ANTENNA PLAY


VIDEO: MISSION STS-120'S SPACEWALK NO. 1 BEGINS PLAY



VIDEO: ANIMATED PREVIEW OF HARMONY INSTALLATION PLAY


VIDEO: NARRATED ANIMATION OF SHUTTLE PAYLOAD BAY PLAY


VIDEO: HARMONY'S PRE-LAUNCH PREPS AT THE CAPE PLAY


VIDEO: BACKGROUND INFO ON HARMONY MODULE PLAY


VIDEO: PREVIEW OF FRIDAY'S SPACEWALK PLAY



VIDEO: THURSDAY MANAGEMENT TEAM NEWS BRIEFING PLAY


VIDEO: POST-DOCKING MISSION STATUS BRIEFING PLAY


VIDEO: SHUTTLE CREW WELCOMED ABOARD STATION PLAY


VIDEO: SHUTTLE DISCOVERY DOCKS TO THE STATION PLAY


VIDEO: DISCOVERY PERFORMS 360-DEGREE BACKFLIP PLAY


VIDEO: SHUTTLE APPROACHES STATION FROM BELOW PLAY


VIDEO: NARRATED PREVIEW OF THE DOCKING PLAY



VIDEO: THE FLIGHT DAY 2 HIGHLIGHTS MOVIE PLAY


VIDEO: BRIEFING ON LAUNCH IMAGERY AND TANK'S PERFORMANCE PLAY


VIDEO: WEDNESDAY'S MISSION STATUS BRIEFING PLAY


VIDEO: HEAT SHIELD INSPECTIONS EXPLAINED PLAY


VIDEO: THE FLIGHT DAY 1 HIGHLIGHTS MOVIE PLAY


VIDEO: INSIDE MISSION CONTROL DURING LAUNCH PLAY



VIDEO: DISCOVERY'S LAUNCH AS SEEN LIVE PLAY


VIDEO: EXTERNAL TANK CAMERA FROM LIFTOFF TO ORBIT PLAY


VIDEO: LAUNCH REPLAY: VAB ROOF PLAY


VIDEO: LAUNCH REPLAY: KSC RUNWAY PLAY


VIDEO: LAUNCH REPLAY: BEACH TRACKER PLAY


VIDEO: LAUNCH REPLAY: UCS-23 WIDESCREEN PLAY


VIDEO: LAUNCH REPLAY: PLAYALINDA WIDESCREEN PLAY


VIDEO: LAUNCH REPLAY: WEST TOWER PLAY


VIDEO: LAUNCH REPLAY: PRESS SITE PLAY


VIDEO: LAUNCH REPLAY: CAMERA 009 PLAY


VIDEO: LAUNCH REPLAY: CAMERA 049 PLAY


VIDEO: LAUNCH REPLAY: CAMERA 050 PLAY


VIDEO: LAUNCH REPLAY: CAMERA 051 PLAY


VIDEO: LAUNCH REPLAY: CAMERA 054 PLAY


VIDEO: LAUNCH REPLAY: CAMERA 060 PLAY


VIDEO: LAUNCH REPLAY: CAMERA 061 PLAY


VIDEO: LAUNCH REPLAY: CAMERA 063 PLAY


VIDEO: LAUNCH REPLAY: CAMERA 070 PLAY


VIDEO: LAUNCH REPLAY: CAMERA 071 PLAY


VIDEO: LAUNCH REPLAY: CAMERA UCS-12 PLAY


VIDEO: LAUNCH REPLAY: CAMERA UCS-15 PLAY


VIDEO: LAUNCH REPLAY: CAMERA CS-1 PLAY


VIDEO: LAUNCH REPLAY: CAMERA CS-2 PLAY


VIDEO: LAUNCH REPLAY: CAMERA CS-6 PLAY



VIDEO: THE CREW DEPARTS QUARTERS FOR THE PAD PLAY


VIDEO: ASTRONAUTS SUITS UP ON LAUNCH MORNING PLAY


VIDEO: A LOOK BACK AT SHUTTLE DISCOVERY'S HISTORY PLAY


VIDEO: PAD 39A'S ROTATING GANTRY MOVED BACK PLAY


VIDEO: INTERVIEW CLIPS WITH THE ASTRONAUTS PLAY


VIDEO: MONDAY MORNING'S STATUS BRIEFING PLAY


VIDEO: PRE-LAUNCH NEWS CONFERENCE PLAY


VIDEO: SUNDAY COUNTDOWN STATUS BRIEFING PLAY


VIDEO: SATURDAY COUNTDOWN STATUS BRIEFING PLAY


VIDEO: WATCH THE CREW'S ARRIVAL FOR LAUNCH PLAY


VIDEO: NEWS CONFERENCE AFTER FLIGHT READINESS REVIEW PLAY


VIDEO: SHUTTLE DISCOVERY ROLLS TO LAUNCH PAD 39A PLAY


VIDEO: CRANE HOISTS DISCOVERY FOR MATING TO TANK PLAY


VIDEO: DISCOVERY MOVED TO THE VEHICLE ASSEMBLY BUILDING PLAY


VIDEO: HYDRAULIC SEALS REPLACED ON LANDING GEAR STRUT PLAY


VIDEO: FUEL TANK ATTACHED TO SOLID ROCKET BOOSTERS PLAY


VIDEO: FOAM REMOVED FROM FUEL TANK FEEDLINE BRACKETS PLAY



VIDEO: STS-120 MISSION OVERVIEW BRIEFING PART 1 | PART 2


VIDEO: PREVIEW OF THE MISSION'S FIVE SPACEWALKS PLAY


VIDEO: DISCOVERY'S ASTRONAUTS MEET THE PRESS PLAY


VIDEO: BRIEFING ON SHUTTLE AND ISS PROGRAMS PLAY


MORE: STS-120 VIDEO COVERAGE


SUBSCRIBE NOW