NASA says Discovery's heat shield in good shape
BY WILLIAM HARWOOD
STORY WRITTEN FOR CBS NEWS "SPACE PLACE" & USED WITH PERMISSION
Posted: October 25, 2007


The shuttle Discovery appears to have come through its launch and climb to space in good shape with no major heat shield problems and no need for any additional, "focused" inspections before undocking, NASA managers said today.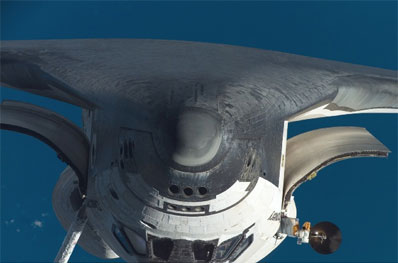 This photo of Discovery was taken by the space station crew before docking Thursday morning. Credit: NASA
Download larger image version here



"I've got some good news and that is the Orbiter Project is going to recommend to the Mission Management Team tomorrow that focused inspection is not required," astronaut Tony Antonelli radioed from mission control shortly before the crew went to bed.

"Oh man, that is fantastic news!" shuttle commander Pam Melroy replied.

"Just to be clear, that is an initial report, they've still got a few things to look at so you'll get more in the MMT summaries (overnight), but just wanted to pass that along."

"We sure appreciate it," Melroy said. "Obviously, it's been a question, it's very much on our minds. So we're pretty excited to hear about that because it will give us more time with Node 2, which is just great. We can't wait to get inside."

Node 2, a multi-hatch module recently named Harmony, will be pulled out of Discovery's cargo bay Friday, during the first of five planned spacewalks, and temporarily mounted on the left side of the central Unity module. Harmony's installation is a major milestone for the space station project because it will serve as the connecting point for long-awaited European and Japanese research modules scheduled for launches in December, February and April.

The crew's flight plan included time for an additional heat shield inspection Saturday, if necessary, a time-consuming procedure using a 50-foot-long boom attached to the shuttle's robot arm. While analysis is not yet complete, laser scans of the shuttle's critical wing leading edge panels show no signs of trouble and close-up photography of heat shield tiles on the shuttle's belly, taken today during final approach to the space station, show only minimal damage.

"It's a pretty clean vehicle," said John Shannon, chairman of NASA's Mission Management Team. "Overall, we are not working ay issues. The imagery team is taking a close look at all the data but they have not seen anything that would cause them any concern at this time. So we'll go ahead and go through that process and report out on it just like we have for every mission."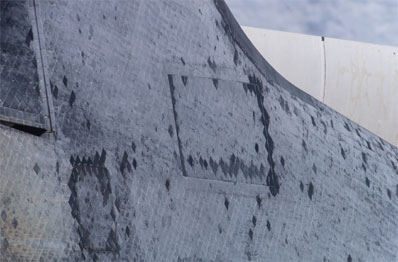 This photo of Discovery was taken by the space station crew before docking Thursday morning. Credit: NASA
Download larger image version here



Before launch, some engineers raised questions about degraded coating on three of the 44 reinforced carbon carbon - RCC - panels on the front of each wing. The engineers said recent analyses indicated the cause of the degradation was not as well understood as previously believed. Without a solid "root cause," they argued, it was impossible to predict how the degradation might evolve over time. As such, the engineers recommended delaying launch to replace the panels in question.

Mission managers opted to launch on schedule based on the past history of the panels - the degradation has been relatively stable over the past two mission - and the crew's post-Columbia ability to detect and repair minor heat shield damage.

"We haven't seen anything on the three panels that were brought up by the NESC (NASA Engineering and Safety Center)," Shannon said.

In an overnight message to the astronauts, the MMT mentioned a piece of ice that formed before launch and shook off during main engine ignition. The ice fell, lightly grazing one of the propellant feedline doors on the belly of the shuttle as the ship began its ascent. Shannon said today the umbilical doors appeared to be in excellent condition and that the ice did not fall far enough or hit at a steep enough angle to cause any damage.

Footage from cameras mounted on Discovery's solid-fuel boosters will be examined this weekend, but based on live views from a camera mounted on the external tank, engineers do not expect any major surprises.

All in all, Shannon said, "we are extremely lucky that we have a vehicle that is in such incredible shape. If I had to pick a mission where the vehicle would give us no problems and we'd just be able to concentrate on the mission and the assembly sequence, this would be the one. So we've really gotten lucky."

Discovery's mission is considered by many to be the most complex station assembly flight yet attempted. After getting Harmony attached to the station, the astronauts will stage two spacewalks and use two robot arms on the shuttle and the station to move a 35,000-pound solar array segment to the far left end of the lab's main power truss. Another spacewalk is planned to test a new heat shield repair technique and a fifth is on tap to complete preparations to move Harmony to the front of the space station as required after Discovery undocks.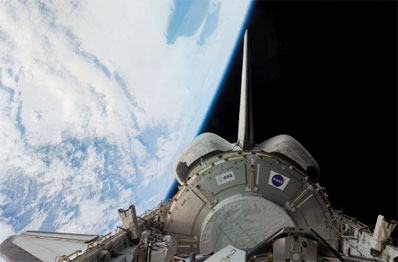 The Harmony module is tucked in Discovery's payload bay as seen in this pre-docking photo taken Wednesday. Credit: NASA
Download larger image version here



For the space station's crew - commander Peggy Whitson, flight engineer Yuri Malenchenko and just-arrived astronaut Dan Tani - Discovery's departure will kick off a busy month of work to prepare Harmony and the station for delivery of Europe's Columbus research lab in December. Whitson and Tani plan two spacewalks in mid November to connect Harmony to the station's main power and cooling systems.

Given the complexity of all that work, Shannon said NASA does not want to extend Discovery's mission unless problems require additional time to resolve.

"If we can get all of our work done and leave (on time) that would be really good for the ISS team," he said. "They have a very highly thought-out timeline that gets them on track for STS-122 and the Columbus module, launching on Dec. 6, and really, if we extended this mission a day or two like we've done in the past, that would impact that timeline. So there is a premium on getting our work done on this flight and getting undocked from the space station and letting them carry on with their stage work. Even though we have a lot of (power), I would expect that unless we run into some significant problems we would not be talking about extending this mission. But of course, we have to see how that goes."

One open item that may affect one of the crew's spacewalks is an unusual vibration in one of the rotary joints that turns the station's right-side solar arrays to keep them face on to the sun. Shannon said a quick inspection of the starboard solar alpha rotary joint, or SARJ, might be requested if it can be worked into the spacewalk timeline.

"There's some vibration," he said. "I don't think they really have a good idea yet exactly what's causing it. There was some discussion today (about) is there anything they want to go look at on one of the EVAs to maybe go narrow down what the issue might be? From a shuttle standpoint, (the issue is) no impact to us at all. We can undock, we can do all of our activities and it's no impact. ... But I don't think they have a real good handle on exactly what the problem is. I wouldn't be surprised if they came in and asked on EVA 2 to go look at something and we'll have the EVA team go and assess that and make sure it's something we can safely do."

Asked about the critical nature of Discovery's mission, Shannon said "I told my team before we started this mission, this is the kind of mission we all came to NASA for. This is why we're here. ... We've got the infrastructure built, now we're kind of putting the living space on. And it's extremely exciting, it's very gratifying. Especially after the hiatus we went through after Columbia. You know, we all kind of thought jeez, can we get this done? To see the team step up to improve the vehicle and improve our operations and pick up where we left off is just a wonderful thing to see."


Additional coverage for subscribers:


VIDEO: THURSDAY MANAGEMENT TEAM NEWS BRIEFING PLAY


VIDEO: POST-DOCKING MISSION STATUS BRIEFING PLAY


VIDEO: SHUTTLE CREW WELCOMED ABOARD STATION PLAY


VIDEO: DISCOVERY PERFORMS 360-DEGREE BACKFLIP PLAY


VIDEO: SHUTTLE APPROACHES STATION FROM BELOW PLAY


VIDEO: NARRATED PREVIEW OF THE DOCKING PLAY


VIDEO: PREVIEW OF FRIDAY'S SPACEWALK PLAY



VIDEO: THE FLIGHT DAY 2 HIGHLIGHTS MOVIE PLAY


VIDEO: BRIEFING ON LAUNCH IMAGERY AND TANK'S PERFORMANCE PLAY


VIDEO: WEDNESDAY'S MISSION STATUS BRIEFING PLAY


VIDEO: HEAT SHIELD INSPECTIONS EXPLAINED PLAY


VIDEO: THE FLIGHT DAY 1 HIGHLIGHTS MOVIE PLAY


VIDEO: INSIDE MISSION CONTROL DURING LAUNCH PLAY



VIDEO: DISCOVERY'S LAUNCH AS SEEN LIVE PLAY


VIDEO: EXTERNAL TANK CAMERA FROM LIFTOFF TO ORBIT PLAY


VIDEO: LAUNCH REPLAY: VAB ROOF PLAY


VIDEO: LAUNCH REPLAY: KSC RUNWAY PLAY


VIDEO: LAUNCH REPLAY: BEACH TRACKER PLAY


VIDEO: LAUNCH REPLAY: UCS-23 WIDESCREEN PLAY


VIDEO: LAUNCH REPLAY: PLAYALINDA WIDESCREEN PLAY


VIDEO: LAUNCH REPLAY: WEST TOWER PLAY


VIDEO: LAUNCH REPLAY: PRESS SITE PLAY


VIDEO: LAUNCH REPLAY: CAMERA 009 PLAY


VIDEO: LAUNCH REPLAY: CAMERA 049 PLAY


VIDEO: LAUNCH REPLAY: CAMERA 050 PLAY


VIDEO: LAUNCH REPLAY: CAMERA 051 PLAY


VIDEO: LAUNCH REPLAY: CAMERA 054 PLAY


VIDEO: LAUNCH REPLAY: CAMERA 060 PLAY


VIDEO: LAUNCH REPLAY: CAMERA 061 PLAY


VIDEO: LAUNCH REPLAY: CAMERA 063 PLAY


VIDEO: LAUNCH REPLAY: CAMERA 070 PLAY


VIDEO: LAUNCH REPLAY: CAMERA 071 PLAY


VIDEO: LAUNCH REPLAY: CAMERA UCS-12 PLAY


VIDEO: LAUNCH REPLAY: CAMERA UCS-15 PLAY


VIDEO: LAUNCH REPLAY: CAMERA CS-1 PLAY


VIDEO: LAUNCH REPLAY: CAMERA CS-2 PLAY


VIDEO: LAUNCH REPLAY: CAMERA CS-6 PLAY



VIDEO: THE CREW DEPARTS QUARTERS FOR THE PAD PLAY


VIDEO: ASTRONAUTS SUITS UP ON LAUNCH MORNING PLAY


VIDEO: A LOOK BACK AT SHUTTLE DISCOVERY'S HISTORY PLAY


VIDEO: PAD 39A'S ROTATING GANTRY MOVED BACK PLAY


VIDEO: INTERVIEW CLIPS WITH THE ASTRONAUTS PLAY


VIDEO: MONDAY MORNING'S STATUS BRIEFING PLAY


VIDEO: PRE-LAUNCH NEWS CONFERENCE PLAY


VIDEO: SUNDAY COUNTDOWN STATUS BRIEFING PLAY


VIDEO: SATURDAY COUNTDOWN STATUS BRIEFING PLAY


VIDEO: WATCH THE CREW'S ARRIVAL FOR LAUNCH PLAY


VIDEO: NEWS CONFERENCE AFTER FLIGHT READINESS REVIEW PLAY


VIDEO: SHUTTLE DISCOVERY ROLLS TO LAUNCH PAD 39A PLAY


VIDEO: CRANE HOISTS DISCOVERY FOR MATING TO TANK PLAY


VIDEO: DISCOVERY MOVED TO THE VEHICLE ASSEMBLY BUILDING PLAY


VIDEO: HYDRAULIC SEALS REPLACED ON LANDING GEAR STRUT PLAY


VIDEO: FUEL TANK ATTACHED TO SOLID ROCKET BOOSTERS PLAY


VIDEO: FOAM REMOVED FROM FUEL TANK FEEDLINE BRACKETS PLAY



VIDEO: STS-120 MISSION OVERVIEW BRIEFING PART 1 | PART 2


VIDEO: PREVIEW OF THE MISSION'S FIVE SPACEWALKS PLAY


VIDEO: DISCOVERY'S ASTRONAUTS MEET THE PRESS PLAY


VIDEO: BRIEFING ON SHUTTLE AND ISS PROGRAMS PLAY


MORE: STS-120 VIDEO COVERAGE


SUBSCRIBE NOW