Space shuttle Discovery moved to launch pad
BY WILLIAM HARWOOD
STORY WRITTEN FOR CBS NEWS "SPACE PLACE" & USED WITH PERMISSION
Posted: September 30, 2007


A powerful Apollo-era crawler-transporter slowly carried the shuttle Discovery from the Vehicle Assembly Building to launch complex 39A today for work to ready the ship for blastoff Oct. 23 on a complex space station assembly mission.

The three-mile trip began around 6:47 a.m. and the orbiter's mobile launch platform was "hard down" at the pad by around 1:15 p.m.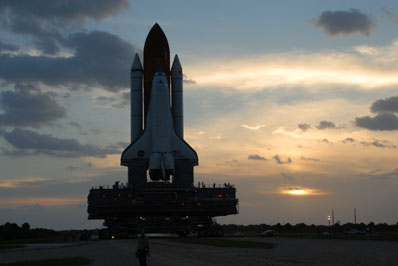 Discovery heads for the launch pad at sunrise. Credit: Ben Cooper/Spaceflight Now



NASA had hoped to move the ship to the pad last week, but the trip was delayed after engineers discovered a hydraulic leak in the shuttle's right main landing gear strut. Four seals in the strut mechanism were replaced, clearing the way for rollout Saturday - sooner than expected - but another delay was ordered because of threatening weather.

Even with the slips, Discovery processing manager Stephanie Stilson told reporters today engineers still have two full days of contingency time to handle unexpected problems between now and Oct. 23, thanks in large part to changes intended to streamline the loading of rocket fuel for the ship's maneuvering thrusters.

"As usual, you hit stumbling blocks along the way, scheduling issues, weather and so forth, but overall the vehicle looks real good, everything we have scheduled is laid out well," Stilson said. "We'd like to have more contingency (time), we'd always like to have more. That way, you just have that much more assurance you're going to make your launch date. But we feel comfortable with two (days) and when we're ready to go, we'll go. If we can't make it on the 23rd, we'll do it as soon as we can. But right now, the 23rd is looking like a good day for us."

The goal of Discovery's mission is to deliver the multi-hatch Harmony module to the international space station, a pressurized compartment that ultimately will be attached to the front of the Destiny laboratory module to serve as the anchor point for European and Japanese research modules.

The Discovery astronauts plan to stage five spacewalks to attach and outfit Harmony, to move a set of stowed solar arrays to the far left end of the station's main power truss and to test shuttle heat shield repair techniques.

"I don't think there's ever been an astronaut who doesn't consider their flight the most dramatic, exciting, complex mission ever. But ours is!" lead spacewalker Scott Parazynski joked in a recent interview with CBS News.

"A couple of years ago, I looked at the assembly sequence and looked at all the tasks that are out there and I thought the P6 (solar array) relocation flight, that was the most audacious thing we've ever done and I would love to be on that flight. ... It really is an operational challenge."

Parazynski and his crewmates - commander Pam Melroy, pilot George Zamka, flight engineer Stephanie Wilson, Doug Wheelock, Italian astronaut Paolo Nespoli and space station astronaut Dan Tani - plan to strap in aboard Discovery on Oct. 10 for a dress rehearsal countdown.

That same day, the space station's next commander and flight engineer - NASA astronaut Peggy Whitson and Russian cosmonaut Yuri Malenchenko - are scheduled for launch aboard a Soyuz spacecraft from the Baikonur Cosmodrome in Kazakhstan. They will be joined by Malaysian physician Sheikh Muszaphar Shukor.

Shukor, a guest cosmonaut flying under an arrangement with the Russian government, will return to Earth on Oct. 21 with outgoing Expedition 15 commander Fyodor Yurchikhin and flight engineer Oleg Kotov. NASA astronaut Clay Anderson, launched to the station aboard Atlantis in June, will remain aboard the lab complex with Whitson and Malenchenko until Tani arrives to replace him. Anderson will return to Earth aboard Discovery.

Harmony will be temporarily attached to the left port of the Unity module, which connects the U.S. and Russian segments of the station. Initial outfitting will be carried out during spacewalks by Parazynski, Wheelock, Whitson and Tani. After Discovery departs, the shuttle docking port on the front end of Destiny will be disconnected and attached to Harmony. The new module then will be moved to its permanent home on the front of Destiny.

Whitson and Tani plan to stage two more spacewalks Nov. 13 and 17 to hook up power and data cables and ammonia coolant lines leading back to radiators on the station's main truss. At that point, the stage will be set for launch of the European Space Agency's Columbus research module in early December.

"The significance of this particular mission is big, we're doing many, many complex things and again, allowing the international partners to then bring their hardware up and join the station," Tani said in an interview. "Once the shuttle leaves, we do some very complex robotic operations and maneuver (Harmony) over to its final location.

"And then I would say the big technical part of my stay on station is the EVAs that will follow, where we take fluid trays that have been stored on the station for years and we install them on the lab to provide cooling and power to the node so it can offer it to the Columbus module and the JEM (Japanese Experiment Module).

"We talk about this as a 45-day shuttle mission in terms of pace," Tani said. "Shuttle missions are scheduled down to 10-minute increments and generally, station timelines are a bit more relaxed. But we are not. We are all 'go' from the moment of launch to probably until (shuttle Atlantis) comes to get me to bring me home, we are go, go, go."


Additional coverage for subscribers:


VIDEO: CRANE HOISTS DISCOVERY FOR MATING TO TANK PLAY


VIDEO: DISCOVERY MOVED TO THE VEHICLE ASSEMBLY BUILDING PLAY


VIDEO: HYDRAULIC SEALS REPLACED ON LANDING GEAR STRUT PLAY


VIDEO: FUEL TANK ATTACHED TO SOLID ROCKET BOOSTERS PLAY


VIDEO: FOAM REMOVED FROM FUEL TANK FEEDLINE BRACKETS PLAY



VIDEO: STS-120 MISSION OVERVIEW BRIEFING PART 1 | PART 2


VIDEO: PREVIEW OF THE MISSION'S FIVE SPACEWALKS PLAY


VIDEO: DISCOVERY'S ASTRONAUTS MEET THE PRESS PLAY


VIDEO: BRIEFING ON SHUTTLE AND ISS PROGRAMS PLAY


SUBSCRIBE NOW