Discovery takes first step on road to the launch pad
BY JUSTIN RAY
SPACEFLIGHT NOW
Posted: September 23, 2007


Space shuttle Discovery took a short but meaningful trip this afternoon, leaving its Kennedy Space Center processing hangar and moving into the cavernous Vehicle Assembly Building.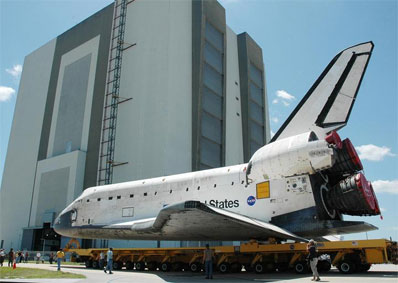 File image of Discovery moving to the VAB. Credit: NASA-KSC



The quarter-mile journey, which was delayed four days to replace hydraulic seals on the right landing gear shock-absorber strut, is a critical first step on the road to the launch pad and eventually space.

After waiting for the threat of stormy weather to clear this morning, the trip began at about 12:25 p.m. EDT. The 76-wheel transporter with Discovery mounted on top rolled into the VAB a half-hour later.

Over the next 24 hours, Discovery will be hoisted upright to point its nose skyward, gently maneuvered high into the rafters of the 52-story assembly building and then lowered into assembly bay for attachment to the shuttle's awaiting external fuel tank and twin solid rocket boosters.

The tank and booster stack has been put together atop the mobile launching platform. Once Discovery is bolted to the tank, the combined shuttle system will undergo several days of testing before rollout to pad 39A next Sunday, September 30.

Liftoff remains targeted for Tuesday, October 23 at about 11:38 a.m. EDT (1538 GMT).

Discovery's tank recently underwent a bit of modification to alleviate the concern for debris breaking free from brackets on the liquid oxygen feedline during launch. The last shuttle flight in August was hit by such falling debris, leaving a small gouge in Endeavour's underside tiles.

The incident prompted more than a week of testing and debate in ground laboratories to determine whether spacewalking astronauts would be forced to make unprecedented repairs using tools developed after the Columbia tragedy in 2003. Ultimately, NASA ruled Endeavour's damage was not a safety concern, and that decision proved correct. Endeavour glided home smoothly to complete the highly successful mission that prepared the station for upcoming assembly work.

But the latest episode of foam trouble caused space agency managers to order the bracket foam on the Discovery's fuel tank be replaced, along with removal of underlying thermal material. The extra work was accomplished in the VAB without impacting the planned October 23 launch date.

"I have a lot of confidence in our tank (and) in the recent activity that was done on it," said Discovery commander Pam Melroy.

Discovery's two-week mission will deliver the Harmony module to the International Space Station. The 31,300-pound, Italian-made connecting node will serve as the passageway to the European and Japanese science laboratories destined for arrival at the outpost over the next few months.


| | |
| --- | --- |
| | File image of Discovery being lifted inside the VAB. Credit: NASA-KSC |
But bringing up Harmony is just half of the astronauts' to-do list. The Port 6 solar array truss that powered the station's early years will be unbolted from its position atop the complex and moved outboard to its permanent location. The two solar wings that were retracted, albeit stubbornly, during recent shuttle flights will be redeployed during Discovery's mission.

Melroy's crew includes pilot George Zamka, spacewalkers Scott Parazynski and Doug Wheelock, flight engineer Stephanie Wilson, Italian astronaut Paolo Nespoli and station-bound crewmember Dan Tani. Discovery delivers Tani to the station begin a two-month tour-of-duty as part of the Expedition 16 resident crew, replacing NASA astronaut Clay Anderson. Discovery will bring Anderson back to Earth after nearly five months living on the station.

Five spacewalks are planned during the STS-120 mission, including one just formally added to the flight a week ago. Parazynski and Wheelock will conduct the first in-space tile repair tests using goo-like material dispensed from a specially designed caulk gun. The demonstration in the shuttle payload bay is designed to give engineers and the astronauts a better understanding of how the equipment and repair materials behave in space.

The tile samples "repaired" by the spacewalkers will be brought back to Earth for analysis and testing.

"We'll spend probably about three hours outside working on this material," Parazynski said. "I'm very excited to give it a go. There are many experts here at NASA who think that it is going to work exactly as it does here on Earth, then there's also some experts outside who think it might not. I'm not a materials scientist, I'm not an expert in this field, I'm just very curious to see how it performs."

Intensive final training is underway for the astronauts, and the crew says the times are hectic as launch day nears.

"We have training essentially the whole day, then get home in the evening and you got emails and other things," said Nespoli. "A lot of people ask me 'so you getting excited?' I kinda look at them thinking 'I don't have time!'"


Additional coverage for subscribers:


VIDEO: STS-120 MISSION OVERVIEW BRIEFING PART 1 | PART 2


VIDEO: PREVIEW OF THE MISSION'S FIVE SPACEWALKS PLAY


VIDEO: DISCOVERY'S ASTRONAUTS MEET THE PRESS PLAY


VIDEO: BRIEFING ON SHUTTLE AND ISS PROGRAMS PLAY


SUBSCRIBE NOW