Shuttle launch date stays on track after quick repairs
BY WILLIAM HARWOOD
STORY WRITTEN FOR CBS NEWS "SPACE PLACE" & USED WITH PERMISSION
Posted: September 20, 2007


Work to replace suspect hydraulic seals in the shuttle Discovery's right main landing gear is going smoothly and barring additional problems, NASA managers said today, the shuttle should be ready for blastoff Oct. 23 as originally planned.


| | |
| --- | --- |
| | Credit: NASA-KSC |
Engineers now plan to roll Discovery from its processing hangar to the Vehicle Assembly Building for attachment to an external fuel tank and two solid-fuel boosters early Sunday. If all goes well, the orbiter will be moved to launch pad 39A on Sept. 30, three day later than originally planned.

The initial repair schedule was typically conservative, predicting up to a week and a half of work to replace and retest suspect hydraulic seals in the right main landing gear strut that absorbs the shock of touchdown. Even though only one of four seals was thought to be leaking, managers decided to replace them all to be on the safe side. That work went faster than expected and testing should be complete by Saturday.

NASA had several days of contingency time built into the processing schedule before the hydraulic leak was discovered last week. As it now stands, engineers hope to still have one day of contingency time left in the on-pad flow to handle any unexpected problems that might crop up.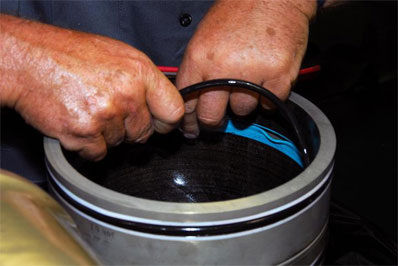 This shot shows a worker replacing one of the seals. Credit: NASA-KSC



The goal of Discovery's five-spacewalk mission is to reposition a set of solar arrays and install a new multi-hatch module that will serve as the attachment point for European and Japanese research modules. NASA hopes to close out the year by launching the European Space Agency's Columbus module aboard the shuttle Atlantis on Dec. 6.

Ongoing work to fix corrosion and other problems with the huge doors of the Apollo-era Vehicle Assembly Building had limited NASA to a single high bay for shuttle processing. But work on the doors of a second high bay is wrapping up ahead of schedule and officials say the delay getting Discovery to the pad will have no impact on the December mission.


Additional coverage for subscribers:


VIDEO: STS-120 MISSION OVERVIEW BRIEFING PART 1 | PART 2


VIDEO: PREVIEW OF THE MISSION'S FIVE SPACEWALKS PLAY


VIDEO: DISCOVERY'S ASTRONAUTS MEET THE PRESS PLAY


VIDEO: BRIEFING ON SHUTTLE AND ISS PROGRAMS PLAY


SUBSCRIBE NOW