Spaceflight Now +





Subscribe to Spaceflight Now Plus for access to our extensive video collections!
How do I sign up?
Video archive

STS-119: The programs

In advance of shuttle Discovery's STS-119 mission to the station, managers from both programs discuss the flight.

Play

STS-119: The mission

A detailed preview of Discovery's mission to deliver and activate the space station's final power truss is provided in this briefing.

Play

STS-119: Spacewalks

Four spacewalks are planned during Discovery's STS-119 mission to the station.

Play

STS-119: The Crew

The Discovery astronauts, led by commander Lee Archambault, meet the press in the traditional pre-flight news conference.

Play

Become a subscriber
More video







Tripping the boundary layer: shuttle's re-entry experiment
BY WILLIAM HARWOOD
STORY WRITTEN FOR CBS NEWS "SPACE PLACE" & USED WITH PERMISSION
Posted: March 29, 2009


In an experiment that could lead to improved heat shield designs for future spacecraft - along with insights into shuttle aerodynamics - temperature data and infrared imagery confirm a modified tile on the underside of the shuttle Discovery's left wing caused air rushing over the belly of the orbiter to transition from smooth to turbulent flow as expected.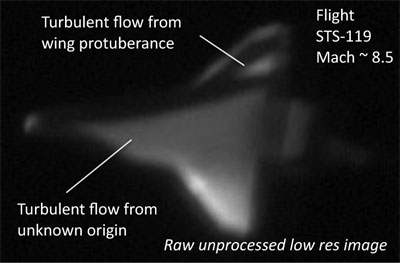 An infrared image taken by a research aircraft over the Gulf of Mexico during Discovery's entry. Credit: NASA



The goal of the research is to gain a better understanding of how smooth, laminar airflow, which provides a thin layer of insulation during peak heating, can change to the disturbed, turbulent flow that can cause downstream temperatures to climb, possibly affecting aerodynamics and causing damage.

That change is known as a boundary layer transition.

The shuttle's transition from laminar to turbulent flow occurs naturally as the spacecraft slows down, typically at velocities around mach 8, or eight times the speed of sound, about 20 minutes after atmospheric entry begins. In some cases, however, the transition can occur earlier than that because of surface roughness or defects in the heat shield.

For example, a protruding tile spacer called a "gap filler" can shake loose during launch and extend up into the airflow, triggering an early, asymmetric boundary layer transition during re-entry. When that happens, the shuttle's aerodynamics can be affected and downstream tiles can be subjected to more extreme heating.

During shuttle mission STS-28 in 1989, for example, the boundary layer "tripped" 15 minutes after entry, at around mach 18. During shuttle mission STS-50 in 1992, one side of the shuttle's belly went turbulent more than a minute ahead of the other side, causing a change in aerodynamics that prompted autopilot flight control inputs.

For Discovery's boundary layer transition - BLT - experiment, a single tile on the bottom of the shuttle's left wing, about 10 feet behind the leading edge, featured a 0.25-inch-high ridge that was expected to cause the insulating boundary layer downstream to go turbulent between mach 12 and 14. That, in turn, was expected to raise the temperatures of downstream tiles by 500 to 600 degrees Fahrenheit.

The tiles in that region of the wing normally experience maximum temperatures of 1,500 to 1,600 degrees when the re-entry airflow across the wing is smooth. Preliminary reports indicated the maximum temperature experienced by the "protuberance tile" was around 2,000 degrees, somewhat less than expected. If those measurements are confirmed, engineers may request a slightly higher protuberance for a future flight.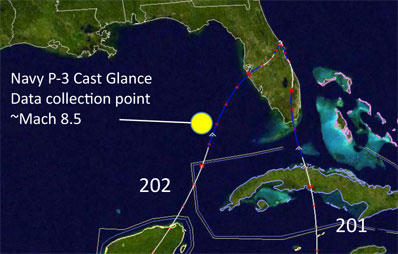 Credit: NASA



Along with temperature data, a Navy P-3 Orion aircraft flying over the Gulf of Mexico southwest of Tampa captured infrared images of the shuttle's belly when the orbiter had slowed to about 8.5 times the speed of sound.

A wedge of higher heating downstream of the protuberance tile was clearly visible in the unprocessed, raw imagery, along with a broader zone of turbulence.

It was not immediately known if the broader zone of turbulence seen in the P-3 image reflected a normal or asymmetric transition to turbulent flow, either on-time or earlier than expected. But an engineer familiar with boundary layer issues said the image likely reflected a "typical" shuttle boundary layer transition.

Engineers reported the protuberance tile looked normal and undamaged on the runway after Discovery's landing, although superficial markings were seen on several downstream tiles. No such markings were seen on tiles behind a protruding gap filler that was spotted during an on-orbit inspection on one of Discovery's elevons.

For additional details about the BLT experiment, please see our earlier story.


Additional coverage for subscribers:


VIDEO: DISCOVERY LANDS AT KENNEDY SPACE CENTER PLAY | HI-DEF


VIDEO: ASTRONAUTS INSPECT THEIR SPACECRAFT ON RUNWAY PLAY


VIDEO: NASA OFFICIALS HOLD POST-LANDING NEWS BRIEFING PLAY


VIDEO: POST-FLIGHT NEWS CONFERENCE WITH ASTRONAUTS PLAY



VIDEO: LANDING REPLAY: INSIDE MISSION CONTROL CENTER PLAY


VIDEO: LANDING REPLAY: NORTH SIDE OF RUNWAY PLAY


VIDEO: LANDING REPLAY: EAST SIDE OF RUNWAY PLAY


VIDEO: LANDING REPLAY: WEST SIDE OF RUNWAY PLAY


VIDEO: LANDING REPLAY: VEHICLE ASSEMBLY BUILDING PLAY


VIDEO: LANDING REPLAY: CAMERA AT RUNWAY MID-FIELD PLAY


VIDEO: LANDING REPLAY: TOUCHDOWN IN INFRARED PLAY


VIDEO: LANDING REPLAY: INFRARED TRACKER PLAY



VIDEO: FLIGHT DAY 13 HIGHLIGHTS MOVIE PLAY


VIDEO: PRE-LANDING MISSION STATUS BRIEFING PLAY


VIDEO: EDUCATIONAL EVENT WITH SCHOOL IN HAWAII PLAY


VIDEO: PRE-LANDING TESTS OF SHUTTLE'S FLIGHT CONTROLS PLAY



VIDEO: FLIGHT DAY 12 HIGHLIGHTS MOVIE PLAY


VIDEO: THURSDAY'S MISSION STATUS BRIEFING PLAY


VIDEO: NARRATED ANIMATION OF LATE INSPECTIONS PLAY



VIDEO: LEFT-HAND BOOSTER CAMERA LOOKING UPWARD PLAY


VIDEO: LEFT-HAND BOOSTER CAMERA LOOKING INBOARD PLAY


VIDEO: LEFT-HAND BOOSTER CAMERA LOOKING DOWNWARD PLAY


VIDEO: RIGHT-HAND BOOSTER CAMERA LOOKING UPWARD PLAY


VIDEO: RIGHT-HAND BOOSTER CAMERA LOOKING INBOARD PLAY


VIDEO: RIGHT-HAND BOOSTER CAMERA LOOKING DOWNWARD PLAY



VIDEO: SOYUZ ROCKET LAUNCHES EXPEDITION 19 PLAY


VIDEO: FULL EXPERIENCE FROM LIFTOFF TO ORBIT PLAY


VIDEO: THREE CAMERA REPLAYS OF THE SOYUZ LAUNCH PLAY


VIDEO: NARRATED HIGHLIGHTS OF CREW'S LAUNCH PREPS PLAY


VIDEO: CROWD WELCOMES CREW AT BAIKONUR PAD PLAY


VIDEO: CREW DEPARTS SITE 254 FOR LAUNCH PAD PLAY


VIDEO: VIPS MEET THE CREW ON LAUNCH MORNING PLAY


VIDEO: CREW MEMBERS DON THEIR SOKOL SPACESUITS PLAY


VIDEO: LAUNCH MORNING TRADITIONS AT CREW QUARTERS PLAY



VIDEO: FLIGHT DAY 11 HIGHLIGHTS MOVIE PLAY


VIDEO: WEDNESDAY'S MISSION STATUS BRIEFING PLAY


VIDEO: TIME-LAPSE OF FLYING AROUND THE SPACE STATION PLAY


VIDEO: STUNNING VIEWS OF SPACE STATION FROM FLYAROUND PLAY


VIDEO: FOOTAGE OF SHUTTLE DISCOVERY AFTER UNDOCKING PLAY


VIDEO: SHUTTLE DISCOVERY UNDOCKS FROM SPACE STATION PLAY


VIDEO: HATCHWAY CLOSED BETWEEN TWO SPACECRAFT PLAY


VIDEO: FAREWELL CEREMONY BETWEEN THE TWO CREWS PLAY


VIDEO: PREVIEW ANIMATION OF UNDOCKING AN FLYAROUND PLAY



VIDEO: SOYUZ MOVED TO LAUNCH PAD FOR EXPEDITION 19 PLAY


VIDEO: ROCKET HOISTED VERTICALLY ONTO LAUNCH PAD PLAY


VIDEO: INTERVIEW WITH ISS DEPUTY PROGRAM MANAGER PLAY


VIDEO: INTERVIEW WITH FORMER ISS COMMANDER PLAY



VIDEO: FLIGHT DAY 10 HIGHLIGHTS MOVIE PLAY


VIDEO: PRESIDENT OBAMA CALLS THE SPACE STATION PLAY


VIDEO: JOINT CREW IN-FLIGHT NEWS CONFERENCE PLAY


VIDEO: TUESDAY'S MISSION STATUS BRIEFING PLAY



VIDEO: FLIGHT DAY 9 HIGHLIGHTS MOVIE PLAY


VIDEO: MONDAY'S MISSION STATUS BRIEFING PLAY


VIDEO: SPACEWALKER RICK ARNOLD WORKS ON STATION ARM PLAY


VIDEO: SPACEWALKER JOE ACABA MOVES RAIL CART PLAY



VIDEO: FLIGHT DAY 8 HIGHLIGHTS MOVIE PLAY


VIDEO: SUNDAY'S MISSION STATUS BRIEFING PLAY


VIDEO: NEWS MEDIA INTERVIEWS WITH CREW PLAY



VIDEO: FLIGHT DAY 7 HIGHLIGHTS MOVIE PLAY


VIDEO: SATURDAY'S MISSION STATUS BRIEFING PLAY


VIDEO: WALKTHROUGH OF SPACEWALK NO. 2 PLAN PLAY



VIDEO: FLIGHT DAY 6 HIGHLIGHTS MOVIE PLAY


VIDEO: FRIDAY'S MISSION STATUS BRIEFING PLAY


VIDEO: NEWS MEDIA INTERVIEWS WITH CREW PLAY


VIDEO: SECOND SOLAR WING FULLY DEPLOYED PLAY


VIDEO: SECOND SOLAR WING DEPLOYED HALF-WAY PLAY


VIDEO: FIRST SOLAR WING FULLY DEPLOYED PLAY


VIDEO: FIRST SOLAR WING DEPLOYED HALF-WAY PLAY


VIDEO: NARRATED ANIMATION OF SOLAR ARRAY DEPLOYMENT PLAY



VIDEO: FLIGHT DAY 5 HIGHLIGHTS MOVIE PLAY


VIDEO: THURSDAY'S MISSION STATUS BRIEFING PLAY


VIDEO: SPACEWALKER STEVE SWANSON RELEASES LOCKS PLAY


VIDEO: STARBOARD 6 TRUSS ATTACHED TO THE STATION PLAY


VIDEO: WALKTHROUGH OF SPACEWALK NO. 1 PLAN PLAY


VIDEO: OVERVIEW OF THE STARBOARD 6 TRUSS PAYLOAD PLAY


VIDEO: NARRATED ANIMATION OF TRUSS INSTALLATION PLAY



VIDEO: FLIGHT DAY 4 HIGHLIGHTS MOVIE PLAY


VIDEO: WEDNESDAY'S MISSION STATUS BRIEFING PLAY


VIDEO: POWER TRUSS HANDED FROM SHUTTLE TO STATION PLAY


VIDEO: STARBOARD 6 TRUSS HOISTED FROM PAYLOAD BAY PLAY


VIDEO: PREVIEW ANIMATION OF S6 TRUSS UNBERTHING PLAY


VIDEO: NARRATED TOUR OF DISCOVERY'S PAYLOAD BAY PLAY



VIDEO: FLIGHT DAY 3 HIGHLIGHTS MOVIE PLAY


VIDEO: TUESDAY'S MISSION STATUS BRIEFING PLAY


VIDEO: SHUTTLE CREW WELCOMED ABOARD STATION PLAY


VIDEO: SPACE SHUTTLE DISCOVERY DOCKS TO SPACE STATION PLAY


VIDEO: SHUTTLE'S POINT OF VIEW DURING BACKFLIP PLAY


VIDEO: DISCOVERY PERFORMS 360-DEGREE BACKFLIP PLAY


VIDEO: PREVIEW ANIMATION OF RENDEZVOUS AND DOCKING PLAY



VIDEO: FLIGHT DAY 2 HIGHLIGHTS MOVIE PLAY


VIDEO: MONDAY'S MISSION STATUS BRIEFING PLAY


VIDEO: MONDAY'S MISSION MANAGEMENT TEAM UPDATE PLAY


VIDEO: PREVIEW ANIMATION OF HEAT SHIELD INSPECTIONS PLAY



VIDEO: FLIGHT DAY 1 HIGHLIGHTS MOVIE PLAY


VIDEO: THE FULL STS-119 LAUNCH EXPERIENCE PLAY


VIDEO: LAUNCH REPLAY: EXTERNAL TANK CAMERA PLAY


VIDEO: LAUNCH REPLAY: VAB ROOF PLAY


VIDEO: LAUNCH REPLAY: CAMERA CS-1 PLAY


VIDEO: LAUNCH REPLAY: CAMERA CS-2 PLAY


VIDEO: LAUNCH REPLAY: CAMERA CS-6 PLAY


VIDEO: LAUNCH REPLAY: FRONT CAMERA PLAY


VIDEO: LAUNCH REPLAY: BEACH TRACKER PLAY


VIDEO: LAUNCH REPLAY: PAD PERIMETER PLAY


VIDEO: LAUNCH REPLAY: PLAYALINDA BEACH PLAY


VIDEO: LAUNCH REPLAY: THE VIP VIEWING SITE PLAY


VIDEO: LAUNCH REPLAY: PRESS SITE PLAY


VIDEO: LAUNCH REPLAY: WEST TOWER PLAY


VIDEO: LAUNCH REPLAY: CAMERA 009 PLAY


VIDEO: LAUNCH REPLAY: CAMERA 050 PLAY


VIDEO: LAUNCH REPLAY: CAMERA 051 PLAY


VIDEO: LAUNCH REPLAY: CAMERA 054 PLAY


VIDEO: LAUNCH REPLAY: CAMERA 061 PLAY


VIDEO: LAUNCH REPLAY: CAMERA 063 PLAY


VIDEO: LAUNCH REPLAY: CAMERA 070 PLAY


VIDEO: LAUNCH REPLAY: CAMERA 071 PLAY


VIDEO: LAUNCH REPLAY: UCS-11 TRACKER PLAY


VIDEO: LAUNCH REPLAY: UCS-23 TRACKER PLAY


VIDEO: LAUNCH REPLAY: PATRICK AIR FORCE BASE PLAY


VIDEO: INSIDE MISSION CONTROL DURING LAUNCH PLAY


VIDEO: PAYLOAD BAY DOORS OPENED IN ORBIT PLAY



VIDEO: SPACE SHUTTLE DISCOVERY BLASTS OFF PLAY


VIDEO: SHUTTLE'S CREW MODULE HATCH CLOSED FOR FLIGHT PLAY


VIDEO: MISSION SPECIALIST STEVE SWANSON BOARDS PLAY


VIDEO: PILOT TONY ANTONELLI BOARDS DISCOVERY PLAY


VIDEO: COMMANDER LEE ARCHAMBAULT BOARDS PLAY


VIDEO: CREW DEPARTS QUARTERS FOR LAUNCH PAD PLAY


VIDEO: ASTRONAUTS DON SPACESUITS FOR LAUNCH PLAY


VIDEO: TIME-LAPSE OF SUNRISE AT LAUNCH PAD 39A PLAY


VIDEO: TIME-LAPSE OF HYDROGEN ACCESS ARM RETRACTION PLAY


VIDEO: TIME-LAPSE OF SATURDAY NIGHT'S GANTRY ROLLBACK PLAY


VIDEO: SATURDAY'S PRE-LAUNCH NEWS CONFERENCE PLAY


VIDEO: FRIDAY'S SHUTTLE AND WEATHER UPDATE BRIEFING PLAY



VIDEO: POST-SCRUB NEWS CONFERENCE PLAY


VIDEO: DISCOVERY IN THE PREDAWN DARKESS PLAY | HI-DEF


VIDEO: WEDNESDAY'S ROLLBACK OF PAD GANTRY PLAY | HI-DEF


VIDEO: TIME-LAPSE OF PAD GANTRY ROLLING BACK PLAY


VIDEO: THE PRE-LAUNCH NEWS CONFERENCE PLAY


VIDEO: ASTRONAUTS ARRIVE IN FLORIDA FOR LAUNCH PLAY


VIDEO: POST-ARRIVAL COMMENTS FROM THE CREW PLAY | HI-DEF



VIDEO: FLIGHT READINESS REVIEW BRIEFING PLAY



VIDEO: SECOND LAUNCH POSTPONEMENT BRIEFING PLAY



VIDEO: NARRATED MISSION OVERVIEW MOVIE PLAY


VIDEO: MEET SHUTTLE DISCOVERY'S ASTRONAUTS PLAY


VIDEO: INTERVIEW WITH COMMANDER LEE ARCHAMBAULT PLAY


VIDEO: INTERVIEW WITH PILOT TONY ANTONELLI PLAY


VIDEO: INTERVIEW WITH MS1 JOE ACABA PLAY


VIDEO: INTERVIEW WITH MS2 STEVE SWANSON PLAY


VIDEO: INTERVIEW WITH MS3 RICKY ARNOLD PLAY


VIDEO: INTERVIEW WITH MS4 JOHN PHILLIPS PLAY


VIDEO: INTERVIEW WITH MS5 KOICHI WAKATA PLAY



VIDEO: NASA OFFICIALS ANNOUNCE LAUNCH DELAY PLAY


VIDEO: SPACE STATION'S VIBRATIONS DURING REBOOST PLAY



VIDEO: INFORMAL NEWS CONFERENCE AT RUNWAY PLAY


VIDEO: ASTRONAUTS ARRIVE FOR PRACTICE COUNTDOWN PLAY



VIDEO: DISCOVERY POSITIONED ATOP PAD 39A PLAY | HI-DEF


VIDEO: EARLY MORNING ROLLOUT FROM THE VAB PLAY | HI-DEF


VIDEO: TIME-LAPSE MOVIE OF DISCOVERY ARRIVING AT PAD 39A PLAY



VIDEO: DISCOVERY HOISTED FOR ATTACHMENT TO TANK PLAY | HI-DEF


VIDEO: CRANE ROTATES DISCOVERY VERTICALLY PLAY | HI-DEF


VIDEO: DISCOVERY MOVES TO ASSEMBLY BUILDING PLAY | HI-DEF


VIDEO: NOSE WHEEL LANDING GEAR RETRACTED PLAY | HI-DEF



VIDEO: TIME-LAPSE MOVIE OF DISCOVERY GOING VERTICAL PLAY


VIDEO: TIME-LAPSE MOVIE OF ASSEMBLY BUILDING CRANE WORK PLAY


VIDEO: TIME-LAPSE MOVIE OF DISCOVERY'S TRIP TO VAB PLAY


VIDEO: TIME-LAPSE MOVIE OF PAYLOAD'S MOVE PLAY



VIDEO: SHUTTLE AND STATION PROGRAM UPDATE PLAY


VIDEO: STS-119 MISSION OVERVIEW BRIEFING PLAY


VIDEO: PREVIEW BRIEFING ON MISSION'S SPACEWALKS PLAY


VIDEO: THE ASTRONAUTS' PRE-FLIGHT NEWS BRIEFING PLAY


MORE: STS-119 VIDEO COVERAGE


SUBSCRIBE NOW