Welcome home, Discovery!
BY WILLIAM HARWOOD
STORY WRITTEN FOR CBS NEWS "SPACE PLACE" & USED WITH PERMISSION
Posted: March 28, 2009;
Updated after news conferences


The shuttle Discovery glided to a windy touchdown at the Kennedy Space Center today, wrapping up a challenging three-spacewalk mission that left the international space station with a new set of solar arrays and a repaired water recycling system.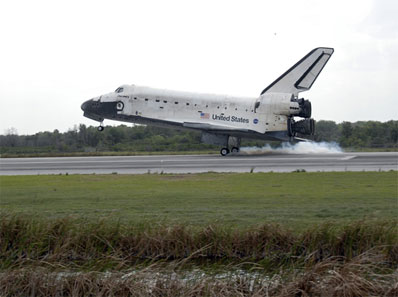 Credit: NASA-KSC



Running one orbit late because of high winds and low clouds, commander Lee Archambault and pilot Dominic "Tony" Antonelli guided the orbiter through a partly cloudy sky to a tire-smoking touchdown on runway 15 at 3:13:17 p.m.

"Houston, Discovery, wheels stopped," Archambault radioed as Discovery rolled to a halt.

"Houston copies, wheels stopped," replied George Zamka from Houston. "Welcome home, Discovery, after a great mission to bring the international space station to full power. ... To the entire crew of STS-119, great job everybody."

"Thank you very much, it's good to be back home," Archambault said.

Mission duration was 12 days 19 hours 29 minutes and 33 seconds, covering 5.3 million miles and 202 complete orbits since blastoff March 15 from nearby pad 39A.

Archambault, Antonelli, flight engineer Steven Swanson, John Phillips, Joseph Acaba and Richard Arnold doffed their pressure suits and gave Discovery a quick runway inspection before heading back to crew quarters.

"We had a very successful mission, I'm very proud we were able to bring up the S6 truss, the final power segment for the international space station, and we're very, very happy we were able to bring Discovery right back here to the Kennedy Space Center in Florida," Archambault said on the runway.

Said Launch Director Mike Leinbach, "the vehicle performed great, it looks good on the runway, very few dings to the tiles, it looked really, really good."

Returning space station flight engineer Sandra Magnus made the trip back to Earth resting on her back in a recumbent seat set up on the shuttle's lower deck to ease her transition back to gravity after four months in weightlessness. She did not join her crewmates on the runway, but Archambault said she came through entry "doing extremely well for someone who's been in space for four months. She was in very good spirits."

Magnus was replaced aboard the station by Japanese astronaut Koichi Wakata, who took off aboard Discovery and who remained behind when the shuttle departed Wednesday.

During re-entry, Discovery's crew participated in a final experiment. A heat-shield tile on the underside of the ship's left wing was modified to affect the flow of air across the belly of the orbiter during its high-speed descent to learn more about the physics of hypersonic flight. The data are expected to pay dividends when it comes to designing heat shields for future spacecraft.

LeRoy Cain, deputy manager of the shuttle program at the Johnson Space Center in Houston, said an aircraft flying below Discovery was able to photograph the ship's plume with an infrared camera as Discovery descended toward Florida. That imagery will be combined with temperature measurements from sensors on the shuttle to help engineers map turbulent air flow and its roll in re-entry heating.

"All indications are we were able to capture some good data," Cain said. "It's the only vehicle that flies like this in a hypersonic regime where we're able to capture this kind of aerodynamic data. So we're real excited to get this test data."

As Discovery's crew prepared for re-entry today, station commander Mike Fincke, Yury Lonchakov and Wakata, orbiting at a slightly higher altitude more than 1,000 miles behind the shuttle, welcomed two more crew members - and one guest - aboard the international outpost.

Expedition 19 commander Gennady Padalka, NASA flight engineer Michael Barratt and space tourist Charles Simonyi, making his second paid trip to the station, docked at the Zvezda command module's aft port at 9:05 a.m. After leak checks, they floated into the station around 12:36 p.m.

Padalka and physician-astronaut Barratt are replacing Expedition 18 commander Fincke and Lonchakov, who were launched to the outpost last October. After a 10-day handover, Fincke, Lonchakov and Simonyi will return to Earth aboard the Soyuz TMA-13 spacecraft on April 7.

If all goes well, three more crew members - cosmonaut Roman Romanenko, European Space Agency astronaut Frank De Winne and Canadian Space Agency astronaut Robert Thirsk - will ride another Soyuz to the lab complex in late May, boosting the full-time crew to six for the first time.

The Discovery astronauts paved the way to the latest space station milestone by installing a fourth and final set of solar arrays and delivering a replacement centrifuge for the lab's urine recycling system.

The new arrays will double the amount of power available for scientific research, from 15 kilowatts to 30 kilowatts, and the water recycling system will provide water for drinking and personal hygiene after the shuttle is retired in 2010.

A team of engineers was standing by in Florida to remove water samples from Discovery that will be analyzed to determine purity. If all goes well, station crews could be cleared to begin using recycled water within a month or so.

Discovery also brought back frozen blood, urine and other biological samples collected over the past few months as part of on-going space medicine research aboard the station.

With Discovery safely back on the ground in Florida, NASA plans to move the shuttle Atlantis to pad 39A Tuesday to prepare the ship for launch May 12 on a long-awaited mission to service the Hubble Space Telescope.

Because Hubble is in a different orbit from the space station, the servicing crew cannot seek safe haven aboard the outpost if any major problems threaten a safe re-entry. From the beginning, NASA managers have planned to have a second shuttle - Endeavour, in this case - ready for launch on a quick-response rescue mission if necessary.

NASA managers looked into the possibility of using the same launch pad for Atlantis and Endeavour, but Gerstenmaier said today Endeavour would be mounted on pad 39B while Atlantis is processed on nearby 39A. Pad 39B had been booked for a test flight of NASA's new Ares rocket, but that launch is being delayed and Endeavour will use the pad instead to improve processing efficiencies.

"We've talked to the teams, we've decided to use two pads for the HST flight," said Bill Gerstenmaier, director of space operations at NASA headquarters.

After Atlantis takes off, assuming a rescue flight is not needed, Endeavour will be moved over to pad 39A for work to prepare the ship for blastoff in June on another space station mission.

"As we look forward a little bit to the future, we've got to start thinking now about how we're going to really utilize space station," Gerstenmaier said. "I would just ask us all to stop for a moment and reflect on what's happening in space. ... This is a very special time in space flight and we need to make sure we get the absolute most out of it."

Antonelli clearly got the most out of his first space mission. Talking to reporters after landing, he summed up his experience saying "this whole living in 1-G thing is for the birds. Zero G, I think, is the way to go. It's a blast!"


Additional coverage for subscribers:


VIDEO: DISCOVERY LANDS AT KENNEDY SPACE CENTER PLAY | HI-DEF


VIDEO: ASTRONAUTS INSPECT THEIR SPACECRAFT ON RUNWAY PLAY


VIDEO: NASA OFFICIALS HOLD POST-LANDING NEWS BRIEFING PLAY


VIDEO: POST-FLIGHT NEWS CONFERENCE WITH ASTRONAUTS PLAY



VIDEO: LANDING REPLAY: INSIDE MISSION CONTROL CENTER PLAY


VIDEO: LANDING REPLAY: NORTH SIDE OF RUNWAY PLAY


VIDEO: LANDING REPLAY: EAST SIDE OF RUNWAY PLAY


VIDEO: LANDING REPLAY: WEST SIDE OF RUNWAY PLAY


VIDEO: LANDING REPLAY: VEHICLE ASSEMBLY BUILDING PLAY


VIDEO: LANDING REPLAY: CAMERA AT RUNWAY MID-FIELD PLAY


VIDEO: LANDING REPLAY: TOUCHDOWN IN INFRARED PLAY


VIDEO: LANDING REPLAY: INFRARED TRACKER PLAY



VIDEO: FLIGHT DAY 13 HIGHLIGHTS MOVIE PLAY


VIDEO: PRE-LANDING MISSION STATUS BRIEFING PLAY


VIDEO: EDUCATIONAL EVENT WITH SCHOOL IN HAWAII PLAY


VIDEO: PRE-LANDING TESTS OF SHUTTLE'S FLIGHT CONTROLS PLAY



VIDEO: FLIGHT DAY 12 HIGHLIGHTS MOVIE PLAY


VIDEO: THURSDAY'S MISSION STATUS BRIEFING PLAY


VIDEO: NARRATED ANIMATION OF LATE INSPECTIONS PLAY



VIDEO: LEFT-HAND BOOSTER CAMERA LOOKING UPWARD PLAY


VIDEO: LEFT-HAND BOOSTER CAMERA LOOKING INBOARD PLAY


VIDEO: LEFT-HAND BOOSTER CAMERA LOOKING DOWNWARD PLAY


VIDEO: RIGHT-HAND BOOSTER CAMERA LOOKING UPWARD PLAY


VIDEO: RIGHT-HAND BOOSTER CAMERA LOOKING INBOARD PLAY


VIDEO: RIGHT-HAND BOOSTER CAMERA LOOKING DOWNWARD PLAY



VIDEO: SOYUZ ROCKET LAUNCHES EXPEDITION 19 PLAY


VIDEO: FULL EXPERIENCE FROM LIFTOFF TO ORBIT PLAY


VIDEO: THREE CAMERA REPLAYS OF THE SOYUZ LAUNCH PLAY


VIDEO: NARRATED HIGHLIGHTS OF CREW'S LAUNCH PREPS PLAY


VIDEO: CROWD WELCOMES CREW AT BAIKONUR PAD PLAY


VIDEO: CREW DEPARTS SITE 254 FOR LAUNCH PAD PLAY


VIDEO: VIPS MEET THE CREW ON LAUNCH MORNING PLAY


VIDEO: CREW MEMBERS DON THEIR SOKOL SPACESUITS PLAY


VIDEO: LAUNCH MORNING TRADITIONS AT CREW QUARTERS PLAY



VIDEO: FLIGHT DAY 11 HIGHLIGHTS MOVIE PLAY


VIDEO: WEDNESDAY'S MISSION STATUS BRIEFING PLAY


VIDEO: TIME-LAPSE OF FLYING AROUND THE SPACE STATION PLAY


VIDEO: STUNNING VIEWS OF SPACE STATION FROM FLYAROUND PLAY


VIDEO: FOOTAGE OF SHUTTLE DISCOVERY AFTER UNDOCKING PLAY


VIDEO: SHUTTLE DISCOVERY UNDOCKS FROM SPACE STATION PLAY


VIDEO: HATCHWAY CLOSED BETWEEN TWO SPACECRAFT PLAY


VIDEO: FAREWELL CEREMONY BETWEEN THE TWO CREWS PLAY


VIDEO: PREVIEW ANIMATION OF UNDOCKING AN FLYAROUND PLAY



VIDEO: SOYUZ MOVED TO LAUNCH PAD FOR EXPEDITION 19 PLAY


VIDEO: ROCKET HOISTED VERTICALLY ONTO LAUNCH PAD PLAY


VIDEO: INTERVIEW WITH ISS DEPUTY PROGRAM MANAGER PLAY


VIDEO: INTERVIEW WITH FORMER ISS COMMANDER PLAY



VIDEO: FLIGHT DAY 10 HIGHLIGHTS MOVIE PLAY


VIDEO: PRESIDENT OBAMA CALLS THE SPACE STATION PLAY


VIDEO: JOINT CREW IN-FLIGHT NEWS CONFERENCE PLAY


VIDEO: TUESDAY'S MISSION STATUS BRIEFING PLAY



VIDEO: FLIGHT DAY 9 HIGHLIGHTS MOVIE PLAY


VIDEO: MONDAY'S MISSION STATUS BRIEFING PLAY


VIDEO: SPACEWALKER RICK ARNOLD WORKS ON STATION ARM PLAY


VIDEO: SPACEWALKER JOE ACABA MOVES RAIL CART PLAY



VIDEO: FLIGHT DAY 8 HIGHLIGHTS MOVIE PLAY


VIDEO: SUNDAY'S MISSION STATUS BRIEFING PLAY


VIDEO: NEWS MEDIA INTERVIEWS WITH CREW PLAY



VIDEO: FLIGHT DAY 7 HIGHLIGHTS MOVIE PLAY


VIDEO: SATURDAY'S MISSION STATUS BRIEFING PLAY


VIDEO: WALKTHROUGH OF SPACEWALK NO. 2 PLAN PLAY



VIDEO: FLIGHT DAY 6 HIGHLIGHTS MOVIE PLAY


VIDEO: FRIDAY'S MISSION STATUS BRIEFING PLAY


VIDEO: NEWS MEDIA INTERVIEWS WITH CREW PLAY


VIDEO: SECOND SOLAR WING FULLY DEPLOYED PLAY


VIDEO: SECOND SOLAR WING DEPLOYED HALF-WAY PLAY


VIDEO: FIRST SOLAR WING FULLY DEPLOYED PLAY


VIDEO: FIRST SOLAR WING DEPLOYED HALF-WAY PLAY


VIDEO: NARRATED ANIMATION OF SOLAR ARRAY DEPLOYMENT PLAY



VIDEO: FLIGHT DAY 5 HIGHLIGHTS MOVIE PLAY


VIDEO: THURSDAY'S MISSION STATUS BRIEFING PLAY


VIDEO: SPACEWALKER STEVE SWANSON RELEASES LOCKS PLAY


VIDEO: STARBOARD 6 TRUSS ATTACHED TO THE STATION PLAY


VIDEO: WALKTHROUGH OF SPACEWALK NO. 1 PLAN PLAY


VIDEO: OVERVIEW OF THE STARBOARD 6 TRUSS PAYLOAD PLAY


VIDEO: NARRATED ANIMATION OF TRUSS INSTALLATION PLAY



VIDEO: FLIGHT DAY 4 HIGHLIGHTS MOVIE PLAY


VIDEO: WEDNESDAY'S MISSION STATUS BRIEFING PLAY


VIDEO: POWER TRUSS HANDED FROM SHUTTLE TO STATION PLAY


VIDEO: STARBOARD 6 TRUSS HOISTED FROM PAYLOAD BAY PLAY


VIDEO: PREVIEW ANIMATION OF S6 TRUSS UNBERTHING PLAY


VIDEO: NARRATED TOUR OF DISCOVERY'S PAYLOAD BAY PLAY



VIDEO: FLIGHT DAY 3 HIGHLIGHTS MOVIE PLAY


VIDEO: TUESDAY'S MISSION STATUS BRIEFING PLAY


VIDEO: SHUTTLE CREW WELCOMED ABOARD STATION PLAY


VIDEO: SPACE SHUTTLE DISCOVERY DOCKS TO SPACE STATION PLAY


VIDEO: SHUTTLE'S POINT OF VIEW DURING BACKFLIP PLAY


VIDEO: DISCOVERY PERFORMS 360-DEGREE BACKFLIP PLAY


VIDEO: PREVIEW ANIMATION OF RENDEZVOUS AND DOCKING PLAY



VIDEO: FLIGHT DAY 2 HIGHLIGHTS MOVIE PLAY


VIDEO: MONDAY'S MISSION STATUS BRIEFING PLAY


VIDEO: MONDAY'S MISSION MANAGEMENT TEAM UPDATE PLAY


VIDEO: PREVIEW ANIMATION OF HEAT SHIELD INSPECTIONS PLAY



VIDEO: FLIGHT DAY 1 HIGHLIGHTS MOVIE PLAY


VIDEO: THE FULL STS-119 LAUNCH EXPERIENCE PLAY


VIDEO: LAUNCH REPLAY: EXTERNAL TANK CAMERA PLAY


VIDEO: LAUNCH REPLAY: VAB ROOF PLAY


VIDEO: LAUNCH REPLAY: CAMERA CS-1 PLAY


VIDEO: LAUNCH REPLAY: CAMERA CS-2 PLAY


VIDEO: LAUNCH REPLAY: CAMERA CS-6 PLAY


VIDEO: LAUNCH REPLAY: FRONT CAMERA PLAY


VIDEO: LAUNCH REPLAY: BEACH TRACKER PLAY


VIDEO: LAUNCH REPLAY: PAD PERIMETER PLAY


VIDEO: LAUNCH REPLAY: PLAYALINDA BEACH PLAY


VIDEO: LAUNCH REPLAY: THE VIP VIEWING SITE PLAY


VIDEO: LAUNCH REPLAY: PRESS SITE PLAY


VIDEO: LAUNCH REPLAY: WEST TOWER PLAY


VIDEO: LAUNCH REPLAY: CAMERA 009 PLAY


VIDEO: LAUNCH REPLAY: CAMERA 050 PLAY


VIDEO: LAUNCH REPLAY: CAMERA 051 PLAY


VIDEO: LAUNCH REPLAY: CAMERA 054 PLAY


VIDEO: LAUNCH REPLAY: CAMERA 061 PLAY


VIDEO: LAUNCH REPLAY: CAMERA 063 PLAY


VIDEO: LAUNCH REPLAY: CAMERA 070 PLAY


VIDEO: LAUNCH REPLAY: CAMERA 071 PLAY


VIDEO: LAUNCH REPLAY: UCS-11 TRACKER PLAY


VIDEO: LAUNCH REPLAY: UCS-23 TRACKER PLAY


VIDEO: LAUNCH REPLAY: PATRICK AIR FORCE BASE PLAY


VIDEO: INSIDE MISSION CONTROL DURING LAUNCH PLAY


VIDEO: PAYLOAD BAY DOORS OPENED IN ORBIT PLAY



VIDEO: SPACE SHUTTLE DISCOVERY BLASTS OFF PLAY


VIDEO: SHUTTLE'S CREW MODULE HATCH CLOSED FOR FLIGHT PLAY


VIDEO: MISSION SPECIALIST STEVE SWANSON BOARDS PLAY


VIDEO: PILOT TONY ANTONELLI BOARDS DISCOVERY PLAY


VIDEO: COMMANDER LEE ARCHAMBAULT BOARDS PLAY


VIDEO: CREW DEPARTS QUARTERS FOR LAUNCH PAD PLAY


VIDEO: ASTRONAUTS DON SPACESUITS FOR LAUNCH PLAY


VIDEO: TIME-LAPSE OF SUNRISE AT LAUNCH PAD 39A PLAY


VIDEO: TIME-LAPSE OF HYDROGEN ACCESS ARM RETRACTION PLAY


VIDEO: TIME-LAPSE OF SATURDAY NIGHT'S GANTRY ROLLBACK PLAY


VIDEO: SATURDAY'S PRE-LAUNCH NEWS CONFERENCE PLAY


VIDEO: FRIDAY'S SHUTTLE AND WEATHER UPDATE BRIEFING PLAY



VIDEO: POST-SCRUB NEWS CONFERENCE PLAY


VIDEO: DISCOVERY IN THE PREDAWN DARKESS PLAY | HI-DEF


VIDEO: WEDNESDAY'S ROLLBACK OF PAD GANTRY PLAY | HI-DEF


VIDEO: TIME-LAPSE OF PAD GANTRY ROLLING BACK PLAY


VIDEO: THE PRE-LAUNCH NEWS CONFERENCE PLAY


VIDEO: ASTRONAUTS ARRIVE IN FLORIDA FOR LAUNCH PLAY


VIDEO: POST-ARRIVAL COMMENTS FROM THE CREW PLAY | HI-DEF



VIDEO: FLIGHT READINESS REVIEW BRIEFING PLAY



VIDEO: SECOND LAUNCH POSTPONEMENT BRIEFING PLAY



VIDEO: NARRATED MISSION OVERVIEW MOVIE PLAY


VIDEO: MEET SHUTTLE DISCOVERY'S ASTRONAUTS PLAY


VIDEO: INTERVIEW WITH COMMANDER LEE ARCHAMBAULT PLAY


VIDEO: INTERVIEW WITH PILOT TONY ANTONELLI PLAY


VIDEO: INTERVIEW WITH MS1 JOE ACABA PLAY


VIDEO: INTERVIEW WITH MS2 STEVE SWANSON PLAY


VIDEO: INTERVIEW WITH MS3 RICKY ARNOLD PLAY


VIDEO: INTERVIEW WITH MS4 JOHN PHILLIPS PLAY


VIDEO: INTERVIEW WITH MS5 KOICHI WAKATA PLAY



VIDEO: NASA OFFICIALS ANNOUNCE LAUNCH DELAY PLAY


VIDEO: SPACE STATION'S VIBRATIONS DURING REBOOST PLAY



VIDEO: INFORMAL NEWS CONFERENCE AT RUNWAY PLAY


VIDEO: ASTRONAUTS ARRIVE FOR PRACTICE COUNTDOWN PLAY



VIDEO: DISCOVERY POSITIONED ATOP PAD 39A PLAY | HI-DEF


VIDEO: EARLY MORNING ROLLOUT FROM THE VAB PLAY | HI-DEF


VIDEO: TIME-LAPSE MOVIE OF DISCOVERY ARRIVING AT PAD 39A PLAY



VIDEO: DISCOVERY HOISTED FOR ATTACHMENT TO TANK PLAY | HI-DEF


VIDEO: CRANE ROTATES DISCOVERY VERTICALLY PLAY | HI-DEF


VIDEO: DISCOVERY MOVES TO ASSEMBLY BUILDING PLAY | HI-DEF


VIDEO: NOSE WHEEL LANDING GEAR RETRACTED PLAY | HI-DEF



VIDEO: TIME-LAPSE MOVIE OF DISCOVERY GOING VERTICAL PLAY


VIDEO: TIME-LAPSE MOVIE OF ASSEMBLY BUILDING CRANE WORK PLAY


VIDEO: TIME-LAPSE MOVIE OF DISCOVERY'S TRIP TO VAB PLAY


VIDEO: TIME-LAPSE MOVIE OF PAYLOAD'S MOVE PLAY



VIDEO: SHUTTLE AND STATION PROGRAM UPDATE PLAY


VIDEO: STS-119 MISSION OVERVIEW BRIEFING PLAY


VIDEO: PREVIEW BRIEFING ON MISSION'S SPACEWALKS PLAY


VIDEO: THE ASTRONAUTS' PRE-FLIGHT NEWS BRIEFING PLAY


MORE: STS-119 VIDEO COVERAGE


SUBSCRIBE NOW