Discovery's re-entry to collect hypersonic research
BY CRAIG COVAULT
SPACEFLIGHT NOW
Posted: March 27, 2009


KENNEDY SPACE CENTER, Fla. - As the space shuttle Discovery dives through re-entry to end STS-119, the aerodynamic flow on its outer left wing will be deliberately tripped from laminar to turbulent flow at Mach 15.

This is much earlier than at Mach 11 when this area of the aft wing would normally go turbulent during the re-entry. The early shift to turbulent flow will send temperatures on that area of the wing soaring to 2,200 deg. F.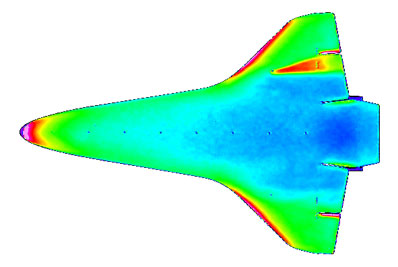 "Speed bump" on orbiter left wing has tripped boundary layer near leading edge. Credit: NASA



In comparison, a smooth shuttle wing should be generating no more than 1,600-1,700 deg. F airflow had the wing stayed laminar until Mach 11.

The objective on STS-119 and the remaining one or two flights of Discovery will be to intensively document the characteristics of how the airflow is tripped from laminar to turbulent, generating the potentially dangerous increase in heating which could damage the orbiter, according to Chuck H. Campbell, Johnson Space Center Principal Investigator for the Orbiter Boundary Layer Transition Flight Experiment.

The airflow will be deliberately tripped by a four-inch wide and quarter-inch tall "speed bump" built into a test tile surrounded at various distances by about 10 tiles instrumented to document temperature changes.

The speed bump fence is secured into BRI-18, a robust tile with added densification atop.

Over the 30-year history of the shuttle program, protruding gap fillers have caused such early boundary layer transitions on the wing about a dozen times. These were unknown to the crew or Mission Control until charred tile areas, sometimes accompanied by gap filler evidence, was found on the runway at Kennedy or Edwards AFB, Calif.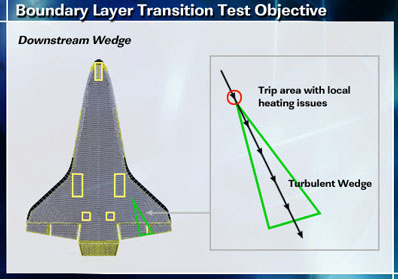 This graphic illustrates the Discovery test. Credit: NASA



Columbia and her crew was lost in 2003 because of external tank debris damaged her wing. This was followed by the STS-114 return-to-flight mission where a protruding gap filler was removed during an emergency extravehicular activity (EVA) because of concerns about the unknowns of increased belly heating caused by the protuberance.

The test has been supported by wind tunnel and analytical testing before the launch of STS-119.

And during the re-entry an attempt will be made to have the U.S. Navy's Cast-Glance Infrared Optical sensor mounted on a P-3 Orion to intersect the descending shuttle for high-speed infrared imagery of the hotter than normal footprint.

The success of the exercise will depend in part upon whether the orbiter flies a re-entry track that can be underflown by the Navy P-3.

On the subsequent STS-128, the plan is for Discovery to carry a somewhat taller speed bump that will further broaden the science base.

The Orion Crew Exploration Vehicle program is helping to provide advocacy for the BRI-18 test because of plans to use that more-robust tile on Orion.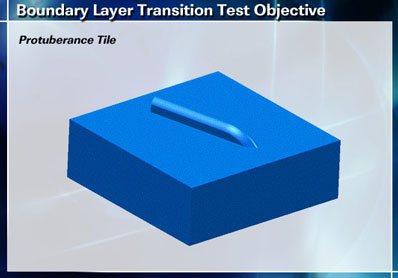 An illustration of the special tile on Discovery that will trip the boundary layer. Credit: NASA



Advancements of any sort are welcomed because many aspects of this problem will still yield significantly to focused inquiry, according to an Air Force/NASA paper on the project authored by Campbell.

"Because the problem of hypersonic BLT is so complex, the infrastructure requirements are also significant. This is true whether ground based experiments, high fidelity computations, instrumentation techniques or flight testing are the subject of interest. For this reason and others, effective and strategic use of infrastructure is a very important consideration.

"Launch vehicles and launch systems involve infrastructure that require large investments and many technology requirements. From the standpoint of economics and infrastructure investment, opportunity cost is often used to describe the costs associated with being able to accomplish an activity. The opportunity cost of having a launch system such as the space shuttle is high.

"Great accomplishments have been made by utilizing the shuttle to advance the state of the art in many technical and scientific areas - from astronomy, to liquid rocket propulsion systems, to reusable launch systems, etc. Therefore, in this context great accomplishments require significant infrastructure," Campbell says.

Following the STS-119 tests, the BRI-18 speed bump and associated tiles will be pulled from Discovery and shipped to NASA Langley for runs in Langley's Mach 6 and Mach 10 wind tunnels.

It will also be shipped to Buffalo, N.Y., for testing in the Calspa/Cubic shock tunnel.


Additional coverage for subscribers:


VIDEO: PRE-LANDING MISSION STATUS BRIEFING PLAY


VIDEO: EDUCATIONAL EVENT WITH SCHOOL IN HAWAII PLAY


VIDEO: PRE-LANDING TESTS OF SHUTTLE'S FLIGHT CONTROLS PLAY



VIDEO: FLIGHT DAY 12 HIGHLIGHTS MOVIE PLAY


VIDEO: THURSDAY'S MISSION STATUS BRIEFING PLAY


VIDEO: NARRATED ANIMATION OF LATE INSPECTIONS PLAY



VIDEO: LEFT-HAND BOOSTER CAMERA LOOKING UPWARD PLAY


VIDEO: LEFT-HAND BOOSTER CAMERA LOOKING INBOARD PLAY


VIDEO: LEFT-HAND BOOSTER CAMERA LOOKING DOWNWARD PLAY


VIDEO: RIGHT-HAND BOOSTER CAMERA LOOKING UPWARD PLAY


VIDEO: RIGHT-HAND BOOSTER CAMERA LOOKING INBOARD PLAY


VIDEO: RIGHT-HAND BOOSTER CAMERA LOOKING DOWNWARD PLAY



VIDEO: SOYUZ ROCKET LAUNCHES EXPEDITION 19 PLAY


VIDEO: FULL EXPERIENCE FROM LIFTOFF TO ORBIT PLAY


VIDEO: THREE CAMERA REPLAYS OF THE SOYUZ LAUNCH PLAY


VIDEO: NARRATED HIGHLIGHTS OF CREW'S LAUNCH PREPS PLAY


VIDEO: CROWD WELCOMES CREW AT BAIKONUR PAD PLAY


VIDEO: CREW DEPARTS SITE 254 FOR LAUNCH PAD PLAY


VIDEO: VIPS MEET THE CREW ON LAUNCH MORNING PLAY


VIDEO: CREW MEMBERS DON THEIR SOKOL SPACESUITS PLAY


VIDEO: LAUNCH MORNING TRADITIONS AT CREW QUARTERS PLAY



VIDEO: FLIGHT DAY 11 HIGHLIGHTS MOVIE PLAY


VIDEO: WEDNESDAY'S MISSION STATUS BRIEFING PLAY


VIDEO: TIME-LAPSE OF FLYING AROUND THE SPACE STATION PLAY


VIDEO: STUNNING VIEWS OF SPACE STATION FROM FLYAROUND PLAY


VIDEO: FOOTAGE OF SHUTTLE DISCOVERY AFTER UNDOCKING PLAY


VIDEO: SHUTTLE DISCOVERY UNDOCKS FROM SPACE STATION PLAY


VIDEO: HATCHWAY CLOSED BETWEEN TWO SPACECRAFT PLAY


VIDEO: FAREWELL CEREMONY BETWEEN THE TWO CREWS PLAY


VIDEO: PREVIEW ANIMATION OF UNDOCKING AN FLYAROUND PLAY



VIDEO: SOYUZ MOVED TO LAUNCH PAD FOR EXPEDITION 19 PLAY


VIDEO: ROCKET HOISTED VERTICALLY ONTO LAUNCH PAD PLAY


VIDEO: INTERVIEW WITH ISS DEPUTY PROGRAM MANAGER PLAY


VIDEO: INTERVIEW WITH FORMER ISS COMMANDER PLAY



VIDEO: FLIGHT DAY 10 HIGHLIGHTS MOVIE PLAY


VIDEO: PRESIDENT OBAMA CALLS THE SPACE STATION PLAY


VIDEO: JOINT CREW IN-FLIGHT NEWS CONFERENCE PLAY


VIDEO: TUESDAY'S MISSION STATUS BRIEFING PLAY



VIDEO: FLIGHT DAY 9 HIGHLIGHTS MOVIE PLAY


VIDEO: MONDAY'S MISSION STATUS BRIEFING PLAY


VIDEO: SPACEWALKER RICK ARNOLD WORKS ON STATION ARM PLAY


VIDEO: SPACEWALKER JOE ACABA MOVES RAIL CART PLAY



VIDEO: FLIGHT DAY 8 HIGHLIGHTS MOVIE PLAY


VIDEO: SUNDAY'S MISSION STATUS BRIEFING PLAY


VIDEO: NEWS MEDIA INTERVIEWS WITH CREW PLAY



VIDEO: FLIGHT DAY 7 HIGHLIGHTS MOVIE PLAY


VIDEO: SATURDAY'S MISSION STATUS BRIEFING PLAY


VIDEO: WALKTHROUGH OF SPACEWALK NO. 2 PLAN PLAY



VIDEO: FLIGHT DAY 6 HIGHLIGHTS MOVIE PLAY


VIDEO: FRIDAY'S MISSION STATUS BRIEFING PLAY


VIDEO: NEWS MEDIA INTERVIEWS WITH CREW PLAY


VIDEO: SECOND SOLAR WING FULLY DEPLOYED PLAY


VIDEO: SECOND SOLAR WING DEPLOYED HALF-WAY PLAY


VIDEO: FIRST SOLAR WING FULLY DEPLOYED PLAY


VIDEO: FIRST SOLAR WING DEPLOYED HALF-WAY PLAY


VIDEO: NARRATED ANIMATION OF SOLAR ARRAY DEPLOYMENT PLAY



VIDEO: FLIGHT DAY 5 HIGHLIGHTS MOVIE PLAY


VIDEO: THURSDAY'S MISSION STATUS BRIEFING PLAY


VIDEO: SPACEWALKER STEVE SWANSON RELEASES LOCKS PLAY


VIDEO: STARBOARD 6 TRUSS ATTACHED TO THE STATION PLAY


VIDEO: WALKTHROUGH OF SPACEWALK NO. 1 PLAN PLAY


VIDEO: OVERVIEW OF THE STARBOARD 6 TRUSS PAYLOAD PLAY


VIDEO: NARRATED ANIMATION OF TRUSS INSTALLATION PLAY



VIDEO: FLIGHT DAY 4 HIGHLIGHTS MOVIE PLAY


VIDEO: WEDNESDAY'S MISSION STATUS BRIEFING PLAY


VIDEO: POWER TRUSS HANDED FROM SHUTTLE TO STATION PLAY


VIDEO: STARBOARD 6 TRUSS HOISTED FROM PAYLOAD BAY PLAY


VIDEO: PREVIEW ANIMATION OF S6 TRUSS UNBERTHING PLAY


VIDEO: NARRATED TOUR OF DISCOVERY'S PAYLOAD BAY PLAY



VIDEO: FLIGHT DAY 3 HIGHLIGHTS MOVIE PLAY


VIDEO: TUESDAY'S MISSION STATUS BRIEFING PLAY


VIDEO: SHUTTLE CREW WELCOMED ABOARD STATION PLAY


VIDEO: SPACE SHUTTLE DISCOVERY DOCKS TO SPACE STATION PLAY


VIDEO: SHUTTLE'S POINT OF VIEW DURING BACKFLIP PLAY


VIDEO: DISCOVERY PERFORMS 360-DEGREE BACKFLIP PLAY


VIDEO: PREVIEW ANIMATION OF RENDEZVOUS AND DOCKING PLAY



VIDEO: FLIGHT DAY 2 HIGHLIGHTS MOVIE PLAY


VIDEO: MONDAY'S MISSION STATUS BRIEFING PLAY


VIDEO: MONDAY'S MISSION MANAGEMENT TEAM UPDATE PLAY


VIDEO: PREVIEW ANIMATION OF HEAT SHIELD INSPECTIONS PLAY



VIDEO: FLIGHT DAY 1 HIGHLIGHTS MOVIE PLAY


VIDEO: THE FULL STS-119 LAUNCH EXPERIENCE PLAY


VIDEO: LAUNCH REPLAY: EXTERNAL TANK CAMERA PLAY


VIDEO: LAUNCH REPLAY: VAB ROOF PLAY


VIDEO: LAUNCH REPLAY: CAMERA CS-1 PLAY


VIDEO: LAUNCH REPLAY: CAMERA CS-2 PLAY


VIDEO: LAUNCH REPLAY: CAMERA CS-6 PLAY


VIDEO: LAUNCH REPLAY: FRONT CAMERA PLAY


VIDEO: LAUNCH REPLAY: BEACH TRACKER PLAY


VIDEO: LAUNCH REPLAY: PAD PERIMETER PLAY


VIDEO: LAUNCH REPLAY: PLAYALINDA BEACH PLAY


VIDEO: LAUNCH REPLAY: THE VIP VIEWING SITE PLAY


VIDEO: LAUNCH REPLAY: PRESS SITE PLAY


VIDEO: LAUNCH REPLAY: WEST TOWER PLAY


VIDEO: LAUNCH REPLAY: CAMERA 009 PLAY


VIDEO: LAUNCH REPLAY: CAMERA 050 PLAY


VIDEO: LAUNCH REPLAY: CAMERA 051 PLAY


VIDEO: LAUNCH REPLAY: CAMERA 054 PLAY


VIDEO: LAUNCH REPLAY: CAMERA 061 PLAY


VIDEO: LAUNCH REPLAY: CAMERA 063 PLAY


VIDEO: LAUNCH REPLAY: CAMERA 070 PLAY


VIDEO: LAUNCH REPLAY: CAMERA 071 PLAY


VIDEO: LAUNCH REPLAY: UCS-11 TRACKER PLAY


VIDEO: LAUNCH REPLAY: UCS-23 TRACKER PLAY


VIDEO: LAUNCH REPLAY: PATRICK AIR FORCE BASE PLAY


VIDEO: INSIDE MISSION CONTROL DURING LAUNCH PLAY


VIDEO: PAYLOAD BAY DOORS OPENED IN ORBIT PLAY



VIDEO: SPACE SHUTTLE DISCOVERY BLASTS OFF PLAY


VIDEO: SHUTTLE'S CREW MODULE HATCH CLOSED FOR FLIGHT PLAY


VIDEO: MISSION SPECIALIST STEVE SWANSON BOARDS PLAY


VIDEO: PILOT TONY ANTONELLI BOARDS DISCOVERY PLAY


VIDEO: COMMANDER LEE ARCHAMBAULT BOARDS PLAY


VIDEO: CREW DEPARTS QUARTERS FOR LAUNCH PAD PLAY


VIDEO: ASTRONAUTS DON SPACESUITS FOR LAUNCH PLAY


VIDEO: TIME-LAPSE OF SUNRISE AT LAUNCH PAD 39A PLAY


VIDEO: TIME-LAPSE OF HYDROGEN ACCESS ARM RETRACTION PLAY


VIDEO: TIME-LAPSE OF SATURDAY NIGHT'S GANTRY ROLLBACK PLAY


VIDEO: SATURDAY'S PRE-LAUNCH NEWS CONFERENCE PLAY


VIDEO: FRIDAY'S SHUTTLE AND WEATHER UPDATE BRIEFING PLAY



VIDEO: POST-SCRUB NEWS CONFERENCE PLAY


VIDEO: DISCOVERY IN THE PREDAWN DARKESS PLAY | HI-DEF


VIDEO: WEDNESDAY'S ROLLBACK OF PAD GANTRY PLAY | HI-DEF


VIDEO: TIME-LAPSE OF PAD GANTRY ROLLING BACK PLAY


VIDEO: THE PRE-LAUNCH NEWS CONFERENCE PLAY


VIDEO: ASTRONAUTS ARRIVE IN FLORIDA FOR LAUNCH PLAY


VIDEO: POST-ARRIVAL COMMENTS FROM THE CREW PLAY | HI-DEF



VIDEO: FLIGHT READINESS REVIEW BRIEFING PLAY



VIDEO: SECOND LAUNCH POSTPONEMENT BRIEFING PLAY



VIDEO: NARRATED MISSION OVERVIEW MOVIE PLAY


VIDEO: MEET SHUTTLE DISCOVERY'S ASTRONAUTS PLAY


VIDEO: INTERVIEW WITH COMMANDER LEE ARCHAMBAULT PLAY


VIDEO: INTERVIEW WITH PILOT TONY ANTONELLI PLAY


VIDEO: INTERVIEW WITH MS1 JOE ACABA PLAY


VIDEO: INTERVIEW WITH MS2 STEVE SWANSON PLAY


VIDEO: INTERVIEW WITH MS3 RICKY ARNOLD PLAY


VIDEO: INTERVIEW WITH MS4 JOHN PHILLIPS PLAY


VIDEO: INTERVIEW WITH MS5 KOICHI WAKATA PLAY



VIDEO: NASA OFFICIALS ANNOUNCE LAUNCH DELAY PLAY


VIDEO: SPACE STATION'S VIBRATIONS DURING REBOOST PLAY



VIDEO: INFORMAL NEWS CONFERENCE AT RUNWAY PLAY


VIDEO: ASTRONAUTS ARRIVE FOR PRACTICE COUNTDOWN PLAY



VIDEO: DISCOVERY POSITIONED ATOP PAD 39A PLAY | HI-DEF


VIDEO: EARLY MORNING ROLLOUT FROM THE VAB PLAY | HI-DEF


VIDEO: TIME-LAPSE MOVIE OF DISCOVERY ARRIVING AT PAD 39A PLAY



VIDEO: DISCOVERY HOISTED FOR ATTACHMENT TO TANK PLAY | HI-DEF


VIDEO: CRANE ROTATES DISCOVERY VERTICALLY PLAY | HI-DEF


VIDEO: DISCOVERY MOVES TO ASSEMBLY BUILDING PLAY | HI-DEF


VIDEO: NOSE WHEEL LANDING GEAR RETRACTED PLAY | HI-DEF



VIDEO: TIME-LAPSE MOVIE OF DISCOVERY GOING VERTICAL PLAY


VIDEO: TIME-LAPSE MOVIE OF ASSEMBLY BUILDING CRANE WORK PLAY


VIDEO: TIME-LAPSE MOVIE OF DISCOVERY'S TRIP TO VAB PLAY


VIDEO: TIME-LAPSE MOVIE OF PAYLOAD'S MOVE PLAY



VIDEO: SHUTTLE AND STATION PROGRAM UPDATE PLAY


VIDEO: STS-119 MISSION OVERVIEW BRIEFING PLAY


VIDEO: PREVIEW BRIEFING ON MISSION'S SPACEWALKS PLAY


VIDEO: THE ASTRONAUTS' PRE-FLIGHT NEWS BRIEFING PLAY


MORE: STS-119 VIDEO COVERAGE


SUBSCRIBE NOW