President calls station to chat with astronauts
BY WILLIAM HARWOOD
STORY WRITTEN FOR CBS NEWS "SPACE PLACE" & USED WITH PERMISSION
Posted: March 24, 2009


President Barack Obama, hosting school kids and members of Congress, called the crews of the shuttle Discovery and the international space station today, quizzing the astronauts about life in space and offering congratulations for a successful station assembly mission.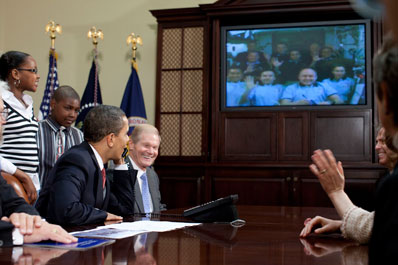 President Barack Obama talks with astronauts on the space station from the Roosevelt Room. Credit: White House Photo/Pete Souza



Calling from the White House as the shuttle-station complex sailed 220 miles above the southern tip of South America, Obama chatted easily, relaying questions from school children and fellow law makers.

"Hello, commander, can you hear us?" Obama called.

"Mr. President, welcome aboard the international space station where we are joined with our international crew from the space shuttle Discovery," commander Mike Fincke replied. "Welcome aboard, glad to hear your voice, we hear you loud and clear, sir."

"Well, thank you so much for taking the time to speak with us," Obama sad. "We've got a crew of wonderful school children here who are all interested in space and we've got some members of Congress who are like big kids when it comes to talking to astronauts. I'm told you're cruising at about 17,000 mph so we're glad you are using the hands-free phone."

"Mr. President, we go around the planet once every 90 minutes. It's quite a thrill and it is very fast. We see 16 sunrises and 16 sunsets every day."

"That is unbelievable," Obama said. "Well, the first thing we want to do is just let you know how proud we are of you."

The seven-member shuttle crew - commander Lee Archambault, pilot Dominic "Tony" Antonelli, John Phillips, Sandra Magnus and spacewalkers Steven Swanson, Joseph Acaba and Richard Arnold - joined Fincke, flight engineer Yury Lonchakov and Koichi Wakata in the station's Harmony connecting module to take the presidential phone call.

Discovery's crew delivered and installed a fourth and final set of solar arrays for the space station, a new urine processor system centrifuge and Wakata, Japan's first long-duration astronaut. He replaced Magnus, who will return to Earth aboard Discovery after four months in space.

Swanson, Acaba and Arnold carried out three spacewalks and while they accomplished all of the mission's primary objectives, they were unable to deploy an external cargo platform when its mechanism jammed. As a result, deployment of a second storage platform was deferred, along with work to re-wire an electrical patch panel.

If all goes well, the shuttle will undock from the station at 3:53 p.m. Wednesday. After a final heat shield inspection Thursday, the astronauts will pack up and return to the Kennedy Space Center Saturday, landing around 1:43 p.m.

"We are really excited about the project you are doing," Obama radioed. "This is really exciting because we're investing back here on the ground (in) a whole array of solar and other renewable energy projects. And so, to find out you're doing this up at the space station is particularly exciting."

After asking how the astronauts installed the station's new arrays, the president said "obviously, we're really proud about the extraordinary work our American astronauts are doing. You are representative of the dedication and sense of adventure and discovery that we're so proud of.

"But one of the things that's so wonderful about this is that it is an international space station and I know we have our Japanese and Russian counterparts on board as well. We'd love to say hello to them and hope this is an example of the kind of spirit of cooperation we can apply not just in space but here on the ground as ell."

"It's an honor to have a chance to talk with you, Mr. President," Wakata replied. "We have a Russian crew member, and American crew member and I'm from Japan. We have 16 countries working together in this wonderful project, the international space station. ... It really symbolizes the future of the scientific development of the world. And I'm just happy to be part of this."

Said Lonchakov, a Russian cosmonaut: "Mr. President, we work together to do everything. It's really, really important for us."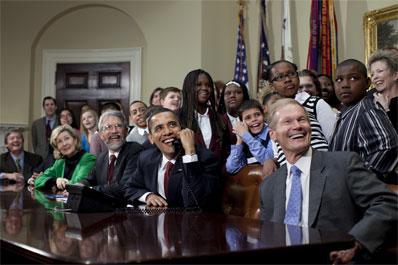 President Barack Obama is joined by members of Congress, including former astronaut Sen. Bill Nelson and school children. Credit: White House Photo/Pete Souza



Obama quizzed the astronauts on the research being conducted on the station, asking how much time the crew spends on science and simply maintaining the outpost.

"Well sir, we have experiments already up here that we've been doing for many years, we'll be able to double that with the addition of the solar array that our shuttle friends brought up. We do a lot of experiments on combustion, understanding materials. You know, we're guinea pigs, so understanding how people's bodies change in space. All this is in preparation for long-duration missions to moon and Mars.

"And the exciting thing about doing science up here is we really don't know what we don't know. And that gives you the greatest potential for learning. And we've had a lot of cases where people have sent up experiments and we've conducted them here on the space station only to find out we've learned something new, something more about the fundamentals about the processes and the science. So it's a really great place to learn a lot."

Magnus wears her hair long and it floats out in zero gravity. Obama asked, "were you tempted to cut your hair shorter while you were up there?"

"That's a really good question," Magnus replied. "Because there's a little bit of overhead to take care of long hair here. I think ideally, a short haircut's the way to go but quite frankly, on me it wouldn't be so nice. So I kept it long."

"I think it's a real fashion statement," Obama laughed.


Additional coverage for subscribers:


VIDEO: PRESIDENT OBAMA CALLS THE SPACE STATION PLAY


VIDEO: FLIGHT DAY 9 HIGHLIGHTS MOVIE PLAY


VIDEO: MONDAY'S MISSION STATUS BRIEFING PLAY


VIDEO: SPACEWALKER RICK ARNOLD WORKS ON STATION ARM PLAY


VIDEO: SPACEWALKER JOE ACABA MOVES RAIL CART PLAY



VIDEO: FLIGHT DAY 8 HIGHLIGHTS MOVIE PLAY


VIDEO: SUNDAY'S MISSION STATUS BRIEFING PLAY


VIDEO: NEWS MEDIA INTERVIEWS WITH CREW PLAY



VIDEO: FLIGHT DAY 7 HIGHLIGHTS MOVIE PLAY


VIDEO: SATURDAY'S MISSION STATUS BRIEFING PLAY


VIDEO: WALKTHROUGH OF SPACEWALK NO. 2 PLAN PLAY



VIDEO: FLIGHT DAY 6 HIGHLIGHTS MOVIE PLAY


VIDEO: FRIDAY'S MISSION STATUS BRIEFING PLAY


VIDEO: NEWS MEDIA INTERVIEWS WITH CREW PLAY


VIDEO: SECOND SOLAR WING FULLY DEPLOYED PLAY


VIDEO: SECOND SOLAR WING DEPLOYED HALF-WAY PLAY


VIDEO: FIRST SOLAR WING FULLY DEPLOYED PLAY


VIDEO: FIRST SOLAR WING DEPLOYED HALF-WAY PLAY


VIDEO: NARRATED ANIMATION OF SOLAR ARRAY DEPLOYMENT PLAY



VIDEO: FLIGHT DAY 5 HIGHLIGHTS MOVIE PLAY


VIDEO: THURSDAY'S MISSION STATUS BRIEFING PLAY


VIDEO: SPACEWALKER STEVE SWANSON RELEASES LOCKS PLAY


VIDEO: STARBOARD 6 TRUSS ATTACHED TO THE STATION PLAY


VIDEO: WALKTHROUGH OF SPACEWALK NO. 1 PLAN PLAY


VIDEO: OVERVIEW OF THE STARBOARD 6 TRUSS PAYLOAD PLAY


VIDEO: NARRATED ANIMATION OF TRUSS INSTALLATION PLAY



VIDEO: FLIGHT DAY 4 HIGHLIGHTS MOVIE PLAY


VIDEO: WEDNESDAY'S MISSION STATUS BRIEFING PLAY


VIDEO: POWER TRUSS HANDED FROM SHUTTLE TO STATION PLAY


VIDEO: STARBOARD 6 TRUSS HOISTED FROM PAYLOAD BAY PLAY


VIDEO: PREVIEW ANIMATION OF S6 TRUSS UNBERTHING PLAY


VIDEO: NARRATED TOUR OF DISCOVERY'S PAYLOAD BAY PLAY



VIDEO: FLIGHT DAY 3 HIGHLIGHTS MOVIE PLAY


VIDEO: TUESDAY'S MISSION STATUS BRIEFING PLAY


VIDEO: SHUTTLE CREW WELCOMED ABOARD STATION PLAY


VIDEO: SPACE SHUTTLE DISCOVERY DOCKS TO SPACE STATION PLAY


VIDEO: SHUTTLE'S POINT OF VIEW DURING BACKFLIP PLAY


VIDEO: DISCOVERY PERFORMS 360-DEGREE BACKFLIP PLAY


VIDEO: PREVIEW ANIMATION OF RENDEZVOUS AND DOCKING PLAY



VIDEO: FLIGHT DAY 2 HIGHLIGHTS MOVIE PLAY


VIDEO: MONDAY'S MISSION STATUS BRIEFING PLAY


VIDEO: MONDAY'S MISSION MANAGEMENT TEAM UPDATE PLAY


VIDEO: PREVIEW ANIMATION OF HEAT SHIELD INSPECTIONS PLAY



VIDEO: FLIGHT DAY 1 HIGHLIGHTS MOVIE PLAY


VIDEO: THE FULL STS-119 LAUNCH EXPERIENCE PLAY


VIDEO: LAUNCH REPLAY: EXTERNAL TANK CAMERA PLAY


VIDEO: LAUNCH REPLAY: VAB ROOF PLAY


VIDEO: LAUNCH REPLAY: CAMERA CS-1 PLAY


VIDEO: LAUNCH REPLAY: CAMERA CS-2 PLAY


VIDEO: LAUNCH REPLAY: CAMERA CS-6 PLAY


VIDEO: LAUNCH REPLAY: FRONT CAMERA PLAY


VIDEO: LAUNCH REPLAY: BEACH TRACKER PLAY


VIDEO: LAUNCH REPLAY: PAD PERIMETER PLAY


VIDEO: LAUNCH REPLAY: PLAYALINDA BEACH PLAY


VIDEO: LAUNCH REPLAY: THE VIP VIEWING SITE PLAY


VIDEO: LAUNCH REPLAY: PRESS SITE PLAY


VIDEO: LAUNCH REPLAY: WEST TOWER PLAY


VIDEO: LAUNCH REPLAY: CAMERA 009 PLAY


VIDEO: LAUNCH REPLAY: CAMERA 050 PLAY


VIDEO: LAUNCH REPLAY: CAMERA 051 PLAY


VIDEO: LAUNCH REPLAY: CAMERA 054 PLAY


VIDEO: LAUNCH REPLAY: CAMERA 061 PLAY


VIDEO: LAUNCH REPLAY: CAMERA 063 PLAY


VIDEO: LAUNCH REPLAY: CAMERA 070 PLAY


VIDEO: LAUNCH REPLAY: CAMERA 071 PLAY


VIDEO: LAUNCH REPLAY: UCS-11 TRACKER PLAY


VIDEO: LAUNCH REPLAY: UCS-23 TRACKER PLAY


VIDEO: LAUNCH REPLAY: PATRICK AIR FORCE BASE PLAY


VIDEO: INSIDE MISSION CONTROL DURING LAUNCH PLAY


VIDEO: PAYLOAD BAY DOORS OPENED IN ORBIT PLAY



VIDEO: SPACE SHUTTLE DISCOVERY BLASTS OFF PLAY


VIDEO: SHUTTLE'S CREW MODULE HATCH CLOSED FOR FLIGHT PLAY


VIDEO: MISSION SPECIALIST STEVE SWANSON BOARDS PLAY


VIDEO: PILOT TONY ANTONELLI BOARDS DISCOVERY PLAY


VIDEO: COMMANDER LEE ARCHAMBAULT BOARDS PLAY


VIDEO: CREW DEPARTS QUARTERS FOR LAUNCH PAD PLAY


VIDEO: ASTRONAUTS DON SPACESUITS FOR LAUNCH PLAY


VIDEO: TIME-LAPSE OF SUNRISE AT LAUNCH PAD 39A PLAY


VIDEO: TIME-LAPSE OF HYDROGEN ACCESS ARM RETRACTION PLAY


VIDEO: TIME-LAPSE OF SATURDAY NIGHT'S GANTRY ROLLBACK PLAY


VIDEO: SATURDAY'S PRE-LAUNCH NEWS CONFERENCE PLAY


VIDEO: FRIDAY'S SHUTTLE AND WEATHER UPDATE BRIEFING PLAY



VIDEO: POST-SCRUB NEWS CONFERENCE PLAY


VIDEO: DISCOVERY IN THE PREDAWN DARKESS PLAY | HI-DEF


VIDEO: WEDNESDAY'S ROLLBACK OF PAD GANTRY PLAY | HI-DEF


VIDEO: TIME-LAPSE OF PAD GANTRY ROLLING BACK PLAY


VIDEO: THE PRE-LAUNCH NEWS CONFERENCE PLAY


VIDEO: ASTRONAUTS ARRIVE IN FLORIDA FOR LAUNCH PLAY


VIDEO: POST-ARRIVAL COMMENTS FROM THE CREW PLAY | HI-DEF



VIDEO: FLIGHT READINESS REVIEW BRIEFING PLAY



VIDEO: SECOND LAUNCH POSTPONEMENT BRIEFING PLAY



VIDEO: NARRATED MISSION OVERVIEW MOVIE PLAY


VIDEO: MEET SHUTTLE DISCOVERY'S ASTRONAUTS PLAY


VIDEO: INTERVIEW WITH COMMANDER LEE ARCHAMBAULT PLAY


VIDEO: INTERVIEW WITH PILOT TONY ANTONELLI PLAY


VIDEO: INTERVIEW WITH MS1 JOE ACABA PLAY


VIDEO: INTERVIEW WITH MS2 STEVE SWANSON PLAY


VIDEO: INTERVIEW WITH MS3 RICKY ARNOLD PLAY


VIDEO: INTERVIEW WITH MS4 JOHN PHILLIPS PLAY


VIDEO: INTERVIEW WITH MS5 KOICHI WAKATA PLAY



VIDEO: NASA OFFICIALS ANNOUNCE LAUNCH DELAY PLAY


VIDEO: SPACE STATION'S VIBRATIONS DURING REBOOST PLAY



VIDEO: INFORMAL NEWS CONFERENCE AT RUNWAY PLAY


VIDEO: ASTRONAUTS ARRIVE FOR PRACTICE COUNTDOWN PLAY



VIDEO: DISCOVERY POSITIONED ATOP PAD 39A PLAY | HI-DEF


VIDEO: EARLY MORNING ROLLOUT FROM THE VAB PLAY | HI-DEF


VIDEO: TIME-LAPSE MOVIE OF DISCOVERY ARRIVING AT PAD 39A PLAY



VIDEO: DISCOVERY HOISTED FOR ATTACHMENT TO TANK PLAY | HI-DEF


VIDEO: CRANE ROTATES DISCOVERY VERTICALLY PLAY | HI-DEF


VIDEO: DISCOVERY MOVES TO ASSEMBLY BUILDING PLAY | HI-DEF


VIDEO: NOSE WHEEL LANDING GEAR RETRACTED PLAY | HI-DEF



VIDEO: TIME-LAPSE MOVIE OF DISCOVERY GOING VERTICAL PLAY


VIDEO: TIME-LAPSE MOVIE OF ASSEMBLY BUILDING CRANE WORK PLAY


VIDEO: TIME-LAPSE MOVIE OF DISCOVERY'S TRIP TO VAB PLAY


VIDEO: TIME-LAPSE MOVIE OF PAYLOAD'S MOVE PLAY



VIDEO: SHUTTLE AND STATION PROGRAM UPDATE PLAY


VIDEO: STS-119 MISSION OVERVIEW BRIEFING PLAY


VIDEO: PREVIEW BRIEFING ON MISSION'S SPACEWALKS PLAY


VIDEO: THE ASTRONAUTS' PRE-FLIGHT NEWS BRIEFING PLAY


MORE: STS-119 VIDEO COVERAGE


SUBSCRIBE NOW