Still no 'smoking gun' found for hydrogen vent line leak
BY WILLIAM HARWOOD
STORY WRITTEN FOR CBS NEWS "SPACE PLACE" & USED WITH PERMISSION
Posted: March 14, 2009;
Updated after news conference


Engineers fell several hours behind schedule today fixing an alignment issue and re-connecting a gaseous hydrogen vent line to the shuttle Discovery's external tank, but NASA managers say they should be able to make up the lost time and stay on track for a launch attempt Sunday at 7:43:46 p.m. While no "smoking gun" was found to explain a vent line leak that grounded Discovery Wednesday, Launch Director Mike Leinbach said he was hopeful the repair work resolved the problem.

"We're going to put this back together and go tank and if it doesn't leak we're going to be perfectly safe to go fly," he said. "While we like to have a smoking gun, good root cause, right now we don't have that."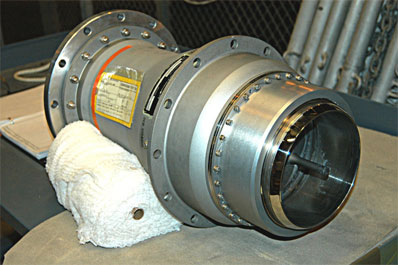 File photo of the 7-inch hydrogen vent line quick disconnect that was replaced at the launch pad. Photo: NASA/KSC.

If all goes well, Discovery's countdown will resume at the T-minus 11-hour mark at 3:18 a.m. Sunday. Fueling will begin around 10:18 a.m. and the crew will strap in for launch just before 4:30 p.m.
Shuttle forecasters are predicting an 80 percent chance of good weather Sunday, with just a slight chance of low clouds that could cause problems. The outlook drops to 70 percent "go" on Monday and just 40 percent go Tuesday, the last day this month Discovery can take off. If the shuttle isn't off the ground by then, the flight will slip to around April 7, after a Russian mission to rotate space station crew members.
The primary goals of Discovery's mission are to attach a fourth and final set of solar arrays to the space station; to replace outgoing flight engineer Sandra Magnus with Japanese astronaut Koichi Wakata; to deliver a replacement urine processor sub-assembly needed by the station's water recycling system; and to bring water samples down to assess the purity of the processed water.
NASA originally hoped to launch Discovery Feb. 12, but the flight has been repeatedly delayed, first by problems with suspect hydrogen flow control valves used to pressurize the external tank during ascent and again last Wednesday, by a leak in a gaseous hydrogen vent line.
The 7-inch vent line hooks up to the external tank with a quick-disconnect fitting that is part of a ground umbilical carrier plate. During fueling, pressure in the tank is maintained by venting gaseous hydrogen overboard through the vent line. At launch, the vent line disconnects and drops away from the tank.
During fueling Wednesday, sensors detected a significant gaseous hydrogen leak in or near the umbilical plate. Fueling was halted, launch was scrubbed and the tank was drained.
Engineers have now disassembled the umbilical plate, replaced the quick-disconnect fitting and the seal on the tank side. While that seal was found to have "rolled" edges, Leinbach described it as more a case of use than anything wrong. Engineers also noted discoloration on an internal surface that apparently indicates the general area of the leak.
But the hardware showed no obvious defects that might explain the leak.
"Smoking gun? No," Leinbach said. "There was some evidence of the flight seal on the external tank side of the disconnect with a slight roll to it. I'm not sure that was the cause. There was a little bit of discoloration on one of the surfaces inside the quick disconnect. I'm not sure that is particularly related. It's probably the result of hydrogen leaking through that area. So no obvious smoking gun."
While he said he was "a little surprised that we didn't find something more obvious, because it was a healthy leak." But he said he was comfortable proceeding with another launch attempt Sunday because the trouble involves a ground system and poses no threat to the crew and because replacing all the hardware likely eliminated whatever was causing the problem.
The only trouble today occurred when engineers ran into "a little bit of an alignment issue with that connection," Leinbach said. "We've performed a standard routine where we installed some guide pins to verify the external part of the QD and the internal part on the external tank itself are exactly aligned. Those pins went in perfectly fine, so we know we have a good connection there. So technically, we're in great shape. To do that little bit of extra work costs us probably three or four hours. So we're three or four hours down on the timeline, but we think we can make that up tonight and support the launch tomorrow.
"We'll finish all the closeouts and get into that leak check tonight," Leinbach said. "That final re-torque that was an issue for us, that'll come up at about 6 o'clock tonight. The testing we did on the bench with that new technique for re-torquing actually proved out better than we had anticipated. So I feel real good about positive results.
"We'll get into the ordnance reconnect right after midnight and pick up the count at T-minus 11 hours at 3:18 tomorrow morning," Leinbach said. "Again, we're a little bit down on our timelines, but technically we're exactly where we want to be. So we feel really good and really, really outstanding for a launch attempt tomorrow."
Here is a revised countdown for Sunday's launch attempt (best viewed with fixed-width font):

EDT...........EVENT

03:18 AM......ASP cockpit config
03:38 AM......Pad clear of non-essential personnel
03:38 AM......APU bite test
04:28 AM......Fuel cell activation
05:18 AM......Booster joint heater activation
05:48 AM......MEC pre-flight bite test
06:03 AM......Tanking weather update
06:48 AM......Final fueling preps; launch area clear
07:18 AM......Red crew assembled
08:03 AM......Fuel cell integrity checks complete

08:28 AM......Safe-and-arm PIC test
09:18 AM......External tank ready for loading
09:41 AM......Mission management team tanking meeting
10:18 AM......Resume countdown (T-minus 6 hours)

10:18 AM......LO2, LH2 transfer line chilldown
10:28 AM......Main propulsion system chill down
10:28 AM......LH2 slow fill
10:58 AM......LO2 slow fill
11:03 AM......Hydrogen ECO sensors go wet
11:08 AM......LO2 fast fill
11:11 AM......Crew medical checks
11:18 AM......LH2 fast fill
01:13 PM......LH2 topping
01:18 PM......LH2 replenish
01:18 PM......LO2 replenish

01:18 PM......Begin 2-hour 30-minute built-in hold (T-minus 3 hours)
01:18 PM......Closeout crew to white room
01:18 PM......External tank in stable replenish mode
01:33 PM......Astronaut support personnel comm checks
02:03 PM......Pre-ingress switch reconfig
02:30 PM......NASA TV coverage begins
03:18 PM......Final crew weather briefing
03:23 PM......Crew suit up begins
03:48 PM......Resume countdown (T-minus 3 hours)

03:53 PM......Crew departs O&C building
04:23 PM......Crew ingress
05:13 PM......Astronaut comm checks
05:38 PM......Hatch closure
06:08 PM......White room closeout

06:28 PM......Begin 10-minute built-in hold (T-minus 20m)
06:38 PM......NASA test director countdown briefing
06:38 PM......Resume countdown (T-minus 20m)

06:39 PM......Backup flight computer to OPS 1
06:43 PM......KSC area clear to launch

06:49 PM......Begin final built-in hold (T-minus 9m)
07:19 PM......NTD launch status verification
07:34:46 PM...Resume countdown (T-minus 9m)

07:36:16 PM...Orbiter access arm retraction
07:38:46 PM...Launch window opens
07:38:46 PM...Hydraulic power system (APU) start
07:38:51 PM...Terminate LO2 replenish
07:39:46 PM...Purge sequence 4 hydraulic test
07:39:46 PM...IMUs to inertial
07:39:51 PM...Aerosurface profile
07:40:16 PM...Main engine steering test
07:40:51 PM...LO2 tank pressurization
07:41:11 PM...Fuel cells to internal reactants
07:41:16 PM...Clear caution-and-warning memory
07:41:46 PM...Crew closes visors
07:41:49 PM...LH2 tank pressurization
07:42:56 PM...SRB joint heater deactivation
07:43:15 PM...Shuttle GPCs take control of countdown
07:43:25 PM...SRB steering test
07:43:39 PM...Main engine start (T-6.6 seconds)
07:43:46 PM...SRB ignition (LAUNCH)



Additional coverage for subscribers:


VIDEO: SATURDAY'S PRE-LAUNCH NEWS CONFERENCE PLAY


VIDEO: FRIDAY'S SHUTTLE AND WEATHER UPDATE BRIEFING PLAY


VIDEO: POST-SCRUB NEWS CONFERENCE PLAY


VIDEO: DISCOVERY IN THE PREDAWN DARKESS PLAY | HI-DEF


VIDEO: WEDNESDAY'S ROLLBACK OF PAD GANTRY PLAY | HI-DEF


VIDEO: TIME-LAPSE OF PAD GANTRY ROLLING BACK PLAY


VIDEO: THE PRE-LAUNCH NEWS CONFERENCE PLAY


VIDEO: ASTRONAUTS ARRIVE IN FLORIDA FOR LAUNCH PLAY


VIDEO: POST-ARRIVAL COMMENTS FROM THE CREW PLAY | HI-DEF



VIDEO: FLIGHT READINESS REVIEW BRIEFING PLAY



VIDEO: SECOND LAUNCH POSTPONEMENT BRIEFING PLAY



VIDEO: NARRATED MISSION OVERVIEW MOVIE PLAY


VIDEO: MEET SHUTTLE DISCOVERY'S ASTRONAUTS PLAY


VIDEO: INTERVIEW WITH COMMANDER LEE ARCHAMBAULT PLAY


VIDEO: INTERVIEW WITH PILOT TONY ANTONELLI PLAY


VIDEO: INTERVIEW WITH MS1 JOE ACABA PLAY


VIDEO: INTERVIEW WITH MS2 STEVE SWANSON PLAY


VIDEO: INTERVIEW WITH MS3 RICKY ARNOLD PLAY


VIDEO: INTERVIEW WITH MS4 JOHN PHILLIPS PLAY


VIDEO: INTERVIEW WITH MS5 KOICHI WAKATA PLAY



VIDEO: NASA OFFICIALS ANNOUNCE LAUNCH DELAY PLAY


VIDEO: SPACE STATION'S VIBRATIONS DURING REBOOST PLAY



VIDEO: INFORMAL NEWS CONFERENCE AT RUNWAY PLAY


VIDEO: ASTRONAUTS ARRIVE FOR PRACTICE COUNTDOWN PLAY



VIDEO: DISCOVERY POSITIONED ATOP PAD 39A PLAY | HI-DEF


VIDEO: EARLY MORNING ROLLOUT FROM THE VAB PLAY | HI-DEF


VIDEO: TIME-LAPSE MOVIE OF DISCOVERY ARRIVING AT PAD 39A PLAY



VIDEO: DISCOVERY HOISTED FOR ATTACHMENT TO TANK PLAY | HI-DEF


VIDEO: CRANE ROTATES DISCOVERY VERTICALLY PLAY | HI-DEF


VIDEO: DISCOVERY MOVES TO ASSEMBLY BUILDING PLAY | HI-DEF


VIDEO: NOSE WHEEL LANDING GEAR RETRACTED PLAY | HI-DEF



VIDEO: TIME-LAPSE MOVIE OF DISCOVERY GOING VERTICAL PLAY


VIDEO: TIME-LAPSE MOVIE OF ASSEMBLY BUILDING CRANE WORK PLAY


VIDEO: TIME-LAPSE MOVIE OF DISCOVERY'S TRIP TO VAB PLAY


VIDEO: TIME-LAPSE MOVIE OF PAYLOAD'S MOVE PLAY



VIDEO: SHUTTLE AND STATION PROGRAM UPDATE PLAY


VIDEO: STS-119 MISSION OVERVIEW BRIEFING PLAY


VIDEO: PREVIEW BRIEFING ON MISSION'S SPACEWALKS PLAY


VIDEO: THE ASTRONAUTS' PRE-FLIGHT NEWS BRIEFING PLAY


MORE: STS-119 VIDEO COVERAGE


SUBSCRIBE NOW