Expedited repair to allow Sunday launch of Discovery
BY WILLIAM HARWOOD
STORY WRITTEN FOR CBS NEWS "SPACE PLACE" & USED WITH PERMISSION
Posted: March 12, 2009


NASA managers today reviewed plans to fix a leaking hydrogen vent line and decided to implement an expedited repair procedure that, if all goes well, will permit a launch attempt at 7:43:44 p.m. Sunday to kick off a delayed space station assembly mission.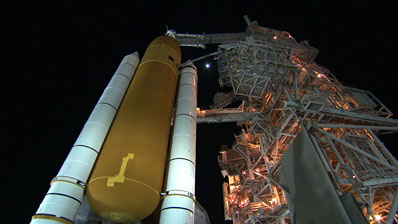 Credit: NASA TV



The flight plan calls for Discovery to dock with the space station on Tuesday and for the astronauts to carry out three of four originally planned spacewalks to attach a final set of solar arrays and to perform a variety of get-ahead tasks for upcoming assembly missions.

Discovery's crew also will deliver long-duration crew member Koichi Wakata, Japan's first station flier, bring flight engineer Sandra Magnus back to Earth after four months in space and deliver a replacement urine processor assembly for the lab's water recycling system

The original flight plan called for a four-spacewalk mission two-week mission with two light-duty days. But to avoid conflict with an upcoming Russian mission to fly up two fresh crew members and bring two other crew members back to Earth, the docked phase of Discovery's mission must be completed by March 25.

Originally scheduled for launch Feb. 12, Discovery has been repeatedly delayed, first by problems with suspect flow control valves in the system used to pressurize the shuttle's external tank and again on Wednesday by a leak in a gaseous hydrogen vent line.

Based on past repair experience, a seal in the vent line system must be tightened down after reassembly and allowed to sit for an extended period to correct for possible misalignments during installation. That would have delayed launch to Monday. But engineers decided today they could properly torque the seal in place faster than that, and mission managers opted to press for a Sunday launch.

While the astronauts will have to eliminate one of their planned spacewalks in order to complete the docked mission by March 25, NASA managers decided to add a day of off-duty time after undocking to give the astronauts a bit of a break before landing back at the Kennedy Space Center on March 28.

Here's the revised flight plan timeline:

Fl Day..DATE....EVENT

March 15 Launch (Flight Day 3 docking):

FD-01...03/15...Launch at 7:43:44 PM
FD-02...03/16...Heat shield inspection
FD-03...03/17...Docking
FD-04...03/18...S6 solar array truss unberthing
FD-05...03/19...EVA-1 (S6 solar array truss installation)
FD-06...03/20...Focused inspection (if necessary)
FD-07...03/21...EVA-2
FD-08...03/22...S6 solar array extension
FD-09...03/23...EVA-3
FD-10...03/24...Logistics transfers
FD-11...03/25...Undocking/late inspection
FD-12...03/26...Off-duty time
FD-13...03/27...Entry preps
FD-14...03/28...Landing

Discovery must be off the ground by Tuesday or the flight will be delayed to around April 7. But a launch Monday would force the crew to eliminate two spacewalks while a Wednesday takeoff would require the elimination of three EVAs in order to ensure an undocking on March 25.

An updated flight plan, countdown timeline and other mission information will be posted as soon as possible.


Additional coverage for subscribers:


VIDEO: POST-SCRUB NEWS CONFERENCE PLAY


VIDEO: DISCOVERY IN THE PREDAWN DARKESS PLAY | HI-DEF


VIDEO: WEDNESDAY'S ROLLBACK OF PAD GANTRY PLAY | HI-DEF


VIDEO: TIME-LAPSE OF PAD GANTRY ROLLING BACK PLAY


VIDEO: THE PRE-LAUNCH NEWS CONFERENCE PLAY


VIDEO: ASTRONAUTS ARRIVE IN FLORIDA FOR LAUNCH PLAY


VIDEO: POST-ARRIVAL COMMENTS FROM THE CREW PLAY | HI-DEF



VIDEO: FLIGHT READINESS REVIEW BRIEFING PLAY



VIDEO: SECOND LAUNCH POSTPONEMENT BRIEFING PLAY



VIDEO: NARRATED MISSION OVERVIEW MOVIE PLAY


VIDEO: MEET SHUTTLE DISCOVERY'S ASTRONAUTS PLAY


VIDEO: INTERVIEW WITH COMMANDER LEE ARCHAMBAULT PLAY


VIDEO: INTERVIEW WITH PILOT TONY ANTONELLI PLAY


VIDEO: INTERVIEW WITH MS1 JOE ACABA PLAY


VIDEO: INTERVIEW WITH MS2 STEVE SWANSON PLAY


VIDEO: INTERVIEW WITH MS3 RICKY ARNOLD PLAY


VIDEO: INTERVIEW WITH MS4 JOHN PHILLIPS PLAY


VIDEO: INTERVIEW WITH MS5 KOICHI WAKATA PLAY



VIDEO: NASA OFFICIALS ANNOUNCE LAUNCH DELAY PLAY


VIDEO: SPACE STATION'S VIBRATIONS DURING REBOOST PLAY



VIDEO: INFORMAL NEWS CONFERENCE AT RUNWAY PLAY


VIDEO: ASTRONAUTS ARRIVE FOR PRACTICE COUNTDOWN PLAY



VIDEO: DISCOVERY POSITIONED ATOP PAD 39A PLAY | HI-DEF


VIDEO: EARLY MORNING ROLLOUT FROM THE VAB PLAY | HI-DEF


VIDEO: TIME-LAPSE MOVIE OF DISCOVERY ARRIVING AT PAD 39A PLAY



VIDEO: DISCOVERY HOISTED FOR ATTACHMENT TO TANK PLAY | HI-DEF


VIDEO: CRANE ROTATES DISCOVERY VERTICALLY PLAY | HI-DEF


VIDEO: DISCOVERY MOVES TO ASSEMBLY BUILDING PLAY | HI-DEF


VIDEO: NOSE WHEEL LANDING GEAR RETRACTED PLAY | HI-DEF



VIDEO: TIME-LAPSE MOVIE OF DISCOVERY GOING VERTICAL PLAY


VIDEO: TIME-LAPSE MOVIE OF ASSEMBLY BUILDING CRANE WORK PLAY


VIDEO: TIME-LAPSE MOVIE OF DISCOVERY'S TRIP TO VAB PLAY


VIDEO: TIME-LAPSE MOVIE OF PAYLOAD'S MOVE PLAY



VIDEO: SHUTTLE AND STATION PROGRAM UPDATE PLAY


VIDEO: STS-119 MISSION OVERVIEW BRIEFING PLAY


VIDEO: PREVIEW BRIEFING ON MISSION'S SPACEWALKS PLAY


VIDEO: THE ASTRONAUTS' PRE-FLIGHT NEWS BRIEFING PLAY


MORE: STS-119 VIDEO COVERAGE


SUBSCRIBE NOW