Spaceflight Now +





Subscribe to Spaceflight Now Plus for access to our extensive video collections!
How do I sign up?
Video archive

STS-119: The programs

In advance of shuttle Discovery's STS-119 mission to the station, managers from both programs discuss the flight.

Play

STS-119: The mission

A detailed preview of Discovery's mission to deliver and activate the space station's final power truss is provided in this briefing.

Play

STS-119: Spacewalks

Four spacewalks are planned during Discovery's STS-119 mission to the station.

Play

STS-119: The Crew

The Discovery astronauts, led by commander Lee Archambault, meet the press in the traditional pre-flight news conference.

Play

Become a subscriber
More video







Astronauts arrive at Florida spaceport for countdown
BY WILLIAM HARWOOD
STORY WRITTEN FOR CBS NEWS "SPACE PLACE" & USED WITH PERMISSION
Posted: March 8, 2009;
Updated with start of countdown


With forecasters predicting a 90 percent chance of good weather, the shuttle Discovery's seven-man crew flew to the Kennedy Space Center today for the start of the countdown to blastoff Wednesday on a delayed space station assembly mission. The countdown began at 7 p.m., setting the stage for launch of the 125th shuttle mission at 9:20 p.m. Wednesday.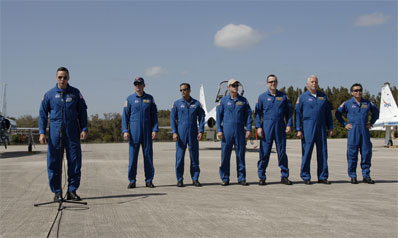 Credit: NASA-KSC
Watch free podcast here



Commander Lee Archambault, pilot Dominic "Tony" Antonelli, Japanese astronaut Koichi Wakata, station veteran John Phillips and spacewalkers Stev Swanson, Richard Arnold and Joseph Acaba landed at the shuttle runway in two waves, at 2:37 p.m. and around 3 p.m., after flights from Houston aboard T-38 jet trainers.

"I wanted to welcome you here to the Kennedy Space Center and tell you how thankful we are for this launch coming up on Wednesday," Archambault told reporters at the landing strip. "We're very excited to be bringing the S6 truss up to the space station to give its final complement of power. We're ready to get it going Wednesday afternoon."

There are no technical problems of any significance at launch pad 39A and forecasters are predicting good weather all week: 90 percent "go" on Wednesday, dropping slightly to 80 percent Thursday and Friday because of a slight chance of showers in the area. Conditions at emergency runways in California, Spain and France also are expected to be acceptable for launch.

The goal of Discovery's mission is to deliver and attach a $300 million set of solar arrays on the right side of the station's main power truss. The starboard 6, or S6, truss segment is the fourth and final set of power panels to be attached to the lab complex and the final major U.S.-built station component scheduled for launch aboard a shuttle.

Discovery originally was scheduled for launch Feb. 12, but the flight was repeatedly delayed by concern about suspect hydrogen flow control valves used to pressurize the hydrogen section of the shuttle's external tank.

Archambault took a moment today to thank the engineers and technicians who carried out around-the-clock work "over this last month or so to take care of the flow control valve problem."

"We're very happy it's been resolved successfully," he said. "We're ready to get going."


Additional coverage for subscribers:


VIDEO: ASTRONAUTS ARRIVE IN FLORIDA FOR LAUNCH PLAY


VIDEO: POST-ARRIVAL COMMENTS FROM THE CREW PLAY | HI-DEF



VIDEO: FLIGHT READINESS REVIEW BRIEFING PLAY



VIDEO: SECOND LAUNCH POSTPONEMENT BRIEFING PLAY



VIDEO: NARRATED MISSION OVERVIEW MOVIE PLAY


VIDEO: MEET SHUTTLE DISCOVERY'S ASTRONAUTS PLAY


VIDEO: INTERVIEW WITH COMMANDER LEE ARCHAMBAULT PLAY


VIDEO: INTERVIEW WITH PILOT TONY ANTONELLI PLAY


VIDEO: INTERVIEW WITH MS1 JOE ACABA PLAY


VIDEO: INTERVIEW WITH MS2 STEVE SWANSON PLAY


VIDEO: INTERVIEW WITH MS3 RICKY ARNOLD PLAY


VIDEO: INTERVIEW WITH MS4 JOHN PHILLIPS PLAY


VIDEO: INTERVIEW WITH MS5 KOICHI WAKATA PLAY



VIDEO: NASA OFFICIALS ANNOUNCE LAUNCH DELAY PLAY


VIDEO: SPACE STATION'S VIBRATIONS DURING REBOOST PLAY



VIDEO: INFORMAL NEWS CONFERENCE AT RUNWAY PLAY


VIDEO: ASTRONAUTS ARRIVE FOR PRACTICE COUNTDOWN PLAY



VIDEO: DISCOVERY POSITIONED ATOP PAD 39A PLAY | HI-DEF


VIDEO: EARLY MORNING ROLLOUT FROM THE VAB PLAY | HI-DEF


VIDEO: TIME-LAPSE MOVIE OF DISCOVERY ARRIVING AT PAD 39A PLAY



VIDEO: DISCOVERY HOISTED FOR ATTACHMENT TO TANK PLAY | HI-DEF


VIDEO: CRANE ROTATES DISCOVERY VERTICALLY PLAY | HI-DEF


VIDEO: DISCOVERY MOVES TO ASSEMBLY BUILDING PLAY | HI-DEF


VIDEO: NOSE WHEEL LANDING GEAR RETRACTED PLAY | HI-DEF



VIDEO: TIME-LAPSE MOVIE OF DISCOVERY GOING VERTICAL PLAY


VIDEO: TIME-LAPSE MOVIE OF ASSEMBLY BUILDING CRANE WORK PLAY


VIDEO: TIME-LAPSE MOVIE OF DISCOVERY'S TRIP TO VAB PLAY


VIDEO: TIME-LAPSE MOVIE OF PAYLOAD'S MOVE PLAY



VIDEO: SHUTTLE AND STATION PROGRAM UPDATE PLAY


VIDEO: STS-119 MISSION OVERVIEW BRIEFING PLAY


VIDEO: PREVIEW BRIEFING ON MISSION'S SPACEWALKS PLAY


VIDEO: THE ASTRONAUTS' PRE-FLIGHT NEWS BRIEFING PLAY


MORE: STS-119 VIDEO COVERAGE


SUBSCRIBE NOW