Shuttle launch put on hold
BY WILLIAM HARWOOD
STORY WRITTEN FOR CBS NEWS "SPACE PLACE" & USED WITH PERMISSION
Posted: February 20, 2009


After a marathon 13-hour flight readiness review, NASA managers late Friday were unable to reach a consensus on launching the shuttle Discovery Feb. 27 with suspect hydrogen flow control valves. As a result, senior management decided not to set an official launch date and Discovery's mission to deliver a final set of solar arrays to the international space station was put on hold pending additional analysis and discussions next Wednesday.

To avoid conflict with a Russian Soyuz spacecraft set for launch in late March to ferry a fresh crew to the space station, Discovery cannot take off between, roughly, March 14 and April 6. If NASA managers can develop an acceptable flight rationale to launch Discovery as is following next Wednesday's assessment, the agency has a shot at getting in at least a few launch attempts before the Soyuz cutout. Otherwise, the flight will slip into April.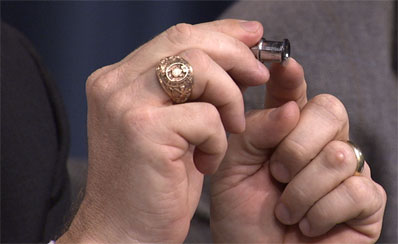 Shuttle Program Manager John Shannon shows an example of the flow control valve poppet. Credit: NASA TV



"We were really, really close to having the entire team at a point where we could accept (the valve risk) and go fly," shuttle Program Manager John Shannon told reporters late Friday. "But as we talked through all the data, a lot of it came in fairly late this week, a lot of the impact data, a lot of the analysis data. We found a couple of small errors in things as we were going through the data."

When Bill Gerstenmaier, chief of space operations for NASA, "went around and polled the team to get input, there was just a sense of unease that we did not quite have the rigor that we typically expect for a question like this," Shannon said. "It's a very complicated problem."

The decision to defer a launch date decision came as a surprise to many observers who believed extensive test data and computer analyses indicated the valves could be safely flown as is and that the likelihood of in-flight problems was sufficiently remote to press ahead with launch.

But others, including Johnson Space Center Director Mike Coats and the engineering directorates at Johnson and the Marshall Space Flight Center, were opposed, arguing engineers do not have a sufficient understanding of the mechanism that leads to cracks and potentially catastrophic failures. Shannon and Gerstenmaier were in favor of pressing ahead with launch, but they were in the minority and the flight was put on hold.

Gerstenmaier said the long-term goal is to develop a valve redesign that will eliminate concern about cracks and debris shedding once and for all. In the near term, the goal is to develop a better understanding of the valve failure mechanism, to identify pristine valves that should be able to withstand the rigors of launch and to make sure any unexpected valve failures that occur in flight do not lead to catastrophic damage.

"The overall philosophy is, while we're working this redesign we'll have a strategy that allows us to continue to fly with the valves we've got and we'll do that in parallel," Gerstenmaier said.

Discovery originally was scheduled for launch Feb. 12. But the flight was delayed, first to no earlier than Feb. 19, then to Feb. 22 and eventually to no earlier than Feb. 27 because of concern about the integrity of the shuttle's three hydrogen flow control valves.

The shuttle is equipped with three flow control valves that work like pop-up sprinklers to route hydrogen gas to the external tank to keep the hydrogen section properly pressurized at 32 to 34 pounds per square inch during the climb to space.

The valves are critical to flight safety. An over-pressurized tank could lead to hydrogen being dumped overboard through a relief valve, creating a potentially catastrophic environment depending on when such an incident occurred. Under-pressurization could lead to premature main engine shutdowns. And if debris from a broken valve punctured the pressurization line, hydrogen could be released into the aft engine compartment with potentially catastrophic results.

During the most recent flight last November, part of a flow control valve poppet broke off inside the pressurization line. While the valve that cracked allowed more hydrogen to flow through than normal, the Endeavour's flight computers compensated by reducing flow through the other valves. But engineers were surprised by the incident and tests were ordered to find out what caused the failure.

They quickly discovered small cracks in other valves across the fleet and heretofore unknown harmonic conditions in the pressurization line that can lead to high-cycle fatigue. While the valves aboard Discovery were replaced by presumably crack-free units, additional testing of other valves showed that surface roughness left over from the manufacturing process could mask small cracks.

The issue then was whether whether fresh cracks could form in the flight environment, how fresh or pre-existing cracks might propagate and how far a crack might extend before causing part of the valve poppet to break away.

NASA and its contractors built full-scale mockups of the pressurization line and fired small bits of debris into it under simulated flight conditions to find out what would happen if additional in-flight failures occurred. Borescope examination of the test line showed scuffing where the debris had ricocheted along, but no punctures.

Based on examination of test results and the broken valve from Endeavour, engineers believed a crack could not grow beyond an arc of 90 degrees without that part of the poppet breaking away. This week, fragments representing the results of a 180-degree crack were used for impact testing in a mockup of the pressurization line mounted on the external tank and again, no internal damage to the pressurization line occurred.

But engineers remain concerned about the consequences of debris impacts in a 90-degree bend in the line just five inches from each flow control valve. The hydrogen gas passing through a flow control valve could result in debris impact velocities at that first bend ranging from around 205 mph to more than 600 mph. Additional testing is needed to confirm the pressurization line can stand up to such impacts from debris potentially twice as large as the fragment released during Endeavour's mission.

"We were working towards getting flight rationale to go fly," Gerstenmaier said. "Some of that work is not done and we still need to do a little bit more work to get that completed and get it understood. So we spent a long time today discussing what we know and don't know about the failure, what we know about the consequences if a piece comes off and what it means to us."

In the 124 flights to date, only one flow control valve has ever suffered an in-flight failure like the one observed during Endeavour's mission. While engineers now know cracks may have been present all along, the flight record and the test results over the past two weeks indicate a relatively low probability of any significant problems with Discovery. But additional work is needed to make sure.

"The piece that was kind of missing today was on the orbiter side, if a piece of this valve comes off like it did on (Endeavour's launch), first of all, do we know how big a piece can be, can we bound that?" Shannon asked. "And then, once we understand how big that piece is, can the orbiter plumbing take that piece coming off and hitting it? ... It looks like it can, if the size is about the size of (Endeavour's) or slightly larger. But we didn't have the bow tied around it that we could say that with the definitization that we (normally) do."

The decision comes at a critical time for NASA, with five shuttle flights planned this year and only nine left before the fleet is retired in 2010. But Gerstenmaier said based on what engineers know about the valve issue to date, NASA will stick with the current launch sequence and send up Discovery first, in March or April, followed by a Hubble Space Telescope servicing mission aboard Atlantis and then another space station assembly mission with Endeavour.

"I fully believe we'll be able to put a plan together," Shannon said. "We're not that far away."


Additional coverage for subscribers:


VIDEO: FRIDAY NIGHT'S LAUNCH POSTPONEMENT BRIEFING PLAY



VIDEO: NARRATED MISSION OVERVIEW MOVIE PLAY


VIDEO: MEET SHUTTLE DISCOVERY'S ASTRONAUTS PLAY


VIDEO: INTERVIEW WITH COMMANDER LEE ARCHAMBAULT PLAY


VIDEO: INTERVIEW WITH PILOT TONY ANTONELLI PLAY


VIDEO: INTERVIEW WITH MS1 JOE ACABA PLAY


VIDEO: INTERVIEW WITH MS2 STEVE SWANSON PLAY


VIDEO: INTERVIEW WITH MS3 RICKY ARNOLD PLAY


VIDEO: INTERVIEW WITH MS4 JOHN PHILLIPS PLAY


VIDEO: INTERVIEW WITH MS5 KOICHI WAKATA PLAY



VIDEO: NASA OFFICIALS ANNOUNCE LAUNCH DELAY PLAY


VIDEO: SPACE STATION'S VIBRATIONS DURING REBOOST PLAY



VIDEO: INFORMAL NEWS CONFERENCE AT RUNWAY PLAY


VIDEO: ASTRONAUTS ARRIVE FOR PRACTICE COUNTDOWN PLAY



VIDEO: DISCOVERY POSITIONED ATOP PAD 39A PLAY | HI-DEF


VIDEO: EARLY MORNING ROLLOUT FROM THE VAB PLAY | HI-DEF


VIDEO: TIME-LAPSE MOVIE OF DISCOVERY ARRIVING AT PAD 39A PLAY



VIDEO: DISCOVERY HOISTED FOR ATTACHMENT TO TANK PLAY | HI-DEF


VIDEO: CRANE ROTATES DISCOVERY VERTICALLY PLAY | HI-DEF


VIDEO: DISCOVERY MOVES TO ASSEMBLY BUILDING PLAY | HI-DEF


VIDEO: NOSE WHEEL LANDING GEAR RETRACTED PLAY | HI-DEF



VIDEO: TIME-LAPSE MOVIE OF DISCOVERY GOING VERTICAL PLAY


VIDEO: TIME-LAPSE MOVIE OF ASSEMBLY BUILDING CRANE WORK PLAY


VIDEO: TIME-LAPSE MOVIE OF DISCOVERY'S TRIP TO VAB PLAY


VIDEO: TIME-LAPSE MOVIE OF PAYLOAD'S MOVE PLAY



VIDEO: SHUTTLE AND STATION PROGRAM UPDATE PLAY


VIDEO: STS-119 MISSION OVERVIEW BRIEFING PLAY


VIDEO: PREVIEW BRIEFING ON MISSION'S SPACEWALKS PLAY


VIDEO: THE ASTRONAUTS' PRE-FLIGHT NEWS BRIEFING PLAY


MORE: STS-119 VIDEO COVERAGE


SUBSCRIBE NOW