Welcome home, shuttle Endeavour!
BY WILLIAM HARWOOD
STORY WRITTEN FOR CBS NEWS "SPACE PLACE" & USED WITH PERMISSION
Posted: August 21, 2007; Updated at 6 p.m.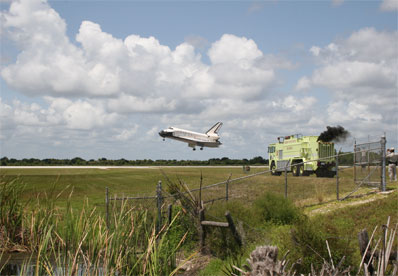 Credit: Chris Miller/Spaceflight Now



Falling back to Earth, the shuttle Endeavour streaked across Central America and high above Cuba today before gliding up the length of the Florida peninsula to a sunny landing at the Kennedy Space Center to close out a dramatic two-week space station assembly mission. The ship's gouged heat shield appeared to come through re-entry in good shape with only slightly more damage than it started with, vindicating an earlier decision to forego a spacewalk repair job.

"Houston, Endeavour, wheels stopped," commander Scott Kelly radioed as the shuttle rolled to a halt on the centerline of runway 15.

"Roger wheels stopped, Endeavour," astronaut Chris Ferguson replied from mission control in Houston. "Congratulations, welcome home. You've given a new meaning to 'higher' education."

He was referring to teacher-turned-astronaut Barbara Morgan, strapped into a seat on the flight deck just behind the two pilots. Christa McAuliffe's backup in the original Teacher-in-Space program, Morgan waited 21 years to fulfill the legacy of the fallen Challenger astronauts. While she did not teach any lessons from space as McAuliffe once planned, she chatted with school kids during two modest educational events and plans a busy schedule of post-flight appearances to promote science and math education.

Touchdown at 12:32:16 p.m. wrapped up a 5.2-million-mile voyage spanning 12 days 17 hours 55 minutes and 34 second over 201 complete orbits since blastoff Aug. 8 from nearby launch complex 39A. Endeavour's flight now sets the stage for a complex sequence of missions to attach a new docking module to the station in October, followed by the European Space Agency's Columbus laboratory module in December and two flights early next year to attach Japanese modules.

Endeavour made its fiery return to Earth with a small-but-deep gouge in two heat shield tiles on the belly of the ship behind its right main landing gear door. The gouge was caused by a half-ounce piece of foam insulation that fell off an external tank propellant feedline bracket 58 seconds after launch.

NASA managers spent more than half of Endeavour's mission studying the gouge to determine whether it posed any re-entry threat to the shuttle or its crew. Late last week, based on super-computer analysis and tests of a mockup in a furnace that can simulate re-entry heating, NASA's Mission Management Team concluded the damage would have little or no impact and cleared the shuttle for return to Earth as is.

"We agree absolutely 100 percent with the decision to not repair the damage," Kelly said during an in-flight news conference. "We've had shuttles land with worse damage than this. We gave this a very thorough look and I am very, very comfortable and there will be no extra concern in my mind (during re-entry) due to this damage."

Based on close-up video from the runway, the heat of re-entry did no apparent damage to surrounding tiles. The extent of the damage appeared roughly the same, although a gash at the deepest part of the pit looked a bit larger. But there were no other obvious signs of damage and it clearly had no impact on landing.

"There's maybe slightly a little bit more erosion on the, kind of the forward edge, but not too dramatic," said Bill Gerstenmaier, associate administrator for space flight at NASA headquarters. "It didn't get extremely hot and (the underlying material) didn't char. But again, I caution you with this quick analysis we're doing here, the teams will pop these tiles off, we'll take a look to make sure there's no damage, there's nothing going on."

Kelly, pilot Charles Hobaugh, flight engineer Rick Mastracchio, Tracy Caldwell, Al Drew and Canadian astronaut Dave Williams doffed their heavy pressure suits and gathered on the runway for a brief inspection of the shuttle an hour or so after landing. Morgan, feeling a bit woozy as she readjusted to gravity, did not join her crewmates, staying inside NASA's astronaut transporter for post-landing medical checks. All seven astronauts plan to spend the night in Florida before flying back to the Johnson Space Center in Houston on Wednesday.

"The flight was absolutely wonderful," Morgan, 55, told reporters five hours after landing. "I'm really proud of our whole team and the team on the ground. ... it all worked out really, really well I thought. How did I do? It took me a little while at first to get used to microgravity, it took a couple of days, and the first day - and I think this was the biggest surprise of all - I felt I was upside down the entire first day. It wasn't a bad feeling, it was just an unusual feeling."

Asked how she felt after landing, Morgan said: "The room still spins a little bit, but that's OK."

"What I really want to do is take what this experience was and figure out how we can do a better job to help serve our students and our teachers in a way they want that will be more helpful to them," Morgan said. "And I would love to figure out how we can make more and more of these opportunities available for more and more of our teachers."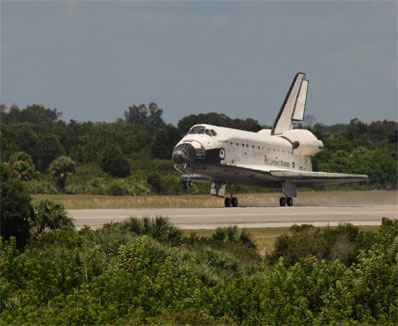 Credit: Ben Cooper/Spaceflight Now



With Endeavour back on the ground, NASA managers and engineers will carry out a detailed inspection to precisely determine the extent of damage related to the foam strike while debating a half-dozen potential near-term fixes to prevent insulation from falling off the liquid oxygen feedline brackets during upcoming launches.

A bracket redesign already was in work, scheduled to debut on a tank four missions from now. The question facing NASA is what to do about the next three flights, currently scheduled for launchings Oct. 23, Dec. 6 and Feb. 14.

Shuttle Program Manager Wayne Hale said Monday it's too soon to say what impact work to recover from Endeavour's unexpected foam debris incident might have on the upcoming schedule. But Gerstenmaier said today that at this point, major delays do not appear to be in the cards.

"We're still pointed toward Oct. 23," Gerstenmaier said. "We have a meeting today going on to have a look at the tank to see if there's anything we want to do in terms of modifying the tank ... or we leave it the way it is and head for Oct. 23. But I think we're still clearly focused on the next mission and we're ready to move forward."

From the local processing perspective, "it really and truly depends on how long we need to do the analysis for the repair if it turns out to be necessary or not," said Launch Director Mike Leinbach. "We were going to mate the external tank (and boosters) yesterday for the next mission, so we're in kind of a holding pattern here. We've got several days to work with, so we're in no immediate danger of delaying the next mission at all, that's certainly not in the cards. We have some time in the schedule to make up as we go along. So it's going to depend on the results of the study, whether we need to do a fix or not, how long we take to do that fix and then what that would translate into for (processing)."

Hale said engineers are working on "five different options to improve the situation on the next tank. We will expect there will be some readjustment to our schedule as we work through those options. However, I believe that based on the discussions we've had, that our impacts to the next flight in terms of the actual launch date of Oct. 23 will be small, we think we have plenty of time to evaluate some changes and in fact implement them if we feel that they are well justified."

At NASA's traditional post-landing news conference, NASA Administrator Mike Griffin showed off spectacular post-undocking pictures of the international space station, calling the unfinished lab complex "one of the great accomplishments of mankind."

"We're building a space station here, one flight at a time, and while I appreciated the media's attention on the ding in the tile, actually the orbiter overall was really pretty clean," he said. "We had one kind of ugly ding and we paid appropriate attention to it. I would have liked to have seen some media attention on what a magnificent accomplishment we're undertaking here. I think we're doing pretty well with it."

Endeavour docked with the space station Aug. 10 and the next day, the astronauts installed a short spacer segment on the right end of the station's main solar power truss. Two days later, Mastracchio and Williams replaced a faulty stabilizing gyroscope on the station amid work to transfer 5,000 pounds of equipment and supplies to and from the lab complex. The astronauts used robot arms on the shuttle and space station to attach a 7,000-pound equipment storage platform to the solar array truss and staged a third spacewalk Aug. 15 to complete a variety of station assembly get-ahead tasks.

Endeavour is the first shuttle equipped with a new station-to-shuttle power transfer system that enabled the orbiter to plug into the space station's solar power grid. As a result, NASA managers extended the flight three days and added a fourth spacewalk. Originally scheduled for last Friday, the excursion was delayed one day while NASA managers debated whether to turn the excursion into a tile repair spacewalk.

In the end, a repair was deemed unnecessary and Williams and space station flight engineer Clay Anderson were cleared to carry out the originally planned EVA on Saturday. But the threat of Hurricane Dean raised the possibility flight controllers at the Johnson Space Center might have to evacuate. As a result, NASA managers shortened Saturday's spacewalk and moved undocking from Monday to Sunday to get Endeavour back on the ground today.

As it turned out, Dean never threatened the Texas coast but by that point NASA was committed and the crew returned to Earth today.

Flying backward over the Indian Ocean at a velocity of 5 miles per second, Kelly and Hobaugh fired Endeavour's twin braking rockets at 11:25 a.m. for three minutes and 33 seconds, slowing the ship by 246 mph and lowering the far side of its orbit into the atmosphere. A half-hour later, the shuttle fell into the discernible atmosphere at an altitude of 76 miles. At that point, Endeavour was 5,020 miles from touchdown.

The shuttle's ground track carried it high above Central America just west of the Panama Canal on a course carrying it across central Cuba and up the Florida peninsula to the Kennedy Space Center.


Additional coverage for subscribers:


VIDEO: CREW GIVEN THE "GO" FOR DEORBIT BURN PLAY


VIDEO: SHUTTLE ENDEAVOUR'S LANDING AS SEEN LIVE PLAY


VIDEO: LANDING REPLAY: CAMERA LOOKING OUT PILOT'S WINDOW PLAY


VIDEO: LANDING REPLAY: WIDESCREEN TRACKER PLAY


VIDEO: LANDING REPLAY: VAB ROOF CAMERA PLAY


VIDEO: LANDING REPLAY: RUNWAY NORTH PLAY


VIDEO: LANDING REPLAY: RUNWAY WEST PLAY


VIDEO: LANDING REPLAY: MID-FIELD PLAY


VIDEO: LANDING REPLAY: RUNWAY EAST PLAY


VIDEO: POST-LANDING NEWS CONFERENCE PLAY


VIDEO: CREW'S POST-FLIGHT NEWS CONFERENCE PLAY



VIDEO: MISSION RECAP FROM PROGRAM MANAGERS PLAY


VIDEO: THE FLIGHT DAY 13 HIGHLIGHTS MOVIE PLAY


VIDEO: FLIGHT DAY 13 MISSION STATUS BRIEFING PLAY


VIDEO: EDUCATIONAL EVENT WITH CANADIAN STUDENTS PLAY



VIDEO: THE FLIGHT DAY 12 HIGHLIGHTS MOVIE PLAY


VIDEO: FLIGHT DAY 12 MISSION STATUS BRIEFING PLAY


VIDEO: ENDEAVOUR UNDOCKS FROM THE SPACE STATION PLAY



VIDEO: THE FLIGHT DAY 11 HIGHLIGHTS MOVIE PLAY


VIDEO: FLIGHT DAY 11 MISSION STATUS BRIEFING PLAY


VIDEO: FAREWELL CEREMONY BETWEEN THE CREWS PLAY


VIDEO: SPACE STATION FLIES OVER HURRICANE DEAN PLAY


VIDEO: ANTENNAS INSTALLED BY THE SPACEWALKERS PLAY


VIDEO: EXTERNAL EXPERIMENT PACKAGES RETRIEVED PLAY


VIDEO: FOURTH AND FINAL SPACEWALK BEGINS PLAY



VIDEO: THE FLIGHT DAY 10 HIGHLIGHTS MOVIE PLAY


VIDEO: EVENING UPDATE FROM MISSION MANAGEMENT TEAM PLAY


VIDEO: FLIGHT DAY 10 MISSION STATUS BRIEFING PLAY


VIDEO: CREW NEWS CONFERENCE U.S. PART | CANADIAN PART



VIDEO: THE FLIGHT DAY 9 HIGHLIGHTS MOVIE PLAY


VIDEO: FLIGHT DAY 9 MISSION STATUS BRIEFING PLAY


VIDEO: CREW RECEIVES NEWS THAT NO REPAIR NEEDED PLAY


VIDEO: EDUCATIONAL EVENT WITH CHALLENGER CENTER PLAY


VIDEO: BARBARA MORGAN CALLS HER FORMER SCHOOL PLAY


VIDEO: CREW INTERVIEW WITH THE ASSOCIATED PRESS PLAY


VIDEO: CREW INTERVIEW WITH REUTERS PLAY


VIDEO: CREW INTERVIEW WITH IDAHO PUBLIC TV PLAY



VIDEO: CREW MODULE CAMERA SHOWS FIRST MINUTES OF LAUNCH PLAY


VIDEO: CREW MODULE CAMERA SHOWS ARRIVAL IN SPACE PLAY


VIDEO: LEFT-HAND BOOSTER LOOKING UP PLAY


VIDEO: LEFT-HAND BOOSTER LOOKING DOWN PLAY


VIDEO: RIGHT-HAND BOOSTER LOOKING UP PLAY


VIDEO: RIGHT-HAND BOOSTER LOOKING DOWN PLAY


VIDEO: THE EXTERNAL FUEL TANK'S CAMERA PLAY



VIDEO: THE FLIGHT DAY 8 HIGHLIGHTS MOVIE PLAY


VIDEO: FLIGHT DAY 8 MISSION STATUS BRIEFING PLAY


VIDEO: THE THIRD SPACEWALK BEGINS PLAY


VIDEO: MOVING AN S-BAND COMMUNICATIONS ANTENNA PLAY


VIDEO: STATION RAIL CART RELOCATED PLAY


VIDEO: SPACESUIT GLOVE DAMAGE SPOTTED PLAY


VIDEO: PREVIEW OF SPACEWALK NO. 3 PLAY



VIDEO: THE FLIGHT DAY 7 HIGHLIGHTS MOVIE PLAY


VIDEO: FLIGHT DAY 7 MISSION STATUS BRIEFING PLAY


VIDEO: EDUCATIONAL EVENT WITH CHILDREN IN IDAHO PLAY


VIDEO: CREW INTERVIEW WITH ABC NEWS PLAY


VIDEO: CREW INTERVIEW WITH CBS NEWS PLAY


VIDEO: CREW INTERVIEW WITH CNN PLAY


VIDEO: CREW INTERVIEW WITH NBC NEWS PLAY


VIDEO: CREW INTERVIEW WITH FOX NEWS PLAY


VIDEO: STOWAGE PLATFORM ATTACHED TO THE STATION PLAY


VIDEO: THE PLATFORM IS RAISED OUT OF PAYLOAD BAY PLAY


VIDEO: SHUTTLE ARM GRAPPLES THE STOWAGE PLATFORM PLAY


VIDEO: STOWAGE PLATFORM INSTALLATION EXPLAINED PLAY



VIDEO: THE FLIGHT DAY 6 HIGHLIGHTS MOVIE PLAY


VIDEO: SHANNON GIVES UPDATE ON TILE DAMAGE ANALYSIS PLAY


VIDEO: FLIGHT DAY 6 MISSION STATUS BRIEFING PLAY


VIDEO: PREVIEW OF SPACEWALK NO. 2 PLAY


VIDEO: SPACEWALK NO. 2 BEGINS PLAY


VIDEO: SPACEWALKERS UNBOLT THE FAILED GYROSCOPE PLAY


VIDEO: THE FAILED GYRO IS REMOVED FROM THE STATION PLAY


VIDEO: NEW GYRO IS RETRIEVED FROM SHUTTLE PAYLOAD BAY PLAY


VIDEO: SPACEWALKERS BRING NEW GYRO UP TO THE STATION PLAY


VIDEO: THE NEW GYRO IS INSTALLED AND BOLTED DOWN PLAY


VIDEO: FAILED GYRO PUT ON STATION STOWAGE PLATFORM PLAY



VIDEO: THE FLIGHT DAY 5 HIGHLIGHTS MOVIE PLAY


VIDEO: HURRICANE FLOSSIE ON SUNDAY EVENING PLAY


VIDEO: CREW INSPECTIONS SHUTTLE TILE DAMAGE PLAY


VIDEO: INSPECTION BOOM FOR DAMAGE CHECK PLAY


VIDEO: FLIGHT DAY 5 MISSION STATUS BRIEFING PLAY



VIDEO: THE FLIGHT DAY 4 HIGHLIGHTS MOVIE PLAY


VIDEO: FLIGHT DAY 4 MISSION STATUS BRIEFING PLAY


VIDEO: SPACEWALK NO. 1 BEGINS PLAY


VIDEO: SPACEWALKERS REMOVE LAUNCH LOCKS ON S5 TRUSS PLAY


VIDEO: ROBOT ARM INSTALLS STARBOARD 5 TRUSS ON STATION PLAY


VIDEO: STARBOARD 5 TRUSS BOLTED TO THE SPACE STATION PLAY


VIDEO: TRUSS'S GRAPPLE FIXTURE REMOVED PLAY


VIDEO: PREVIEW OF SPACEWALK NO. 1 PLAY


VIDEO: STARBOARD 5 TRUSS INSTALLATION EXPLAINED PLAY



VIDEO: THE FLIGHT DAY 3 HIGHLIGHTS MOVIE PLAY


VIDEO: FLIGHT DAY 3 MISSION STATUS BRIEFING PLAY


VIDEO: STARBOARD 5 TRUSS PULLED OUT OF PAYLOAD BAY PLAY


VIDEO: TRUSS HANDED FROM SHUTTLE ARM TO STATION ARM PLAY


VIDEO: SHUTTLE ASTRONAUTS WELCOMED ABOARD STATION PLAY


VIDEO: SHUTTLE DOCKS TO THE STATION AS SEEN LIVE PLAY


VIDEO: ENDEAVOUR AND STATION FLY INTO ORBITAL SUNRISE PLAY


VIDEO: SHUTTLE DOES BACKFLIP BELOW THE STATION PLAY


VIDEO: ENDEAVOUR INTERCEPTS THE SPACE STATION PLAY


VIDEO: SHUTTLE TI BURN SEEN FROM STATION PLAY


VIDEO: ANIMATED PREVIEW OF DOCKING PLAY



VIDEO: FIRST IN-SPACE COMMENTS FROM BARBARA MORGAN PLAY


VIDEO: THE FLIGHT DAY 2 HIGHLIGHTS MOVIE PLAY


VIDEO: SHUTTLE INSPECTIONS EXPLAINED PLAY


VIDEO: FLIGHT DAY 2 MISSION STATUS BRIEFING PLAY


VIDEO: THE FULL LAUNCH EXPERIENCE PLAY


VIDEO: JETTISONED EXTERNAL TANK FALLS AWAY PLAY


VIDEO: THE FLIGHT DAY 1 HIGHLIGHTS MOVIE PLAY



VIDEO: LAUNCH REPLAY: EXTERNAL TANK CAMERA PLAY


VIDEO: LAUNCH REPLAY: UCS-23 WIDESCREEN PLAY


VIDEO: LAUNCH REPLAY: PLAYALINDA WIDESCREEN PLAY


VIDEO: LAUNCH REPLAY: CAMERA 009 PLAY


VIDEO: LAUNCH REPLAY: CAMERA 049 PLAY


VIDEO: LAUNCH REPLAY: CAMERA 050 PLAY


VIDEO: LAUNCH REPLAY: CAMERA 051 PLAY


VIDEO: LAUNCH REPLAY: CAMERA 054 PLAY


VIDEO: LAUNCH REPLAY: CAMERA 060 PLAY


VIDEO: LAUNCH REPLAY: CAMERA 061 PLAY


VIDEO: LAUNCH REPLAY: CAMERA 063 PLAY


VIDEO: LAUNCH REPLAY: CAMERA 070 PLAY


VIDEO: LAUNCH REPLAY: CAMERA 071 PLAY


VIDEO: LAUNCH REPLAY: WEST TOWER PLAY


VIDEO: LAUNCH REPLAY: PAD PERIMETER PLAY


VIDEO: LAUNCH REPLAY: COMPLEX 41 PLAY


VIDEO: LAUNCH REPLAY: KSC RUNWAY PLAY


VIDEO: LAUNCH REPLAY: PAD FRONT PLAY


VIDEO: LAUNCH REPLAY: CAMERA CS-1 PLAY


VIDEO: LAUNCH REPLAY: CAMERA CS-2 PLAY


VIDEO: LAUNCH REPLAY: CAMERA UCS-12 PLAY


VIDEO: LAUNCH REPLAY: PRESS SITE PLAY


VIDEO: LAUNCH REPLAY: VAB ROOF PLAY


VIDEO: LAUNCH REPLAY: BEACH TRACKER PLAY



VIDEO: ENDEAVOUR BLASTS OFF! PLAY


VIDEO: CREW'S LAUNCH MORNING PHOTO IN DINING ROOM PLAY


VIDEO: UPCLOSE FOOTAGE OF THE GANTRY ROLLBACK PLAY


VIDEO: TIME-LAPSE MOVIE OF GANTRY ROLLBACK PLAY


VIDEO: TUESDAY MORNING'S STATUS BRIEFING PLAY


VIDEO: STS-118 PRE-LAUNCH NEWS CONFERENCE PLAY


VIDEO: MONDAY MORNING'S STATUS BRIEFING PLAY


VIDEO: SUNDAY COUNTDOWN AND WEATHER UPDATE PLAY


VIDEO: CREW ARRIVES AT KENNEDY SPACE CENTER PLAY


VIDEO: COMMENTS FROM EACH OF THE ASTRONAUTS PLAY



VIDEO: PRE-FLIGHT INTERVIEW: SCOTT KELLY PLAY


VIDEO: PRE-FLIGHT INTERVIEW: CHARLIE HOBAUGH PLAY


VIDEO: PRE-FLIGHT INTERVIEW: TRACY CALDWELL PLAY


VIDEO: PRE-FLIGHT INTERVIEW: RICK MASTRACCHIO PLAY


VIDEO: PRE-FLIGHT INTERVIEW: DAVE WILLIAMS PLAY


VIDEO: PRE-FLIGHT INTERVIEW: BARBARA MORGAN PLAY


VIDEO: PRE-FLIGHT INTERVIEW: ALVIN DREW PLAY


MORE: STS-118 VIDEO COVERAGE


SUBSCRIBE NOW