Final decision: No repair needed on tile damage
BY WILLIAM HARWOOD
STORY WRITTEN FOR CBS NEWS "SPACE PLACE" & USED WITH PERMISSION
Posted: August 16, 2007


NASA's Mission Management Team today ruled out an unprecedented heat shield repair spacewalk and cleared the shuttle Endeavour for re-entry and landing next week "as is" based on computer modeling and tests in a high-temperature furnace that show a small gouge in the ship's belly will not cause serious damage during the fiery plunge to Earth.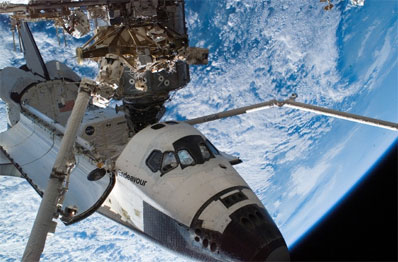 Endeavour docked to the station. Credit: NASA



Assuming concern about a small tear in a spacesuit glove can be resolved, the MMT cleared the astronauts to press ahead instead with a fourth and final space station assembly spacewalk Saturday that will focus on a variety of relatively low-priority "get ahead" tasks to help pave the way for upcoming missions. If all goes well, Endeavour will undock from the station Monday and glide to a landing at the Kennedy Space Center in Florida around 12:52 p.m. Wednesday to close out an extended two-week mission.

"The MMT made two significant decisions tonight," Shannon said. "The first was a unanimous recommendation that the damage we saw after reviewing all the engineering tests and analysis was not a threat to crew safety, this was not something that the astronauts are in danger about. We had thought that for several days, but we were waiting for the final analysis to be complete.

"We did all the things that we said we were going to do over the last few days. We had engineering analyses, we had computational fluid dynamics of the cavity from both Ames Research Center and the Langley Research Center, they were both in agreement. We did the thermal analysis and that continued to show good margins and we also did two arc jet tests where we put a re-entry heating profile on the damage sites.

"We went through all of that data and it was unanimous that we were not in a loss of crew/vehicle case," Shannon said. "The discussion then centered on whether we should use as is and return Endeavour in its current condition or if the uncertainties in the analysis could potentially cause some underlying tile damage or structural damage that we would have to deal with at the Kennedy Space Center. So we had that debate. And it was not unanimous, but it was pretty overwhelming to go with the use-as-is condition, in other words not to do the tile repair."

Commander Scott Kelly, pilot Charles Hobaugh, Tracy Caldwell, flight engineer Rick Mastracchio, Canadian flier Dafydd Williams, Al Drew and educator-astronaut Barbara Morgan were informed of the decision at 9 p.m. as they were preparing for sleep.

"Just wanted to pass along the MMT just broke out of their meeting," astronaut Shane Kimbrough radioed from mission control. "The MMT has made a decision to fly the TPS (thermal protection system) as is, no EVA repairs will be required. MMT is still looking at the cut glove issue and any future EVAs on the flight will be per the nominal content. So just wanted to wish you a good night, another great day in space and looking forward to tomorrow."

"Please pass along our thanks for all the hard work," Kelly replied.

Two heat-shield tiles on the shuttle's belly were damaged when a chunk of foam debris, possibly including ice, slammed into the orbiter 58 seconds after launch last Wednesday. The impact gouged out an irregular pit crossing the boundary between two tiles, measuring roughly two inches by three inches across and nearly penetrating the full 1.12-inch thickness of the tile. A small, 1-inch by 0.2-inch gash at the bottom of the pit exposed an underlying support pad just above the shuttle's aluminum skin.

The shuttle Columbia was destroyed Feb. 1, 2003, when it re-entered the atmosphere with a gaping 4- to 6-inch hole in the leading edge of its left wing. The wing melted from the inside out, the shuttle broke apart above Texas and all seven crew members were killed. NASA managers have said all week that they do not view Endeavour's gouge as a Columbia-class problem. Shannon said the issue was simply whether re-entry heating might cause damage to the shuttle's aluminum skin in the immediate area that would require time-consuming post-landing repairs.

Testing and computer models predict the underlying aluminum skin of the shuttle's right wing will never get hotter than 350 degrees Fahrenheit, NASA's safety limit. At worst, Shannon said, a few downstream tiles could be damaged, along with the two that were gouged out by the impact during launch.

Playing it safe, Shannon earlier asked a team of astronauts, engineers, flight controllers and managers to study repair options to determine the best approach if the heat shield had to be fixed. To protect their options, a station assembly spacewalk planned for Friday - what was to have been the crew's fourth and final EVA - was delayed 24 hours to Saturday.

But Shannon said late Thursday that a final round of tests agreed with computational fluid dynamics modeling and an independent review of the work turned up no major surprises. The MMT then voted and cleared Endeavour's crew for a standard station assembly spacewalk Saturday and an "as is" landing next week.

But the vote was not unanimous. While representatives of more than 30 organizations voted to proceed with landing as is, Johnson Space Center engineering argued it would be "prudent" to carry out a repair even though the data indicated Endeavour could safely return in its damaged state.

"It was almost unanimous to use as is," Shannon said. "The one dissenting organization was the Johnson Space Center engineering group, who took a look at the potential benefits of doing a repair and said that they could not see a reason why that would cause additional damage to the orbiter and thought that that was something we should think about as a program."

But Shannon said sister organizations at the Marshall Space Flight Center and the Kennedy Space Center, along with the astronaut office at Johnson "all of the safety organizations I have on my panels, they were all in agreement that the use-as-is was the appropriate way to go."

"Some of the rationale that was summed up by the team members that I think was fairly consistent across the management team was that we have a cavity in the tile that has been analyzed through computational fluid dynamics, through thermal analysis, through two different arc jet tests and we understand that cavity, it does not constitute a risk to the crew, it is not expected to cause any damage to the vehicle structure itself and it is fairly well understood.

"On the other hand, we could potentially do this spacewalk and add some (STA-54 repair) material to the bottom of this cavity ... then we would have a new cavity that we had not analyzed. That was a fairly simple decision, is you have something you know you can live with, why would you take the risk of doing the EVA to change that cavity into what could potentially be an even better situation but also could potentially be a worse situation?"

The MMT decision ended a week of high drama on the high frontier, with engineers working around the clock to assess the threat posed by the dinged tiles and, in parallel, develop repair plans in case they were needed. The astronauts received frequent updates as they pressed through a busy timeline that included three spacewalks to attach a solar array truss segment; replace a stabilizing gyroscope; and prepare a solar array for relocation later this year.

During the third spacewalk Wednesday, Mastracchio noticed a small tear in the Vectran material used in his left glove and flight controllers ordered him back to the space station's airlock as a precaution. This was the second spacewalk in three shuttle missions that has resulted in glove damage and engineers suspect something on the station has an unexpected sharp edge.

Before Saturday's spacewalk can proceed, spacewalk experts at the Johnson Space Center hope to confirm the problem with Mastracchio's glove was not part of a more generic problem that could affect Williams or Anderson. They also are reviewing helmet cam video from Mastracchio in a bid to identify what might have caused the damage.

Here is a revised timeline for Saturday's spacewalk (in EDT and elapsed time; times subject to change):

EDT........HH...MM...EVENT

10:06 AM...00...00...Airlock egress
10:26 AM...00...20...Orbiter boom sensor system (OBSS)
                                        boom stand installation
11:26 AM...01...20...Williams: Z1 S-band antenna sub-assembly 
                                        gimbal locks
11:26 AM...01...20...Anderson: MISSE space exposure experiment 
                                        package retrieval
12:11 PM...02...05...Wireless instrumentation antenna installation
01:51 PM...03...45...Destiny module debris shield cleanup
02:06 PM...04...00...Unity module debris shield cleanup
03:21 PM...05...15...Other get ahead tasks
03:51 PM...05...45...Cleanup
04:21 PM...06...15...Airlock ingress
04:36 PM...06...30...Airlock repressurization

On Wednesday, Shannon made it clear he viewed a heat shield repair spacewalk as risky and said that such a repair could only be justified if it was necessary to prevent serious damage during re-entry.
The repair plan called for a 50-foot-long extension called the orbiter boom sensor system, or OBSS, to be attached to the end of the shuttle's 50-foot-long robot arm. Mastracchio planned to ride on the end of the boom, his feet anchored in a work platform, while Williams provided assistance as a free floater, tethered to the boom.
Working from Endeavour's aft flight deck, Caldwell was to have moved the astronauts down under the shuttle and back to the damage site, located a few feet aft of the right main landing gear door. The repair planned called for Mastracchio first to dab a black paint-like material known as emittance wash into the gouge, using a simple device that works like a liquid shoe polish applicator.
After the walls of the gouge were coated with emittance wash, he was to use a different type applicator, one that works like a grease gun, to squeeze out and mix a thick, putty like material known as STA-54. Like epoxy, STA-54 mixes as it exits the applicator and it can be difficult to work with. But Mastracchio helped develop some of the necessary procedures and engineers were confident he could successfully fill in a portion of the gouge.
But on Wednesday, Shannon pointed out three areas of concern about the repair spacewalk, saying "none of these are real show stoppers but you kind of have to add them up in your mind."
First, he said, working under the shuttle on the end of a 100-foot boom with poor television coverage in proximity with a critical system has never been attempted before. "That was not a show stopper, but it was something to think about," he said.
Second, astronauts have never applied STA-54 in the vacuum of space and third, no one knows if the applicator will work properly or if the spacewalkers might have problems getting the thick material into the gash. "It takes a little bit of practice to get it in exactly the right spot."
Late Thursday, Shannon said he would not hesitate to order a spacewalk repair if the data showed repairs were needed to ensure a safe landing. In this case, he said, they simply didn't.
"We believe we're going to have to go replace a couple of tiles that got damaged," he said. "And that is within the normal turnaround flow of a vehicle."
Asked if there was zero chance of a catastrophic loss of vehicle and crew due to the heat shield gouge, Shannon said simply: "Yes."


Additional coverage for subscribers:


VIDEO: EDUCATIONAL EVENT WITH CHALLENGER CENTER PLAY


VIDEO: BARBARA MORGAN CALLS HER FORMER SCHOOL PLAY


VIDEO: CREW INTERVIEW WITH THE ASSOCIATED PRESS PLAY


VIDEO: CREW INTERVIEW WITH REUTERS PLAY


VIDEO: CREW INTERVIEW WITH IDAHO PUBLIC TV PLAY



VIDEO: CREW MODULE CAMERA SHOWS FIRST MINUTES OF LAUNCH PLAY


VIDEO: CREW MODULE CAMERA SHOWS ARRIVAL IN SPACE PLAY


VIDEO: LEFT-HAND BOOSTER LOOKING UP PLAY


VIDEO: LEFT-HAND BOOSTER LOOKING DOWN PLAY


VIDEO: RIGHT-HAND BOOSTER LOOKING UP PLAY


VIDEO: RIGHT-HAND BOOSTER LOOKING DOWN PLAY


VIDEO: THE EXTERNAL FUEL TANK'S CAMERA PLAY



VIDEO: THE FLIGHT DAY 8 HIGHLIGHTS MOVIE PLAY


VIDEO: FLIGHT DAY 8 MISSION STATUS BRIEFING PLAY


VIDEO: THE THIRD SPACEWALK BEGINS PLAY


VIDEO: MOVING AN S-BAND COMMUNICATIONS ANTENNA PLAY


VIDEO: STATION RAIL CART RELOCATED PLAY


VIDEO: SPACESUIT GLOVE DAMAGE SPOTTED PLAY


VIDEO: PREVIEW OF SPACEWALK NO. 3 PLAY



VIDEO: THE FLIGHT DAY 7 HIGHLIGHTS MOVIE PLAY


VIDEO: FLIGHT DAY 7 MISSION STATUS BRIEFING PLAY


VIDEO: EDUCATIONAL EVENT WITH CHILDREN IN IDAHO PLAY


VIDEO: CREW INTERVIEW WITH ABC NEWS PLAY


VIDEO: CREW INTERVIEW WITH CBS NEWS PLAY


VIDEO: CREW INTERVIEW WITH CNN PLAY


VIDEO: CREW INTERVIEW WITH NBC NEWS PLAY


VIDEO: CREW INTERVIEW WITH FOX NEWS PLAY


VIDEO: STOWAGE PLATFORM ATTACHED TO THE STATION PLAY


VIDEO: THE PLATFORM IS RAISED OUT OF PAYLOAD BAY PLAY


VIDEO: SHUTTLE ARM GRAPPLES THE STOWAGE PLATFORM PLAY


VIDEO: STOWAGE PLATFORM INSTALLATION EXPLAINED PLAY



VIDEO: THE FLIGHT DAY 6 HIGHLIGHTS MOVIE PLAY


VIDEO: SHANNON GIVES UPDATE ON TILE DAMAGE ANALYSIS PLAY


VIDEO: FLIGHT DAY 6 MISSION STATUS BRIEFING PLAY


VIDEO: PREVIEW OF SPACEWALK NO. 2 PLAY


VIDEO: SPACEWALK NO. 2 BEGINS PLAY


VIDEO: SPACEWALKERS UNBOLT THE FAILED GYROSCOPE PLAY


VIDEO: THE FAILED GYRO IS REMOVED FROM THE STATION PLAY


VIDEO: NEW GYRO IS RETRIEVED FROM SHUTTLE PAYLOAD BAY PLAY


VIDEO: SPACEWALKERS BRING NEW GYRO UP TO THE STATION PLAY


VIDEO: THE NEW GYRO IS INSTALLED AND BOLTED DOWN PLAY


VIDEO: FAILED GYRO PUT ON STATION STOWAGE PLATFORM PLAY



VIDEO: THE FLIGHT DAY 5 HIGHLIGHTS MOVIE PLAY


VIDEO: HURRICANE FLOSSIE ON SUNDAY EVENING PLAY


VIDEO: CREW INSPECTIONS SHUTTLE TILE DAMAGE PLAY


VIDEO: INSPECTION BOOM FOR DAMAGE CHECK PLAY


VIDEO: FLIGHT DAY 5 MISSION STATUS BRIEFING PLAY



VIDEO: THE FLIGHT DAY 4 HIGHLIGHTS MOVIE PLAY


VIDEO: FLIGHT DAY 4 MISSION STATUS BRIEFING PLAY


VIDEO: SPACEWALK NO. 1 BEGINS PLAY


VIDEO: SPACEWALKERS REMOVE LAUNCH LOCKS ON S5 TRUSS PLAY


VIDEO: ROBOT ARM INSTALLS STARBOARD 5 TRUSS ON STATION PLAY


VIDEO: STARBOARD 5 TRUSS BOLTED TO THE SPACE STATION PLAY


VIDEO: TRUSS'S GRAPPLE FIXTURE REMOVED PLAY


VIDEO: PREVIEW OF SPACEWALK NO. 1 PLAY


VIDEO: STARBOARD 5 TRUSS INSTALLATION EXPLAINED PLAY



VIDEO: THE FLIGHT DAY 3 HIGHLIGHTS MOVIE PLAY


VIDEO: FLIGHT DAY 3 MISSION STATUS BRIEFING PLAY


VIDEO: STARBOARD 5 TRUSS PULLED OUT OF PAYLOAD BAY PLAY


VIDEO: TRUSS HANDED FROM SHUTTLE ARM TO STATION ARM PLAY


VIDEO: SHUTTLE ASTRONAUTS WELCOMED ABOARD STATION PLAY


VIDEO: SHUTTLE DOCKS TO THE STATION AS SEEN LIVE PLAY


VIDEO: ENDEAVOUR AND STATION FLY INTO ORBITAL SUNRISE PLAY


VIDEO: SHUTTLE DOES BACKFLIP BELOW THE STATION PLAY


VIDEO: ENDEAVOUR INTERCEPTS THE SPACE STATION PLAY


VIDEO: SHUTTLE TI BURN SEEN FROM STATION PLAY


VIDEO: ANIMATED PREVIEW OF DOCKING PLAY



VIDEO: FIRST IN-SPACE COMMENTS FROM BARBARA MORGAN PLAY


VIDEO: THE FLIGHT DAY 2 HIGHLIGHTS MOVIE PLAY


VIDEO: SHUTTLE INSPECTIONS EXPLAINED PLAY


VIDEO: FLIGHT DAY 2 MISSION STATUS BRIEFING PLAY


VIDEO: THE FULL LAUNCH EXPERIENCE PLAY


VIDEO: JETTISONED EXTERNAL TANK FALLS AWAY PLAY


VIDEO: THE FLIGHT DAY 1 HIGHLIGHTS MOVIE PLAY



VIDEO: LAUNCH REPLAY: EXTERNAL TANK CAMERA PLAY


VIDEO: LAUNCH REPLAY: UCS-23 WIDESCREEN PLAY


VIDEO: LAUNCH REPLAY: PLAYALINDA WIDESCREEN PLAY


VIDEO: LAUNCH REPLAY: CAMERA 009 PLAY


VIDEO: LAUNCH REPLAY: CAMERA 049 PLAY


VIDEO: LAUNCH REPLAY: CAMERA 050 PLAY


VIDEO: LAUNCH REPLAY: CAMERA 051 PLAY


VIDEO: LAUNCH REPLAY: CAMERA 054 PLAY


VIDEO: LAUNCH REPLAY: CAMERA 060 PLAY


VIDEO: LAUNCH REPLAY: CAMERA 061 PLAY


VIDEO: LAUNCH REPLAY: CAMERA 063 PLAY


VIDEO: LAUNCH REPLAY: CAMERA 070 PLAY


VIDEO: LAUNCH REPLAY: CAMERA 071 PLAY


VIDEO: LAUNCH REPLAY: WEST TOWER PLAY


VIDEO: LAUNCH REPLAY: PAD PERIMETER PLAY


VIDEO: LAUNCH REPLAY: COMPLEX 41 PLAY


VIDEO: LAUNCH REPLAY: KSC RUNWAY PLAY


VIDEO: LAUNCH REPLAY: PAD FRONT PLAY


VIDEO: LAUNCH REPLAY: CAMERA CS-1 PLAY


VIDEO: LAUNCH REPLAY: CAMERA CS-2 PLAY


VIDEO: LAUNCH REPLAY: CAMERA UCS-12 PLAY


VIDEO: LAUNCH REPLAY: PRESS SITE PLAY


VIDEO: LAUNCH REPLAY: VAB ROOF PLAY


VIDEO: LAUNCH REPLAY: BEACH TRACKER PLAY



VIDEO: ENDEAVOUR BLASTS OFF! PLAY


VIDEO: CREW'S LAUNCH MORNING PHOTO IN DINING ROOM PLAY


VIDEO: UPCLOSE FOOTAGE OF THE GANTRY ROLLBACK PLAY


VIDEO: TIME-LAPSE MOVIE OF GANTRY ROLLBACK PLAY


VIDEO: TUESDAY MORNING'S STATUS BRIEFING PLAY


VIDEO: STS-118 PRE-LAUNCH NEWS CONFERENCE PLAY


VIDEO: MONDAY MORNING'S STATUS BRIEFING PLAY


VIDEO: SUNDAY COUNTDOWN AND WEATHER UPDATE PLAY


VIDEO: CREW ARRIVES AT KENNEDY SPACE CENTER PLAY


VIDEO: COMMENTS FROM EACH OF THE ASTRONAUTS PLAY



VIDEO: PRE-FLIGHT INTERVIEW: SCOTT KELLY PLAY


VIDEO: PRE-FLIGHT INTERVIEW: CHARLIE HOBAUGH PLAY


VIDEO: PRE-FLIGHT INTERVIEW: TRACY CALDWELL PLAY


VIDEO: PRE-FLIGHT INTERVIEW: RICK MASTRACCHIO PLAY


VIDEO: PRE-FLIGHT INTERVIEW: DAVE WILLIAMS PLAY


VIDEO: PRE-FLIGHT INTERVIEW: BARBARA MORGAN PLAY


VIDEO: PRE-FLIGHT INTERVIEW: ALVIN DREW PLAY


MORE: STS-118 VIDEO COVERAGE


SUBSCRIBE NOW