Barbara Morgan chats with students from space station
BY WILLIAM HARWOOD
STORY WRITTEN FOR CBS NEWS "SPACE PLACE" & USED WITH PERMISSION
Posted: August 16, 2007


The Endeavour astronauts are content to follow the guidance of mission control when it comes to a divot in the shuttle's heat shield. Teacher-turned-astronaut Barbara Morgan said today "we have a lot of faith in the program and we'll do what the engineers decide is the best thing for us to do. We have all confidence we're going to be able to do the right thing."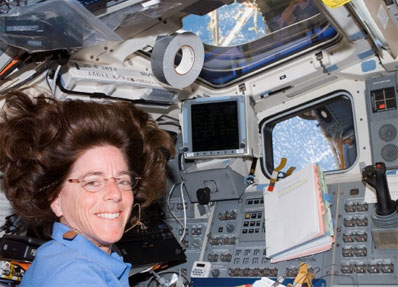 Credit: NASA



Joining Morgan for round-robin media interviews, Al Drew told Reuters he viewed the now-famous gouge as "more of a divot on the belly of the ship rather than a hole" and said if the decision is made to bring Endeavour down as is, he's confident the orbiter will make a safe re-entry.

"We've been talking to the engineers who have been analyzing this far more than we have in space and they seem to feel that the biggest danger is more to just being able to reuse Endeavour once it's back on the ground," he said. "They seem to be confident, and I trust their confidence, that we can get home safely even with the divot that we have in the belly."

NASA's Mission Management Team is expected to make a decision today on whether to order a repair spacewalk Saturday or whether to bring Endeavour down as is. This status report will be updated as soon as the decision is announced.

Despite the heat shield problem, the memory of the 1986 Challenger disaster and the 2003 loss of the shuttle Columbia, Morgan said she would give NASA's manned orbiter an A plus.

"This work is incredibly challenging," she said, floating with Drew in the international space station's Destiny laboratory module. Given the sheer complexity of the project, "I think the shuttle program is an A plus. You know, once we don't have the shuttle any more I think it's going to be something that we all look back on with great nostalgia and we're really, really going to miss it. ISS (international space station) is a fantastic vehicle, it's a stepping stone to the future and I quite frankly can't wait until we get back to the moon for the long haul and then onto Mars."

Earlier today, Morgan and Drew fielded questions from students at a Challenger Center for Space Science Education in Alexandria, Va., the second of three educational events planned for Endeavour's mission. Today's session held special significance for Morgan because the event was hosted by June Scobee Rodgers, founding chairman of the Challenger centers and widow of Challenger commander Dick Scobee. Morgan was Christa McAuliffe's backup in the original Teacher in Space program and trained with the Challenger astronauts.

"Congratulations to the entire Endeavour crew," Rodgers radioed. "Thank you for the downlink to the Challenger Center. Barb, we've been standing by, waiting for your signal from space for 21 years!"

Morgan said later that "hearing June's voice anytime is a real pleasure. It made me so happy to know the Challenger Center was there, that we had a chance to speak with the kids this morning, that June was there leading the charge as always. It's in our hearts and it's wonderful."

Morgan and Drew demonstrated how astronauts live in weightlessness, showing how soap and shampoo are used, displaying an astronaut sleeping bag and inadvertently releasing a large blob of water in the Destiny laboratory module. Veteran space aficionados cringed, but the release had no apparent impact.

In one of the more interesting exchanges, a student asked if the astronauts could see constellations in space from their lofty perch above Earth's atmosphere.

"You know, initially when we first came up here, both the space shuttle and the space station were both very lit up, almost like a small city, and it made it tough to see anything," Drew said. "Actually, I had an easier time seeing stars in Houston. Last night, we turned out all the lights on both the shuttle and the station, looked out the window and it as a glorious sight out there. You could see the entire Milky Way, you could see the dust clouds of the Milky Way, I think Barb even saw a shooting star beneath us last night. We saw thunder storms over the world, it was pretty fabulous, you could make out all the constellations in the sky."

"It was interesting," Morgan said, "it started out in the orbit we were in, we were at night time and we were looking out at the night sky and all the things Al just described we could see. We were traveling over Africa at the time, but looking out at the night sky. And then as we got to the Indian Ocean, it was black, black, black and that's where we saw all the thunderstorms. And I don't think any of us had ever seen anything quite that bright, those flashes of light.

"And then off in the distance, in another, say, 20 minutes or so, a thin blue line started appearing. And that blue line got thicker and thicker, it started to get a little blurred and all these different colors of blue were in that line and we realized we were looking at the horizon with the sunrise coming and we could see layers of cloud in that horizon. Within just a few minutes, our faces were totally lit up and the space station was shimmering, the solar arrays were just like the orange filaments in your toaster, they were just shimmering, bright, bright, bright gold. It was a beautiful sight."

Later, Drew, a veteran military helicopter pilot making his first space flight, described what it's like to blast off aboard a shuttle for Idaho Public Television:

"There was no doubt when the solid rocket boosters lit, it was just like being inside of a washing machine that was in a bad spin cycle. There was a pretty good shake going up the whole way, just a tremendous amount of sheer fun. We knew we were heading off the planet! There was a big thump when the solid rocket boosters left the orbiter and then it was a much smoother ride from there on up but the Gs started picking up. It felt like there was something heavy standing on my chest. ... It took effort to breathe the whole time. In fact, I kind of felt myself wheezing for the last few minutes as we were going through three Gs. And then suddenly we went from 3 Gs to nothing, I felt my body just slam against the shoulder straps of the seat, it was almost like we recoiled off the back of the seat and we were weightless. I want to find another quarter to put back in there and go for another ride!"


Additional coverage for subscribers:


VIDEO: EDUCATIONAL EVENT WITH CHALLENGER CENTER PLAY


VIDEO: BARBARA MORGAN CALLS HER FORMER SCHOOL PLAY


VIDEO: CREW INTERVIEW WITH THE ASSOCIATED PRESS PLAY


VIDEO: CREW INTERVIEW WITH REUTERS PLAY


VIDEO: CREW INTERVIEW WITH IDAHO PUBLIC TV PLAY



VIDEO: CREW MODULE CAMERA SHOWS FIRST MINUTES OF LAUNCH PLAY


VIDEO: CREW MODULE CAMERA SHOWS ARRIVAL IN SPACE PLAY


VIDEO: LEFT-HAND BOOSTER LOOKING UP PLAY


VIDEO: LEFT-HAND BOOSTER LOOKING DOWN PLAY


VIDEO: RIGHT-HAND BOOSTER LOOKING UP PLAY


VIDEO: RIGHT-HAND BOOSTER LOOKING DOWN PLAY


VIDEO: THE EXTERNAL FUEL TANK'S CAMERA PLAY



VIDEO: THE FLIGHT DAY 8 HIGHLIGHTS MOVIE PLAY


VIDEO: FLIGHT DAY 8 MISSION STATUS BRIEFING PLAY


VIDEO: THE THIRD SPACEWALK BEGINS PLAY


VIDEO: MOVING AN S-BAND COMMUNICATIONS ANTENNA PLAY


VIDEO: STATION RAIL CART RELOCATED PLAY


VIDEO: SPACESUIT GLOVE DAMAGE SPOTTED PLAY


VIDEO: PREVIEW OF SPACEWALK NO. 3 PLAY



VIDEO: THE FLIGHT DAY 7 HIGHLIGHTS MOVIE PLAY


VIDEO: FLIGHT DAY 7 MISSION STATUS BRIEFING PLAY


VIDEO: EDUCATIONAL EVENT WITH CHILDREN IN IDAHO PLAY


VIDEO: CREW INTERVIEW WITH ABC NEWS PLAY


VIDEO: CREW INTERVIEW WITH CBS NEWS PLAY


VIDEO: CREW INTERVIEW WITH CNN PLAY


VIDEO: CREW INTERVIEW WITH NBC NEWS PLAY


VIDEO: CREW INTERVIEW WITH FOX NEWS PLAY


VIDEO: STOWAGE PLATFORM ATTACHED TO THE STATION PLAY


VIDEO: THE PLATFORM IS RAISED OUT OF PAYLOAD BAY PLAY


VIDEO: SHUTTLE ARM GRAPPLES THE STOWAGE PLATFORM PLAY


VIDEO: STOWAGE PLATFORM INSTALLATION EXPLAINED PLAY



VIDEO: THE FLIGHT DAY 6 HIGHLIGHTS MOVIE PLAY


VIDEO: SHANNON GIVES UPDATE ON TILE DAMAGE ANALYSIS PLAY


VIDEO: FLIGHT DAY 6 MISSION STATUS BRIEFING PLAY


VIDEO: PREVIEW OF SPACEWALK NO. 2 PLAY


VIDEO: SPACEWALK NO. 2 BEGINS PLAY


VIDEO: SPACEWALKERS UNBOLT THE FAILED GYROSCOPE PLAY


VIDEO: THE FAILED GYRO IS REMOVED FROM THE STATION PLAY


VIDEO: NEW GYRO IS RETRIEVED FROM SHUTTLE PAYLOAD BAY PLAY


VIDEO: SPACEWALKERS BRING NEW GYRO UP TO THE STATION PLAY


VIDEO: THE NEW GYRO IS INSTALLED AND BOLTED DOWN PLAY


VIDEO: FAILED GYRO PUT ON STATION STOWAGE PLATFORM PLAY



VIDEO: THE FLIGHT DAY 5 HIGHLIGHTS MOVIE PLAY


VIDEO: HURRICANE FLOSSIE ON SUNDAY EVENING PLAY


VIDEO: CREW INSPECTIONS SHUTTLE TILE DAMAGE PLAY


VIDEO: INSPECTION BOOM FOR DAMAGE CHECK PLAY


VIDEO: FLIGHT DAY 5 MISSION STATUS BRIEFING PLAY



VIDEO: THE FLIGHT DAY 4 HIGHLIGHTS MOVIE PLAY


VIDEO: FLIGHT DAY 4 MISSION STATUS BRIEFING PLAY


VIDEO: SPACEWALK NO. 1 BEGINS PLAY


VIDEO: SPACEWALKERS REMOVE LAUNCH LOCKS ON S5 TRUSS PLAY


VIDEO: ROBOT ARM INSTALLS STARBOARD 5 TRUSS ON STATION PLAY


VIDEO: STARBOARD 5 TRUSS BOLTED TO THE SPACE STATION PLAY


VIDEO: TRUSS'S GRAPPLE FIXTURE REMOVED PLAY


VIDEO: PREVIEW OF SPACEWALK NO. 1 PLAY


VIDEO: STARBOARD 5 TRUSS INSTALLATION EXPLAINED PLAY



VIDEO: THE FLIGHT DAY 3 HIGHLIGHTS MOVIE PLAY


VIDEO: FLIGHT DAY 3 MISSION STATUS BRIEFING PLAY


VIDEO: STARBOARD 5 TRUSS PULLED OUT OF PAYLOAD BAY PLAY


VIDEO: TRUSS HANDED FROM SHUTTLE ARM TO STATION ARM PLAY


VIDEO: SHUTTLE ASTRONAUTS WELCOMED ABOARD STATION PLAY


VIDEO: SHUTTLE DOCKS TO THE STATION AS SEEN LIVE PLAY


VIDEO: ENDEAVOUR AND STATION FLY INTO ORBITAL SUNRISE PLAY


VIDEO: SHUTTLE DOES BACKFLIP BELOW THE STATION PLAY


VIDEO: ENDEAVOUR INTERCEPTS THE SPACE STATION PLAY


VIDEO: SHUTTLE TI BURN SEEN FROM STATION PLAY


VIDEO: ANIMATED PREVIEW OF DOCKING PLAY



VIDEO: FIRST IN-SPACE COMMENTS FROM BARBARA MORGAN PLAY


VIDEO: THE FLIGHT DAY 2 HIGHLIGHTS MOVIE PLAY


VIDEO: SHUTTLE INSPECTIONS EXPLAINED PLAY


VIDEO: FLIGHT DAY 2 MISSION STATUS BRIEFING PLAY


VIDEO: THE FULL LAUNCH EXPERIENCE PLAY


VIDEO: JETTISONED EXTERNAL TANK FALLS AWAY PLAY


VIDEO: THE FLIGHT DAY 1 HIGHLIGHTS MOVIE PLAY



VIDEO: LAUNCH REPLAY: EXTERNAL TANK CAMERA PLAY


VIDEO: LAUNCH REPLAY: UCS-23 WIDESCREEN PLAY


VIDEO: LAUNCH REPLAY: PLAYALINDA WIDESCREEN PLAY


VIDEO: LAUNCH REPLAY: CAMERA 009 PLAY


VIDEO: LAUNCH REPLAY: CAMERA 049 PLAY


VIDEO: LAUNCH REPLAY: CAMERA 050 PLAY


VIDEO: LAUNCH REPLAY: CAMERA 051 PLAY


VIDEO: LAUNCH REPLAY: CAMERA 054 PLAY


VIDEO: LAUNCH REPLAY: CAMERA 060 PLAY


VIDEO: LAUNCH REPLAY: CAMERA 061 PLAY


VIDEO: LAUNCH REPLAY: CAMERA 063 PLAY


VIDEO: LAUNCH REPLAY: CAMERA 070 PLAY


VIDEO: LAUNCH REPLAY: CAMERA 071 PLAY


VIDEO: LAUNCH REPLAY: WEST TOWER PLAY


VIDEO: LAUNCH REPLAY: PAD PERIMETER PLAY


VIDEO: LAUNCH REPLAY: COMPLEX 41 PLAY


VIDEO: LAUNCH REPLAY: KSC RUNWAY PLAY


VIDEO: LAUNCH REPLAY: PAD FRONT PLAY


VIDEO: LAUNCH REPLAY: CAMERA CS-1 PLAY


VIDEO: LAUNCH REPLAY: CAMERA CS-2 PLAY


VIDEO: LAUNCH REPLAY: CAMERA UCS-12 PLAY


VIDEO: LAUNCH REPLAY: PRESS SITE PLAY


VIDEO: LAUNCH REPLAY: VAB ROOF PLAY


VIDEO: LAUNCH REPLAY: BEACH TRACKER PLAY



VIDEO: ENDEAVOUR BLASTS OFF! PLAY


VIDEO: CREW'S LAUNCH MORNING PHOTO IN DINING ROOM PLAY


VIDEO: UPCLOSE FOOTAGE OF THE GANTRY ROLLBACK PLAY


VIDEO: TIME-LAPSE MOVIE OF GANTRY ROLLBACK PLAY


VIDEO: TUESDAY MORNING'S STATUS BRIEFING PLAY


VIDEO: STS-118 PRE-LAUNCH NEWS CONFERENCE PLAY


VIDEO: MONDAY MORNING'S STATUS BRIEFING PLAY


VIDEO: SUNDAY COUNTDOWN AND WEATHER UPDATE PLAY


VIDEO: CREW ARRIVES AT KENNEDY SPACE CENTER PLAY


VIDEO: COMMENTS FROM EACH OF THE ASTRONAUTS PLAY



VIDEO: PRE-FLIGHT INTERVIEW: SCOTT KELLY PLAY


VIDEO: PRE-FLIGHT INTERVIEW: CHARLIE HOBAUGH PLAY


VIDEO: PRE-FLIGHT INTERVIEW: TRACY CALDWELL PLAY


VIDEO: PRE-FLIGHT INTERVIEW: RICK MASTRACCHIO PLAY


VIDEO: PRE-FLIGHT INTERVIEW: DAVE WILLIAMS PLAY


VIDEO: PRE-FLIGHT INTERVIEW: BARBARA MORGAN PLAY


VIDEO: PRE-FLIGHT INTERVIEW: ALVIN DREW PLAY


MORE: STS-118 VIDEO COVERAGE


SUBSCRIBE NOW