Inspection shows tile gouge almost reaches shuttle skin
BY WILLIAM HARWOOD
STORY WRITTEN FOR CBS NEWS "SPACE PLACE" & USED WITH PERMISSION
Posted: August 12, 2007


A "focused inspection" of the shuttle Endeavour's heat shield today, prompted by concern over foam impact damage spotted earlier in the mission, revealed a deep gouge that nearly penetrates two adjacent tiles on the orbiter's belly. The damage was not apparent in realtime imagery downlinked from the shuttle, but higher resolution photos seen later in the day clearly showed a small but deep, scooped-out pit in the heat shield.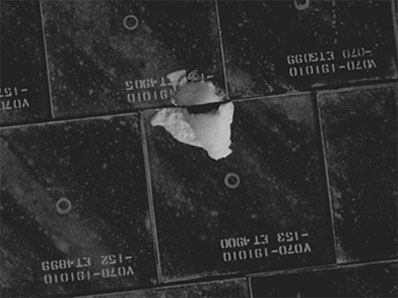 A close-up view of tile damage was obtained during Sunday's inspections. Credit: NASA



Based on pictures snapped by the space station's crew during Endeavour's final approach Friday, mission managers had already decided the shuttle could safely re-enter as is if some other emergency forced a speedy return to Earth. The close-up pictures today did not change that judgment and John Shannon, chairman of NASA's Mission Management Team, said the orbiter's heat shield was healthy enough to handle re-entry as is if another emergency of some sort forced a speedy return to Earth.

"I did poll the team and it was still unanimous that there was no change in the thought process," Shannon said. "If we were in a significant emergency case we would feel comfortable deorbiting this vehicle. However, not being in an emergency case, we're going to proceed very methodically, understand exactly what we have and go get the vehicle in the best configuration we can for re-entry."

Engineers believe a softball-size chunk of foam insulation broke away from a bracket supporting a 17-inch-wide liquid oxygen feel line attached to the outside of the shuttle Endeavour's external tank during launch Wednesday. An instant later, the foam slammed into a support strut that helps hold the back end of the shuttle to the tank. The debris broke into several pieces and one ricocheted off the strut and directly into the belly of the shuttle, gouging a pit measuring 3.48 by 2.31 inches across.

But photos taken before today did not reveal how deep the pit might be - a key factor in determining the tile's ability to withstand the heat of re-entry - and so mission managers ordered today's focused inspection to find out.

Astronaut Tracy Caldwell, assisted by teacher-turned-astronaut Barbara Morgan and commander Scott Kelly, used Endeavour's robot arm and a 50-foot-long instrument boom to inspect five damage sites with a laser scanner and a high-resolution camera. During realtime downlink of black-and-white television camera views, the damage looked relatively minor. But high-resolution pictures seen later told a different story.

"As you can see ... it's a fairly deep gouge," Shannon said. "If you remember, the tile itself is 1.2 inches thick and the gouge goes pretty much through the entire thickness of the tile and there's a small area of the what we call filler bar, which is the material that is on the edge of the tile that the tile is mounted to that is showing. We think that that filler bar area is about .2 inches by about 1 inch. And then it impacts the second tile and just kind of took a scoop out of that part of the tile. So this is the data we were looking for.

"Not only did we get really good imagery, we got a good laser scan of it as well. And the process is we'll make a point cloud map of exactly what that damage is. And we'll do two things with that map. The first is we'll be able to model it and run our thermal analysis models to understand what the actual heating impact during re-entry would be for damage of this type. The second is a test method. We have already made up 2-foot by 2-foot sections of tile that are about that thickness and we'll take that cloud map and actually mimic the exact same damage on those test articles. And we'll put them in the arc jet facility here at Johnson Space Center and simulate re-entry conditions.

"That will be able to ground the analysis models with actual test data," Shannon said. "So we feel very comfortable with that. I expect we'll have the thermal analysis to discuss tomorrow at the Mission Management Team and the arc jet facility run will either be tomorrow or on Tuesday."

The arc jet facility can produce the 2,000-degree temperatures the shuttle's belly experiences during re-entry. Using stereo lithography based on the laser scan data, engineers will fashion an exact duplicate of the damage, put it in the furnace and see what happens. They also can test repair procedures to help determine the best course of action. Until then, Shannon said, it was premature to talk about possible repair scenarios or even if the damage needs fixing in the first place.

But Endeavour's crew is trained and equipped to make three different types of heat shield repairs. A spacewalking astronaut anchored to the same boom used to inspect the tiles today could apply a black, paint-like "emittance wash" to the exposed silica fibers of the damaged tiles to improve their ability to reject heat. The astronauts also could fill the gouge with a putty like material known as STA-54. They even have carbon composite panels that can be screwed into the tile to cover large areas of damage.

While it's too soon to say whether a repair might be needed, "I have a lot of confidence based on the testing we've done that if a repair is required, that we can go execute it," Shannon said. "As to which way we'll go, we'll see through the analysis over the next 24 to 48 hours."

Even before today's inspection, engineers assumed a deep pit for purposes of worst-case modeling of re-entry heat loads. As luck would have it, the damage site is right above an internal rib in the right wing called a stringer. Even if the tile was gouged out all the way to its base, Shannon said Saturday, any unusual heat during re-entry that made it to the underlying aluminum skin would spread out in the structure and not result in a localized hot spot. In addition, there is no wiring or any other systems on the interior of the right wing in that area.

Today, Shannon said the actual damage closely mirrored the presumed worst-case scenario.

"Surprisingly, it's almost exactly what we thought we had after the 2D images where you potentially have a very small piece of the filler bar material showing," he said. "We have some flight history and now that we know exactly what we have, we'll go and make sure we understand the differences between flight history and what we have here today and we will test the exact condition. I can't stress enough how incredibly valuable the laser data is and the optical data is. Now I have the opportunity to go model exactly what I have and put it in an arc jet (furnace), put it through a re-entry environment. That's really valuable.

"This is something we would rather not deal with, but we have really prepared for exactly this case," Shannon said. "So I feel very comfortable that whatever is required we con go do and do successfully."

The shuttle Columbia burned up during re-entry on Feb. 1, 2003, because of a gaping hole in the leading edge of its left wing. The hole was the result of a briefcase-size piece of foam insulation that hit the wing during launch 16 days earlier.

The foam responsible for Columbia's demise is no longer used on the external tank and NASA has implemented a variety of other changes to minimize foam shedding across the board. Ongoing problems with the feedline brackets in question have led NASA to implement a design change that will make its debut three flights from now. Given the problem with Endeavour's heat shield, mission managers could be forced to re-think the rationale for flying the current design in the interim.

"We're all of about 24 hours into the realization that this is something that has happened on several flights," Shannon said. "It's an anomaly, we've got to go either develop flight rationale or develop a fix."

The next shuttle flight is scheduled for launch Oct. 23. NASA hopes to close out the year with launch of a European Space Agency research module on Dec. 6.

While today's inspection work was going on, space station commander Fyodor Yurchikhin and flight engineer Oleg Kotov were busy replacing cables attached to a computer processing unit known by the English version of a Russian acronym, BOK-3. In the wake of widespread Russian computer failures in June, engineers discovered quite a bit of corrosion on cables leading to the BOK-3 unit, located near an air conditioner in the Zvezda command module.

Opening access panels today, Yurchikhin reported finding a fair amount of condensation and water in the area. The BOK-3 unit itself will be removed Tuesday and replaced with a freshly delivered spare on Wednesday.

Astronauts Rick Mastracchio and Canadian flier Dave Williams, meanwhile, spent part of the day preparing the tools they will use during a second spacewalk Monday to replace one of the station's four stabilizing control moment gyroscopes. The excursion is scheduled to begin around 11:30 a.m. Monday.

Along with looking at the tile damage photos, the Mission Management Team also reviewed the performance of a new station-to-shuttle power transfer system, or SSPTS, that is allowing the orbiter to plug into the station's solar power grid.

Going into the mission, flight planners said if the SSPTS operated as expected, they would recommend extending Endeavour's mission by three days and adding a fourth spacewalk. The SSPTS has been operating flawlessly, delivering some 6 kilowatts of power to the shuttle and allowing the astronauts to reduce the consumption of liquid oxygen and hydrogen used by the ship's fuel cells. As a result, the MMT today approved the mission extension, setting the stage for station assembly spacewalks Monday, Wednesday and Friday.

Under the new flight plan, Endeavour will remain docked to the lab complex until Aug. 20 and return to Earth two days later. A revised flight plan will be posted here as soon as possible.


Additional coverage for subscribers:


VIDEO: THE FLIGHT DAY 4 HIGHLIGHTS MOVIE PLAY


VIDEO: FLIGHT DAY 4 MISSION STATUS BRIEFING PLAY


VIDEO: SPACEWALK NO. 1 BEGINS PLAY


VIDEO: SPACEWALKERS REMOVE LAUNCH LOCKS ON S5 TRUSS PLAY


VIDEO: ROBOT ARM INSTALLS STARBOARD 5 TRUSS ON STATION PLAY


VIDEO: STARBOARD 5 TRUSS BOLTED TO THE SPACE STATION PLAY


VIDEO: TRUSS'S GRAPPLE FIXTURE REMOVED PLAY


VIDEO: PREVIEW OF SPACEWALK NO. 1 PLAY


VIDEO: STARBOARD 5 TRUSS INSTALLATION EXPLAINED PLAY



VIDEO: THE FLIGHT DAY 3 HIGHLIGHTS MOVIE PLAY


VIDEO: FLIGHT DAY 3 MISSION STATUS BRIEFING PLAY


VIDEO: STARBOARD 5 TRUSS PULLED OUT OF PAYLOAD BAY PLAY


VIDEO: TRUSS HANDED FROM SHUTTLE ARM TO STATION ARM PLAY


VIDEO: SHUTTLE ASTRONAUTS WELCOMED ABOARD STATION PLAY


VIDEO: SHUTTLE DOCKS TO THE STATION AS SEEN LIVE PLAY


VIDEO: ENDEAVOUR AND STATION FLY INTO ORBITAL SUNRISE PLAY


VIDEO: SHUTTLE DOES BACKFLIP BELOW THE STATION PLAY


VIDEO: ENDEAVOUR INTERCEPTS THE SPACE STATION PLAY


VIDEO: SHUTTLE TI BURN SEEN FROM STATION PLAY


VIDEO: ANIMATED PREVIEW OF DOCKING PLAY



VIDEO: FIRST IN-SPACE COMMENTS FROM BARBARA MORGAN PLAY


VIDEO: THE FLIGHT DAY 2 HIGHLIGHTS MOVIE PLAY


VIDEO: SHUTTLE INSPECTIONS EXPLAINED PLAY


VIDEO: FLIGHT DAY 2 MISSION STATUS BRIEFING PLAY


VIDEO: THE FULL LAUNCH EXPERIENCE PLAY


VIDEO: JETTISONED EXTERNAL TANK FALLS AWAY PLAY


VIDEO: THE FLIGHT DAY 1 HIGHLIGHTS MOVIE PLAY



VIDEO: LAUNCH REPLAY: EXTERNAL TANK CAMERA PLAY


VIDEO: LAUNCH REPLAY: UCS-23 WIDESCREEN PLAY


VIDEO: LAUNCH REPLAY: PLAYALINDA WIDESCREEN PLAY


VIDEO: LAUNCH REPLAY: CAMERA 009 PLAY


VIDEO: LAUNCH REPLAY: CAMERA 049 PLAY


VIDEO: LAUNCH REPLAY: CAMERA 050 PLAY


VIDEO: LAUNCH REPLAY: CAMERA 051 PLAY


VIDEO: LAUNCH REPLAY: CAMERA 054 PLAY


VIDEO: LAUNCH REPLAY: CAMERA 060 PLAY


VIDEO: LAUNCH REPLAY: CAMERA 061 PLAY


VIDEO: LAUNCH REPLAY: CAMERA 063 PLAY


VIDEO: LAUNCH REPLAY: CAMERA 070 PLAY


VIDEO: LAUNCH REPLAY: CAMERA 071 PLAY


VIDEO: LAUNCH REPLAY: WEST TOWER PLAY


VIDEO: LAUNCH REPLAY: PAD PERIMETER PLAY


VIDEO: LAUNCH REPLAY: COMPLEX 41 PLAY


VIDEO: LAUNCH REPLAY: KSC RUNWAY PLAY


VIDEO: LAUNCH REPLAY: PAD FRONT PLAY


VIDEO: LAUNCH REPLAY: CAMERA CS-1 PLAY


VIDEO: LAUNCH REPLAY: CAMERA CS-2 PLAY


VIDEO: LAUNCH REPLAY: CAMERA UCS-12 PLAY


VIDEO: LAUNCH REPLAY: PRESS SITE PLAY


VIDEO: LAUNCH REPLAY: VAB ROOF PLAY


VIDEO: LAUNCH REPLAY: BEACH TRACKER PLAY



VIDEO: ENDEAVOUR BLASTS OFF! PLAY


VIDEO: CREW'S LAUNCH MORNING PHOTO IN DINING ROOM PLAY


VIDEO: UPCLOSE FOOTAGE OF THE GANTRY ROLLBACK PLAY


VIDEO: TIME-LAPSE MOVIE OF GANTRY ROLLBACK PLAY


VIDEO: TUESDAY MORNING'S STATUS BRIEFING PLAY


VIDEO: STS-118 PRE-LAUNCH NEWS CONFERENCE PLAY


VIDEO: MONDAY MORNING'S STATUS BRIEFING PLAY


VIDEO: SUNDAY COUNTDOWN AND WEATHER UPDATE PLAY


VIDEO: CREW ARRIVES AT KENNEDY SPACE CENTER PLAY


VIDEO: COMMENTS FROM EACH OF THE ASTRONAUTS PLAY



VIDEO: PRE-FLIGHT INTERVIEW: SCOTT KELLY PLAY


VIDEO: PRE-FLIGHT INTERVIEW: CHARLIE HOBAUGH PLAY


VIDEO: PRE-FLIGHT INTERVIEW: TRACY CALDWELL PLAY


VIDEO: PRE-FLIGHT INTERVIEW: RICK MASTRACCHIO PLAY


VIDEO: PRE-FLIGHT INTERVIEW: DAVE WILLIAMS PLAY


VIDEO: PRE-FLIGHT INTERVIEW: BARBARA MORGAN PLAY


VIDEO: PRE-FLIGHT INTERVIEW: ALVIN DREW PLAY


MORE: STS-118 VIDEO COVERAGE


SUBSCRIBE NOW