Endeavour pulls into port at the space station
BY WILLIAM HARWOOD
STORY WRITTEN FOR CBS NEWS "SPACE PLACE" & USED WITH PERMISSION
Posted: August 10, 2007; Updated at 7:25 p.m.


The shuttle Endeavour, deftly piloted by commander Scott Kelly, glided to a gentle docking with the international space station today after a spectacular trans-Atlantic somersault to give the lab crew a chance to inspect the orbiter's heat-shield tiles. While analysis of high-resolution digital images will take several days to complete, engineers spotted a small gouge in the heat shield tile behind the right landing gear door that may have been caused by a chunk of ice that hit the orbiter 58 seconds after launch.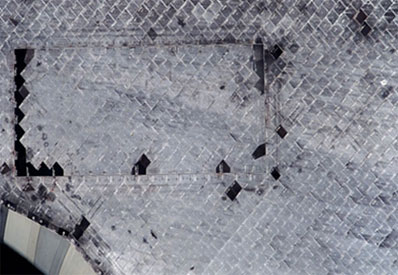 The tile damage is the white area to the right of the landing gear door. Credit: NASA



John Shannon, chairman of NASA's Mission Management Team, said the astronauts will take a close-up look at the gouge Sunday, using a 50-foot-long extension to the shuttle's robot arm that is equipped with a powerful camera and a laser scanner to precisely measure the depth and extent of the damage.

In a close-up photo snapped from the station during the pitch-around maneuver today, the damage site looked relatively minor and not as extensive as past incidents of tile damage discovered after landings that caused no problems during re-entry. But in the post-Columbia era, NASA managers take no chances when it comes to heat shield damage and Shannon would not predict how the assessment might turn out.

"We have a rich flight history of tile damage, some of which is more significant looking than what we have right here," Shannon said. "But instead of guessing, we'll go and get the right characterization of exactly what the damage is and then run the thermal models and then we'll know. In the past, we didn't even know we had damage and we flew back home (safely). So what I would tell you is, we're going to do all the work required to understand it and if something is required, we'll go do that. I would not even venture to guess what the probability is we would have to go repair this."

The now-standard post-Columbia rendezvous pitch maneuver, or RPM, began at 12:56 p.m. with Endeavour about 600 feet below the station as the two craft passed just off the northeast coast of Brazil. The slow-motion back flip ended about 10 minutes later above northwest Africa. Flying from the shuttle's aft flight deck, Kelly then guided Endeavour through a slow pitch up to a point about 300 feet directly in front of the station before driving in for a precision docking at 2:02 p.m.

"Capture confirmed, Endeavour has pulled into port at the international space station," said mission control commentator Rob Navias.

A few seconds later, Expedition 15 commander Fyodor Yurchikhin rang the ship's bell mounted in the Destiny laboratory module and formally announced Endeavour's arrival.

"Endeavour arrive to ISS station," he said in English. "Welcome on board."

It took the astronauts about two hours to firmly lock the two spacecraft together, carry out leak checks and open hatches leading into the Destiny laboratory where Yurchikhin, Oleg Kotov and Clay Anderson were waiting to welcome Kelly, pilot Charles Hobaugh, Tracy Caldwell, flight engineer Rick Mastracchio, Canadian flier Dafydd Williams, Al Drew and educator-astronaut Barbara Morgan aboard.

Sporting broad smiles, the two crews hugged and shook hands amid laughter and popping camera flashes, enjoying a few moments of camaraderie before a mandatory safety briefing from Yurchikhin. Teacher-turned-astronaut Morgan, Christa McAuliffe's backup in the original Teacher in Space program, floated through the laboratory operating a movie camera for an educational video, grinning broadly and clearly enjoying herself.

A few minutes earlier, before the shuttle crew floated into the station, Caldwell unlimbered Endeavour's 50-foot-long robot arm and latched onto a 5,000-pound solar array truss segment in the shuttle's cargo bay. After the safety briefing, she moved back to the shuttle's flight deck and used the robot arm to carefully pull the boxy S5 truss from its perch in the cargo bay, starting shortly before 5 p.m.

A half hour later, Hobaugh, operating the space station's robot arm from a work station inside Destiny, locked onto the truss segment and Caldwell disengaged the shuttle arm. Hobaugh then maneuvered it to an overnight park position near the right side of the station's main solar power truss. If all goes well, the segment will be bolted to the far right end of the main truss Saturday during a spacewalk by Mastracchio and Williams. Both men plan to spend the night in the station's Quest airlock module at a reduced pressure of 10.2 pounds per square inch to help purge nitrogen from their blood in preparation for the spacewalk Saturday.

Late today, the astronauts activated a new shuttle-to-station power transfer system, or SSPTS, and Endeavour began drawing 6.5 kilowatts of electricity from the station's solar power grid. Using station electricity, the shuttle crew can reduce the consumption of hydrogen and oxygen by the ship's three electricity producing fuel cells. If the new system works as expected, NASA managers are expected to extend Endeavour's mission by three days and add a fourth spacewalk. A decision could come as early as Sunday.

Sunday, the crew's flight day five, is also the day the astronauts will carry out a focused inspection of the shuttle's heat shield to measure the extent of the gouge on the underside of the shuttle. During the climb to space Wednesday, a camera mounted on the shuttle's external tank spotted about nine small bits of foam debris falling away, including three that may have struck the orbiter. The debris in question was the second one, seen at about 58 seconds.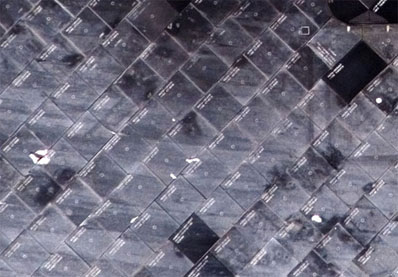 A closer view of the tile damage. Credit: NASA



The best close-up picture from today's RPM shows an area of white in roughly the center of a 6-by-6-inch black tile midway between the shuttle's right side main landing gear door and the right-side door that covers a propellant feedline inlet. Shannon said the area of damage on the tile in question appears to measure less than three inches across.

On Thursday, ascent video showed a spray of whitish material streaming away from the shuttle's underside after the impact, presumably from a piece of foam that hit the belly of the orbiter. Today, based on analysis of radar data, engineers believe the debris may have been the remnant of a small chunk of ice.

"If you remember yesterday, I said we had one debris event where we saw a streak, or potentially a spray of some material from the underside of the vehicle, at 58 seconds," Shannon said. "That was tracked by radar and the ballistic coefficient, or how that particle was tracked, looked more like ice than foam. Yesterday, we were thinking it might be foam. Today, that radar data says it looked like ice and we're going to continue to go look at that. It perked up our ears a little bit because ice is much more dense, of course, than foam and it can do more damage to tile. ... So that was interesting."

Describing a close-up picture from today's rendezvous pitch maneuver, Shannon said it as difficult to assess the extent of the damage "because it's just not a great picture and there's a little bit of shading on here. We think potentially the black streak in the middle of that white hole is just a shadow. But you can almost see some color where that tile comes up against some other tile. Potentially, that color is the material on the edge of the tile at the very base of the aluminum structure, It's called filler bar material. We don't know that for a fact, but it's certainly got our attention and we're looking at it."

Columbia was brought down during re-entry Feb. 1, 2003, by a gaping hole in one of the left wing's leading edge panels caused by the impact of a briefcase-size piece of foam debris during launch. Among NASA's post-Columbia upgrades are heat shield repair techniques that could be used by spacewalkers to fix relatively minor pits and dings. The options range from application of a black "emittance wash" paint-like material to restore lost heat rejection capability, to a thick goo-like material known as STA-54 that can fill in large voids. A third option is to screw on a carbon composite overlay, depending on the extent of the damage.

The Endeavour astronauts are trained for all such repair techniques but Shannon said any such talk is premature until all the data are in.

"What does this mean? I don't know at this point," he said. "On flight day five (Sunday), we had preplanned a time in the timeline when we could do a focused inspection and we will do that on this spot. ... They will take the orbiter boom sensor system with the laser on it, they wlll put it underneath the vehicle and get a very high fidelity model of exactly what the damage is. It's too hard to tell from a two-dimensional picture with different shading to tell if this gouge is deep or it's not deep.

"So we'll put the laser on it and we'll get an exact size of it, we'll get a cloud model of exactly what the gouge looks like. And then we have extremely accurate thermal models to say given this particular gouge what would that mean for re-entry. And that's the work that's going to go on."


Additional coverage for subscribers:


VIDEO: SHUTTLE ASTRONAUTS WELCOMED ABOARD STATION PLAY


VIDEO: SHUTTLE DOCKS TO THE STATION AS SEEN LIVE PLAY


VIDEO: ENDEAVOUR AND STATION FLY INTO ORBITAL SUNRISE PLAY


VIDEO: SHUTTLE DOES BACKFLIP BELOW THE STATION PLAY


VIDEO: ENDEAVOUR INTERCEPTS THE SPACE STATION PLAY


VIDEO: SHUTTLE TI BURN SEEN FROM STATION PLAY


VIDEO: ANIMATED PREVIEW OF DOCKING PLAY



VIDEO: FIRST IN-SPACE COMMENTS FROM BARBARA MORGAN PLAY


VIDEO: THE FLIGHT DAY 2 HIGHLIGHTS MOVIE PLAY


VIDEO: SHUTTLE INSPECTIONS EXPLAINED PLAY


VIDEO: FLIGHT DAY 2 MISSION STATUS BRIEFING PLAY


VIDEO: THE FULL LAUNCH EXPERIENCE PLAY


VIDEO: JETTISONED EXTERNAL TANK FALLS AWAY PLAY


VIDEO: THE FLIGHT DAY 1 HIGHLIGHTS MOVIE PLAY



VIDEO: LAUNCH REPLAY: EXTERNAL TANK CAMERA PLAY


VIDEO: LAUNCH REPLAY: UCS-23 WIDESCREEN PLAY


VIDEO: LAUNCH REPLAY: PLAYALINDA WIDESCREEN PLAY


VIDEO: LAUNCH REPLAY: CAMERA 009 PLAY


VIDEO: LAUNCH REPLAY: CAMERA 049 PLAY


VIDEO: LAUNCH REPLAY: CAMERA 050 PLAY


VIDEO: LAUNCH REPLAY: CAMERA 051 PLAY


VIDEO: LAUNCH REPLAY: CAMERA 054 PLAY


VIDEO: LAUNCH REPLAY: CAMERA 060 PLAY


VIDEO: LAUNCH REPLAY: CAMERA 061 PLAY


VIDEO: LAUNCH REPLAY: CAMERA 063 PLAY


VIDEO: LAUNCH REPLAY: CAMERA 070 PLAY


VIDEO: LAUNCH REPLAY: CAMERA 071 PLAY


VIDEO: LAUNCH REPLAY: WEST TOWER PLAY


VIDEO: LAUNCH REPLAY: PAD PERIMETER PLAY


VIDEO: LAUNCH REPLAY: COMPLEX 41 PLAY


VIDEO: LAUNCH REPLAY: KSC RUNWAY PLAY


VIDEO: LAUNCH REPLAY: PAD FRONT PLAY


VIDEO: LAUNCH REPLAY: CAMERA CS-1 PLAY


VIDEO: LAUNCH REPLAY: CAMERA CS-2 PLAY


VIDEO: LAUNCH REPLAY: CAMERA UCS-12 PLAY


VIDEO: LAUNCH REPLAY: PRESS SITE PLAY


VIDEO: LAUNCH REPLAY: VAB ROOF PLAY


VIDEO: LAUNCH REPLAY: BEACH TRACKER PLAY



VIDEO: ENDEAVOUR BLASTS OFF! PLAY


VIDEO: CREW'S LAUNCH MORNING PHOTO IN DINING ROOM PLAY


VIDEO: UPCLOSE FOOTAGE OF THE GANTRY ROLLBACK PLAY


VIDEO: TIME-LAPSE MOVIE OF GANTRY ROLLBACK PLAY


VIDEO: TUESDAY MORNING'S STATUS BRIEFING PLAY


VIDEO: STS-118 PRE-LAUNCH NEWS CONFERENCE PLAY


VIDEO: MONDAY MORNING'S STATUS BRIEFING PLAY


VIDEO: SUNDAY COUNTDOWN AND WEATHER UPDATE PLAY


VIDEO: CREW ARRIVES AT KENNEDY SPACE CENTER PLAY


VIDEO: COMMENTS FROM EACH OF THE ASTRONAUTS PLAY



VIDEO: PRE-FLIGHT INTERVIEW: SCOTT KELLY PLAY


VIDEO: PRE-FLIGHT INTERVIEW: CHARLIE HOBAUGH PLAY


VIDEO: PRE-FLIGHT INTERVIEW: TRACY CALDWELL PLAY


VIDEO: PRE-FLIGHT INTERVIEW: RICK MASTRACCHIO PLAY


VIDEO: PRE-FLIGHT INTERVIEW: DAVE WILLIAMS PLAY


VIDEO: PRE-FLIGHT INTERVIEW: BARBARA MORGAN PLAY


VIDEO: PRE-FLIGHT INTERVIEW: ALVIN DREW PLAY


MORE: STS-118 VIDEO COVERAGE


SUBSCRIBE NOW