Shuttle Endeavour thunders into space
BY WILLIAM HARWOOD
STORY WRITTEN FOR CBS NEWS "SPACE PLACE" & USED WITH PERMISSION
Posted: August 8, 2007; Updated following news conference


The shuttle Endeavour, making its first flight since the 2003 Columbia disaster, blasted off today on a space station assembly mission carrying a crew of seven that includes teacher-turned-astronaut Barbara Morgan, Christa McAuliffe's backup in the original Teacher in Space program.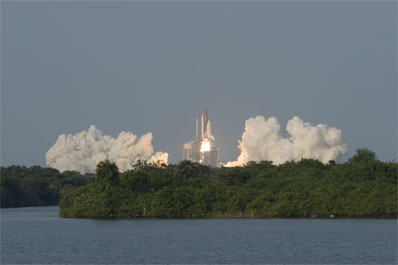 Credit: Chris Miller/Spaceflight Now



With its three hydrogen-fueled main engines roaring at full throttle, Endeavour's twin solid-fuel boosters flashed to life at 6:36:42 p.m. and the 4.5-million-pound spacecraft vaulted away from launch complex 39A at the Kennedy Space Center atop a churning cloud of fire and exhaust.

Climbing straight up into a hot, hazy Florida sky, Endeavour rolled about its vertical axis into a heads down position below the external tank and rocketed away to the northeast on a trajectory paralleling the East Coast.

One minute after launch, the shuttle had burned up half its weight in fuel and a minute and four seconds after that, at an altitude of 29 miles and a velocity of some 3,650 mph, Endeavour's solid-fuel boosters were jettisoned and the orbiter continued its climb to space on the power of its three main engines.

Endeavour completed its last mission in December 2002 - the flight before Columbia's ill-fated voyage - and despite years of down time to complete a thorough overhaul and to upgrade critical systems, NASA's newest shuttle - built to replace Challenger and named by school kids - sailed through a near-flawless countdown.

"The weather's great, Endeavour is ready to fly after four-and-a-half years so good luck, Godspeed and have some fun up there," Launch Director Mike Leinbach radioed the crew minutes before liftoff.

"Thanks, Mike," commander Scott Kelly replied. "This is a serious business we're in here. I'm proud of your team for getting Endeavour ready to go fly. I'm also proud of my crew and the rest of the astronaut office for their competence and professionalism for consistently making something that is incredibly difficult look easy. We'll see you in a couple of weeks and thanks for loaning us your space shuttle."

"Good, Scott, thanks a lot," Leinbach said. "Take good care of that great ship, Endeavour."

Kelly's comments followed a recent letter he wrote to the media, strongly defending the astronaut office in the wake of a NASA-chartered medical report that included anecdotal allegations of at least some instances of alcohol abuse in the past. NASA is currently carrying out an internal investigation to determine whether the alleged incidents actually occurred. So far, NASA Administrator Mike Griffin said today, investigators have not found any evidence supporting the allegations in the report.

"We are conducting a full-scale investigation, flight by flight, to determine whether it's even reasonable or possible that a crew under the influence of alcohol got on a space shuttle, or a Soyuz or third, on a T-38 (jet trainer)," he said. "We'll look at all that. Right now, we've gone back 10 years. And we can't even find where it would be a possibility that there was a crew under the influence on either a (Russian) Soyuz or a shuttle."

But Griffin stressed the probe is not yet complete. The allegations are "extremely serious," he said, and "I take it as my responsibility to find out."

Endeavour chalked up a picture-perfect climb to space with no obvious signs of external tank foam debris that might pose a threat to the ship's heat shield. Eight-and-a-half minutes after liftoff, at an altitude of 65 miles, the shuttle's three main engines shut down and the spacecraft slipped into its planned preliminary orbit, racing through space at some five miles - 88 football fields - per second. Kelly and pilot Charles Hobaugh fired the ship's orbital maneuvering system engines 37 minutes after launch to raise the low point of Endeavour's orbit and put the ship on course for a Friday linkup with the international space station.

Joining Kelly, Hobaugh and Morgan aboard Endeavour were Tracy Caldwell, flight engineer Rick Mastracchio, Canadian flier Dafydd Williams and Al Drew.

Morgan, who was selected as McAuliffe's backup on July 19, 1985, has waited 21 years to fulfill the legacy of the Teacher in Space, becoming a full-fledged NASA astronaut in 1998. She originally hoped to fly in late 2003, but the mission, originally planned for Columbia, ws put on hold when that shuttle crashed during re-entry.

"I am going up doing the job of an astronaut, the work of an astronaut, but I'm going up with a teacher's eyes, ears, heart and mind," Morgan said in an interview. "And so I look very much forward to doing that with an open mind and being able to come back and ... translate that into how can we best provide wonderful opportunities for our colleagues and our students."

NASA managers were eager to get Endeavour back into orbit after a four-and-a-half-year hiatus. Now sporting state-of-the-art satellite navigation gear and converters to tap into the space station's solar power grid, Endeavour should be able to reduce the load on its own generators and stay docked at the lab complex longer than any previous flight.

"The return of Endeavour to flight status is personally an emotional milestone for me," said Program Manager Wayne Hale, who served as ascent/entry flight director during Endeavour's last mission in November 2002. "It's like a new space shuttle. It's been completely inspected from stem to stern for any defects in the wiring, any structural corrosion and it's come out clean. It's like driving a new car off the showroom floor."

Going into the mission, the flight is officially planned for 11 days and includes three spacewalks. But if the shuttle-to-station power transfer system works as expected, the flight will be extended three days and a fourth spacewalk will be added. Under either scenario, Endeavour is expected to dock with the space station Friday around 1:51 p.m. If the flight is not extended, the shuttle will undock on Aug. 17 and land two days later. In the extended mission scenario, Endeavour would undock Aug. 20 and land on Aug. 22.

The goals of shuttle mission STS-118 include installation of a 5,000-pound solar array spacer segment; replacement of a critical stabilizing gyroscope; installation of a 7,000-pound external equipment storage platform; and delivery of fresh water and some 5,000 pounds of needed hardware and supplies.

While the shuttle astronauts are plowing through their busy schedule, the space station crew - Expedition 15 Commander Fyodor Yurchikhin, Oleg Kotov and Clay Anderson - will carry out a long, complex repair job to replace a critical component in the Russian computer system. The unit is mounted near an air conditioner in the Zvezda command module and engineers believe corrosion found on cables leading to and from the box may have played a role in widespread computer failures during a June shuttle visit.

The new hardware was delivered to the station Aug. 5 aboard an unmanned Russian Progress supply ship. It will take the station crew four days to complete the computer overhaul and test the wiring.

"It's got a little bit of everything," lead shuttle Flight Director Matt Abbott said of Endeavour's mission. "We've got some assembly operations with the S5 truss installation, some repair operations with the control moment gyroscope replacement, a lot of resupply - the Spacehab module has about 5,000 pounds of cargo going up in it and we'll bring back about 4,000 pounds of cargo. We've also got some external spares to be installed on the outside of the station, we've got some science going on, several middeck payloads and really a very, very busy timeline."

Endeavour's flight will clear the way for a dramatic shuttle mission in October to move a huge set of stowed solar arrays to the far left end of the station's main power truss and attach a multi-hatch node called Harmony. The new module, temporarily mounted on the left side of the central Unity compartment, will be moved to the front of the station after the shuttle departs, providing docking ports for European and Japanese research modules scheduled for launch in December and early next year.

"It's an awesome schedule," Griffin said in an interview Tuesday. "We think we know what to do. We've had some pretty awesome flights in the recent past on space station assembly and we expect the upcoming ones to surpass them. So I would say stay tuned.

"I have frequently characterized space station assembly as the greatest construction project human beings have ever attempted," he said. "And I believe when you take it all in, that that's true. There is and there will continue to be much debate on the scientific merits of the space station and I think there should be that debate, that's fine. We will find a way to utilize the space station to help benefit human exploration of the solar system. But leaving all of that aside, it is the most amazing construction project ever attempted by human beings."

On a more human level, Morgan's journey from an Idaho classroom to the space shuttle has generated widespread interest in Endeavour's mission.

Morgan was selected on July 19, 1985, to train as McAuliffe's backup in NASA's original Teacher in Space program. McAuliffe and seven crewmates died in the Jan. 28, 1986, Challenger disaster but Morgan never gave up her dream of carrying education to the final frontier.

"Christa was and is and always will be a great representative of the teaching profession," said Morgan, now 55. "And we are really, really proud of her. She was, is, and always will be our Teacher in Space.

"This mission is symbolic and I know that people will be thinking about not just Christa, but the Challenger crew and the Challenger mission. And that's a good thing. And I know they will be thinking about so many people over the years, the families, friends, colleagues and people the Challenger crew never ever even knew ... who for so many years have been working so hard at continuing on their work and their dreams."

As a full-fledged astronaut, Morgan will not teach any lessons from space as McAuliffe once planned. A few modest educational events are planned, but her focus will be on mission-critical work, operating the shuttle's robot arm and overseeing logistics transfer activity.

"I know people are going to think about Challenger, and they should," Morgan said. "And I want people to remember what great folks they were and that what happened with Challenger was wrong, but what the crew and NASA was trying to do was absolutely right. I'm grateful that we are continuing that."


Additional coverage for subscribers:


VIDEO: ENDEAVOUR BLASTS OFF! PLAY


VIDEO: ASTRONAUTS ARRIVE AT LAUNCH PAD 39A PLAY


VIDEO: CREW DEPARTS QUARTERS FOR THE LAUNCH PAD PLAY


VIDEO: ASTRONAUTS FINISH DONNING THEIR SPACESUITS PLAY


VIDEO: CREW'S LAUNCH MORNING PHOTO IN DINING ROOM PLAY


VIDEO: UPCLOSE FOOTAGE OF THE GANTRY ROLLBACK PLAY


VIDEO: TIME-LAPSE MOVIE OF GANTRY ROLLBACK PLAY


VIDEO: TUESDAY MORNING'S STATUS BRIEFING PLAY


VIDEO: STS-118 PRE-LAUNCH NEWS CONFERENCE PLAY


VIDEO: MONDAY MORNING'S STATUS BRIEFING PLAY


VIDEO: SUNDAY COUNTDOWN AND WEATHER UPDATE PLAY


VIDEO: CREW ARRIVES AT KENNEDY SPACE CENTER PLAY


VIDEO: COMMENTS FROM EACH OF THE ASTRONAUTS PLAY



VIDEO: PRE-FLIGHT INTERVIEW: SCOTT KELLY PLAY


VIDEO: PRE-FLIGHT INTERVIEW: CHARLIE HOBAUGH PLAY


VIDEO: PRE-FLIGHT INTERVIEW: TRACY CALDWELL PLAY


VIDEO: PRE-FLIGHT INTERVIEW: RICK MASTRACCHIO PLAY


VIDEO: PRE-FLIGHT INTERVIEW: DAVE WILLIAMS PLAY


VIDEO: PRE-FLIGHT INTERVIEW: BARBARA MORGAN PLAY


VIDEO: PRE-FLIGHT INTERVIEW: ALVIN DREW PLAY


MORE: STS-118 VIDEO COVERAGE


SUBSCRIBE NOW