Educator-astronaut Morgan finally about to fly
BY WILLIAM HARWOOD
STORY WRITTEN FOR CBS NEWS "SPACE PLACE" & USED WITH PERMISSION
Posted: August 3, 2007


Twenty-one years after the shuttle Challenger crashed to Earth, the fallen astronauts, their mission and the management failures that cost them their lives have faded from public memory. Once eulogized by President Ronald Reagan, the crew's names now grace schools, bridges and other public works, quiet honors that symbolize the inevitable transition from front page news to somber history.

But for their families, friends and co-workers at NASA - and for now-grown students across the country who tuned in that day to watch New Hampshire high school teacher Christa McAuliffe blast off - Challenger remains a sad, still-vivid mixture of shock and disillusionment, a tragedy underscored by the sacrifice of seven men and women who rode to their deaths on national television.


| | |
| --- | --- |
| | Barbara Morgan (left) served as Christa McAuliffe's backup for the original Teacher in Space Project. Credit: NASA |
Idaho school teacher Barbara Morgan was looking on that day, too, watching Challenger's ground-shaking launch up close and personal from the press site at the Kennedy Space Center just 4 miles from launch complex 39B. Morgan, a bright young teacher with an engaging smile and endless optimism, finished second out of 11,000 entrants in the competition to select NASA's first Teacher in Space. She trained with McAuliffe and the rest of the crew for six months and was wishing them well when Challenger lifted off at 11:38 a.m. EST on Jan. 28, 1986.

Seventy three seconds later, she watched with dawning horror as Challenger disintegrated in the cold, blue sky, killing seven friends and co-workers in a brutally public way: commander Frances "Dick" Scobee, pilot Michael Smith, Ellison Onizuka, Ronald McNair, Judith Resnik, civilian satellite engineer Gregory Jarvis and, of course, McAuliffe.

Most people in Morgan's position - a school teacher with no background in aviation or space flight - would have been content, if not eager, to walk away from NASA and back into the relative safety of the classroom.

But not Morgan. To her, McAuliffe's interrupted flight was a lesson untaught, a promise to students everywhere that adults had a moral obligation to fulfill. And there was never any doubt in her mind that if NASA ever offered a chance to step into McAuliffe's shoes, she would jump at the opportunity.

"We had school kids, not only all over the country but all over the world looking at adults and watching to see what adults do in a bad situation," Morgan told reporters last month. "And I felt it was really important to show them that adults do the right thing, that we're going to work hard to figure out what was wrong, work hard to figure out how to fix it and keep the future open ended. I've carried that with me ever since."

Morgan did, in fact, go back to teaching in the aftermath of Challenger. But she never gave up the dream, working with NASA to develop education initiatives, traveling across the country to talk with students and quietly lobbying agency leaders to fly in space. But NASA was reluctant to put another civilian aboard the space shuttle and few agency observers gave Morgan much chance of realizing her long-held goal.

That all changed in January 1998 when former NASA Administrator Daniel Goldin announced that Mercury 7 astronaut and retiring Sen. John Glenn had been offered a seat on a shuttle. That same day, in news release that was overshadowed by the Glenn announcement, NASA said that Morgan had been invited to join the astronaut corps.

In April 2002, Goldin's successor, Sean O'Keefe, announced a new category of "educator-astronaut," a classification that later evolved into "educator-mission specialist." Morgan was the first member of that group and on Dec. 12, 2002, she was assigned to mission STS-118, a space station assembly flight aboard shuttle Columbia. Launch, with a crew that originally included former astronaut Lisa Nowak, was scheduled for the fall of 2003.

On hand to get a look at her shuttle, Morgan was at the Kennedy Space Center on Feb. 1, 2003, making runway approaches in a NASA training jet with chief astronaut Kent Rominger while awaiting Columbia's descent from orbit to close out mission STS-107. STS-118 was Columbia's next flight.

But NASA's first space shuttle never made it home, breaking apart above Texas 16 minutes from touchdown. All seven astronauts were killed and Morgan, like so many others at NASA, was once again touched by tragedy. STS-118 was put on hold and Nowak and another crew member were assigned to other missions.

Now, 21 years after Challenger and four years after Columbia, Morgan is finally ready to blast off aboard the shuttle Endeavour, the orbiter that was built to replace Challenger and named by school kids. In a very real sense, Morgan's career has come full circle, a living thread that weaves together the memory of Challenger and Columbia, of lives and dreams lost, and the unfulfilled promise of the Teacher in Space.

"Christa was and is and always will be a great representative of the teaching profession," said Morgan, now 55. "And we are really, really proud of her. She was, is, and always will be our Teacher in Space. This mission is symbolic and I know that people will be thinking about not just Christa, but the Challenger crew and the Challenger mission. And that's a good thing. And I know they will be thinking about so many people over the years, the families, friends, colleagues and people the Challenger crew never ever even knew ... who for so many years have been working so hard at continuing on their work and their dreams."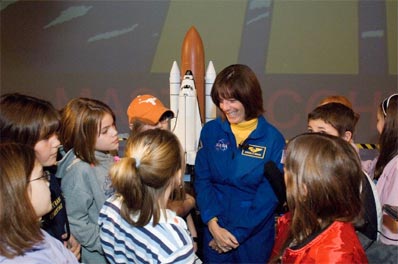 Credit: NASA



Morgan readily accepts her place as "Christa McAuliffe's backup" and the seemingly unbreakable link to the Challenger disaster that she represents to her many younger co-workers. To her, the focus has always been on students and the opportunity an educator-astronaut would have to expand their horizons. Whatever purely personal goals and motivations she might have are left unsaid. Anything else, her silence seems to imply, would take away from McAuliffe's legacy and the cherished memory of her fallen comrades.

June Scobee Rogers appreciates that effort. Wife of Challenger commander Dick Scobee and a teacher herself, Rogers founded the Challenger Centers for Space Science Education in the wake of the 1986 disaster. She said it was typical of Morgan to deflect media attention from herself and to focus on the broader education program. But it's a bit of a lost cause, Rogers said, because "she's a rock star among teachers."

"I'm over the moon happy for Barbara," she said in an interview. "She is persistent, determined and she still has that youthful bubble and spark of enthusiasm that she had as a young woman when she first was training along side Christa McAuliffe. She is representing educators everywhere, showing that it's a truly honorable profession. She's (showing people that) persistence pays off and saying to kids, reach for the stars, keep plugging away at those dreams. What a message she's getting out to the general public in addition to teachers and kids."

Her astronaut status aside, "Barbara is still a teacher first," Rogers said. "Her heart is in that honorable profession. She may be trained as an astronaut but she is first and foremost a teacher who loves the classroom and that is still in her and will always be with her."

Morgan will ride into space strapped into the center seat on Endeavour's lower deck, the same seat position used by McAuliffe.

"I actually haven't thought about that!" she said at the launch pad last month. "But I've definitely thought about Christa and thought of the whole Challenger crew and that's something, those folks are with us in here (pointing at her heart) and they've been with us every single day of the training and all the way through.

"I know people are going to think about Challenger and they should. And I want people to remember what great folks they were and that what happened with Challenger was wrong, but what the crew and NASA was trying to do was absolutely right. I'm grateful that we are continuing that."

As for fulfilling McAuliffe's legacy, Morgan said "Christa and the Challenger crew's legacy is open ended. It will go on forever. Every teacher's legacy is open ended. And every crew's legacy is open ended. I hope this goes on past when you and I are long gone, and we've gone back to the moon and onto Mars and who knows where."

Classified as an educator-mission specialist, NASA managers and her fellow crew members view her as an astronaut first, with critical, mission-specific responsibilities. While she plans to participate in a few relatively modest educational events in space, she will not teach any lessons as McAuliffe once planned to do. Instead, she will operate Endeavour's robot arm and oversee the transfer of some 5,000 pounds of equipment and supplies to the space station.

"I think it's fantastic that Barbara is flying on this mission," said lead flight director Matt Abbott. "NASA's very committed to education and ... some of the experiments and the events Barbara will be participating in are directly furthering that cause. In my mind, Barbara is a full-up mission specialist astronaut, she's an integral part of the crew, she's doing a lot of robotics operations and she's very much in charge of a lot of our transfer operations.

"One of the things I look forward to the most is hearing her characterization of the flight experience from an educator perspective," he said. "I expect her to have some very interesting insights and comments and feelings about it once she gets back."


| | |
| --- | --- |
| | Credit: NASA |
Said space station flight director Joel Montalbano: "To us, she's not an educator-astronaut, she's one of the full crew members. She's worked in the ISS control center with us and she understands our job extremely well and we're looking forward to Barbara's mission."

Crewmate Rick Mastracchio, a spacewalker and Endeavour's flight engineer, agreed, saying "a lot of people, maybe from outside NASA, look at Barbara Morgan as the teacher-in-space type of thing. We don't look at Barb as a teacher, we look at Barb as another astronaut."

"She's a crew member on this mission. And she's got a lot of responsibilities on the mission and oh yeah, by the way, she's going to do some public affairs events where she's going to do some question and answers with some students to help promote education. NASA's been promoting education since day one, this is just another step in maybe trying to reach into the classroom, trying to get kids interested in space, science, math, any way to motivate kids to learn. Barb is a very hard-working person and she really believes in what she's doing. I think she'll do a really good job and we're happy to have her."

For cynics who might not believe role models always live up to their billing, Endeavour astronaut Tracy Caldwell, who holds a Ph.D. in chemistry, is proof to the contrary. As a high school student, she decided to become an astronaut after reading about McAuliffe's preparations to fly aboard Challenger.

"I got real serious about it when I was 16 and had one more year left in high school before i went on to college," she said in an interview. "I knew I wanted to go to college, but I didn't know what I wanted to do. ... And it was right around that time that the nation was buzzing about NASA and it was all because of Christa McAuliffe and the Challenger mission.

"Of course, this was before the accident but it was the first time I realized that astronauts were more than test pilots," she said. "I associated with her so quickly because teachers impacted my life every day. I spent more time with teachers in my day than I did my own parents. So when I looked at Christa, I started to look at what is this astronaut thing? ... And as I looked more at what they were doing, I looked back at my list and I kind of made a connection."

Flying with an astronaut who could have been one of Christa McAuliffe's students illustrates the long road Morgan has followed from Idaho to the launch pad.

"It really does just seem like yesterday," she said last month. "I was reflecting on some things, one of the things that comes to mind right away with being on Endeavour is not only was it the replacement for Challenger, but it was named by school children all over this country.

"And so more than anything, it's such a joyful feeling and rewarding for everybody that's ever been involved in any of this. I know for Christa and me, we got to be here ... but there were teachers all over the country who were part of that program and still are today and who have been working extremely hard over the last 20 years to bring aerospace education, bring this stuff alive for kids and teachers in their communities and in their states.

"What I think pleases me most of all, is it's going on into the future, we've got three other teachers in the astronaut corps now, they're training for flights to come."

Born Nov. 28, 1951, in Fresno, Calif., Morgan earned a bachelor's degree in biology from Stanford University in 1973 and a teaching certificate from the College of Notre Dame in Belmont, Calif., in 1974. She is married to Clay Morgan and has two sons.


| | |
| --- | --- |
| | Credit: NASA |
Morgan began teaching in 1974 on the Flathead Indian Reservation in Arlee, Mont. She then taught remedial reading and math at McCall-Donnelly Elementary School in McCall, Idaho, and spent a year teaching English and science to third grade students in Ecuador. She was back at McCall-Donnelly teaching second, third and fourth grades when she was selected as McAuliffe's backup on July 19, 1985.

After the Challenger disaster, Morgan returned to McCall-Donnelly Elementary School and continued working with NASA as "Teacher In Space Designee," giving talks and helping with curriculum design and development until 1998 when she was selected as an astronaut.

"She's got an incredible amount of willpower, I think," Endeavour commander Scott Kelly said in an interview. "She's been involved in this program for a long time, a lot longer than any of us on the crew. She's just kind of pressed ahead through a lot of adversity, so you've got to really respect her for that."

Given her close association with Challenger and Columbia, Morgan could be forgiven if she feels a bit nervous on launch day. But in an interview at the Johnson Space Center, she insisted she will not be scared.

"I will be alert on the launch pad," she said. "I won't be scared, but I will be alert. And that's a good thing."

Asked what she is looking forward to the most, Morgan said "actually doing the work. It's like teaching, the work is fun, it's interesting, it's challenging, it's rewarding and we've worked long and hard at it and that's what I look forward to, actually doing the work. I think that's going to be really rewarding."

"I am going up doing the job of an astronaut, the work of an astronaut, but I'm going up with a teacher's eyes, ears, heart and mind. And so I look very much forward to doing that with an open mind and being able to come back and take what it is I've learned and be able to translate that into how can we best provide wonderful opportunities for our colleagues and our students."

Rogers will help with that goal when she participates in an educational downlink with Morgan from a Challenger Center.

"For the general public, Challenger was lost and the teacher in space mission was lost," Rogers said. "But for the Challenger legacy, for all those teachers out there who are watching and for all those students who are waiting, they are still waiting. They have never forgotten. Whereas the general public might have put it aside, teachers everywhere have not forgotten. So the rest of the nation is catching up with us."