Overhauled Endeavour on the pad again after five years
BY JUSTIN RAY
SPACEFLIGHT NOW
Posted: July 11, 2007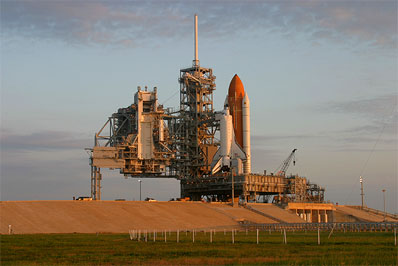 Endeavour stands on the launch pad this morning following its overnight rollout from the Vehicle Assembly Building. Credit: Ben Cooper/Spaceflight Now
See more photos here



Traveling at less than a mile per hour in the dark of night, space shuttle Endeavour journeyed to the launch pad this morning fresh from a major tune-up for its first flight in nearly five years.

Bolted to a giant external fuel tank and twin solid rocket boosters atop a mobile launching platform, Endeavour embarked on the three-and-a-half-mile trip from the Vehicle Assembly Building to pad 39A at 8:10 p.m. EDT.

An Apollo-era transporter hauled the shuttle stack along the rock-covered crawlerway leading to the oceanfront launch complex at barely a walking pace. Powerful hydraulics jacked up the platform, keeping it level as the crawler ascended the pad's concrete incline just after 1 a.m.

A laser alignment system helped technicians precisely position the platform, then the crawler lowered it onto the pad's pedestals to complete Endeavour's rollout at 3:02 a.m.

The trip was supposed to start just after midnight Tuesday morning. But delays getting ready to start the move, coupled with the possibility of bad weather threatening the shuttle before it could safely reach the pad, prompted officials to cancel their opportunity to start the move overnight and instead retarget for Tuesday evening.

"We had hoped to rollout this morning but we didn't get everything done before the end of the window," Kim Doering, deputy shuttle program manager, said Tuesday. "And we were expecting potentially some lightning at the Kennedy Space Center...We can't roll out if there's lightning."

The day's delay will be absorbed by the slack time available in the month-long preflight campaign and won't impact Endeavour's launch plans. Liftoff remains set for around 7:02 p.m. EDT on August 7 with a crew of seven astronauts and a payload bay filled with hardware and supplies for the International Space Station.

"The mission has lots of angles," said Matt Abbott, the lead shuttle flight director. "There's a little bit of assembly; there's some resupply; there's some repairs. And there are some high-visibility education and public affairs events. It's a little bit of everything."

Led by commander Scott Kelly, the crew includes pilot Charlie Hobaugh, mission specialists Tracy Caldwell, Al Drew, Rick Mastracchio, Dave Williams and educator-astronaut Barbara Morgan. A former Idaho school teacher, Morgan was Christa McAuliffe's backup in the original "teacher-in-space" program.

"I'm excited about experiencing the whole spaceflight, seeing Earth from space for the very first time and experiencing weightlessness and what that's all about," Morgan said. "I am excited about seeing what it's like living and working onboard the International Space Station."

Endeavour will bring up the small Starboard 5 truss spacer to continue expanding the station's framework, plus install an external stowage deck for replacement equipment. The shuttle's robotic arm will be used to unberth the structures from Endeavour and then the station arm will mount them on the orbiting outpost.

In addition, a Spacehab module riding in Endeavour's payload bay is packed with a couple tons of gear and supplies that the astronauts will carry through the hatchway and deliver to the station.

"I think right now the manifest has us bringing up about 5,000 pounds and then bringing down about 5,000 pounds," Kelly said. "So it's a lot of spare parts, food, clothing, scientific experiments. We'll unload that and then reload (Spacehab) with stuff that needs to come home -- garbage, spare parts that are no longer needed on the station."

The cargo pieces were transported to the pad Sunday and hoisted into the rotating service gantry's cleanroom. That structure will enclose Endeavour during the shuttle's stay on the pad, allowing the payload bay doors to be opened and the Spacehab, truss and stowage deck to be installed into the orbiter for launch.

The astronauts fly to Kennedy Space Center from Houston next week for launch pad emergency training drills and a countdown dress rehearsal. They'll suit up and board Endeavour for the final three hours of launch day simulation next Thursday morning.

The upcoming mission will be the first time Endeavour has flown in space since late 2002, just two months before the Columbia tragedy. While sisterships Discovery and Atlantis made the five post-Columbia flights so far, Endeavour was inside its space-age garage undergoing a tune-up and being outfitted with some new enhancements.

"We have made good use of that time. The Endeavour vehicle went through an orbiter major modification program. We do that every couple of years with the orbiters. It is similar to what an aircraft would go through," Doering said.

"We inspect the structure to make sure there is no corrosion, we check all of the wiring, we replace things like filters and seals - the soft goods as we call them.

"We also inspected all 1,900 (thermal) blankets on the orbiter. We replaced over 2,500 tiles. We do that periodically to get everything back to spec. Sometimes we have some minor damage that is fine to fly with but whenever we take the orbiter in for one of these major modifications we like to fix everything that we can.

"We also replaced two of the windows with some thicker panes. That is one of our return to flight modifications that improves safety. And we were able to install 68 of the (new stronger) tiles. We like to put those in some of the locations that tend to get more dings than other areas of the orbiter.

"We also made several first flight modifications to this vehicle that we're excited about. We're going to be flying a three-string Global Positioning System for the first time. We've typically used a TACAN, tactical navigation system, to give our position during entry and landing. But we're going to be moving to the Global Positioning System on this flight. We did fly one-string previously and it worked great. So we're excited about that improvement.

"Another big thing is we will be flying for the first time a space station-to-shuttle power transfer system....We'll be able to augment the shuttle's fuel cells to produce power for shuttle with station power from the big solar arrays. If that system works out the way we plan, it'll allow us to extend the mission by three days. We'll be able to be docked to the station longer and continue to work with the station crew performing critical assembly tasks.

"We also made an upgrade on this vehicle to our wing leading edge impact detection system. Those are a series of sensors that can detect ascent or micrometeroid debris (impacts) on the reinforced carbon-carbon panels. One of the challenges we have had is the batteries don't perform very well at cold temperatures. We've added a voltage booster to this flight so that that wing leading edge system will be able to operate better at cold temperatures."

Endeavour's flight will last either 11 or 14 days, depending on the performance of the station power transfer system. An early afternoon landing back at the Kennedy Space Center is planned.

Doering said the shuttle team is ready to fly Endeavour's mission despite the brief amount of time since Atlantis returned from the station just a few weeks ago. And both Discovery and Atlantis are being prepped for launches in October and December, respectively, to attach new modules to the station.

"The team has demonstrated that they can turn these vehicles around quickly. If you look at the rest of the assembly sequence between now and 2010, this is about the pace we will be on. We'll roughly be flying every other month."