Atlantis arrives back home after cross-country trip
BY JUSTIN RAY
SPACEFLIGHT NOW
Posted: July 3, 2007


Space shuttle Atlantis returned home to the Kennedy Space Center this morning, completing a two-day coast-to-coast piggyback ride atop a modified 747 ferrying jet that included rare stops in America's heartland.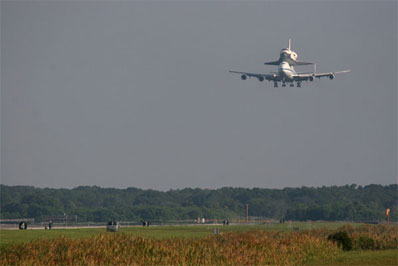 The Shuttle Carrier Aircraft nears the Kennedy Space Center runway with Atlantis aboard. Credit: Ben Cooper/Spaceflight Now
See more images here



The shuttle's recent space station construction mission landed at Edwards Air Force Base in California on June 22 after menacing weather precluded a Florida homecoming. Technicians spent a week safing onboard systems and readying the vehicle for the cross-country trip. Once an aerodynamic tailcone was installed, the 100-ton spaceplane was lifted on top of the aircraft and bolted in place.

Atlantis departed the the Mojave Desert base at 9:04 a.m. EDT Sunday. The unique shuttle and 747 duo flew east to the Texas Panhandle, landing in Amarillo shortly before noon EDT for a two-hour refueling stop. The ferry flight completed a 100-minute northeastward leg to Offutt Air Force Base in the afternoon, arriving about 3:45 p.m. EDT for an overnight stay at the military installation on the eastern border of Nebraska.

The voyage continued to Kentucky's Fort Campbell on Monday, arriving at 10:35 a.m. EDT. But unstable weather in the U.S. Southeast halted any further advance toward Florida for the day.

The trip resumed at 6:15 a.m. this morning as the carrier aircraft soared out of southern Kentucky, crossed Tennessee at 15,000 feet, dodged weather in Georgia and then cruised into Florida.

The pilots gave local Space Coast residents and visiting tourists a treat with a low-altitude pass along the beaches before arcing over the Atlantic and making the final approach toward the three-mile-long Shuttle Landing Facility runway.

The smooth touchdown on Runway 15 came at 8:27 a.m. EDT (1227 GMT), delivering Atlantis back to its homeport 25 days after blasting off with seven astronauts and a 36,000-pound power-generating module for the International Space Station. The highly successful spaceflight connected the new Starboard 3/Starboard 4 truss structure to the station and unfurled a pair of solar wings stretching 240 feet tip-to-tip.

"It is great to be here, back at the Shuttle Landing Facility with Atlantis," LeRoy Cain, manager of shuttle integration at Kennedy Space Center said from the runway this morning. "We had a very successful ferry mission across the country. It took us a few days, but it really went very well."

Atlantis will be plucked off the 747 later today and towed to its hangar as preparations begin for the ship's next flight, currently targeted for launch December 6 around 4:30 p.m. EST (2130 GMT). That mission will transport the European Space Agency's Columbus science laboratory to the station.

"Atlantis is in great shape, as you can see. We're really glad to have her back here and get her processed for the next mission in December," Cain said.

Meanwhile, sistership Endeavour has been raised vertically inside Kennedy Space Center's Vehicle Assembly Building for joining with an external fuel tank and twin solid rocket boosters atop a mobile launch platform. Endeavour was moved to the VAB from its hangar on Monday.

NASA plans to roll Endeavour to launch pad 39A early next week. Liftoff is scheduled for about 7 p.m. EDT (2300 GMT) on August 7, marking that orbiter's first flight in nearly five years.

Endeavour will bring up the small Starboard 5 truss spacer to the station for attachment to the segment just installed by the Atlantis crew. In addition, a Spacehab module riding in Endeavour's payload bay will be filled with a couple tons of food, clothing, supplies and spare parts to be carried through the hatchway and stowed inside the station.

Endeavour's crew includes educator-astronaut Barbara Morgan, backup to Challenger "teacher-in-space" Christa McAuliffe. Morgan is now a fully trained astronaut flying as a mission specialist.


Additional coverage for subscribers:


VIDEO: ATLANTIS LANDS AT EDWARDS AIR FORCE BASE PLAY


VIDEO: LANDING REPLAY: SHUTTLE ONBOARD CAMERA PLAY


VIDEO: LANDING REPLAY: CAMERA 1 PLAY


VIDEO: LANDING REPLAY: CAMERA 2 PLAY


VIDEO: LANDING REPLAY: CAMERA 3 PLAY


VIDEO: LANDING REPLAY: CAMERA 4 PLAY


VIDEO: INSIDE MISSION CONTROL WITH ENTRY TEAM PLAY


VIDEO: NEWS CONFERENCE AFTER LANDING PLAY


VIDEO: POST-LANDING COMMENTS FROM THE CREW PLAY


VIDEO: WAVEOFF FOR FRIDAY'S FIRST LANDING CHANCE PLAY



VIDEO: BAD WEATHER SCRUBS THURSDAY'S LANDING PLAY


VIDEO: FIRST LANDING OPPORTUNITY WAVED OFF PLAY


VIDEO: PRE-LANDING MISSION STATUS BRIEFING PLAY


VIDEO: CREW INTERVIEWS WITH NBC, ABC AND CNN PLAY


VIDEO: FLIGHT DAY 12 HIGHLIGHTS MOVIE PLAY


VIDEO: UNIQUE VIEW OF STATION OVER TAIL OF ATLANTIS PLAY


VIDEO: ATLANTIS AS SEEN FROM STATION DURING FLYAROUND PLAY


VIDEO: FOOTAGE OF THE STATION DURING SHUTTLE FLYAROUND PLAY


VIDEO: SPACECRAFT FLY INTO SUNRISE DURING SEPARATION PLAY


VIDEO: STATION'S VIEW OF SHUTTLE ATLANTIS UNDOCKING PLAY


VIDEO: HATCHES CLOSED BETWEEN SHUTTLE AND STATION PLAY


VIDEO: SUNI WILLIAMS' TEARFUL FAREWELL MESSAGE PLAY


VIDEO: FLIGHT DAY 11 HIGHLIGHTS MOVIE PLAY


VIDEO: MONDAY'S MISSION STATUS BRIEFING PLAY


VIDEO: TWO CREWS' FAREWELL CEREMONY PLAY


VIDEO: FLIGHT DAY 10 HIGHLIGHTS MOVIE PLAY


VIDEO: POST-SPACEWALK STATUS UPDATE PLAY


VIDEO: INTERVIEW WITH LEAD EVA OFFICER PLAY


VIDEO: FLIGHT DAY 9 HIGHLIGHTS MOVIE PLAY


VIDEO: IN-FLIGHT CREW NEWS CONFERENCE PLAY


VIDEO: SATURDAY MISSION STATUS BRIEFING PLAY


VIDEO: FRIDAY NIGHT MISSION STATUS BRIEFING PLAY


VIDEO: FRIDAY MID-DAY COMPUTER UPDATE PLAY



VIDEO: SOLID ROCKET BOOSTER ONBOARD LAUNCH CAMERAS PLAY


VIDEO: SECOND SOLAR WING FULLY DEPLOYED PLAY


VIDEO: SECOND SOLAR WING DEPLOYED HALF-WAY PLAY


VIDEO: FIRST SOLAR WING FULLY DEPLOYED PLAY


VIDEO: FIRST SOLAR WING DEPLOYED HALF-WAY PLAY



VIDEO: FLIGHT DAY 4 HIGHLIGHTS MOVIE PLAY


VIDEO: POST-SPACEWALK STATUS BRIEFING PLAY


VIDEO: BRIEFING ON MISSION EXTENSION PLANS PLAY



VIDEO: SPACEWALK No. 1 BEGINS PLAY


VIDEO: NARRATED PREVIEW OF THE SPACEWALKS PLAY


VIDEO: FLIGHT DAY 3 HIGHLIGHTS MOVIE PLAY


VIDEO: SUNDAY'S MISSION STATUS BRIEFING PLAY


VIDEO: SHUTTLE CREW WELCOMED ABOARD STATION PLAY


VIDEO: ATLANTIS DOCKS WITH THE SPACE STATION PLAY


VIDEO: WATCH THE RENDEZVOUS BACKFLIP MANUEVER PLAY


VIDEO: FLIGHT DAY 2 HIGHLIGHTS MOVIE PLAY


VIDEO: SATURDAY'S MISSION STATUS BRIEFING PLAY


VIDEO: FLIGHT DAY 1 HIGHLIGHTS MOVIE PLAY


VIDEO: INSIDE MISSION CONTROL DURING LAUNCH PLAY


VIDEO: LAUNCH REPLAY: VIEW FROM COMPLEX 41 PLAY


VIDEO: LAUNCH REPLAY: PAD PERIMETER PLAY


VIDEO: LAUNCH REPLAY: THE VAB ROOF PLAY


VIDEO: LAUNCH REPLAY: THE PRESS SITE PLAY


VIDEO: LAUNCH REPLAY: UCS-23 TRACKER PLAY


VIDEO: LAUNCH REPLAY: PAD FRONT CAMERA PLAY


VIDEO: LAUNCH REPLAY: CAMERA AT THE BEACH PLAY



VIDEO: LAUNCH OF ATLANTIS! PLAY


VIDEO: FULL LENGTH MOVIE OF ASCENT TO ORBIT PLAY


VIDEO: EXTERNAL TANK ONBOARD VIDEO CAMERA PLAY


VIDEO: POST-LAUNCH PRESS CONFERENCE PLAY



VIDEO: ASTRONAUTS DEPART QUARTERS FOR THE PAD PLAY


VIDEO: PAD'S ROTATING SERVICE STRUCTURE RETRACTED PLAY


VIDEO: HIGHLIGHTS FROM ATLANTIS' LAUNCH CAMPAIGN PLAY


VIDEO: HIGHLIGHTS OF THE PAYLOAD'S LAUNCH CAMPAIGN PLAY



MORE: STS-117 VIDEO COVERAGE


SUBSCRIBE NOW