Atlantis glides to California landing
BY WILLIAM HARWOOD
STORY WRITTEN FOR CBS NEWS "SPACE PLACE" & USED WITH PERMISSION
Posted: June 22, 2007;
Updated at 5:50 p.m. with crew comments from runway


Running a day late because of blustery Florida weather, the space shuttle Atlantis dropped out of a sunny Mojave Desert sky and swooped to a smooth touchdown on runway 22 at Edwards Air Force Base, Calif., to close out an action-packed space station assembly mission.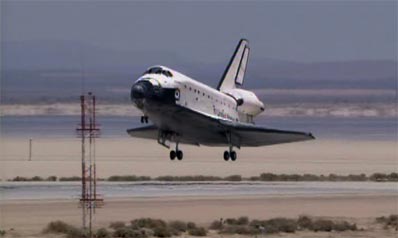 Atlantis lands at Edwards Air Force Base after a 14-day space station construction flight. Credit: NASA TV/Spaceflight Now



Flying upside down and backward over the Indian Ocean half a world away, shuttle commander Rick Sturckow and pilot Lee Archambault fired Atlantis' twin braking rockets at 2:43:47 p.m. EDT for 2 minutes and 33 seconds, slowing the ship by about 200 mph - just enough to drop it into the atmosphere for an hourlong glide back to Earth.

The astronauts had hoped to return to Florida, but cloudy weather and rain showers prevented a landing Thursday. With a forecast for more of the same on tap today, entry Flight Director Norm Knight diverted the crew to Edwards one orbit after waving off the first of two opportunities to land at the Kennedy Space Center.

Approaching California from the southwest just off the Baja peninsula, Atlantis streaked above San Diego in a steep descent toward Edwards some 100 miles northeast of Los Angeles. Heralded by twin sonic booms, Sturckow took over manual control as the shuttle descended through 50,000 feet, guided the orbiter through a sweeping right overhead turn and then down to a picture-perfect touchdown on runway 22 at 3:49:38 p.m. EDT.

"Houston, Atlantis, wheels stopped," Sturckow radioed mission control when the shuttle rolled to a halt.

"Atlantis, Houston, copy wheels stopped. Welcome back, congratulations on a great mission," replied astronaut Dominic "Tony" Antonelli from the Johnson Space Center.

Flight surgeons were standing by to assist returning space station astronaut Sunita Williams, who made the trip back to Earth resting on her back in a recumbent seat bolted to the floor of the shuttle's lower deck. Launched to the station last December, Williams logged 195 days off the planet - a single-flight record for female astronauts.

"I can't wait to get back and feel the air on my face and the sea breeze," Williams told a reporter Wednesday. "I'm looking forward to hopefully going to the beach and taking a walk with my husband and my dog. That's the first thing. And secondly, I just can't wait for a good piece of pizza."

And a hair cut.

"I think I'm going to have a lot flatter hair when I get back," she laughed. "So I think I'm going to have to work on getting a hair cut as soon as I get back so it looks a little bit normal. I have been living like this with hair up and flying around for a little while, so it's going to be funny to see what it looks like when I get home."

She might get the haircut, but it might be a while before Williams feels up to a stroll on the beach. It typically takes returning space station astronauts a month or so to get their land legs back and up to a full year to completely recover from the bone and muscle loss associated with long stays in weightlessness.

Williams said earlier she had exercised as required throughout her stay aboard the station and she did not anticipate any major problems readapting to gravity.

Her shuttle crewmates - Sturckow, Archambault, flight engineer Steve Swanson, Pat Forrester, Danny Olivas and Jim Reilly - doffed their pressure suits and greeted NASA officials on the runway for a quick inspection of the orbiter. All seven astronauts plan to spend the night at Edwards before flying back to the Johnson Space Center on Saturday.

"It's great to be back here ... in California, it's just great to be back on planet Earth right now," Sturckow said from the runway. "We had just a wonderful mission. ... There were a lot of challenges on this mission and they were all surmounted, all the solutions worked well and we had a very successful flight."

Echoing the same sentiments, Archambault said "we're very proud that the mission is complete. We got the mission done, we brought the orbiter back in great shape and we're here safe and sound at Edwards. Just want to thank everybody, not only here at Edwards recovering us today, but also the folks back at KSC as well as JSC who helped make STS-117 a very successful mission. Thank you very much."

Mission duration was 13 days 20 hours 11 minutes and 34 seconds covering 219 complete orbits and 5.8 million miles since blastoff June 8.

Atlantis blasted off three months late because of hail damage to the ship's external fuel tank. The shuttle's primary payload was a 36,000-pound $367 million solar array truss segment, along with a fresh station crew member - Clay Anderson - to replace Williams.

The S3/S4 solar array truss was attached to the right side of the lab's main power truss the day after docking and hooked up during three spacewalks by Reilly, Olivas, Swanson and Forrester. The astronauts also completed the retraction of another set of arrays that must be repositioned later this year.

Because of concern about a peeled-back insulation blanket on the shuttle's left-side Orbital Maneuvering System rocket pod, NASA managers extended the shuttle flight two days and added a fourth spacewalk to give the crew time to make repairs and complete their other work. The repair job eventually was added to the third spacewalk and Olivas, anchored to the end of the shuttle's robot arm, pushed the blanket back down and used a surgical stapler and stainless steel pins to hold it in place.

Engineers will examine the rocket pod later to make sure it didn't suffer any heat damage during re-entry. In long-range television views from the runway, the blanket appeared intact. In later close-up views, it appeared the same corner might have pulled back up during entry. But there were no obvious signs of heat damage and surrounding tiles and blankets were not discolored.

Atlantis' mission was challenging enough without major space station problems but that's exactly what happened last week during installation of the S3/S4 solar array truss. At roughly the same time the new arrays were attached, the Russian command module's three guidance, navigation and control computers, known collectively as the terminal computer, along with three high-level command-and-control machines known as the central computer, failed to reboot after the guidance system crashed. After three days of around-the-clock troubleshooting, Russian engineers asked station commander Fyodor Yurchikhin and flight engineer Oleg Kotov to install jumper cables to bypass suspect secondary power supply switches.

The repair worked and after additional tests and checkout, two computers, or "lanes," in each system were brought back on line. The other two were kept off line in backup mode. But engineers still don't know what caused the so-called soft switches in the secondary power supplies to act up. The circuitry is designed to cut off power to the computers if the incoming electricity isn't stable to within fairly narrow parameters.

Some engineers suspected the new solar arrays caused some slight change in the station's power grid that affected the power supply switches. But during a test last Friday, the computers were isolated from the new arrays and they still failed to boot up. Yurchikhin and Kotov then bypassed the secondary power supply switches and all six computers ultimately were successfully activated.

On Thursday, the two off-line backup computers - lane No. 1 of the central computer and lane No. 2 in the terminal computer - were powered back up, verified to be healthy and then shut down so Yurchikhin and Kotov could remove the power supply bypass jumpers in a test to help engineers determine whether the cause of last week's problem was transitory or the result of some ongoing issue.

But the computers failed to boot up without the jumpers, indicating whatever caused the problem last week is still there, or at least the problem in the power supplies is still present. Russian mission managers plan to launch replacement computer gear aboard an unmanned Progress supply ship scheduled for takeoff July 22. But before they install any new gear, engineers would like to pin down the root cause of the earlier computer problems.

Next up for NASA is launch of the shuttle Endeavour around Aug. 7 to deliver a short spacer segment that will be attached to the S4 solar array permitting the eventual attachment of a new set of arrays - S6 - next year. The crew also will deliver an external equipment storage platform.

The Endeavour mission features educator-astronaut Barbara Morgan, backup to Challenger "teacher-in-space" Christa McAuliffe. Morgan is now a full-fledged astronaut making her first flight.


Additional coverage for subscribers:


VIDEO: ATLANTIS LANDS AT EDWARDS AIR FORCE BASE PLAY


VIDEO: LANDING REPLAY: SHUTTLE ONBOARD CAMERA PLAY


VIDEO: LANDING REPLAY: CAMERA 1 PLAY


VIDEO: LANDING REPLAY: CAMERA 2 PLAY


VIDEO: LANDING REPLAY: CAMERA 3 PLAY


VIDEO: LANDING REPLAY: CAMERA 4 PLAY


VIDEO: INSIDE MISSION CONTROL WITH ENTRY TEAM PLAY


VIDEO: NEWS CONFERENCE AFTER LANDING PLAY


VIDEO: POST-LANDING COMMENTS FROM THE CREW PLAY


VIDEO: WAVEOFF FOR FRIDAY'S FIRST LANDING CHANCE PLAY



VIDEO: BAD WEATHER SCRUBS THURSDAY'S LANDING PLAY


VIDEO: FIRST LANDING OPPORTUNITY WAVED OFF PLAY


VIDEO: PRE-LANDING MISSION STATUS BRIEFING PLAY


VIDEO: CREW INTERVIEWS WITH NBC, ABC AND CNN PLAY


VIDEO: FLIGHT DAY 12 HIGHLIGHTS MOVIE PLAY


VIDEO: UNIQUE VIEW OF STATION OVER TAIL OF ATLANTIS PLAY


VIDEO: ATLANTIS AS SEEN FROM STATION DURING FLYAROUND PLAY


VIDEO: FOOTAGE OF THE STATION DURING SHUTTLE FLYAROUND PLAY


VIDEO: SPACECRAFT FLY INTO SUNRISE DURING SEPARATION PLAY


VIDEO: STATION'S VIEW OF SHUTTLE ATLANTIS UNDOCKING PLAY


VIDEO: HATCHES CLOSED BETWEEN SHUTTLE AND STATION PLAY


VIDEO: SUNI WILLIAMS' TEARFUL FAREWELL MESSAGE PLAY


VIDEO: FLIGHT DAY 11 HIGHLIGHTS MOVIE PLAY


VIDEO: MONDAY'S MISSION STATUS BRIEFING PLAY


VIDEO: TWO CREWS' FAREWELL CEREMONY PLAY


VIDEO: FLIGHT DAY 10 HIGHLIGHTS MOVIE PLAY


VIDEO: POST-SPACEWALK STATUS UPDATE PLAY


VIDEO: INTERVIEW WITH LEAD EVA OFFICER PLAY


VIDEO: FLIGHT DAY 9 HIGHLIGHTS MOVIE PLAY


VIDEO: IN-FLIGHT CREW NEWS CONFERENCE PLAY


VIDEO: SATURDAY MISSION STATUS BRIEFING PLAY


VIDEO: FRIDAY NIGHT MISSION STATUS BRIEFING PLAY


VIDEO: FRIDAY MID-DAY COMPUTER UPDATE PLAY



VIDEO: SOLID ROCKET BOOSTER ONBOARD LAUNCH CAMERAS PLAY


VIDEO: SECOND SOLAR WING FULLY DEPLOYED PLAY


VIDEO: SECOND SOLAR WING DEPLOYED HALF-WAY PLAY


VIDEO: FIRST SOLAR WING FULLY DEPLOYED PLAY


VIDEO: FIRST SOLAR WING DEPLOYED HALF-WAY PLAY



VIDEO: FLIGHT DAY 4 HIGHLIGHTS MOVIE PLAY


VIDEO: POST-SPACEWALK STATUS BRIEFING PLAY


VIDEO: BRIEFING ON MISSION EXTENSION PLANS PLAY



VIDEO: SPACEWALK No. 1 BEGINS PLAY


VIDEO: NARRATED PREVIEW OF THE SPACEWALKS PLAY


VIDEO: FLIGHT DAY 3 HIGHLIGHTS MOVIE PLAY


VIDEO: SUNDAY'S MISSION STATUS BRIEFING PLAY


VIDEO: SHUTTLE CREW WELCOMED ABOARD STATION PLAY


VIDEO: ATLANTIS DOCKS WITH THE SPACE STATION PLAY


VIDEO: WATCH THE RENDEZVOUS BACKFLIP MANUEVER PLAY


VIDEO: FLIGHT DAY 2 HIGHLIGHTS MOVIE PLAY


VIDEO: SATURDAY'S MISSION STATUS BRIEFING PLAY


VIDEO: FLIGHT DAY 1 HIGHLIGHTS MOVIE PLAY


VIDEO: INSIDE MISSION CONTROL DURING LAUNCH PLAY


VIDEO: LAUNCH REPLAY: VIEW FROM COMPLEX 41 PLAY


VIDEO: LAUNCH REPLAY: PAD PERIMETER PLAY


VIDEO: LAUNCH REPLAY: THE VAB ROOF PLAY


VIDEO: LAUNCH REPLAY: THE PRESS SITE PLAY


VIDEO: LAUNCH REPLAY: UCS-23 TRACKER PLAY


VIDEO: LAUNCH REPLAY: PAD FRONT CAMERA PLAY


VIDEO: LAUNCH REPLAY: CAMERA AT THE BEACH PLAY



VIDEO: LAUNCH OF ATLANTIS! PLAY


VIDEO: FULL LENGTH MOVIE OF ASCENT TO ORBIT PLAY


VIDEO: EXTERNAL TANK ONBOARD VIDEO CAMERA PLAY


VIDEO: POST-LAUNCH PRESS CONFERENCE PLAY



VIDEO: ASTRONAUTS DEPART QUARTERS FOR THE PAD PLAY


VIDEO: PAD'S ROTATING SERVICE STRUCTURE RETRACTED PLAY


VIDEO: HIGHLIGHTS FROM ATLANTIS' LAUNCH CAMPAIGN PLAY


VIDEO: HIGHLIGHTS OF THE PAYLOAD'S LAUNCH CAMPAIGN PLAY



MORE: STS-117 VIDEO COVERAGE


SUBSCRIBE NOW