Atlantis arrives at the station after smooth rendezvous
BY WILLIAM HARWOOD
STORY WRITTEN FOR CBS NEWS "SPACE PLACE" & USED WITH PERMISSION
Posted: June 10, 2007; Updated after truss handoff


Commander Rick Sturckow guided the shuttle Atlantis to a picture-perfect docking with the international space station today after a dramatic end-over-end flip across the heart of South America to let the station crew photograph the shuttle's fragile heat shield.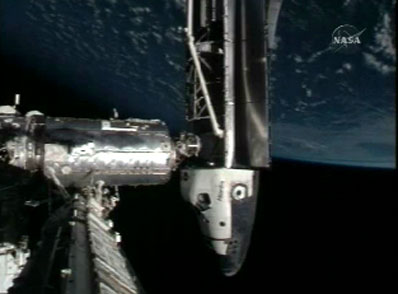 Credit: NASA TV/Spaceflight Now



Using a joystick on the shuttle's aft flight deck, Sturckow deftly closed out a trouble-free two-day rendezvous with a gentle docking at 3:36 p.m. EDT as the two spacecraft sailed high above the east coast of Australia northeast of Sydney.

"ISS and Houston, from Atlantis. Capture confirmed," a shuttle astronaut radioed as the docking systems engaged. A few minutes later, hooks and latches were activated to firmly pull the two spacecraft together. After leak checks to make sure the interface is airtight, hatches were opened and the station crew welcomed their shuttle colleagues aboard a little past 5 p.m.

"Atlantis. Arriving," station flier Sunita Williams said, following naval tradition and ringing the ship's bell in the Destiny laboratory module. The shuttle crew then floated into the station to hugs, smiles and handshakes.

Running three months late because of hail damage to the shuttle's external fuel tank, Atlantis brought two welcome additions to the international lab complex: A $367 million set of solar panels and a fresh crew member - Clay Anderson - to replace Williams.

Launched to the outpost last December aboard shuttle Discovery, Williams will set a new space endurance record for female astronauts and cosmonauts when she lands aboard Atlantis June 19 after 192 days off planet.

"Great job today, Atlantis, on the rendezvous," astronaut Terry Virts radioed from mission control. "Very nice approach. And welcome to your new home, Clay."

"Thanks a lot, Houston," Sturckow replied.

Lead flight director Cathy Koerner was elated.

"What a great day to be in the space business," she told reporters later. "We had just a picture-perfect rendezvous and docking today and I could not have asked for smoother operations between the flight control team and the crew on orbit. We made this look easy. To put that in perspective for you, on how not easy it really is, we took a quarter-million-pound vehicle today and we connected it with about a half-million-pound (space station) and we did all that at 17,500 mph."

Today's rendezvous and docking included a now-routine but nonetheless spectacular rotational pitch maneuver, or RPM, a key element in NASA's post-Columbia focus on assessing the health of the orbiter's heat shield before a crew commits to re-entry.

Spectacular video beamed down from the space station showed Atlantis performing a graceful pirouette 600 feet directly below the laboratory, a slow-motion back flip against the backdrop of the Brazilian rain forest racing past 220 miles below.

There were no obvious signs of anything unusual, but engineers are just beginning their assessment of zoomed-in digital photographs shot by station commander Fyodor Yurchikhin and flight engineer Oleg Kotov.

"Right now, the team is looking at the approach photography that you saw the station crew take," said John Shannon, chairman of NASA's mission management team. "I was just up in the imagery lab and nothing really jumped out at us."

Engineers plan to work through the night to analyze the photos and determine whether any additional, "focused" inspections might be needed.

After completing the pitch maneuver, Sturckow piloted Atlantis in a slow loop up to a point about 300 feet directly in front of the station with the shuttle's nose pointing toward deep space and its open payload bay toward a docking port on the front of the Destiny laboratory module.

From there, he flew the shuttle straight in for docking.

On most flights, rendezvous and docking would be the highlight of a busy day in space. But for Atlantis' crew, docking kicked off an equally busy afternoon of work to pull the 36,000-pound S3/S4 solar array truss segment from the shuttle's cargo bay so it could be handed off to the station's robot arm and safely "parked" overnight. The arm-to-arm handoff was completed around 8:30 p.m.

The massive segment will be attached to the right side of the station's main power truss on Monday just before the start of a spacewalk by Jim Reilly and Danny Olivas to make critical electrical connections and prepare the new arrays for deployment Tuesday. Once extended, the panels will stretch 240 feet from tip to tip.

An identical set of arrays was attached to the left side of the main power truss last September. The new arrays, and the relocation of a third set of solar panels later this year, are required to generate the power needed to support the long-awaited delivery of European and Japanese research modules late this year and early next.

Atlantis' crew plans spacewalks Monday, Wednesday and Friday to complete the outfitting and activation of the new S3/S4 solar array segment and to perform a variety of other assembly tasks. They also will assist, if necessary, work to retract the P6-2B solar panel so the arrays can be moved to the left end of the power truss later this year.

One wild card in the crew's flight plan is what, if anything, NASA managers might decide to do about a pulled-up insulation blanket on the upper section of Atlantis' left-side Orbital Maneuvering System rocket pod. Engineers have not yet completed their assessment of the blanket or what techniques spacewalking astronauts might employ to address the problem.


Additional coverage for subscribers:


VIDEO: SHUTTLE CREW WELCOMED ABOARD STATION PLAY


VIDEO: ATLANTIS DOCKS WITH THE SPACE STATION PLAY


VIDEO: WATCH THE RENDEZVOUS BACKFLIP MANUEVER PLAY


VIDEO: FLIGHT DAY 2 HIGHLIGHTS MOVIE PLAY


VIDEO: SATURDAY'S MISSION STATUS BRIEFING PLAY


VIDEO: FLIGHT DAY 1 HIGHLIGHTS MOVIE PLAY


VIDEO: INSIDE MISSION CONTROL DURING LAUNCH PLAY


VIDEO: LAUNCH REPLAY: VIEW FROM COMPLEX 41 PLAY


VIDEO: LAUNCH REPLAY: PAD PERIMETER PLAY


VIDEO: LAUNCH REPLAY: THE VAB ROOF PLAY


VIDEO: LAUNCH REPLAY: THE PRESS SITE PLAY


VIDEO: LAUNCH REPLAY: UCS-23 TRACKER PLAY


VIDEO: LAUNCH REPLAY: PAD FRONT CAMERA PLAY


VIDEO: LAUNCH REPLAY: CAMERA AT THE BEACH PLAY



VIDEO: LAUNCH OF ATLANTIS! PLAY


VIDEO: FULL LENGTH MOVIE OF ASCENT TO ORBIT PLAY


VIDEO: EXTERNAL TANK ONBOARD VIDEO CAMERA PLAY


VIDEO: POST-LAUNCH PRESS CONFERENCE PLAY



VIDEO: ASTRONAUTS DEPART QUARTERS FOR THE PAD PLAY


VIDEO: PAD'S ROTATING SERVICE STRUCTURE RETRACTED PLAY


VIDEO: HIGHLIGHTS FROM ATLANTIS' LAUNCH CAMPAIGN PLAY


VIDEO: HIGHLIGHTS OF THE PAYLOAD'S LAUNCH CAMPAIGN PLAY



MORE: STS-117 VIDEO COVERAGE


SUBSCRIBE NOW