Spaceflight Now +





Premium video content for our Spaceflight Now Plus subscribers.

Flight of Gemini 3

The first manned flight of Project Gemini launched on March 23, 1965 with pioneering astronauts Gus Grissom and John Young. Take a look back!

Play

Apollo 9: Spider flies

Apollo 9 put the lunar landing module Spider through the stresses of spaceflight while orbiting Earth. This documentary looks back with astronauts Jim McDivitt, Dave Scott, and Rusty Schweickart.

Play

Expedition 15 coverage
The Russian Soyuz spacecraft with Expedition 15 cosmonauts Fyodor Yurchikhin and Oleg Kotov, along with tourist Charles Simonyi, fly to the space station.

Full coverage

STS-61: Fixing Hubble

One of the most daunting yet crucial human spaceflights occurred in December 1993 as the crew of shuttle Endeavour embarked on a mission to repair the Hubble Space Telescope.

Play

STS-51: Crew report

Narrating a highlights film from their STS-51 mission, the astronauts from Discovery's September 1993 flight describe launching an advanced communications satellite and a German telescope.

Play

The Flight of Apollo 7

This documentary looks back at Apollo 7, the first manned flight of the Apollo program. Apollo 7 was designated as the essential engineering test of the spacecraft before the ambitious lunar missions could be attempted.

Play

Become a subscriber
More video







NASA rethinking Williams' departure from station
BY WILLIAM HARWOOD
STORY WRITTEN FOR CBS NEWS "SPACE PLACE" & USED WITH PERMISSION
Posted: April 17, 2007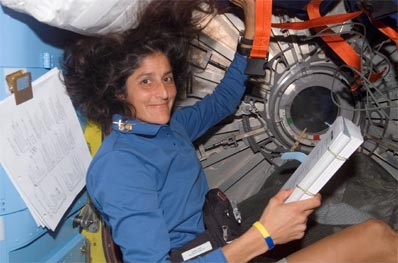 Credit: NASA



NASA managers are reassessing whether to leave astronaut Sunita Williams aboard the international space station until August, a longer-than-planned stay because of a shuttle launch delay, or to bring her home aboard the Atlantis when flights resume in June, sources say.

Williams was launched to the station aboard the shuttle Discovery in December. She originally planned to return to Earth aboard the shuttle Endeavour in June, after the flight of Atlantis in March. But Atlantis was grounded by hail damage to the ship's external tank and the March launch has been delayed to no earlier than June 8. As a result, Endeavour's launch has slipped to Aug. 9 and along with it, Williams' ride home.

Bill Gerstenmaier, NASA's chief of spaceflight operations, said during a news conference April 10 that barring major problems, Williams would come home in August aboard Endeavour as planned. He said the impact of additional exposure to space radiation was minimal.

Sources, however, now say NASA is revisiting the issue but a timetable for making a final decision was not known.

For her part, Williams said during an earlier interview she was not overly concerned about increased exposure to space radiation or any other aspects of a longer-than-planned stay in space.

"Well, you know, I've been in constant contact with my flight surgeon and he's keeping me up to date on the concerns we have," she told reporters during a news conference April 10. "I think eight months is fine from all the indications I've heard, we're at a time right now where we're not getting too much extra radiation from activity on the sun. So I think right now, all indications say that's no problem."

During an interview Monday evening, she was asked again whether she might come home early.

"I think, actually, the jury is out on that," she said. "I think they are debating this week when to bring me home - on the next shuttle or the shuttle after that. So it is up in the air. That's just par for the course. I have a Navy background and been on deployments that have been extended and shortened. It's no big deal."

Whatever happens, she said, "I'm happy to stay, I'm happy to go home early and get Clay Anderson up here so that he can enjoy his time up in space. We'll just have to see what happens."

Anderson is scheduled to launch aboard Endeavour in August to replace Williams. If a decision is made to bring her home aboard Atlantis in June, Anderson presumbably would be added to that crew and launched ahead of schedule. The impact of such a change on crew training, the sequence of spacewalks aboard the space station and whether NASA would add an astronaut to Endeavour's crew to replace Anderson is not yet known.