Hail storm damage grounds Atlantis
BY WILLIAM HARWOOD
STORY WRITTEN FOR CBS NEWS "SPACE PLACE" & USED WITH PERMISSION
Posted: February 27, 2007


A sudden, explosive thunderstorm Monday battered the shuttle Atlantis' external fuel tank with wind-driven, golf ball-sized hail, causing extensive damage to the tank's protective foam insulation. NASA managers said today engineers will have to move the shuttle back to the Vehicle Assembly Building for repairs, delaying launch on a space station assembly mission from March 15 to late April.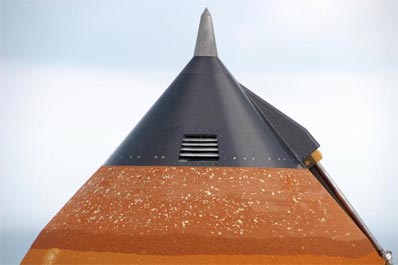 Credit: NASA-KSC
More images are available here



With wind gusts as high as 62 mph at launch complex 39A Monday, early estimates indicated some 7,000 visible hail dings or blemishes in the orange insulation, mostly around the top of the external tank. John Chapman, external tank program manager at the Marshall Space Flight Center, said today not all of those dings will require repairs. But initial estimates have identified "hundreds" of sites that will require sanding to smooth over or foam "pours" to fill in deeper pits.

In addition, at least three so-called ice-frost ramps on the upper part of the tank were damaged and two dozen or so shuttle tiles showed signs of minor surface damage.

"This constitutes, in our evaluation, the worst damage that we have ever seen from hail on the external tank foam," shuttle Program Manager Wayne Hale told reporters today. "We have had hail a number of times in the past, hail is not unusual in Florida. ... But usually the hail is quite small and rarely causes damage.

"This was large, wind-driven, damaging hail. It is very clear a number of these areas need to be repaired. There is not access on the launch pad so we will be required to move the space shuttle back from the launch pad to the Vehicle Assembly Building."

Launch director Mike Leinbach said today the 3.2-mile trip from pad 39A to the VAB likely will get underway Sunday morning. Once the shuttle is back in the cavernous VAB, where engineers can position access platforms around the tank, Hale said a more accurate assessment of the damage will be made.

In the meantime, "we do not believe we can make the launch window for the March launch of Atlantis," Hale said. "We have a fairly high degree of confidence we can repair this at the Kennedy Space Center. Most likely that would lead us to a launch of Atlantis and her crew ... after the Russian Soyuz changeout."




Video coverage for subscribers only:


VIDEO: NASA BRIEFING ON LAUNCH DELAY AND ROLLBACK PLANS PLAY


MORE: NEW STS-117 VIDEO COVERAGE


SUBSCRIBE NOW





March 25 marked the end of the March launch window to give Atlantis' crew time to carry out a space station assembly mission and to undock in time for the planned April 7 launch of a Russian Soyuz spacecraft carrying the station's next full-time crew and American space tourist Charles Simonyi.
Outgoing station commander Mike Lopez-Alegria, Mikhail Tyurin and Simonyi are scheduled to return to Earth on April 19 or 20, depending on how much daylight the Russians want for landing. Current agreements between NASA and the Russian space agency require a few days of separation between shuttle and Soyuz missions because of crew rest and other issues.
Assuming a Soyuz landing on April 19 or 20, the next shuttle launch window would open around April 21 or 22 and extend a full month. The next shuttle launch window after that opens June 9.
If a detailed assessment of Atlantis' tank shows the hail damage can, in fact, be repaired inside the Vehicle Assembly Building, Hale said he was optimistic about a late April launch attempt.
"The bottom line here is we will have to roll back to the VAB for repairs," Hale said. "We believe ... it will probably be about a month before we can talk about being back in a launch posture, sometime in late April."
But Chapman said that assumes the damage can be fixed by "sand-and-blend" techniques or by pouring foam into damaged areas and then sanding and smoothing it over. If foam has to be sprayed across wider areas, engineers likely would have to carry out tests to verify the technique can be accomplished with the tank in a vertical orientation in the VAB. And that could take additional time.
But based on the preliminary assessment, "we don't see anything that looks irreparable," he said.
If it turns out the tank cannot be safely repaired in Florida, NASA has the option of switching Atlantis to a tank slated for use in June by the shuttle Endeavour. But that tank is not scheduled to arrive at the Kennedy Space Center until April 10 and it typically takes two months to complete preparations and checkout. In that case, the flight likely would slip into the June launch window.
But Hale said he was optimistic it won't come to that. He also believes the long-term effects of the slip from March 15 to late April will be minimal when all is said and done. While the next few flights would face delays of up to several weeks, "I still believe we have a very strong probability of flying five flights this calendar year."


Additional coverage for subscribers:


VIDEO: ATLANTIS DEPARTS VEHICLE ASSEMBLY BUILDING PLAY


VIDEO: SHUTTLE ARRIVES AT LAUNCH PAD 39A PLAY



VIDEO: ATLANTIS LEAVES HANGAR AT DAWN PLAY


VIDEO: SHUTTLE ROLLS TO VEHICLE ASSEMBLY BUILDING PLAY


VIDEO: TIME-LAPSE OF VAB ARRIVAL PLAY


VIDEO: TIME-LAPSE OF LIFTING SLING PLAY


VIDEO: ORBITER GOES VERTICAL IN VAB PLAY


VIDEO: ATLANTIS JOINS TANK AND BOOSTERS PLAY


SUBSCRIBE NOW