Discovery astronauts arrive at the Cape for launch
BY WILLIAM HARWOOD
STORY WRITTEN FOR CBS NEWS "SPACE PLACE" & USED WITH PERMISSION
Posted: December 3, 2006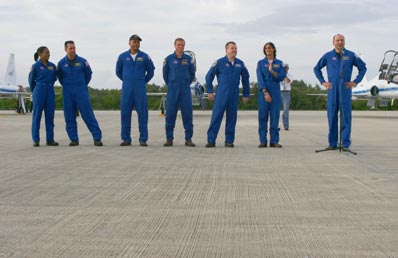 Photo: Ben Cooper/Spaceflight Now



The shuttle Discovery's seven-member crew flew to the Kennedy Space Center Sunday afternoon to prepare for blastoff Thursday on a complex flight to re-wire the international space station.

The astronauts - commander Mark Polansky, pilot William Oefelein, Nicholas Patrick, Robert Curbeam, European Space Agency astronaut Christer Fuglesang, Joan Higginbotham and Sunita "Suni" Williams - flew in aboard five two-seat T-38 jets shortly before 4 p.m.

Discovery's countdown is scheduled to begin at 11 p.m. Monday, targeted for a launch attempt at 9:36 p.m. Thursday night. It will be NASA's first night shuttle launch since 2002.

"Thank you all for coming out to see us today," Polansky said at the shuttle runway. "The STS-116 crew is absolutely just thrilled to be down here for launch week. We're going to go ahead and hopefully have one heck of a night show to give everybody this Thursday night. We're looking forward to the mission."




Video coverage for subscribers only:


VIDEO: POST-ARRIVAL COMMENTS FROM THE CREW PLAY


VIDEO: ASTRONAUTS ARRIVE IN WAVE OF T-38 JETS PLAY


VIDEO: BIOGRAPHIES OF THE DISCOVERY ASTRONAUTS PLAY


VIDEO: NARRATED STS-116 MISSION PREVIEW MOVIE PLAY


MORE: STS-116 VIDEO COVERAGE


SUBSCRIBE NOW





Williams, who will stay behind aboard the space station for a six-month stay, thanked her crewmates in advance "for hopefully taking me up there before too long."
"I'm just really happy to be here, it's been a long time coming," said Williams, a former Navy diver and helicopter pilot. She said space station cosmonaut Mikhail Tyurin "called the other day and said 'Suni, we're waiting for you.' So, I just can't wait to get to my new home and I'm really happy for the opportunity."
Monday afternoon, Russian flight controllers plan to fire rocket engines aboard a Progress supply ship docked to the aft port of the Zvezda command module to boost the space station's orbit. The 21-minute burn will permit Discovery to dock on the third day of its mission for any launch between Dec. 7 and Dec. 23.
A reboost maneuver was aborted last week when on-board software concluded pre-set limits on how far the station could "yaw" to one side would be exceeded. Engineers plan to relax those limits for the burn Monday to complete the maneuver.
Without it, the shuttle can launch Dec. 7, 9, 11, 13, 15-22, 24 and 26, the end of Discovery's launch window.


Video coverage for subscribers only:


VIDEO: WEDNESDAY'S SHUTTLE BRIEFING IN ITS ENTIRETY PLAY



BRIEFING SOUNDBITES:


VIDEO: THE ISSUES DISCUSSED AT FRR PLAY


VIDEO: NOT YOUR FATHER'S FRR PLAY


VIDEO: READY TO RESUME NIGHT LAUNCHES PLAY


VIDEO: LAUNCH PREPS PROCEEDING WELL PLAY


VIDEO: YEAR-END ROLLOVER CONCERNS PLAY


VIDEO: REASSESSING TANK FOAM RISK PLAY


VIDEO: STATION SOLAR ARRAY DRIVE SYSTEM PROBLEM PLAY


VIDEO: PRESSURIZATION PRECAUTIONS AT THE PAD PLAY



VIDEO: OVERVIEW OF STS-116 MISSION PLAY


VIDEO: SHUTTLE/ISS PROGRAM PERSPECTIVE PLAY


VIDEO: PREVIEW OF MISSION'S SPACEWALKS PLAY


VIDEO: ASTRONAUTS' PRE-FLIGHT NEWS BRIEFING PLAY



VIDEO: COVERAGE OF PRACTICE COUNTDOWN ACTIVITIES PLAY



VIDEO: DISCOVERY ROLLS TO THE PAD PLAY


VIDEO: DISCOVERY MATED TO TANK AND BOOSTERS PLAY


VIDEO: SHUTTLE HOISTED VERTICALLY INSIDE VAB PLAY


VIDEO: DISCOVERY HAULED FROM HANGAR TO VAB PLAY


VIDEO: PORT 5 TRUSS PAYLOAD PACKED UP PLAY


VIDEO: CREW VISITS KENNEDY SPACE CENTER PLAY


VIDEO: EXTERNAL FUEL TANK MATED TO BOOSTERS PLAY


MORE: STS-116 VIDEO COVERAGE


SUBSCRIBE NOW