Atlantis returns from space with predawn landing
BY WILLIAM HARWOOD
STORY WRITTEN FOR CBS NEWS "SPACE PLACE" & USED WITH PERMISSION
Posted: September 21, 2006; Updated after news briefing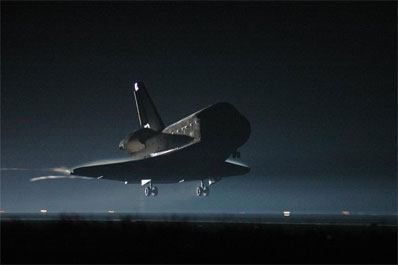 Atlantis swoops out of the early morning darkness for touchdown. Credit: NASA-KSC



The shuttle Atlantis dropped out of a clear, dark sky and glided to an eerie predawn landing today at the Kennedy Space Center, wrapping up a successful space station assembly mission that kicks off a complex sequence of construction flights.

With commander Brent Jett at the controls, Atlantis settled to a tire-smoking touchdown on runway 33 at 6:21:30 a.m., just 15 minutes after the space station, now sporting a huge new set of solar arrays, sailed through the predawn sky over Florida, a brilliant "star" rivaling Venus or Jupiter in brightness.

As Jett guided the 100-ton spaceplane down the 3-mile-long runway at more than 200 mph, pilot Chris Ferguson fired the ship's braking parachute, the nose dropped to the landing strip and a few moments later, Atlantis rolled to a stop.

"Wheels stopped, Houston," Jett radioed as Atlantis braked to a halt.

"We copy, wheels stopped," replied astronaut Tony Antonelli from mission control at the Johnson Space Center in Houston. "Welcome back, congratulations on return to assembly."

"Thanks, Houston. It's nice to be back, it was a great team effort," Jett replied. "I think assembly's off to a good start."




Additional coverage for subscribers:


VIDEO: SHUTTLE ATLANTIS GLIDES TO SAFE LANDING PLAY


VIDEO: LONGER LENGTH MOVIE OF ATLANTIS' RETURN PLAY


VIDEO: VIEW FROM RUNWAY MID-POINT PLAY


VIDEO: CAMERA ON SOUTH END OF RUNWAY PLAY


VIDEO: VIEW FROM VEHICLE ASSEMBLY BUILDING ROOF PLAY


VIDEO: LANDING WITH NATURAL SOUND FROM THE RUNWAY PLAY


VIDEO: SUN RISES OVER ATLANTIS ON BEAUTIFUL MORNING PLAY


VIDEO: NASA OFFICIALS EXAMINE ATLANTIS PLAY


VIDEO: THE ASTRONAUTS WELCOMED HOME PLAY


VIDEO: CREW WALKS AROUND ATLANTIS PLAY


VIDEO: CREW DEPARTS THE RUNWAY PLAY


VIDEO: POST-LANDING NEWS CONFERENCE PLAY


VIDEO: ATLANTIS TOWED BACK TO HANGAR PLAY


MORE: STS-115 VIDEO COVERAGE


SUBSCRIBE NOW




The 116th shuttle mission spanned 11 days 19 hours six minutes and 35 seconds since blastoff Sept. 9, covering 4.9 million miles and 186 complete orbits. Today's landing was the 21st nighttime descent in shuttle history and the 15th to the Kennedy Space Center.
Landing came one day later than originally planned to allow time for a final heat shield inspection after presumed debris from the shuttle was spotted floating near the orbiter on Tuesday. No problems were found and Atlantis was cleared for entry today.
Jett, Ferguson, flight engineer Dan Burbank, Joe Tanner, Canadian astronaut Steve MacLean and Heidemarie Stefanyshyn-Piper doffed their flights suits and climbed out of the shuttle about a hour after touchdown.
"It's really a beautiful day in Florida, it's a great way to end the mission," Jett said after receiving congratulations from NASA Administrator Mike Griffin and other agency officials. "I"m not really sure what to say after a flight like that. It was a pretty tough few days for us, a lot of hard work, a great team effort to get the station assembly restarted on a good note. We've got a lot more missions coming up and they're going to be just as difficult."
The astronauts inspected the shuttle's heat shield during a brief runway walk around, mingling with engineers and technicians before heading to crew quarters for medical checks and reunions with family members.
"I'd like to say to the folks here at KSC, though, Atlantis was a terrific ship," Jett said. "In fact, she gave us absolutely no problems at all over the entire mission."
NASA Administrator Mike Griffin said Atlantis' picture-perfect landing marked "a really great day" for NASA as the agency gears up for a challenging sequence of space station assembly missions.
"It is obvious to me and I hope it's obvious to you, we are rebuilding the kind of momentum that we have had in the past and that we need if we're going to finish the space station," he said. "Because we have an awesome task ahead of us. The space station is half built, we have half to go. When we're all done, it weighs nearly a million pounds for humanity's first really long-term outpost in space. We're halfway there, but I think we're going to make it."
LeRoy Cain, launch site chairman of NASA's Mission Management Team, said today's entry and landing were "right by the numbers."
"I spoke with our colleagues in mission control and they really didn't have any problems to work during landing," he said. "It was really right down the middle and of course, Brent Jett and his crew just performed outstanding. It's really a great accomplishment for us, for the whole team."
Launch Director Mike Leinbach said a quick inspection on the runway showed Atlantis came through launch and re-entry in good condition, adding "she looks as good or better than Discovery did after her last mission."
Atlantis' descent began on the other side of the planet when Jett and Ferguson fired the ship's twin braking rockets at 5:14:28 a.m. for two minutes and 40 seconds, slowing the ship by about 200 mph and dropping the far point of its orbit deep into the atmosphere.
After a half-hour free-fall, Atlantis dropped into the discernible atmosphere 76 miles above the south Pacific Ocean. A few hundred miles ahead, the crew of the international space station had a bird's eye view as the shuttle plowed into the dense lower atmosphere, blazing like a shooting star as it shed its enormous velocity through atmospheric friction.
"I've got a visual again, steady, steady glow with a very visible contrail behind it," Williams radioed. "The contrail's steadily getting brighter. ... Still very bright, steady, got the orbiter with the very bright glow of the contrail behind it. It's like watching the contrail behind an airplane, you don't see it immediately behind the orbiter."
Even with sunrise approaching, "the brightest thing through the window is the orbiter."
"I'm watching from up front in the lab," Expedition 14 commander Mike Lopez-Alegria reported. "I've got a great view out the lab window."
A few minutes later, observers on the ground at the Kennedy Space Center spotted the space station flying over, looking like a brilliant star as it moved through the predawn sky and into sunlight.
Atlantis' flight marked the resumption of space station assembly after a three-and-a-half-year hiatus in the wake of the 2003 Columbia disaster. Over the course of a busy week in space, the astronauts attached a 35,000-pound solar array truss segment, unfurled a new set of solar blankets spanning 240 feet from tip to tip and wired it into the station's electrical system.
Despite problems getting Atlantis off the ground - a lightning strike, tropical storm Ernesto, a fuel cell problem and trouble with a fuel tank sensor - NASA chalked up a solid success in orbit, setting the stage for a flurry of station assembly flights.
"At the end of this exciting mission, I just have to remind everybody that we are back in the (space station) assembly business," shuttle Program Manager Wayne Hale said Wednesday. "I couldn't be prouder of the team. This is one of the most complex missions that's ever been flown in space. ... It has been an outstanding effort."
"We're set up in a very good way for the next set of assembly flights. There are about six in a row here that we really need to pull off in fairly rapid order without major problems in order to keep the assembly going."
Next up is launch of the shuttle Discovery in December on a mission to rewire the space station's electrical system, to ferry a fresh flight engineer to the outpost - Sunita Williams - and to bring European Space Agency astronaut Thomas Reiter back to Earth.
The current launch target is 6:55 p.m. on Dec. 14, but NASA managers are looking at the possibility of moving the launch up to around 9:38 p.m. on Dec. 7.
"We're assessing that right now," Leinbach said. "It's really going to be paced by the external tank that you know arrived a day or so ago. The tank is being lifted today into the checkout cell. That really is the pacing item. ... Our first blush is, we're going to give it a good shot."
A launch in December would require NASA to give up a self-imposed constraint requiring daylight for launch as well as external tank separation to provide photo-documentation of the external tank's insulation and the shuttle's heat shield.
NASA managers are expected to discuss the issue next week at a program requirements control board meeting and Cain said today he's optimistic about getting a go-ahead for the first post-Columbia night flight in December.
"I expect we will, in all likelihood, be able to launch at night as early as STS-116 (in December), but we're going to go pound that flat and make sure we're not missing anything."
Looking ahead to the upcoming station assembly flights, Hale said "if we are able to pull them off with even half the success that we saw on this flight, we will have a great year in 2007 and I think we will be well down the road to getting the space station assembled on time."


Additional coverage for subscribers:


VIDEO: ATLANTIS CLEARED FOR ENTRY DIAL-UP | BROADBAND


VIDEO: WEDNESDAY'S FLIGHT DIRECTOR UPDATE DIAL-UP | BROADBAND


VIDEO: BRIEFING ON THE INSPECTION PLAN DIAL-UP | BROADBAND


VIDEO: MONDAY BRIEFING BY SHUTTLE CHIEF DIAL-UP | BROADBAND


VIDEO: LANDING OF ATLANTIS DELAYED ONE DAY PLAY


VIDEO: SHUTTLE CAMERA SPOTS MYSTERY OBJECT PLAY


VIDEO: HOUSTON TELLS CREW ABOUT THE OBJECT PLAY



VIDEO: SUNDAY'S STATUS BRIEFING DIAL-UP | BROADBAND


VIDEO: STATION BACKDROPPED BY BLACK SPACE PLAY


VIDEO: STATION SLIDES BY EARTH'S HORIZON PLAY


VIDEO: SPACE STATION FLYAROUND BY ATLANTIS PLAY


VIDEO: ATLANTIS UNDOCKS FROM THE STATION PLAY


VIDEO: HATCHWAY CLOSED FOR UNDOCKING PLAY


VIDEO: SHUTTLE ASTRONAUTS BID FAREWELL PLAY


VIDEO: FLIGHT DIRECTOR EXPLAINS UNDOCKING PLAY



VIDEO: LAUNCH AS SEEN BY HIGH-ALTITUDE WB-57 AIRCRAFT PLAY


VIDEO: SOLID ROCKET BOOSTER CAM: STARBOARD INWARD PLAY


VIDEO: SOLID ROCKET BOOSTER CAM: STARBOARD UPWARD PLAY


VIDEO: SOLID ROCKET BOOSTER CAM: STARBOARD DOWNWARD PLAY


VIDEO: SOLID ROCKET BOOSTER CAM: PORT INWARD PLAY


VIDEO: SOLID ROCKET BOOSTER CAM: PORT UPWARD PLAY


VIDEO: SOLID ROCKET BOOSTER CAM: PORT DOWNWARD PLAY



VIDEO: FIRST SOLAR WING DEPLOYED HALF-WAY PLAY


VIDEO: SECOND SOLAR WING EXTENDED ONE SECTION PLAY


VIDEO: FIRST SOLAR WING EXTENDED ONE SECTION PLAY



VIDEO: POST-EVA 2 STATUS BRIEFING DIAL-UP | BROADBAND


VIDEO: PORT 3/PORT 4 TRUSS KEEL PIN REMOVED AND STOWED PLAY


VIDEO: HELMETCAM OF BURBANK REMOVING SARJ RESTRAINT PLAY


VIDEO: SPACEWALKERS PAUSE FOR PICTURE TIME PLAY


VIDEO: STEVE MACLEAN REPORTS LOST BOLT PLAY


VIDEO: ROTARY JOINT LOCK REMOVED BY SPACEWALKER PLAY


VIDEO: STEP-BY-STEP PREVIEW OF SPACEWALK NO. 2 PLAY


VIDEO: POST-EVA 1 STATUS BRIEFING DIAL-UP | BROADBAND


VIDEO: TANNER LOSES BOLT DURING ROTARY JOINT WORK PLAY


VIDEO: PIPER UNFOLDS SOLAR BLANKET BOXES SHORT | FULL


VIDEO: SECOND WING'S STRUCTURE DEPLOYED BY PIPER PLAY


VIDEO: FIRST SOLAR WING'S STRUCTURE DEPLOYED BY TANNER PLAY


VIDEO: STEP-BY-STEP PREVIEW OF SPACEWALK NO. 1 PLAY


VIDEO: TRUSS HANDED FROM SHUTTLE ARM TO STATION ARM PLAY


VIDEO: ARM MANEUVERS TRUSS OVER SHUTTLE WING PLAY


VIDEO: TRUSS SLOWLY LIFTED OUT OF PAYLOAD BAY PLAY


VIDEO: ATLANTIS' ARM GRAPPLES THE TRUSS PLAY


VIDEO: MONDAY'S MISSION STATUS BRIEFING DIAL-UP | BROADBAND


VIDEO: ATLANTIS WELCOMED ABOARD THE STATION PLAY


VIDEO: DOCKING REPLAY FROM CAMERA ON SHUTTLE ARM PLAY


VIDEO: SHUTTLE ATLANTIS DOCKS TO THE STATION PLAY


VIDEO: ATLANTIS' BREATH-TAKING FLIP MANEUVER PLAY


VIDEO: CREW'S CAMCORDER FOOTAGE OF EXTERNAL TANK PLAY


VIDEO: NARRATED ANIMATION PREVIEWING TRUSS UNBERTHING PLAY


VIDEO: NARRATED ANIMATION PREVIEWING THE DOCKING PLAY


VIDEO: NARRATED ANIMATION OF PAYLOAD BAY CONFIGURATION PLAY


MORE: STS-115 VIDEO COVERAGE


SUBSCRIBE NOW



VIDEO: BRIEFING ON TANK'S PERFORMANCE DIAL-UP | BROADBAND


VIDEO: TANK'S ONBOARD CAMERA LIFTOFF TO SEPARATION PLAY


VIDEO: FLIGHT DIRECTOR EXPLAINS INSPECTIONS PLAY


VIDEO: SUNDAY'S MISSION STATUS BRIEFING DIAL-UP | BROADBAND



VIDEO: LAUNCH OF ATLANTIS! PLAY


VIDEO: SHEDDING FOAM MAY HAVE HIT ATLANTIS PLAY


VIDEO: ONBOARD VIEW OF EXTERNAL TANK SEPARATION PLAY


VIDEO: INSIDE MISSION CONTROL DURING LAUNCH PLAY


VIDEO: STATION CREW TOLD VISITORS EN ROUTE PLAY


VIDEO: HOUSTON RADIOS DEBRIS REPORT TO CREW PLAY


VIDEO: POST-LAUNCH NEWS CONFERENCE DIAL-UP | BROADBAND


VIDEO: QUICK-LOOK BRIEFING ON DEBRIS DIAL-UP | BROADBAND



LAUNCH REPLAYS:


VIDEO: BEACH MOUND TRACKER PLAY


VIDEO: CAMERA IN FRONT OF PAD PLAY


VIDEO: BANANA CREEK VIEWING SITE PLAY


VIDEO: VEHICLE ASSEMBLY BUILDING ROOF PLAY


VIDEO: PAD 39B SIDE PERIMETER PLAY


VIDEO: PLAYALINDA BEACH TRACKER PLAY


VIDEO: PLAYALINDA BEACH ZOOM PLAY


VIDEO: UCS 23 TRACKER PLAY


VIDEO: UCS 11 TRACKER PLAY



VIDEO: MISSION SPECIALIST 4 STEVE MACLEAN BOARDS ATLANTIS PLAY


VIDEO: MISSION SPECIALIST 3 HEIDE PIPER BOARDS PLAY


VIDEO: MISSION SPECIALIST 2 DAN BURBANK BOARDS PLAY


VIDEO: MISSION SPECIALIST 1 JOE TANNER BOARDS PLAY


VIDEO: PILOT CHRIS FERGUSON BOARDS PLAY


VIDEO: COMMANDER BRENT JETT BOARDS PLAY



VIDEO: ASTRONAUTS EMERGE FROM CREW QUARTERS PLAY


VIDEO: CREW SUITS UP FOR LAUNCH TO SPACE PLAY


VIDEO: FINAL INSPECTION TEAM CHECKS ATLANTIS PLAY


VIDEO: ASTRONAUTS READY FOR SECOND LAUNCH TRY PLAY


MORE: STS-115 VIDEO COVERAGE


SUBSCRIBE NOW