Heat shield cleared; Shannon talks night launches, Hubble
BY WILLIAM HARWOOD
STORY WRITTEN FOR CBS NEWS "SPACE PLACE" & USED WITH PERMISSION
Posted: September 12, 2006


NASA's Mission Management Team today gave the shuttle Atlantis' heat shield a clean bill of health, formally clearing the ship and its crew for a normal re-entry Sept. 20 if no other problems develop.

MMT Chairman John Shannon said an exhaustive review of space- and ground-based imagery, wing leading edge sensor data and laser scans in orbit normally takes five days to complete. But this time around, the work was done in half the time, thanks to the performance of Atlantis' external tank and the team's increasing familiarity with post-Columbia inspection procedures.

"We were able to clear all of the thermal protection system in 60 hours," Shannon said. "My best estimate was always five days, so we did it in half the time. That just shows how much better the processes are getting and the people are getting at running through the processes."




Additional coverage for subscribers:


VIDEO: HEAT SHIELD CLEARED DIAL-UP | BROADBAND


VIDEO: POST-EVA 1 STATUS BRIEFING DIAL-UP | BROADBAND


VIDEO: TANNER LOSES BOLT DURING ROTARY JOINT WORK PLAY


VIDEO: PIPER UNFOLDS SOLAR BLANKET BOXES SHORT | FULL


VIDEO: SECOND WING'S STRUCTURE DEPLOYED BY PIPER PLAY


VIDEO: FIRST SOLAR WING'S STRUCTURE DEPLOYED BY TANNER PLAY


VIDEO: STEP-BY-STEP PREVIEW OF SPACEWALK NO. 1 PLAY


MORE: STS-115 VIDEO COVERAGE


SUBSCRIBE NOW




Engineers decided Monday no additional heat shield inspections were needed. But two open items remained on the books: what appeared to be a protruding insulation blanket on Atlantis' right-side rocket pod; and a protruding gap filler sticking up from heat shield tiles on the belly of the orbiter.
As it turns out, it wasn't a gap filler at all.
"It was kind of a curious thing, when they started looking at the installation records, they had no record there was a gap filler in that location," Shannon said. "That caused them to be a little bit curious and they went and looked at the baseline (pre-launch) imagery and there wasn't a gap filler installed in that area."
On closer inspection, engineers realized what appeared to be part of a gap filler sticking up from the surrounding tile was actually part of a plastic shim, used during tile installation to ensure proper spacing. Shims are removed after use but this one apparently was missed.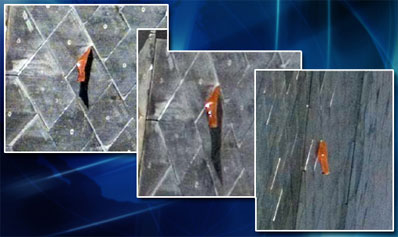 This series of images shows the shim seen on belly of Atlantis. Credit: NASA



Protruding gap fillers, not uncommon, can cause the smooth flow of hypersonic air across the belly of the shuttle to become turbulent during re-entry, which can cause areas of more extreme heating downstream. They earlier turbulent flow begins, the greater the potential for damage.

The exposed shim, Shannon said, "is not an issue at all. It's sticking out just a little bit. Since it is plastic, it will melt very easily. They ran a test on it, it'll soften at about 250 degrees Fahrenheit and it melts at about 450 degrees Fahrenheit and it will see that melting environment seven minutes before we hit Mach 25. So before we really hit the sensible atmosphere, that piece of shim stock will be long gone. So we are not worried about it."

Just to be safe, engineers carried out an analysis that assumed the shim was, in fact, a gap filler. The results showed Atlantis could safely enter as is even in that case. Two other protruding gap fillers were spotted earlier but neither poses a threat.

As for the suspect insulation blanket on the shuttle's right-side orbital maneuvering system pod, Shannon said closer inspection using a camera on the space station showed it was not a problem and Atlantis was cleared for a normal re-entry.

One final heat shield inspection will be conducted after Atlantis undocks from the space station to make sure no orbital debris or micrometeoroids hit the spacecraft after it reached orbit.

On another front, Shannon said he is optimistic NASA will be able to resume night launchings in December when the next space station assembly mission is scheduled for liftoff.

"The team overall does feel extremely confident about launching at night," he said. "The radar that we have, we got another test of it this flight, and it worked extremely well for us. We also think we'll get some good imagery still just from the backlighting form the solid rocket boosters. So we're feeling good about the night launch.

"What you might lose for a night launch is further understanding of the external tank or the solid rocket boosters or the environment that we're flying in. Launching at night does not impact the safety of that crew, because we're going to do the full inspection just like we did on this flight. So, all you would lose launching at night is additional information about the environment that you might apply to ... future shuttle missions. It will not affect, though, the safety of the crew that actually launches at night. So we're feeling very comfortable that we could do that."

Shannon also said he was optimistic about eventual approval of flight to service the Hubble Space Telescope. NASA Administrator Mike Griffin is expected to make a decision one way or the other in October.

But a Hubble flight would not be able to take advantage of the space station as a safe haven in the event of non-repairable heat shield problems - the two spacecraft are in different orbits - and it may not be possible to launch a second shuttle on a rescue mission.

Shannon said he was heartened by the continued good performance of the external tank, by ongoing work to improve the tank's insulation and by development of heat shield repair techniques. But a second shuttle launch pad may not be available even if a second ship could be processed in parallel for a rescue mission and a Hubble repair crew might have to rely on their own ability to inspect the shuttle and carry out repairs, if necessary.

"A lot of things are lining up that says Hubble is going to be a doable kind of thing," Shannon said. "The real question on Hubble is going to be the launch on need, because that's going to be extremely difficult to do. You just don't have the orbital lifetime on a Hubble mission to be able to get another vehicle launched. It's going to be very tough.

"So we're going to have to go into the Hubble decision not counting on the launch-on-need vehicle. And that's the difficult question the agency's going to have to do. Do we have enough confidence in the design, do we have enough confidence in our inspection and repair to be able to do that? And I think that's where the discussion is mostly going to lie."


Additional coverage for subscribers:


VIDEO: STEP-BY-STEP PREVIEW OF SPACEWALK NO. 1 PLAY


VIDEO: TRUSS HANDED FROM SHUTTLE ARM TO STATION ARM PLAY


VIDEO: ARM MANEUVERS TRUSS OVER SHUTTLE WING PLAY


VIDEO: TRUSS SLOWLY LIFTED OUT OF PAYLOAD BAY PLAY


VIDEO: ATLANTIS' ARM GRAPPLES THE TRUSS PLAY


VIDEO: MONDAY'S MISSION STATUS BRIEFING DIAL-UP | BROADBAND


VIDEO: ATLANTIS WELCOMED ABOARD THE STATION PLAY


VIDEO: DOCKING REPLAY FROM CAMERA ON SHUTTLE ARM PLAY


VIDEO: SHUTTLE ATLANTIS DOCKS TO THE STATION PLAY


VIDEO: ATLANTIS' BREATH-TAKING FLIP MANEUVER PLAY


VIDEO: CREW'S CAMCORDER FOOTAGE OF EXTERNAL TANK PLAY


VIDEO: NARRATED ANIMATION PREVIEWING TRUSS UNBERTHING PLAY


VIDEO: NARRATED ANIMATION PREVIEWING THE DOCKING PLAY


VIDEO: NARRATED ANIMATION OF PAYLOAD BAY CONFIGURATION PLAY


MORE: STS-115 VIDEO COVERAGE


SUBSCRIBE NOW



VIDEO: BRIEFING ON TANK'S PERFORMANCE DIAL-UP | BROADBAND


VIDEO: TANK'S ONBOARD CAMERA LIFTOFF TO SEPARATION PLAY


VIDEO: FLIGHT DIRECTOR EXPLAINS INSPECTIONS PLAY


VIDEO: SUNDAY'S MISSION STATUS BRIEFING DIAL-UP | BROADBAND



VIDEO: LAUNCH OF ATLANTIS! PLAY


VIDEO: SHEDDING FOAM MAY HAVE HIT ATLANTIS PLAY


VIDEO: ONBOARD VIEW OF EXTERNAL TANK SEPARATION PLAY


VIDEO: INSIDE MISSION CONTROL DURING LAUNCH PLAY


VIDEO: STATION CREW TOLD VISITORS EN ROUTE PLAY


VIDEO: HOUSTON RADIOS DEBRIS REPORT TO CREW PLAY


VIDEO: POST-LAUNCH NEWS CONFERENCE DIAL-UP | BROADBAND


VIDEO: QUICK-LOOK BRIEFING ON DEBRIS DIAL-UP | BROADBAND



LAUNCH REPLAYS:


VIDEO: BEACH MOUND TRACKER PLAY


VIDEO: CAMERA IN FRONT OF PAD PLAY


VIDEO: BANANA CREEK VIEWING SITE PLAY


VIDEO: VEHICLE ASSEMBLY BUILDING ROOF PLAY


VIDEO: PAD 39B SIDE PERIMETER PLAY


VIDEO: PLAYALINDA BEACH TRACKER PLAY


VIDEO: PLAYALINDA BEACH ZOOM PLAY


VIDEO: UCS 23 TRACKER PLAY


VIDEO: UCS 11 TRACKER PLAY



VIDEO: MISSION SPECIALIST 4 STEVE MACLEAN BOARDS ATLANTIS PLAY


VIDEO: MISSION SPECIALIST 3 HEIDE PIPER BOARDS PLAY


VIDEO: MISSION SPECIALIST 2 DAN BURBANK BOARDS PLAY


VIDEO: MISSION SPECIALIST 1 JOE TANNER BOARDS PLAY


VIDEO: PILOT CHRIS FERGUSON BOARDS PLAY


VIDEO: COMMANDER BRENT JETT BOARDS PLAY



VIDEO: ASTRONAUTS EMERGE FROM CREW QUARTERS PLAY


VIDEO: CREW SUITS UP FOR LAUNCH TO SPACE PLAY


VIDEO: FINAL INSPECTION TEAM CHECKS ATLANTIS PLAY


VIDEO: ASTRONAUTS READY FOR SECOND LAUNCH TRY PLAY


MORE: STS-115 VIDEO COVERAGE


SUBSCRIBE NOW