Space shuttle managers mull Atlantis fuel cell options
BY WILLIAM HARWOOD
STORY WRITTEN FOR CBS NEWS "SPACE PLACE" & USED WITH PERMISSION
Posted: September 6, 2006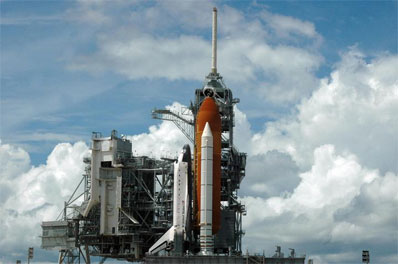 Atlantis sits on the launch pad today. Credit: NASA-KSC



NASA's Mission Management Team met today to discuss options for launching the shuttle Atlantis on a key space station assembly mission. A launch try today was scrubbed because of a possible short in one of the shuttle's three electricity producing fuel cells. It does not appear engineers have time to carry out any repairs before the current launch window runs out Friday, but they could opt to fly as is if troubleshooters can show the glitch can be isolated and not cause additional problems.

But that could be a tough sell. Depending on the exact cause of the 1.5-amp current increase and an associated voltage spike that showed up in fuel cell No. 1's coolant pump motor, additional failures could lead to trouble with main engine computers and other critical systems during the climb to space.

If troubleshooters determine Atlantis can't safely fly in its current condition, engineers could replace the fuel cell at the launch pad, a complex job that could take up to a week or so to complete.

In 1995, the shuttle Endeavour was hauled off its launch pad because of an approaching hurricane, then moved back in place for a launch try Aug. 31, 1995. That attempt was called off prior to fuel loading because of problems with fuel cell No. 2. The powerplant was changed out at the pad and Endeavour rocketed into orbit one week later - 11 years ago Thursday.

NASA originally hoped to launch Atlantis Aug. 27, but the flight was delayed by a launch pad lightning strike Aug. 25 and then by the approach of tropical storm Ernesto. Atlantis was briefly moved off its launch pad last week before the trip was called off thanks to an improving forecast.

But like Endeavour 11 years ago, engineers ran into fuel cell problems late Tuesday, before the planned start of fuel loading early today.

NASA faces a very limited set of launch options because of the upcoming Sept. 18 launch of a Russian Soyuz spacecraft carrying the space station's next crew and a self-imposed requirement to launch Atlantis in daylight for photo documentation of the shuttle's heat shield and external tank insulation. The next lighted launch window opens Oct. 26 and lasts just two days.

NASA managers began reviewing the rationale for the daylight launch requirement in the wake of recent weather delays and the need to get on with station assembly. No final decisions have been made, but if the daylight launch requirement ultimately is relaxed, Atlantis could be ready for another launch try within days of the Sept. 29 landing of a Russian Soyuz carrying the outgoing space station crew.

In the near term, NASA managers could opt to press ahead for a possible launch try Thursday while troubleshooting continues, deferring a final decision until later this evening, but again, no decisions have been made.


Additional coverage for subscribers:


VIDEO: TUESDAY'S STATUS UPDATE BRIEFING DIAL-UP | BROADBAND


VIDEO: PRE-LAUNCH NEWS BRIEFING DIAL-UP | BROADBAND


VIDEO: MONDAY'S COUNTDOWN STATUS DIAL-UP | BROADBAND



VIDEO: BIOGRAPHY MOVIE ON THE SIX ASTRONAUTS PLAY


VIDEO: SHORT MOVIE PREVIEW OF ATLANTIS' MISSION PLAY


VIDEO: OUTLOOK ON UPCOMING STATION ASSEMBLY FLIGHTS PLAY


VIDEO: CREW ARRIVES IN T-38 TRAINING JETS PLAY


VIDEO: COMMENTS FROM CREW AFTER ARRIVAL PLAY


VIDEO: NEWS BRIEFING ON RETURN TO PAD DIALUP | BROADBAND


VIDEO: ATLANTIS ROLLBACK BEGINS PART 1 | PART 2


VIDEO: OFFICIALS EXPLAIN LIGHTNING SCRUB PLAY


VIDEO: SEE THE LIGHTNING STRIKE AT PAD B PLAY


VIDEO: ANOTHER VIEW OF LIGHTNING STRIKE PLAY




VIDEO: COMPLETE PREVIEW OF ATLANTIS MISSION PLAY


VIDEO: DETAILS OF THE THREE SPACEWALKS PLAY


VIDEO: MEET THE SIX ASTRONAUTS PLAY


MORE: STS-115 VIDEO COVERAGE


SUBSCRIBE NOW