Launch team set for three tries in a row, if needed
BY WILLIAM HARWOOD
STORY WRITTEN FOR CBS NEWS "SPACE PLACE" & USED WITH PERMISSION
Posted: September 4, 2006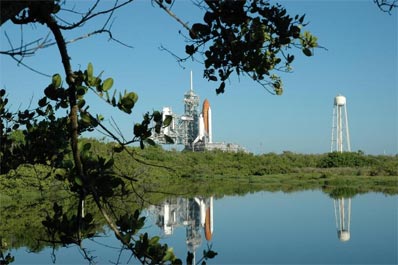 Credit: NASA-KSC



NASA managers today agreed to make three consecutive attempts to get the shuttle Atlantis off the ground if bad weather or technical problems prevent an on-time liftoff Wednesday.

The forecast calls for an 80 percent chance of good weather Wednesday, decreasing to 70 percent "go" Thursday and Friday. If Atlantis isn't off the ground by Friday, the flight will be delayed to late October, barring a decision to relax NASA's current daylight launch requirement.

The space agency normally gives the launch team a day off after two straight attempts but given the high stakes involved, and the impact of a major delay on NASA's plans to resume station assembly, the launch team agreed to make three attempts in a row if necessary.

Liftoff Wednesday is targeted for 12:29 p.m., a week and a half behind schedule because of a launch pad lightning strike and delays caused by tropical storm/depression Ernesto.

"We certainly had our share of tropical weather, or at least the potential for tropical weather the last week or two, which put us a little behind in the schedule," said shuttle program manager Wayne Hale. "However, in the bigger scheme of things, a week or so waiting out the weather will not cause us any concern.

"We have a good shot at three consecutive launch dates coming up the middle of this week. We owe this to the really hard work from the launch team that spent not just today, the Labor Day holiday out here working, but the whole weekend and in fact every day since Ernesto passed as well. So we are looking forward to a really good mission."

Launch director Mike Leinbach said NASA has only attempted three launches in a row once before. The normal practice is to make two attempts and then to stand down a day to give the launch team a break before making two more attempts.

"If you give us four attempts in five days, (our success rate is) something on the order of 90 to 95 percent," he said. "So three in a row is probably in the low 90s.

"The team is really excited to try to do this," he said. "This is what we're in the business for. To a man, to a woman, there were no disagreements at all about trying three in a row. We want to get this vehicle in orbit. I feel we have a pretty good shot at it, I really do. It's got to be in the 90-percentile range."

While hoping for the best, NASA managers are continuing a review of the current daylight launch requirement, which permits photo documentation of the shuttle's heat shield and external tank insulation. Hale said if Atlantis doesn't get off this week, that review will play into discussions about when the shuttle could be readied for another attempt.

The current launch window closes Friday because of conflict with launch of the space station's next full-time crew aboard a Russian spacecraft - Soyuz TMA-9 - and the Sept. 29 landing of the lab's outgoing crew aboard the Soyuz TMA-8 capsule. Based on lighting alone, the next shuttle launch window would open Oct. 26. Without that requirement, Atlantis could launch within days of the Soyuz TMA-8 landing.

The goal of the 116th shuttle mission is to deliver and install a $372 million solar array truss, kicking off the resumption of space station assembly after a three-and-a-half-year hiatus.

Atlantis' flight and the half dozen that follow will nearly complete the station's main solar array truss, which will stretch the length of a football field, and ready the outpost for attachment of European and Japanese research modules.

"Clearly, we are into the heart of the assembly sequence of the international space station," Hale said. "As we bring up the solar arrays, we are configuring the power system from its early assembly interim configuration to the final configuration and there is a huge rewiring on the station (required), both from the electrical power system, the generation and distribution of electrical power, as well as the cooling situation. Because all of that power, as it gets used, turns into heat and must be removed and the entire cooling system is being re-plumbed in the course of the next three or four shuttle assembly flights.

"And then following that, we bring up major modules, the international partners' modules that will be doing the bulk of the research, at least from their point of view, in addition to the U.S. lab that is just crucial to the success of the international space station. This is clearly a very complicated task. When you try to compare it to moonwalks or other things we have done in the past, then it's very difficult to compare. In terms of EVA tasks, spacewalk tasks, clearly these are the most complicated spacewalk and assembly tasks that have ever been done before."

Hale said he was excited to be this close to launch "because this is the purpose for which we fly."

"We're not flying the shuttle just as some kind of engineering experiment, although some folks would be happy to do that," he said. "We're flying the shuttle for a purpose, to carry a payload, to create this marvelous research outpost.

"It is really the purpose we are here for and I'm excited that after a substantial period of time of redesign and rethinking and retooling and preparation we are into the heart of the assembly. And we have certainly got our fingers crossed that it's going to go very well and we have made plans to cover every possible contingency we can think of."


Additional coverage for subscribers:


VIDEO: TODAY'S COUNTDOWN STATUS DIAL-UP | BROADBAND



VIDEO: BIOGRAPHY MOVIE ON THE SIX ASTRONAUTS PLAY


VIDEO: SHORT MOVIE PREVIEW OF ATLANTIS' MISSION PLAY


VIDEO: OUTLOOK ON UPCOMING STATION ASSEMBLY FLIGHTS PLAY


VIDEO: CREW ARRIVES IN T-38 TRAINING JETS PLAY


VIDEO: COMMENTS FROM CREW AFTER ARRIVAL PLAY


VIDEO: NEWS BRIEFING ON RETURN TO PAD DIALUP | BROADBAND


VIDEO: ATLANTIS ROLLBACK BEGINS PART 1 | PART 2


VIDEO: OFFICIALS EXPLAIN LIGHTNING SCRUB PLAY


VIDEO: SEE THE LIGHTNING STRIKE AT PAD B PLAY


VIDEO: ANOTHER VIEW OF LIGHTNING STRIKE PLAY




VIDEO: COMPLETE PREVIEW OF ATLANTIS MISSION PLAY


VIDEO: DETAILS OF THE THREE SPACEWALKS PLAY


VIDEO: MEET THE SIX ASTRONAUTS PLAY


MORE: STS-115 VIDEO COVERAGE


SUBSCRIBE NOW