Spaceflight Now +





Premium video content for our Spaceflight Now Plus subscribers.

Atlantis on the pad
Space shuttle Atlantis is delivered to Kennedy Space Center's launch pad 39B on August 2 to begin final preparations for blastoff on the STS-115 mission to resume construction of the International Space Station.

PLAY

Atlantis rollout begins
Just after 1 a.m. local time August 2, the crawler-transporter began the slow move out of the Vehicle Assembly Building carrying space shuttle Atlantis toward the launch pad.

PLAY

Atlantis on the move
Space shuttle Atlantis is transported to the cavernous Vehicle Assembly Building where the ship will be mated to the external fuel tank and twin solid rocket boosters for a late-August liftoff.

PLAY | TIME-LAPSE

Become a subscriber
More video







Shuttle Atlantis launch preps going smoothly
BY WILLIAM HARWOOD
STORY WRITTEN FOR CBS NEWS "SPACE PLACE" & USED WITH PERMISSION
Posted: September 4, 2006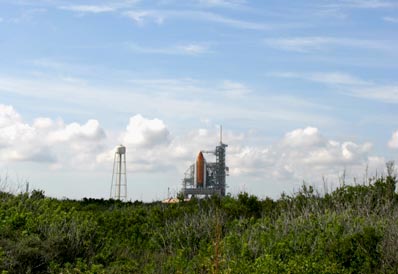 Atlantis is scheduled for launch Wednesday from pad 39B. Credit: Ben Cooper/Spaceflight Now



Engineers loaded the shuttle Atlantis' fuel cell system with liquid hydrogen and oxygen early today, a key step in readying the spacecraft for launch Wednesday on a weather-delayed space station assembly mission. There are no technical problems of any significance at launch complex 39B, officials said today, and forecasters are continuing to predict an 80 percent chance of good weather.

"Everything is tracking extremely well, we're tracking no issues at this time," said NASA Test Director Jeff Spaulding. "We'll continue through our engine checkouts later on tonight and then we'll work towards power up of our ground communications network and do that checkout at nine thirty Tuesday morning. Rotation of our rotating service structure is planned for three o'clock tomorrow afternoon. We will, of course, be watching the weather on that."

Afternoon thunderstorms could hold up rotation of the massive launch pad gantry, but no major problems are expected. Assuming the countdown stays on track, engineers will begin loading Atlantis' huge external tank with liquid oxygen and hydrogen rocket fuel around 2:30 a.m. Wednesday for a launch attempt at 12:28:49 p.m.

"Atlantis and her crew have been waiting for years to complete this mission and thanks to Ernesto, they've had to wait about a week longer," Spaulding said, referring to the storm that prevented an Aug. 27 launch attempt. "So I'm pleased to announce that wait's nearly over and that we'll be ready on Wednesday for Atlantis' launch."

Because of conflict with the launch of a Russian Soyuz spacecraft carrying the space station's next full-time crew, Atlantis must be off the ground by Friday at the latest or the flight will be delayed until late October, barring a decision by NASA to relax a daylight launch requirement.

The forecast for Thursday and Friday is 70 percent "go." While NASA doesn't normally make three launch attempts in a row, agency managers could waive that guideline if weather or other problems keep Atlantis on the ground past Thursday.

LeRoy Cain, chairman of NASA's Mission Management Team, and Launch Director Mike Leinbach will brief reporters later today on the status of launch preparations.


Additional coverage for subscribers:


VIDEO: BIOGRAPHY MOVIE ON THE SIX ASTRONAUTS PLAY


VIDEO: SHORT MOVIE PREVIEW OF ATLANTIS' MISSION PLAY


VIDEO: OUTLOOK ON UPCOMING STATION ASSEMBLY FLIGHTS PLAY


VIDEO: CREW ARRIVES IN T-38 TRAINING JETS PLAY


VIDEO: COMMENTS FROM CREW AFTER ARRIVAL PLAY


VIDEO: NEWS BRIEFING ON RETURN TO PAD DIALUP | BROADBAND


VIDEO: ATLANTIS ROLLBACK BEGINS PART 1 | PART 2


VIDEO: OFFICIALS EXPLAIN LIGHTNING SCRUB PLAY


VIDEO: SEE THE LIGHTNING STRIKE AT PAD B PLAY


VIDEO: ANOTHER VIEW OF LIGHTNING STRIKE PLAY




VIDEO: COMPLETE PREVIEW OF ATLANTIS MISSION PLAY


VIDEO: DETAILS OF THE THREE SPACEWALKS PLAY


VIDEO: MEET THE SIX ASTRONAUTS PLAY


MORE: STS-115 VIDEO COVERAGE


SUBSCRIBE NOW





STS-115 patch
The official crew patch for the STS-115 mission of space shuttle Atlantis to resume orbital construction of the International Space Station.


Choose your store:
U.S. - U.K. - E.U. - Worldwide