Spaceflight Now +





Premium video content for our Spaceflight Now Plus subscribers.

Atlantis on the pad
Space shuttle Atlantis is delivered to Kennedy Space Center's launch pad 39B on August 2 to begin final preparations for blastoff on the STS-115 mission to resume construction of the International Space Station.

PLAY

Atlantis rollout begins
Just after 1 a.m. local time August 2, the crawler-transporter began the slow move out of the Vehicle Assembly Building carrying space shuttle Atlantis toward the launch pad.

PLAY

Atlantis on the move
Space shuttle Atlantis is transported to the cavernous Vehicle Assembly Building where the ship will be mated to the external fuel tank and twin solid rocket boosters for a late-August liftoff.

PLAY | TIME-LAPSE

Become a subscriber
More video







Atlantis no longer seeks shelter and returning to pad
BY WILLIAM HARWOOD
STORY WRITTEN FOR CBS NEWS "SPACE PLACE" & USED WITH PERMISSION
Posted: August 29, 2006


Launch director Mike Leinbach, buoyed by a more favorable forecast for tropical storm Ernesto, ordered engineers to stop the shuttle Atlantis' trip back to the Vehicle Assembly Building today and instead to return to the ship to the launch pad.

The National Hurricane Center now expects Ernesto to bring sustained winds of 45 knots to the Kennedy Space Center Wednesday, with gusts to 60 knots. That's within NASA's safety limits and the protection provided by wind screens and the massive rotating service structure that surrounds the shuttle on the pad.

Atlantis' rollback began at 10:04 a.m. after a long debate about the forecast and whether to ride out the storm at the pad. In the end, Leinbach decided predictions of 65-knot gusts were too much and the slow move began.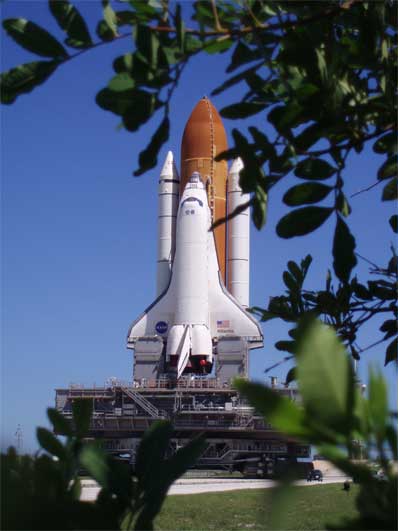 Atlantis pictured earlier today heading for the Vehicle Assembly Building. With the threat from Tropical Storm Ernesto diminished it is now returning to the launch pad. Credit: Stephen Clark/Spaceflight Now News



Then at 2:42 p.m., the massive crawler-transporter stopped in its tracks, loud speakers along the crawlerway announced the decision to reverse course and at 2:45 p.m., the shuttle began moving back toward pad 39B. Engineers expect to put it back in place by 8 p.m. and to extend the rotating service structure by 8:30 p.m. to provide some level of protection.

It is not at all clear how this decision might affect when Atlantis might be ready for launch. Leinbach said earlier it would take eight days to ready the ship for flight whenever it was returned to the pad from a rollback. Given the impact of Ernesto and other factors, it's not clear whether NASA can complete preparations before time runs out.


Additional coverage for subscribers:


VIDEO: OFFICIALS EXPLAIN INITIAL SCRUB PLAY


VIDEO: SEE THE LIGHTNING STRIKE AT PAD B PLAY


VIDEO: ANOTHER VIEW OF LIGHTNING STRIKE PLAY



VIDEO: PRE-LAUNCH NEWS CONFERENCE PLAY


VIDEO: FRIDAY'S COUNTDOWN STATUS DIAL-UP | BROADBAND


VIDEO: CREW ARRIVES FOR LAUNCH PLAY


VIDEO: THURSDAY'S COUNTDOWN STATUS DIAL-UP | BROADBAND



VIDEO: LAUNCH DATE ANNOUNCEMENT NEWS CONFERENCE PLAY


VIDEO: COMPLETE PREVIEW OF ATLANTIS MISSION PLAY


VIDEO: DETAILS OF THE THREE SPACEWALKS PLAY


VIDEO: MEET THE SIX ASTRONAUTS PLAY



VIDEO: CREW LAUNCH PAD PRESS CHAT DIAL-UP | BROADBAND


VIDEO: ATLANTIS ARRIVES AT LAUNCH PAD 39B PLAY


VIDEO: ROLLOUT FROM VEHICLE ASSEMBLY BUILDING BEGINS PLAY


VIDEO: TRUSS IN PAD'S PAYLOAD ROOM PLAY


VIDEO: PAYLOAD HOISTED INTO THE PAD PLAY


VIDEO: STATION TRUSS PAYLOAD DELIVERED TO PAD PLAY


MORE: STS-115 VIDEO COVERAGE


SUBSCRIBE NOW





STS-115 patch
The official crew patch for the STS-115 mission of space shuttle Atlantis to resume orbital construction of the International Space Station.


Choose your store:
U.S. - U.K. - E.U. - Worldwide