Spaceflight Now +





Premium video content for our Spaceflight Now Plus subscribers.

Atlantis on the pad
Space shuttle Atlantis is delivered to Kennedy Space Center's launch pad 39B on August 2 to begin final preparations for blastoff on the STS-115 mission to resume construction of the International Space Station.

PLAY

Atlantis rollout begins
Just after 1 a.m. local time August 2, the crawler-transporter began the slow move out of the Vehicle Assembly Building carrying space shuttle Atlantis toward the launch pad.

PLAY

Atlantis on the move
Space shuttle Atlantis is transported to the cavernous Vehicle Assembly Building where the ship will be mated to the external fuel tank and twin solid rocket boosters for a late-August liftoff.

PLAY | TIME-LAPSE

Become a subscriber
More video







Crawler problems add hours to rollback time
BY WILLIAM HARWOOD
STORY WRITTEN FOR CBS NEWS "SPACE PLACE" & USED WITH PERMISSION
Posted: August 28, 2006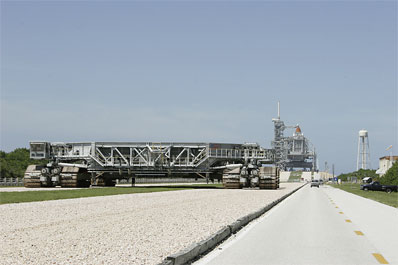 The transporter to haul Atlantis back to the Vehicle Assembly Building nears launch pad 39B today. Credit: Gene Blevins/LA Daily News



Problems with one of NASA's ponderous crawler-transporters will force engineers to take the shuttle Atlantis to the far side of the Vehicle Assembly Building Tuesday if a rollback from the launch pad is ordered because of tropical storm/hurricane Ernesto. The change in plans will add three hours or so to the time necessary to get Atlantis out of harm's way.

If rollback is, in fact, ordered, NASA will be in a race against the clock to get Atlantis moved before any thunderstorms develop along Florida's space coast. NASA safety rules forbid moving a shuttle "stack" in winds above 40 knots or if lightning is present within 20 nautical miles.

At the launch pad, a shuttle and its propellant-loaded solid-fuel boosters are protected from the weather by a lightning protection system and rain barriers that effectively surround the orbiter. No such protection is available during a roll to or from the pad.

NASA has not yet committed to hauling Atlantis off pad 39B, but Ernesto's projected track and the prospect of tropical storm- or hurricane-force winds Wednesday could leave the agency with little choice. But a final decision is not required until Tuesday morning, when a crawler-transporter picks up the shuttle's mobile launch platform.

NASA had planned to move Atlantis into high bay 3 in the VAB, which faces the launch pad, after moving another mobile launch platform out of the way. A crawler-transporter moved that MLP out of the bay earlier today, but had to put it back after hydraulic problems developed.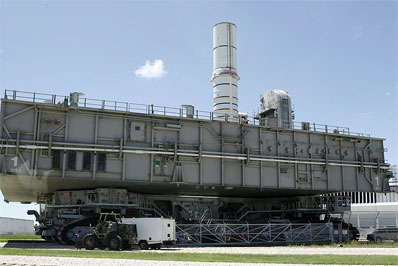 A partially-stacked solid rocket booster for shuttle Discovery's STS-116 launch leaves the VAB today. Credit: Gene Blevins/LA Daily News



The only available bay for Atlantis, high bay 2, is on the opposite side of the VAB. Because more turns and maneuvering are required to reach high bay 2, Atlantis' trip, if ordered, will take up to three hours longer to complete. It is scheduled to begin around 9 a.m. and take about 11 hours to complete.

The forecast for Tuesday calls for winds out of the southeast at 8 knots in the morning, increasing to 14 to 20 knots in the afternoon. After 8 p.m., the winds will jump to 17 to 25 knots, still well below the 40-knot limit. There is a 30 percent chance of rain showers in the morning with a 20 percent chance of thunderstorms, a forecast that currently extends to 5 p.m. Tuesday. Between 5 p.m. and 8 p.m., the chance of showers increases to 40 percent with a 30 percent chance of thunderstorms. Between 8 p.m. and 10 p.m., the rain chance goes up to 60 percent with a 40 percent chance of thunderstorms and after 10 p.m., the probability of rain increases to 70 percent with a 60 percent chance of thunderstorms.

"They would like to be moving as soon as they can in the morning so they can be in the barn by eight o'clock," said NASA spokesman George Diller.

If an electrical storm develops during the roll back to the VAB, the safety plan calls for the crawler crew to stop the move and leave the transporter until the storm passes.


Additional coverage for subscribers:


VIDEO: OFFICIALS EXPLAIN INITIAL SCRUB PLAY


VIDEO: SEE THE LIGHTNING STRIKE AT PAD B PLAY


VIDEO: ANOTHER VIEW OF LIGHTNING STRIKE PLAY



VIDEO: PRE-LAUNCH NEWS CONFERENCE PLAY


VIDEO: FRIDAY'S COUNTDOWN STATUS DIAL-UP | BROADBAND


VIDEO: CREW ARRIVES FOR LAUNCH PLAY


VIDEO: THURSDAY'S COUNTDOWN STATUS DIAL-UP | BROADBAND



VIDEO: LAUNCH DATE ANNOUNCEMENT NEWS CONFERENCE PLAY


VIDEO: COMPLETE PREVIEW OF ATLANTIS MISSION PLAY


VIDEO: DETAILS OF THE THREE SPACEWALKS PLAY


VIDEO: MEET THE SIX ASTRONAUTS PLAY



VIDEO: CREW LAUNCH PAD PRESS CHAT DIAL-UP | BROADBAND


VIDEO: ATLANTIS ARRIVES AT LAUNCH PAD 39B PLAY


VIDEO: ROLLOUT FROM VEHICLE ASSEMBLY BUILDING BEGINS PLAY


VIDEO: TRUSS IN PAD'S PAYLOAD ROOM PLAY


VIDEO: PAYLOAD HOISTED INTO THE PAD PLAY


VIDEO: STATION TRUSS PAYLOAD DELIVERED TO PAD PLAY


MORE: STS-115 VIDEO COVERAGE


SUBSCRIBE NOW





STS-115 patch
The official crew patch for the STS-115 mission of space shuttle Atlantis to resume orbital construction of the International Space Station.


Choose your store:
U.S. - U.K. - E.U. - Worldwide