Storm forces rollback preparations to begin
BY WILLIAM HARWOOD
STORY WRITTEN FOR CBS NEWS "SPACE PLACE" & USED WITH PERMISSION
Posted: August 28, 2006; Updated at 1 p.m.


In what amounts to a "perfect storm" of high winds, high stakes and international drama, tropical storm Ernesto threatens to bring hurricane-force winds to the Kennedy Space Center by Wednesday night. NASA managers today ordered engineers to begin work to roll the shuttle Atlantis off its seaside launch pad Tuesday, raising the prospect of a lengthy launch delay.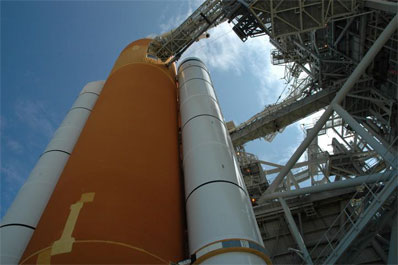 Credit: NASA-KSC



For NASA, which is poised to resume space station assembly after a three-and-a-half year hiatus, rollback is a last-resort option that would end any chance of getting Atlantis off the ground before the launch window closes Sept. 7. If that scenario plays out, launch could slip to late October when a brief two-day lighted window is available.

An October launch, in turn, almost certainly would force NASA to delay a planned December flight by the shuttle Discovery to January at the earliest in a ripple effect with consequences for downstream flights.

But NASA managers are holding open the option of calling off Atlantis' rollback if Ernesto veers away from Florida or weakens significantly. The storm's track has consistently moved eastward and as of this writing is predicted to make landfall around Miami and move up Florida's east coast before heading out to sea south of the Kennedy Space Center. The track could end up missing Florida altogether when all is said and done.

But based on the current prediction and the near certainty of high winds at the spaceport later this week, NASA managers plan to begin moving Atlantis from pad 39B to the protection of the Vehicle Assembly Building as early as 8 a.m. Tuesday.

"We made a decision this morning to start in earnest our rollback preparations to move us back to the VAB," said Launch Director Mike Leinbach. "The first thing on the agenda for us is off loading the reactants (liquid oxygen and hydrogen) for our fuel cell system. That's in work, that should be done probably about noontime today."

Once the pad reopens for normal work this afternoon, engineers will begin disconnecting ordnance on the vehicle in preparation for rollback. Leinbach said the team can stop rollback preparations pretty much at any point between now and Tuesday morning based on the progress and development of Ernesto.

But with thunderstorms expected at the Kennedy Space Center Tuesday afternoon, a final decision will have to be made late tonight or first thing Tuesday morning to ensure Atlantis can get back to the VAB before the weather deteriorates. The 4.2-mile trip takes more than six hours to complete and the shuttle would be exposed to the elements between the pad and the VAB.

"We had been targeting approximately two o'clock for first motion," Leinbach said. "We'd like to get off the pad tomorrow morning if at all possible. ... It's my hope and expectation that we'll be able to get off the pad tomorrow morning first shift sometime, probably around eight o'clock or so, maybe 10. ... Based on tomorrow afternoon's local weather, we'd much rather be back in the VAB earlier than later."

NASA's safety rules forbid moving the unprotected orbiter off the pad in winds higher than 40 knots or if lightning is expected within 20 nautical miles.

NASA managers considered ordering a rollback Sunday night but deferred a decision to today believing they had time before the onset of 40-knot winds. By deferring a decision, NASA kept open the possibility of launching Atlantis Tuesday on a space station assembly mission if Ernesto's track or strength dramatically changed. That option is now closed.

Atlantis' launch window closes Sept. 7, based on a desire to launch in daylight for photo documentation of the shuttle's heat shield and external tank and because of conflict with launch of a Russian Soyuz rocket carrying the space station's next crew.

While the shuttle can launch as late as Sept. 13 from a lighting standpoint, any launch past Sept. 7 would force the Russians to delay the Soyuz launch and, more important, delay the return to Earth of the station's outgoing crew. A shuttle launch on Sept. 7 would result in a pre-dawn landing for the returning Soyuz.

Every day past Sept. 7 would move the landing earlier in the day and Russian managers want to avoid a dead-of-night touchdown because the recovery team will be conducting its first operation under new civilian management.

A rollback would use up NASA's available launch window, barring a concession from the Russians to delay the Soyuz launch. Even if Ernesto passes without causing major damage, it would take NASA at least eight days to ready the ship for flight after rolling back out to pad 39B.

If Atlantis remains at the launch pad, either because of high winds preventing a rollback or because the storm changes strength or direction, NASA managers believe it's unlikely any launch attempts could be made before Saturday or Sunday at the earliest.

"All I can give you is ballpark right now," Leinbach said. "If the storm were to change course significantly, and intensity significantly (and) we're comfortable riding the storm out with Atlantis at the launch pad, we'd have to wait for the storm to pass, we'd have to get back into the ordnance connects if we decide to disconnect this afternoon, and then get back into the launch countdown. ... The best I can tell you is, if we stay at the launch pad with the vehicle, which right now doesn't look likely, the best we can do for launch is sometime late this weekend. You can all interpret that as you please. I do not have a date for you.

"If we roll back to the VAB, that's a significantly different beast," he said. "Once we get back out to the launch pad after the rollback, it's a minimum of eight days to a launch. It's all dependent on what happens to the storm and how long we're in the VAB if we do roll back."

Said LeRoy Cain, chairman of NASA's Mission Management Team: "If we actually roll the vehicle back to the VAB ... we can't get to a T-zero before Sept. 7."

Space station program manager Mike Suffredini opened discussions with the Russians today about the possibility of a launch past Sept. 7 and while NASA has not made any official comment, that does not appear to be a likely scenario. Delaying the Soyuz just two days, for example, would move the returning Soyuz's landing time several hours deeper into darkness.

As for relaxing the lighted launch requirement to open up more opportunities after the Soyuz flight, Bill Gerstenmaier, chief of spaceflight for NASA, said Sunday the agency considers photo documentation of the shuttle's tank and heat shield a high priority.

But if Atlantis misses the September launch window, NASA would be faced with the prospect of just three lighted launch days between then and the end of the year - Oct. 26-27 and Dec. 23. The next lighted launch window after that opens Feb. 19.

Flight planners may be able to expand the October window by a day or two, but that remains to be seen. In any case, a launch of Atlantis in October almost certainly would push a planned Dec. 14 launch of shuttle Discovery into January at the earliest.

Assuming Atlantis gets off this fall and no problems are found with the ship's external tank foam insulation, NASA likely will relax the daylight launch constraint. If so, and if Atlantis could be turned around fast enough to serve as a rescue vehicle, Discovery's next launch window would open around Jan. 13.

But a new factor enters the planning mix for that flight. Because the astronauts plan to activate the station's main ammonia cooling system, launch cannot take place if the angle between the sun and the plane of the station's orbit is below 50 degrees or so. While that will limit the available launch windows in January, it will not be as restrictive as the lighting constraints currently in place.


Additional coverage for subscribers:


VIDEO: OFFICIALS EXPLAIN INITIAL SCRUB PLAY


VIDEO: SEE THE LIGHTNING STRIKE AT PAD B PLAY


VIDEO: ANOTHER VIEW OF LIGHTNING STRIKE PLAY



VIDEO: PRE-LAUNCH NEWS CONFERENCE PLAY


VIDEO: FRIDAY'S COUNTDOWN STATUS DIAL-UP | BROADBAND


VIDEO: CREW ARRIVES FOR LAUNCH PLAY


VIDEO: THURSDAY'S COUNTDOWN STATUS DIAL-UP | BROADBAND



VIDEO: LAUNCH DATE ANNOUNCEMENT NEWS CONFERENCE PLAY


VIDEO: COMPLETE PREVIEW OF ATLANTIS MISSION PLAY


VIDEO: DETAILS OF THE THREE SPACEWALKS PLAY


VIDEO: MEET THE SIX ASTRONAUTS PLAY



VIDEO: CREW LAUNCH PAD PRESS CHAT DIAL-UP | BROADBAND


VIDEO: ATLANTIS ARRIVES AT LAUNCH PAD 39B PLAY


VIDEO: ROLLOUT FROM VEHICLE ASSEMBLY BUILDING BEGINS PLAY


VIDEO: TRUSS IN PAD'S PAYLOAD ROOM PLAY


VIDEO: PAYLOAD HOISTED INTO THE PAD PLAY


VIDEO: STATION TRUSS PAYLOAD DELIVERED TO PAD PLAY


MORE: STS-115 VIDEO COVERAGE


SUBSCRIBE NOW