Spaceflight Now +





Premium video content for our Spaceflight Now Plus subscribers.

Atlantis on the pad
Space shuttle Atlantis is delivered to Kennedy Space Center's launch pad 39B on August 2 to begin final preparations for blastoff on the STS-115 mission to resume construction of the International Space Station.

PLAY

Atlantis rollout begins
Just after 1 a.m. local time August 2, the crawler-transporter began the slow move out of the Vehicle Assembly Building carrying space shuttle Atlantis toward the launch pad.

PLAY

Atlantis on the move
Space shuttle Atlantis is transported to the cavernous Vehicle Assembly Building where the ship will be mated to the external fuel tank and twin solid rocket boosters for a late-August liftoff.

PLAY | TIME-LAPSE

Become a subscriber
More video







Monday launch no longer appears possible
BY WILLIAM HARWOOD
STORY WRITTEN FOR CBS NEWS "SPACE PLACE" & USED WITH PERMISSION
Posted: August 27, 2006


NASA managers debating launch options for the shuttle Atlantis have a new issue to contend with: Hurricane Ernesto, now predicted to strike the west coast of Florida late this week just north of Tampa.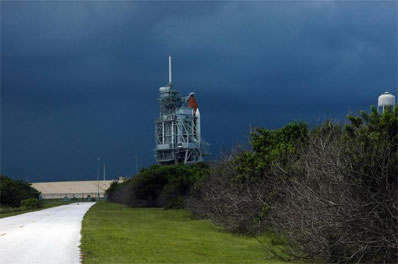 Credit: NASA-KSC



Engineers at the Kennedy Space Center have been told Atlantis' launching is off until at least Tuesday, but NASA has not yet made any official announcement. A launch Monday or Tuesday assumes time-consuming tests of ordnance and control circuitry in the shuttle's solid rocket boosters and self destruct system in the wake of a lightning strike Friday are not required (see our overnight story for details).

Depending on Ernesto's eventual course, the timing of its passage and what needs to be done to recover from the lightning strike, NASA managers could be forced to consider hauling Atlantis back to the protection of the Vehicle Assembly Building, a move that would use up most of the shuttle's September launch window.

NASA wants to launch Atlantis in daylight for photo documentation of the shuttle's external tank and heat shield. If the ship isn't off the ground by Sept. 13, NASA will be faced with the prospect of just three lighted launch days between then and the end of the year: two in late October and one in December.

Complicating the picture, launch tries between Sept. 7 and 13 would require agreement by the Russians to delay launch of a Soyuz capsule carrying the space station's next crew. A shuttle launch past Sept. 7 would require a dead-of-night landing for the returning station crew and the Russians want to avoid that because this will be the recovery team's first landing operation since a recent switch to civilian management.

NASA's Mission Management Team plans to meet at 1 p.m. and a news conference is expected later in the day. Updates will be posted here as new information becomes availabe.


Additional coverage for subscribers:


VIDEO: OFFICIALS EXPLAIN INITIAL SCRUB PLAY


VIDEO: SEE THE LIGHTNING STRIKE AT PAD B PLAY


VIDEO: ANOTHER VIEW OF LIGHTNING STRIKE PLAY



VIDEO: PRE-LAUNCH NEWS CONFERENCE PLAY


VIDEO: FRIDAY'S COUNTDOWN STATUS DIAL-UP | BROADBAND


VIDEO: CREW ARRIVES FOR LAUNCH PLAY


VIDEO: THURSDAY'S COUNTDOWN STATUS DIAL-UP | BROADBAND



VIDEO: LAUNCH DATE ANNOUNCEMENT NEWS CONFERENCE PLAY


VIDEO: COMPLETE PREVIEW OF ATLANTIS MISSION PLAY


VIDEO: DETAILS OF THE THREE SPACEWALKS PLAY


VIDEO: MEET THE SIX ASTRONAUTS PLAY



VIDEO: CREW LAUNCH PAD PRESS CHAT DIAL-UP | BROADBAND


VIDEO: ATLANTIS ARRIVES AT LAUNCH PAD 39B PLAY


VIDEO: ROLLOUT FROM VEHICLE ASSEMBLY BUILDING BEGINS PLAY


VIDEO: TRUSS IN PAD'S PAYLOAD ROOM PLAY


VIDEO: PAYLOAD HOISTED INTO THE PAD PLAY


VIDEO: STATION TRUSS PAYLOAD DELIVERED TO PAD PLAY


MORE: STS-115 VIDEO COVERAGE


SUBSCRIBE NOW





STS-115 patch
The official crew patch for the STS-115 mission of space shuttle Atlantis to resume orbital construction of the International Space Station.


Choose your store:
U.S. - U.K. - E.U. - Worldwide