Shuttle Atlantis rolls to the launch pad
BY WILLIAM HARWOOD
STORY WRITTEN FOR CBS NEWS "SPACE PLACE" & USED WITH PERMISSION
Posted: August 2, 2006


Finally catching a break from the weather, the shuttle Atlantis was hauled to its ocean-side launch pad early today for final preparations before blastoff at the end of the month on a space station assembly mission.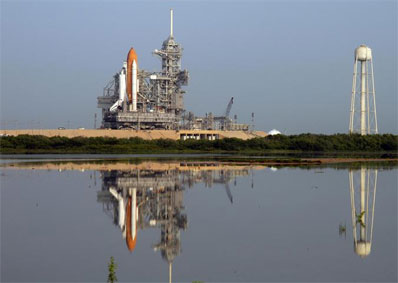 Atlantis arrives at pad 39B. Credit: NASA-KSC



The 4.2-mile move from the Vehicle Assembly Building began at 1:05 a.m., two days late because of showers and thunderstorms that pounded Cape Canaveral Sunday night and Monday. The shuttle's mobile launch platform was "hard down" at the pad by 8:54 a.m.

Atlantis' crew - commander Brent Jett, pilot Chris Ferguson, flight engineer Dan Burbank, Joe Tanner, Steve MacLean and Heidemarie Stefanyshyn-Piper - will fly to the Kennedy Space Center next week to participate in a dress-rehearsal countdown Aug. 10.

Launch currently is targeted for Aug. 27, but NASA managers are considering the possibility of moving the flight up one day to Aug. 26.

Atlantis' launch window is based on the international space station's orbit, the angle between the sun and the plane of the station's orbit and lighting conditions for photo documentation of the ship's external tank and heat shield. Based on those factors, the launch window extends from Aug. 27 through Sept. 13.

But any launch past Sept. 7 would put the shuttle in conflict with launch of a Russian Soyuz capsule carrying the station's next full-time crew. NASA managers and their Russian counterparts want to ensure at least one day between undocking of Atlantis and arrival of the Soyuz. As a result, if Atlantis launches between Aug. 27 and Sept. 3, the Soyuz will take off Sept. 14. A shuttle launch between Sept. 4 and Sept. 7 would result in a Soyuz launch Sept. 18.

A Soyuz launch later than Sept. 18 would result in a dead-of-night landing for the returning station crew, a scenario the Russians want to avoid. That means Atlantis must get off the ground by Sept. 7 at the latest unless the Russians change their launch strategy.

To ensure as many launch attempts as possible, NASA engineers are assessing whether orbital lighting would be sufficient for a shuttle launch as early as Aug. 26. At issue is whether critical areas of the external tank would be illuminated sufficiently for photo documentation after separation from the shuttle.

But Aug. 26 will be a challenge regardless of orbital lighting. Given Atlantis' delayed move to the pad, the launch team only has two days of contingency time left in the pad processing schedule to handle unexpected problems.

The goal of the 116th shuttle mission is to install two new truss segments - port 3 and port 4 - on the left end of the station's main power and cooling truss. The port 3 truss segment features a complex rotary joint that will enable two huge solar panels making up the port 4 segment to track the sun as required to provide maximum power.

Earlier today, the station's mobile transporter, used to carry the lab's robot arm from point to point along the main truss, was moved from work site 4 to work site 7 on the end of the port 1 truss segment to await Atlantis' arrival. The station arm, mounted on the transporter, will be used to move the new truss segments brought up by Atlantis into position for attachment to P1 (there is no P2 segment).

The STS-115 flight plan is being revised to reflect recent changes. But here are two timelines, based on the latest rendezvous projections and a recent decision to move up undocking one day, for launch attempts Aug. 26 and Aug. 27 (in EDT and mission elapsed time):



DAY/EDT         DD  HH  MM  EVENT
______________________________________________

08/26/06
Sat 04:52 PM    00  00  00  STS-115 Launch

08/28/06
Mon 12:13 PM    01  19   21  Atlantis docks with space station

08/29/06
Tue 10:52 AM    02  18  00  EVA-1 begins
Tue 05:17 PM    03  00  25  EVA-1 ends

08/30/06
Wed 10:52 AM    03  18  00  EVA-2 begins
Wed 05:22 PM    04  00  30  EVA-2 ends

08/31/06
Thu 08:12 AM    04  15  20  4A solar array mast deploy to 100 percent
Thu 09:42 AM    04  16  50  2A solar array mast deploy to 100 percent

09/01/06
Fri 10:52 AM    05  18  00  EVA-3 begins
Fri 05:17 PM    06  00  25  EVA-3 ends

09/03/06
Sun 02:06 PM    07  21  14  Undocking

09/06/06
Wed 10:36 AM    10  17  44  Deorbit ignition (orbit 170)
Wed 11:38 AM    10  18  46  Landing

--------------------------------------

08/27/06
Sun 04:30 PM    00  00  00  STS-115 Launch

08/29/06
Tue 12:38 PM    01  20  08  Atlantis docks with space station

08/30/06
Wed 10:30 AM    02  18  00  EVA-1 begins
Wed 04:55 PM    03  00  25  EVA-1 ends

08/31/06
Thu 10:30 AM    03  18  00  EVA-2 begins
Thu 05:00 PM    04  00  30  EVA-2 ends

09/01/06
Fri 07:50 AM    04  15  20  4A solar array mast deploy to 100 percent
Fri 09:20 AM    04  16  50  2A solar array mast deploy to 100 percent

09/02/06
Sat 10:30 AM    05  18  00  EVA-3 begins
Sat 04:55 PM    06  00  25  EVA-3 ends

09/04/06
Mon 02:29 PM    07  21  59  Undocking

09/07/06
Thu 11:00 AM    10  18  30  Deorbit ignition (orbit 171)
Thu 12:02 PM    10  19  32  Landing

NASA managers are expected to discuss launch date targets later this week at a program requirements change board - PRCB - meeting. An official launch date will be announced Aug. 16 at the conclusion of a two-day flight readiness review.
If NASA can get Atlantis off within the available window, and if the shuttle's external tank doesn't shed any significant amounts of foam insulation, the space agency will remove a self-imposed restriction to only launch in daylight, greatly expanding the available launch windows for subsequent flights.
But if Atlantis fails to get off in the August/September window, the agency will face the prospect of just three useable launch days - Oct. 26, 27 and Dec. 23 - before the end of the year because of lighting and temperature constraints based on the station's orbit.


Additional coverage for subscribers:


VIDEO: ATLANTIS ARRIVES AT LAUNCH PAD 39B PLAY


VIDEO: ROLLOUT FROM VEHICLE ASSEMBLY BUILDING BEGINS PLAY


MORE: STS-115 VIDEO COVERAGE


SUBSCRIBE NOW