NASA plans Tuesday launch pending final test results
BY WILLIAM HARWOOD
STORY WRITTEN FOR CBS NEWS "SPACE PLACE" & USED WITH PERMISSION
Posted: July 20, 2005


Troubleshooters may have found the cause of the fuel sensor malfunction that grounded the shuttle Discovery last week. Additional tests are planned, but the analysis to date, along with a proposed wiring modification, prompted NASA managers today to forego another fueling test and to press ahead instead for a launch attempt Tuesday at 10:39 a.m. EDT (1439 GMT).


| | |
| --- | --- |
| | To prepare for an evaluation of wiring runs and connections in Discovery for any reactions under semi-cryogenic conditions, Aaron Sherman (left), Jack Colella (center) and Jeff Huet (lower right), all with United Space Alliance, and John Kennedy, NASA, review data. Credit: NASA-KSC |
"The decisions we made today were to continue with our troubleshooting tonight, and that will go on through the evening and into the first part of tomorrow," said shuttle program manager Bill Parsons. "We have some very specific things we're going to go perform and it will help us completely close this issue out."

An attempt to launch Discovery on the first post-Columbia flight was called off July 13 when one of four engine cutoff - ECO - sensors in the shuttle's external hydrogen tank failed a routine test. NASA launch rules require all four sensors to be operational for a countdown to proceed (see the CBS News/Spaceflight Now ECO sensor page for complete details).

Since then, engineers have been working through an exhaustive series of tests to isolate and correct the problem. At the same time, mission managers have been debating the possibility of amending the launch rule to permit a flight with three of four operational sensors if troubleshooting failed to pin the problem down but could at least show it was not a generic issue.

Testing to date has been carried out under ambient conditions at the launch pad, using laboratory analysis and software to mimic the launch-day environment. Some engineers favored another tanking test prior to any additional launch attempts to collect data in the actual operating environment. But the mission management team today ruled out that option and agreed to press on into a countdown.

The decision came after a lengthy meeting in which engineers reviewed the progress of troubleshooting to date, including the rationale for amending the four-of-four launch commit criterion.

In the end, the rule was not amended, in part because engineers believe they will be able to prove the problem is not generic; and because they may have found a possible "smoking gun" that might explain why engine cutoff sensor No. 2 acted erratically during Discovery's countdown last Wednesday.

"We have the most probable causes that we've listed in a fault tree analysis," Parsons said. "We have work to do to close that fault tree analysis out, that's all part of this troubleshooting plan. We will go and close out all the common causes we think this could be.

"When we get to that point, then we've done everything we can. That's kind of where we're going to get to, we've done everything we can and we've eliminated the most probable cause. ... We believe the best way to go through this is to do a countdown.

"If the sensors work exactly like we think they will, then we'll launch on that day," Parsons said. "If anything goes not per the plan that we've laid out in front of us, then we'll have a scrub and we'll have to talk about it and either we can fix that and do a quick turnaround or we'll have other issues on our plate. But right now, we believe we've eliminated all the common causes that we think could do this and we've done everything we possibly could on the vehicle."

Extensive testing turned up subtle grounding problems in the orbiter that could permit electrical interference that, in turn, could cause a sensor to "fail wet," which is what happened to sensor No. 2 during a pre-launch test last week.

The ECO sensors are part of a backup system that would be used to shut down the main engines in the event of some other major malfunction that might cause the powerplants to run too long, draining the external tank. Engineers believe a main engine would tear itself apart if it suddenly ran out of fuel while operating. But in some remote scenarios, that could happen if three of the four ECO sensors failed wet, meaning they continued showing fuel in the tank when, in fact, it was dry.

Engineers plan extensive troubleshooting to identify possible sources of interference and its effects in an electronics unit called a point sensor box, which routes sensor data to the shuttle's computers. Candidates include the circuitry for new post-Columbia heaters added to the shuttle's external tank to prevent ice formation.

The grounding problems will be fixed regardless. If the heaters are, in fact, the source of the interference, Discovery would be good to go because the heaters are turned off before launch. But additional testing is required to prove this hypothesis and it may or may not pan out.

"This has been a very, very thorough effort that we've been through," said John Muratore, the engineer leading the troubleshooting. "We've used every kind of analysis technique and test technique that we can find.

"In the end, analysis of the circuitry suggested that grounding might be a problem. Testing of the (point sensor) box ... in the lab in Houston suggested electromagnetic interference could interfere with the box. We went looking in the vehicle and we found a discrepancy in the grounding of the vehicle.

"We're going to go in tonight and try to replicate as best we can the electromagnetic environment of launch to see if we can trap the signature of it," Muratore said. "Even if we can't trap the signature, we're going to go make the system good. And then the best way to go and further understand the problem is ... to load the tank up and observe its operation and that's best accomplished in the environment of a launch countdown."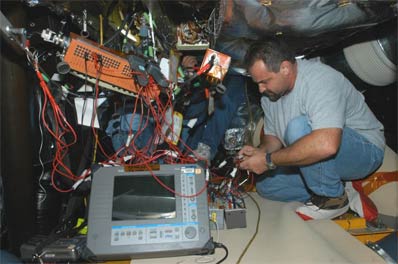 Jack Colella, with United Space Alliance, performs testing on wiring in the aft engine compartment of Discovery as part of the ECO sensor troubleshooting. Credit: NASA-KSC



He said the grounding problem was extremely subtle, adding "we are talking in fractions of a milli-ohm (of resistance).

"That doesn't seem like very much," he said. "But it matters from the point of view of the box. If the box has these different channels of electronics running through it and it's got power and grounding for each of those separately and if they start to get off a little differently from each other, that's when the circuits can get tripped up. So a very small amount of resistance can cause those grounds to flip up and down and that can happen when you get a large electrical transient" in another system.

Like an electrical heater turning on or off, or the operation of some other system.

"This isn't a case of running around seeing what's not plugged in," Muratore said. "It isn't that kind of thing. It's where you go look at it and you say that looks like a good bond. If you didn't use a very, very careful precision meter, it would read as a perfect structural ground. But in these very complex electrical systems, you can get into that kind of problem."

Regardless of how the grounding/interference issue is resolved, engineers plan to swap the electrical cables leading from the point sensor box to sensors 2 and 4. The system will be tested Tuesday before the crew climbs aboard.

If another problem shows up with sensor No. 2, engineers will be back to square one and the launch will be scrubbed. But if sensor No. 4 acts erratically, they will have solid evidence the fault is in the electrical circuit and not a generic issue that could affect the other three sensors.

In that case, NASA's mission management team likely would sign an "exception" to the current launch commit criterion requiring four operational sensors for launch and allow Discovery to take off three of four.

"We're going to hook sensor 4 up to the electronics for sensor 2 and vice versa," Muratore said. "That way, if the problem is with the sensor or the associated wiring it's going to show up now as a sensor 4 problem. If the problem is in the point sensor box, it's going to show up as a sensor 2 problem. That will enable us to determine which side of the system it is. That assumes the problem recurs exactly the way it happened before. But we think that will give us an important insight if the problem does reoccur as to what the potential cause is."

Parsons explained it this way: "The scenarios would be, all four sensors work and you're good to go; sensor 4 shows a failure ... that would say there's a strong possibility we understand this completely and we're good to go because it's a wiring problem, an open in a wire, and we still have three sensors that are good.

"But if it came back as a sensor 2 problem, I think everybody would have to say wait a minute, whatever we've done hasn't really solved our issues and we need to step back and take another hard look at this. So what we've done is given ourselves another safety net, another way to take a look at this and make sure we really do understand this system and it is operating exactly like we think it should operate."

But he said engineers "expect to have four of four sensors" operating Tuesday.

"We have talked in great detail about a rationale for flying with three of four sensors," he said. "We are not complete with that. But in fact, if we had a failure of the sensor and we could understand the failure and it was a known failure that we expected based on the pin swap, then we might very well be willing to go fly with three of four sensors. There's good flight rationale behind that."

But that remains an open question because not everyone believes NASA should change an LCC in the heat of a countdown. James Voss, a former astronaut and a CBS News consultant, reflected those views, saying "even though my personal feeling is it's probably safe, they can find ways to launch and it would still be a safe launch, with an anomaly that's unexplained like this, I don't think it's the right thing to do from a philosophical standpoint."

Mike Wetmore, director of shuttle processing at the Kennedy Space Center, said the current plan calls for launch attempts July 26 and 27, after which the team would stand down for 48 hours to service the shuttle's electrical generators. Two more attempts could be made on July 29 and 31 if necessary, with fuel cell servicing in between.

Discovery's launch window closes July 31. But mission managers are studying the possibility of extending it a few more days if necessary by giving up optimum lighting in orbit to photograph the external tank after it separates from the shuttle.


Additional coverage for subscribers:


VIDEO: FOOTAGE INSIDE DISCOVERY OF TROUBLESHOOTING PLAY


VIDEO: LAUNCH PLAN ANNOUNCED AT BRIEFING DIAL-UP | BROADBAND


AUDIO: LISTEN TO THE NEWS BRIEFING FOR IPOD



VIDEO: OFFICIALS EXPLAIN OPTIONS MONDAY DIAL-UP | BROADBAND


AUDIO: LISTEN TO THE NEWS BRIEFING FOR IPOD



VIDEO: FRIDAY AFTERNOON NEWS BRIEFING DIAL-UP | BROADBAND


AUDIO: LISTEN TO THE NEWS BRIEFING FOR IPOD


VIDEO: THURSDAY'S UPDATE NEWS CONFERENCE DIAL-UP | BROADBAND


AUDIO: LISTEN TO THE NEWS CONFERENCE MP3 FILE



VIDEO: POST-SCRUB NEWS CONFERENCE PLAY


VIDEO: WEDNESDAY'S LAUNCH IS SCRUBBED PLAY


VIDEO: ASTRONAUTS DEPART QUARTERS FOR LAUNCH PAD PLAY


VIDEO: CREW DONS LAUNCH SPACESUITS PART 1 | PART 2


VIDEO: ASTRONAUTS GATHER FOR PRE-LAUNCH SNACK PLAY


VIDEO: PAD'S ROTATING SERVICE STRUCTURE ROLLED BACK PLAY


MORE: SHUTTLE RETURN TO FLIGHT VIDEO LISTING


SUBSCRIBE NOW