NASA mulls launch options
BY WILLIAM HARWOOD
STORY WRITTEN FOR CBS NEWS "SPACE PLACE" & USED WITH PERMISSION
Posted: July 18, 2005


NASA managers today told the shuttle launch team to gear up for a possible attempt to launch Discovery next Tuesday if troubleshooters can either fix the fuel sensor problem that grounded the ship last week or gather enough data to prove it won't affect other sensors this time around.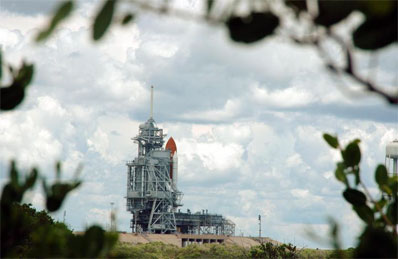 Discovery could be cleared to fly next week. Credit: NASA-KSC



Engineers have not yet found a "smoking gun" that might explain why fuel sensor No. 2, one of four in Discovery's liquid hydrogen tank, acted erratically last Wednesday, forcing launch managers to scrub the countdown a little more than two hours before blastoff. NASA's launch rules require all four sensors to be operating properly for a countdown to proceed.

Ed Mango, a senior NASA manager helping oversee the troubleshooting work, said engineers are about two thirds of the way through a detailed series of tests and inspections at the launch pad, work that should be wrapped up by Wednesday. Other teams are wrapping up reviews of past sensor performance, failure modes, possible fixes and the rationale behind NASA's current "four-of-four" sensor launch rule.

If engineers track down the problem in the next two days, they will either make repairs or, if that's not possible, attempt to prove the flaw will not affect any of the other sensors. Under the former scenario, NASA could stick with the current four-of-four sensor rule and launch Discovery at 10:39 a.m. EDT (1439 GMT) Tuesday.

Under the latter scenario, agency managers could amend the sensor rule to permit a launching with three-of-four operational sensors. The sensors would be checked or even tested during the fueling process and, if the other three sensors operated normally, Discovery's crew could be cleared for launch.

Engineers also could opt to run a stand-alone tanking test Tuesday, recycle the countdown and, depending on the results, make a launch attempt the next day or the day after that.

As of this writing, there are simply too many variables to predict how the next launch campaign might play out. And in any case, NASA managers are still holding out hope it won't come to that.

"Our number one goal here is to find this problem and fix this problem," said Wayne Hale, deputy shuttle program manager and chairman of NASA's mission management team. "To date we have not found it, so we're not able to fix it.

"The next step, if we are unfortunate in the next 24 to 48 hours, is to consider going to cryogenic temperatures, that is to say, reload the external tank and see what happens at those cryogenic temperatures. We're going to let the team concentrate on the ambient testing and see if they can find something in the next couple of days."

But if nothing turns up, "then we need to go to the next level and that's the cryogenic-level testing," Hale said.

It is possible that the ultra-low temperatures of the supercold propellants played a role in the sensor problem, perhaps by causing a wire or a connector to contract enough to open a circuit. That is the type of failure that might not show up during tests at ambient temperatures. But it might show up during a fueling test.

"Today at the mission management team, we reviewed the timelines to support that and we think the next opportunity to tank the vehicle would be no earlier than Tuesday, the 26th," Hale said. "There is some debate as to whether or not we could, in fact, do the kinds of tests we need to do at cryo temperatures in a launch countdown and go ahead and launch that day, or whether we need to do a test, detank, recycle and think about the data.

"So that decision is before us," Hale said. "But the next tanking would be no earlier than Tuesday. Again, hopefully in the next 24 or 48 hours we will find the glitch that's got us all confused, or frustrated, or find your adjective, and be able to fix it and go forward."

The four hydrogen engine cutoff - ECO - sensors are part of a backup system that ensures the shuttle's main engines shut down properly before running out of fuel. An operating shuttle main engine likely would tear itself apart if it simply ran out of gas (for detailed background on how the sensors operate, graphics showing their location and a chronology of Discovery's sensor problems to date, see the CBS News/Spaceflight Now ECO sensor page here.)

While the consequences are extreme, multiple failures would be required for the worst-case scenario to play out: A major malfunction of some sort would have to affect engine performance and then three of the four ECO sensors would have to fail "wet," indicating the presence of rocket fuel when, in fact, the tank was dry.

The odds of such multiple failures are remote, unless some sort of generic problem is lurking in the system. But in the absence of an obvious fault in the sensor No. 2 circuit, that's a major question mark as this week's testing continues.

Another major question mark is how NASA, in the wake of the Columbia disaster, might ultimately justify changing a launch commit criteria in the heat of a launch campaign, when managers are under considerable self-imposed pressure to get the shuttle back into space as soon as possible.

Discovery's launch window is defined primarily by the international space station's orbit and a requirement to launch the first two post-Columbia flights in daylight. NASA wants good lighting at launch and when the external tank separates half a world away for photography showing the condition of the shuttle and the external tank.

The current launch window closes July 31. The next window opens Sept. 9 and the year's final window opens in November. Agency managers are looking into the possibility of extending the July window through Aug. 4 by relaxing the orbital lighting requirements for photographing the tank after it separates from the shuttle.

Hale said today he was aware some observers might get the impression the options under discussion show NASA has "go fever," especially given the discussion about re-evaluating the rationale behind the ECO sensor launch rule and talk of extending the launch window. But he insisted safety is the agency's top priority and that it only made sense to preserve launch options while troubleshooting continues.

As it turns out, NASA's original launch commit criteria called for three-of-four operational ECO sensors. But in the wake of the Challenger disaster, a review of shuttle systems revealed that two of the sensors were powered or controlled by a single component in an electronic black box "upstream" of the sensor system. Because the failure of that component could take down two sensors, the rule was changed to require four-of-four at launch.

A modification was proposed several years ago and implemented during Discovery's last major overhaul, eliminating the single-point failure mode. This will be the first flight for the modification. In the downtime after the 2003 Columbia disaster, engineers discussed changing the LCC back to three-of-four, but ultimately decided to let the rule stand as is.

"The discussion which we had briefly before getting into the launch count is, are we ready to go back to three-of-four as the launch commit criteria?" Hale explained today. "And folks said, we're really busy trying to return to flight, we've got a lot of work on our plate that requires some serious thought, let us not make that change for the first flight. We'll think about it downstream.

"Well, now everybody's interested in that. So we're thinking about that."

In the absence of an obvious problem with an equally obvious solution, NASA may be forced to amend the four-of-four rule to get Discovery off the ground during the current launch window. For now, however, the launch team is simply keeping its options open while the testing plays out at pad 39B.

"What we're doing right now is, we're preserving the opportunity that if we found something in the troubleshooting that's ongoing today, if something jumped out and we said there's the problem, then that tanking test would actually be the launch countdown and we would go on the 26th," said shuttle program manager Bill Parsons.

"What we're saying, though, is if we haven't found anything by then and this technical community comes back and says look, we need to make a few changes, or we want to put instrumentation in the orbiter and we think we need to do a tanking test, then the 26th becomes that tanking test.

"What we're doing is, we're preserving schedule," Parsons said. "We're trying to keep this on schedule as much as we can right now and preserve our options until the last opportunity. The tanking test we would do would be in a countdown configuration. We understand that process."


Additional coverage for subscribers:


VIDEO: OFFICIALS EXPLAIN OPTIONS MONDAY DIAL-UP | BROADBAND


AUDIO: LISTEN TO THE NEWS BRIEFING FOR IPOD



VIDEO: FRIDAY AFTERNOON NEWS BRIEFING DIAL-UP | BROADBAND


AUDIO: LISTEN TO THE NEWS BRIEFING FOR IPOD


VIDEO: THURSDAY'S UPDATE NEWS CONFERENCE DIAL-UP | BROADBAND


AUDIO: LISTEN TO THE NEWS CONFERENCE MP3 FILE



VIDEO: POST-SCRUB NEWS CONFERENCE PLAY


VIDEO: WEDNESDAY'S LAUNCH IS SCRUBBED PLAY


VIDEO: ASTRONAUTS DEPART QUARTERS FOR LAUNCH PAD PLAY


VIDEO: CREW DONS LAUNCH SPACESUITS PART 1 | PART 2


VIDEO: ASTRONAUTS GATHER FOR PRE-LAUNCH SNACK PLAY


VIDEO: PAD'S ROTATING SERVICE STRUCTURE ROLLED BACK PLAY


MORE: SHUTTLE RETURN TO FLIGHT VIDEO LISTING


SUBSCRIBE NOW